With a weakness for nighttime snacking and kids always asking for treats, Arctic Zero is a life saver. It's a better-for-you frozen treat the whole family will love.
Learn about this yummy treat and enter a giveaway to win a pint for yourself!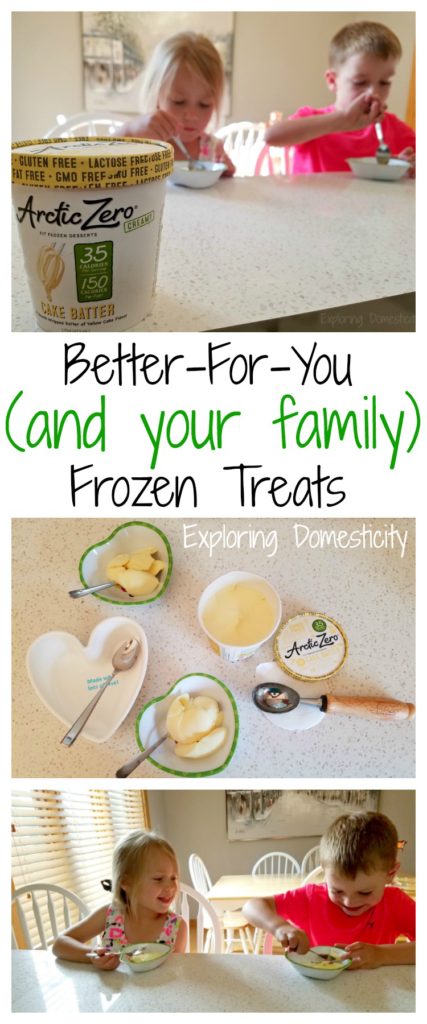 I received this product for free from Moms Meet to use and post my honest opinions. Compensation for this post was provided and this page may contain affiliate links.
One of my biggest weakness all my life has been ice cream before bed.
As a kid, I remember having a nightly cup of ice cream. Every. Night. Since I've lived on my own, I haven't stuck to that habit, but I still find it hard to resist a suggestion of ice cream in the evening.
At the cabin, the temptations are huge. Nightly cups of ice cream are still a thing because we are back with my parents. no matter how hard I vow not to snack at night, I find it so hard to resist some refreshing ice cream!
Luckily, this summer, I have a secret weapon. Arctic Zero has such great ingredients and so few calories, that I can indulge without feeling guilty.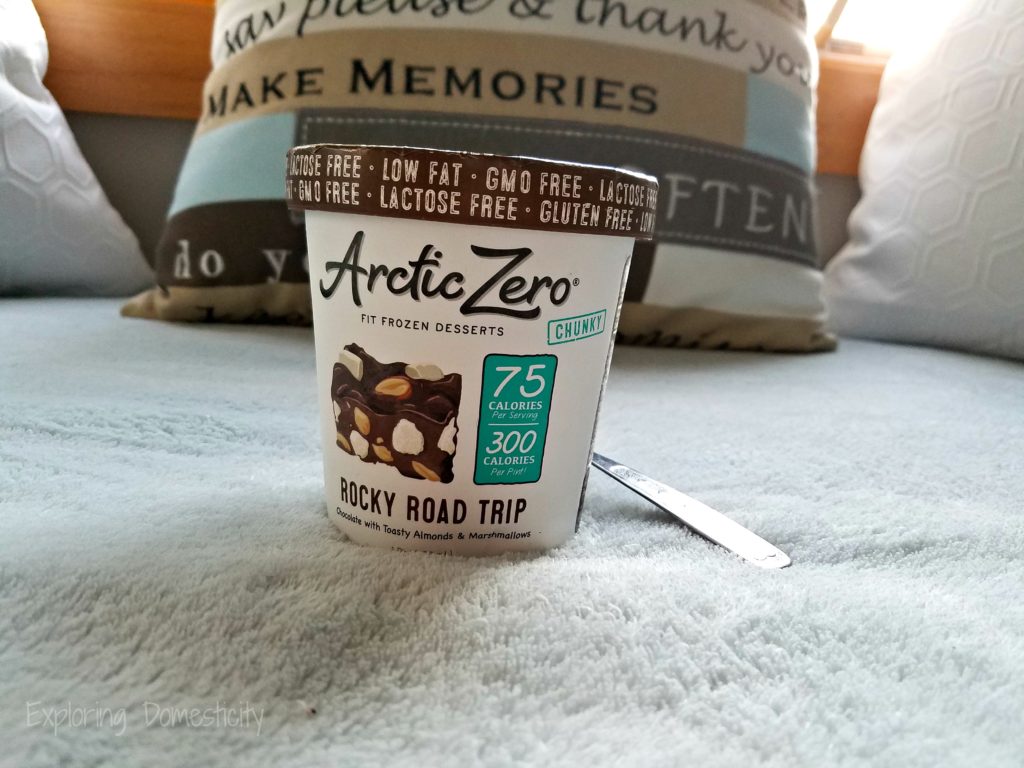 Arctic Zero #ArcticZeroMom
Remember recently when I told you that Moms Meet is my favorite place to learn about better-for-you products for our family? It was right here.
Well, they came through again, and this time we got to sample some fit frozen desserts in some really delicious flavors. Also, thanks to Moms Meet, we have a chance to learn more about the product and company that we would on our own.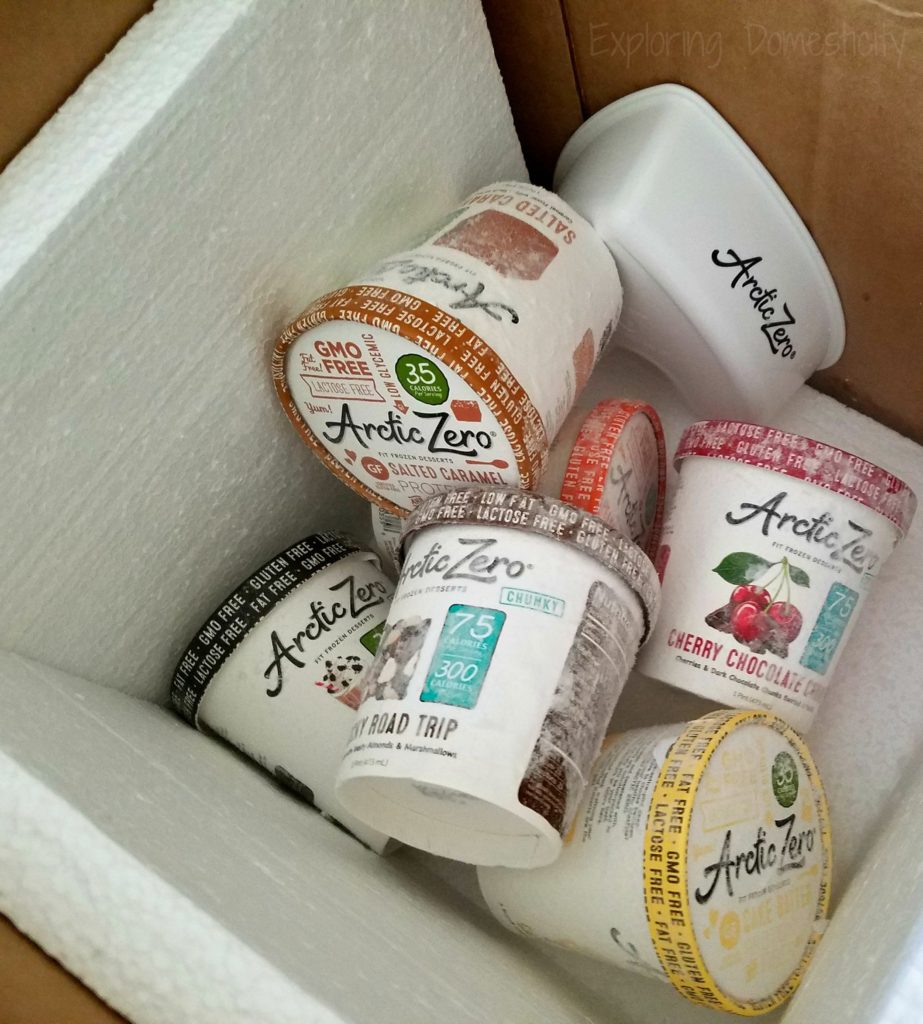 About Arctic Zero
The founder of Arctic Zero created it for his mom—a Type-1 diabetic, because he believes everyone should have the chance to enjoy delicious, frozen desserts
Each pint is made with hormone-free whey protein and sweetened naturally with monk fruit
Monk fruit is a low glycemic, natural sweetener roughly 150 times sweeter than sugar. Monk fruit is a small melon that is harvested from the subtropical hillsides of Asia. It gets its name from the Buddhist monks who have been enjoying its health benefits for centuries.
The desserts are low in sugar, lactose free, GMO free, and most are gluten free
Creamy pints are fat free and only 35 calories per halfcup serving and 150 calories for the entire pint,
Chunky pints are low in fat (1-2.5 grams) and only 75 calories per half-cup serving and 300 calories for the entire pint
Each pint contains 3-4 grams of protein and 2-3 grams of fiber per serving, making it a filling treat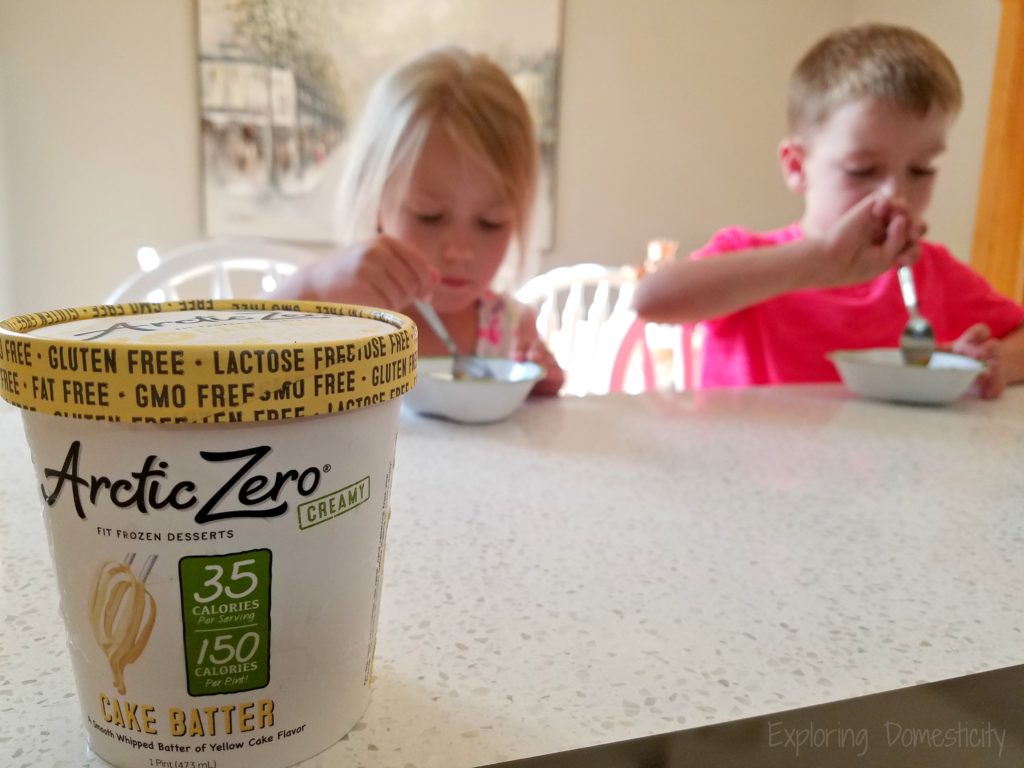 The Importance of Thawing Arctic Zero
To be perfectly honest, I tried Arctic Zero before being approached by Moms Meet to sample a variety of flavors. I tried the plain chocolate and was not impressed. I thought it tasted like chocolate flavored ice. However, this time around, I actually paid attention to the carton and remembered to wait before eating – what a difference!
It's recommended to remove Arctic Ice from the freezer 10-15 minutes before eating or to zap it in the microwave for 30 seconds. Thawing allows your mouth to taste the flavors so much better.
I like to take small bites and let it melt in my mouth as well, which is just more of the same idea. If you have the patience to thaw Arctic Zero, it makes a world of difference and the flavor are completely enhanced.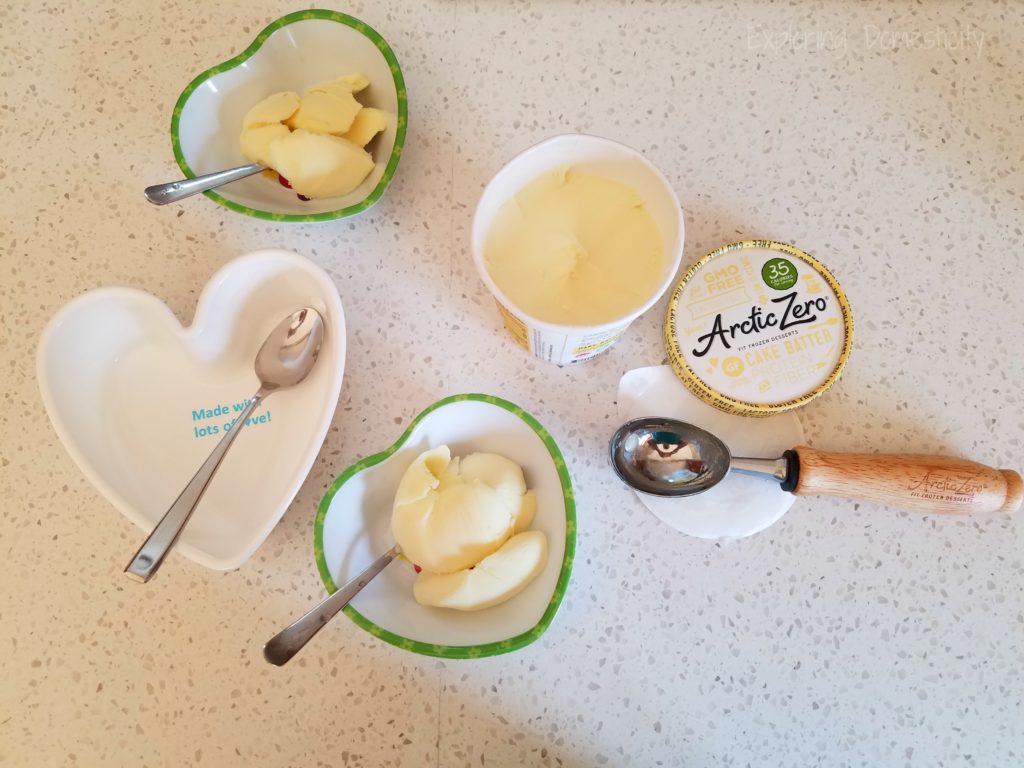 Arctic Zero Flavors
Cookie Shake
The first flavor I tried was the Cookie Shake, and it definitely tastes like cookies and cream. It was pretty filling, and enough to satisfy my sweet tooth, so I ate half and saved half of the carton for later.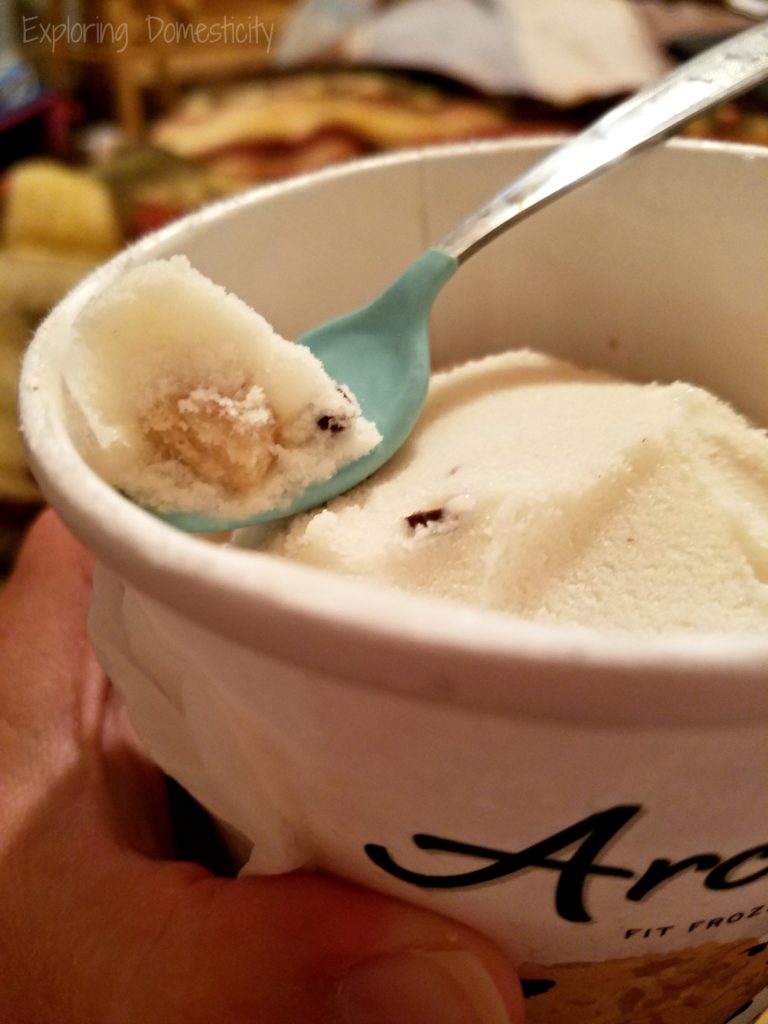 Cookie Dough Chip
While at the cabin this past weekend for the fourth of July, I bought some Cookie Dough Arctic Zero at the local Walmart. It is my favorite so far!
Not only does it taste delicious, it also has mini chocolate chips and chucks of cookie dough! It feels so indulgent! It's nearly impossible for me to stop myself at half the pint, but the entire things is only 300 calories, so it's not that bad if I can't stop.
Rocky Road Trip
My next favorite is the Rocky Road Trip. Its a rich dark chocolate with a ton of pecan pieces and marshmallows. There are, seriously, bits of something in every bite, which is not something you'd expect from a lower calorie ice cream. It's such a treat!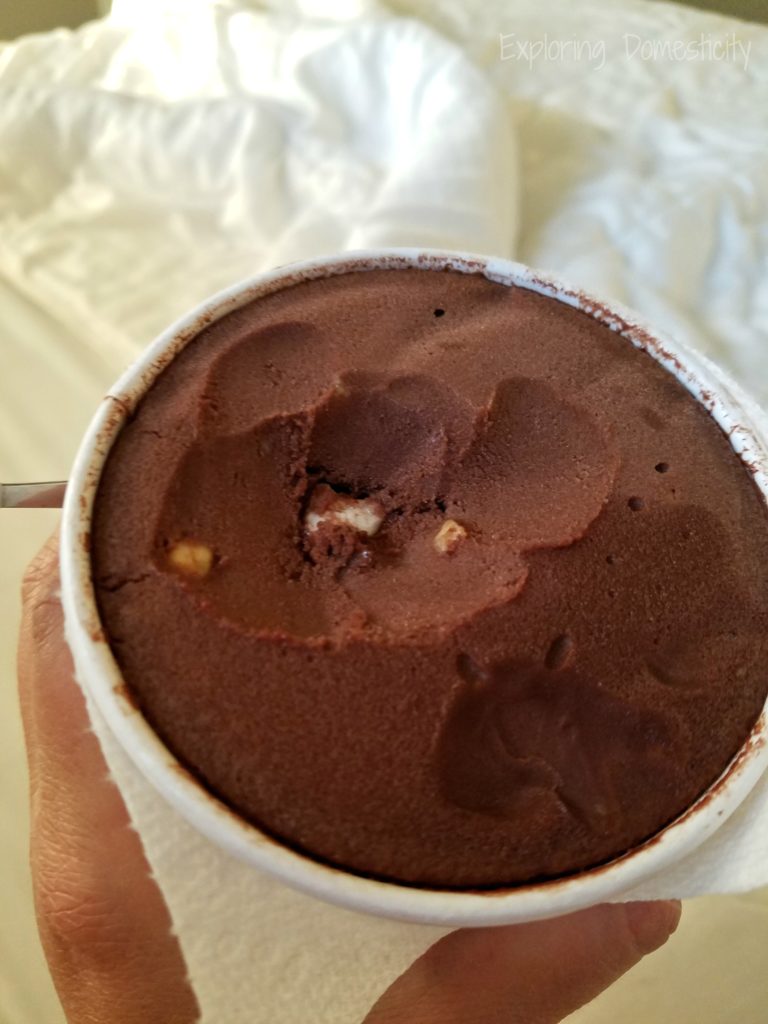 Cherry Chocolate Chunk
This flavor combo isn't usually my thing and my dad happened to be over when the package arrived, so he got to test the Cherry Chocolate Chunk. He must have tried it right from the freezer and after thawing, because he mentioned what a difference it made.
Salted Caramel
I've only snuck a taste of this flavor so far but, even without thawing, it is strong on flavor. The caramel is very prominent and sweet, almost like a butterscotch. I can't wait to thaw the pint and dig in!
Cake Batter
Cake Batter was a big hit with the kids! They could hardly wait for me to dish it up. The flavor is a little sweet for my taste, but I'm definitely more of a chocolate fan and cake batter has never been my thing. The kids, however, loved it.
It is very creamy and smooth. The texture of these frozen treats, after properly thawed, is so decadent and delicious!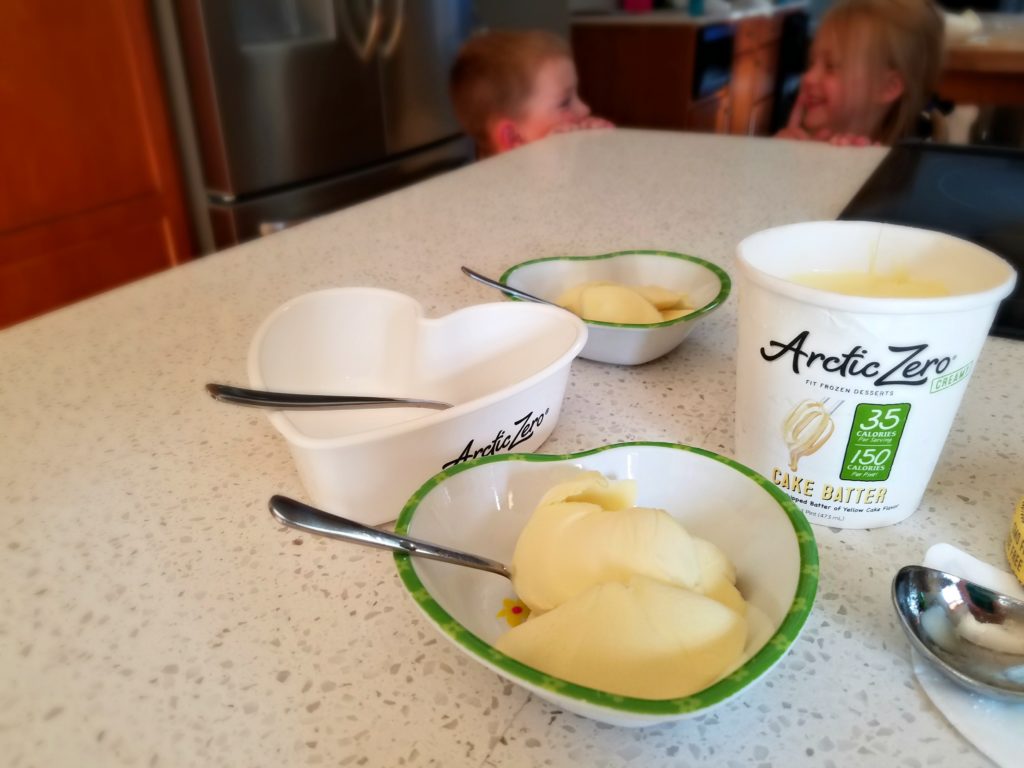 Other Flavors
So far, my favorites have definitely be the Chunky Pints, which run 75 calories per serving and 300 calories per pint. However, for a Creamy Pint, it is only 35 calories per serving and 150 calories per pint.
Chunky Pint Flavors
Cookie Dough Chip
Cherry Chocolate Chunk
Snickerdoodle Dandy
Rocky Road Trip
Brownie Blast
Creamy Pint Flavors
Cake Batter
Purely Chocolate
Chocolate Peanut Butter
Cookie Shake
Salted Caramel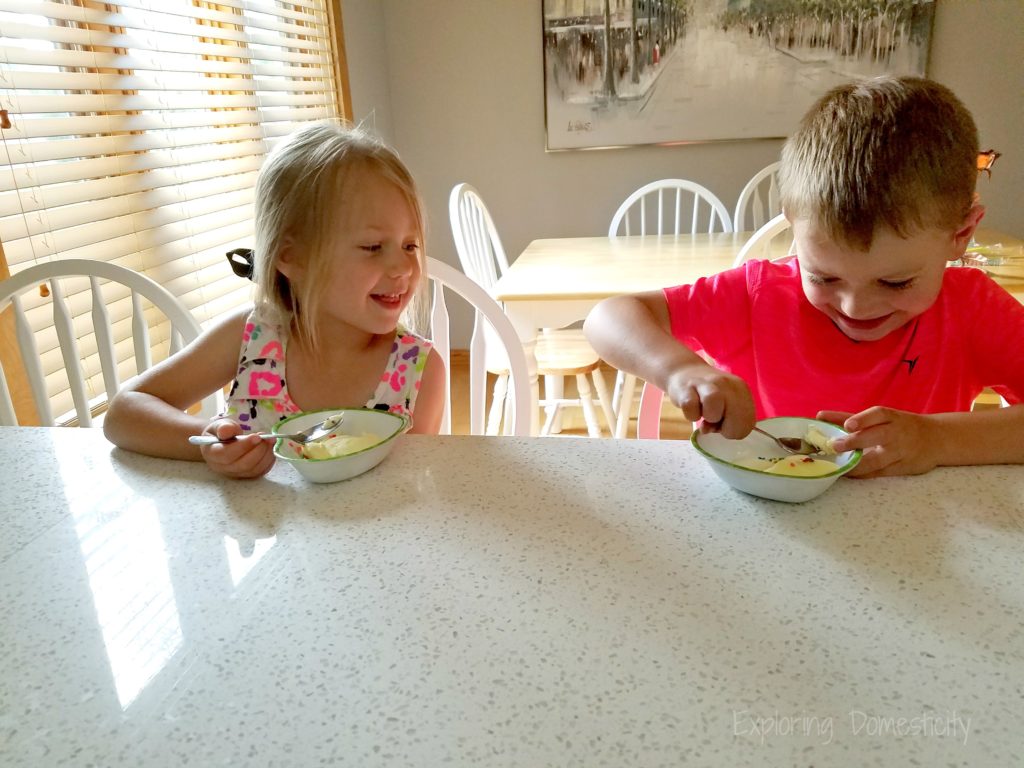 I'm completely in love with Arctic Zero now. It's a way to unwind and enjoy a sweet treat and not feel guilty.
As moms, it's nice to have a moment to ourselves, after the kids go to bed, to have a moment to indulge in a treat without the kiddos hovering in our face asking what we're eating.
Right, moms?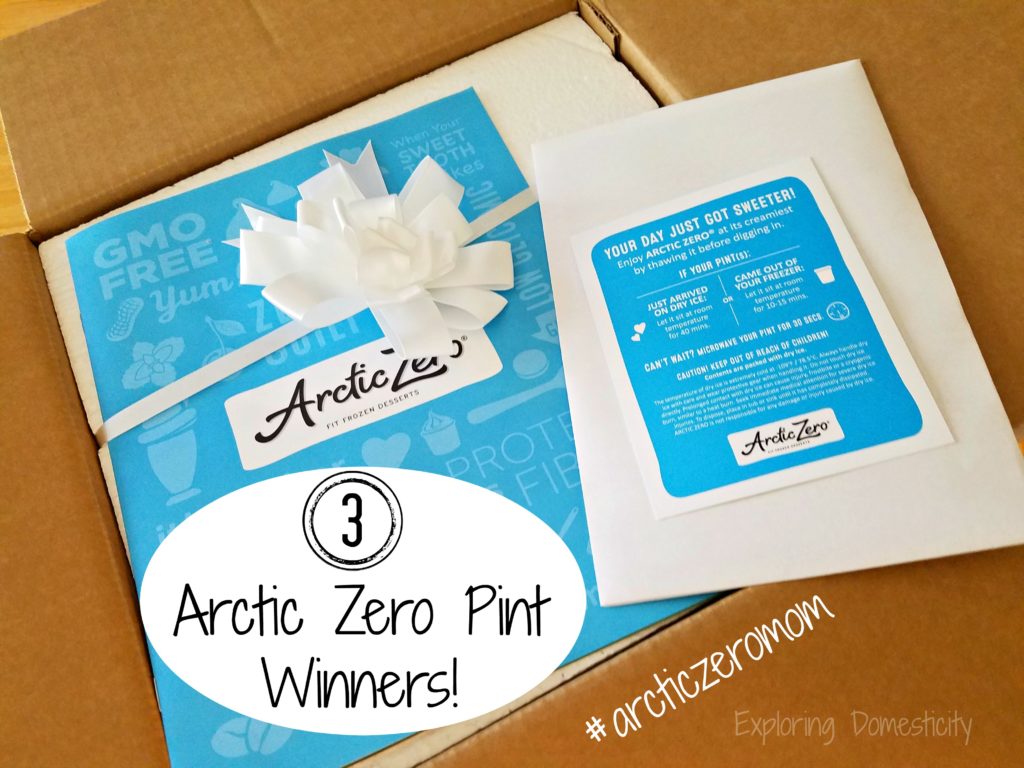 Arctic Zero Giveaway!
Well, regardless of who you are or when you like to enjoy a frozen treat, I have a giveaway for you! Woohoo!
Moms Meet and Arctic Zero would like three lucky readers to try Arctic Zero for free! Enter below to win a pint!
a Rafflecopter giveaway

Where to find Arctic Zero
I've found Arctic Zero in most stores I've looked. I picked some up at Walmart and have seen it at Target. I even found it at a random grocery store near our cabin, so it's in most grocery stores. You can even order Arctic Zero on Amazon.
You can also connect with Arctic Zero on Arcticzero.com, Facebook, Twitter, and Instagram.
Have you tried Arctic Zero? What are your favorite flavors, or what flavors would you like to try?

More Like This