What to expect when you arrive at the Art of Animation Cars Suites – the resort, rooms, pools, and helpful tips. Also, some tips for saving money on food by planning ahead. This is Day 1 of our 2017 Walt Disney World vacation.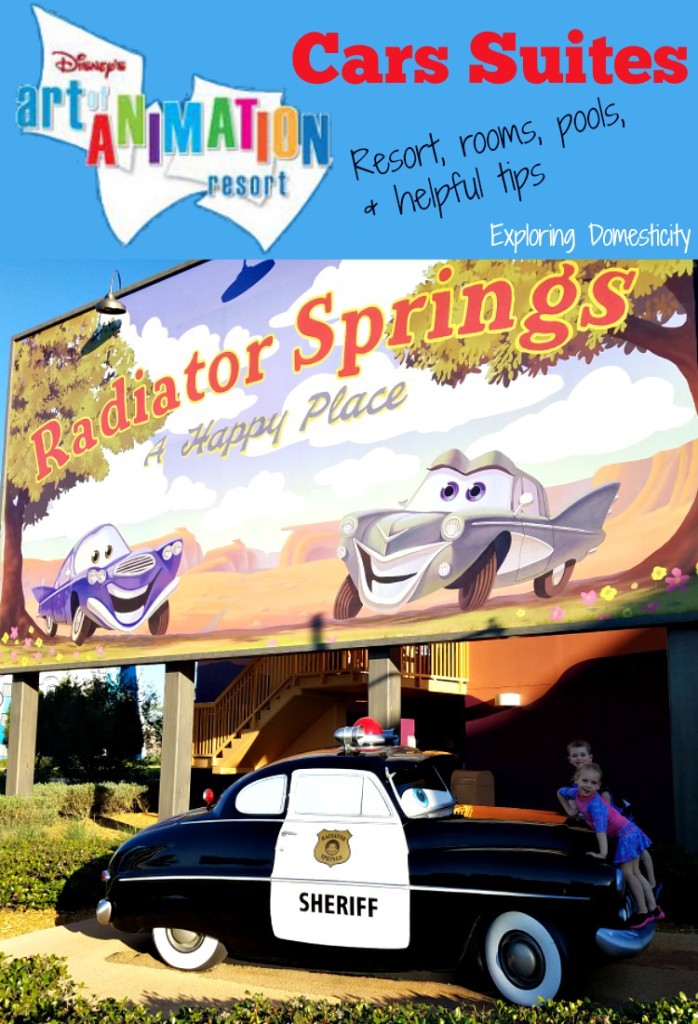 I kept a daily play-by-play while we were in Walt Disney World, and I'm going to share it bit-by-bit each week. We stayed at the Art of Animation Resort, in the Cars Family Suites, and visited Disney Springs, had dinner at O'hanas, and had a great day at the Magic Kingdom. We visit Walt Disney World each year and, for that reason, we like to take it slow, relax, and enjoy ourselves instead of stressing to fit it all in. I'd say we get a pretty fantastic vacation balanced with fun and relaxation.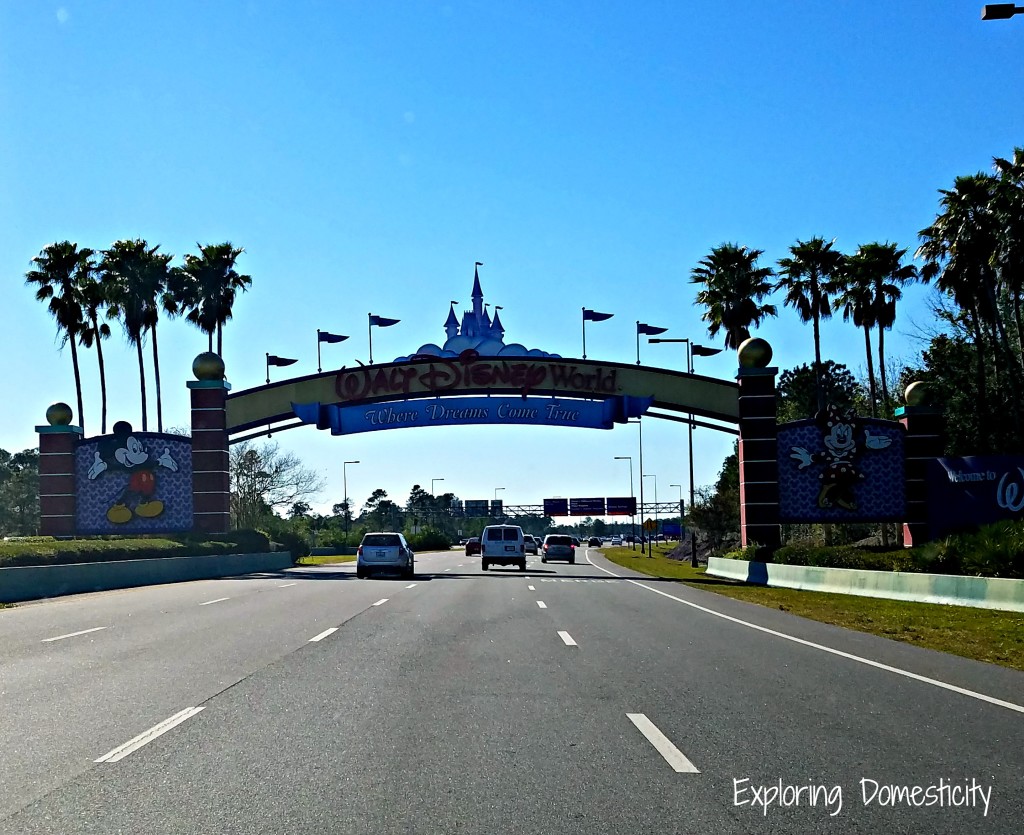 Whew! We made it to Walt Disney World!
Let me tell you, the drive into Orlando in the Spring is quite a bit busier and congested than when we drive to Florida in the Fall. We definitely tacked on a good hour or more just because of traffic. In fact, I'd be willing to wager it was closer to two hours extra.
As we neared Orlando, we started planning a trip to Walmart before checking into the hotel. The Art of Animation Resort Suites have a kitchenette, so you can make your own food with the microwave and store food in the fridge.
We found the nearest Walmart to be about 6 miles from the resort. However, it did take us through another toll and yet another as we drove from Walmart to the resort, but the extra $1.75 is well worth what we make up by having our own food.
Good thing to know: The mini fridge in the hotel room is a good size; however, there is no freezer compartment. We would have used this for re-freezing our ice packs and frozen treats. Luckily, we didn't buy frozen treats, besides freezies that started un-frozen, or we would have had quite the sugar rush the first night.
Earlier in the morning, we received a text alert from our hotel. We used the online check-in days before and that first text was letting us know that the room wasn't ready yet. At 3pm we received our notice that the room was ready.
The Art of Animation Resort
We could have gone directly to the room because we had the room number and our magic bands, but we stopped in the lobby to get our parking pass.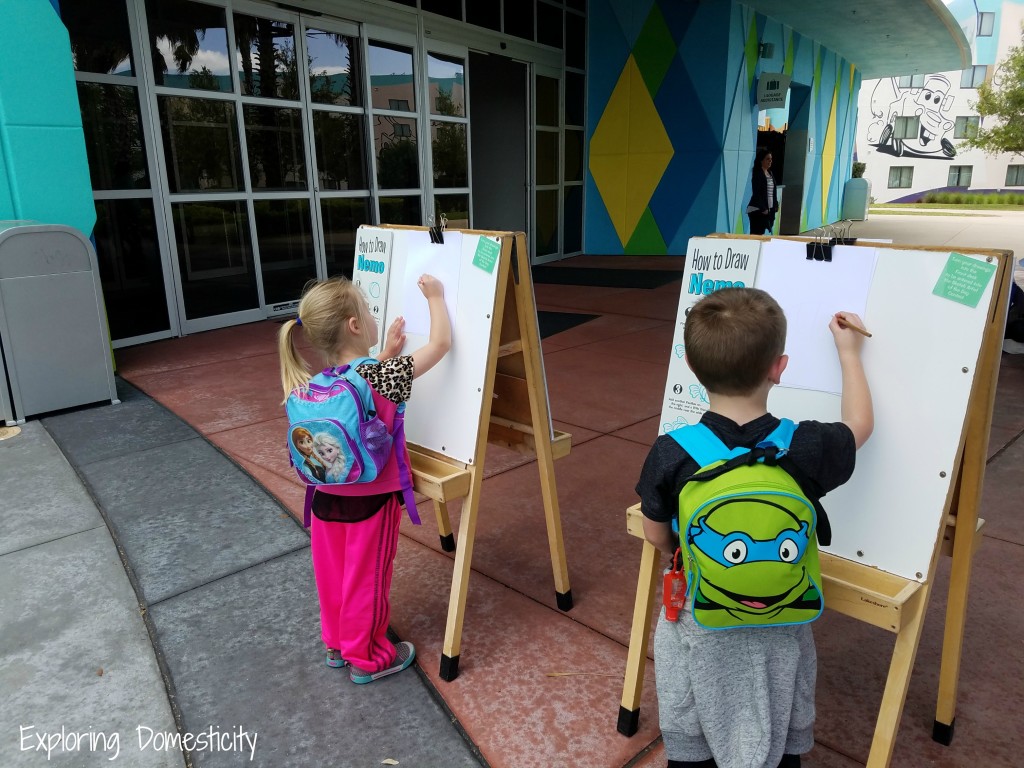 The Art of Animation Cars Suites
The Art of Animation Cars Suites are to the right of the main lobby, but, luckily, the parking lot extends in that direction and you don't have to walk too far to bring your luggage to the room.
We made a few trips, but it was better than waiting for a cart or someone else to bring it up. We did that a few years ago and ended up waiting for a while over at the cart station – where it is usually crowded with new arrivals, people checking out, and parties waiting for buses. After we finally got set up to get our items on a cart, we went up to the room. We ended up waiting around for our luggage with a baby who needed changing and kids who wanted to change and go swim. Needless to say, that time it would have been better to haul our own luggage…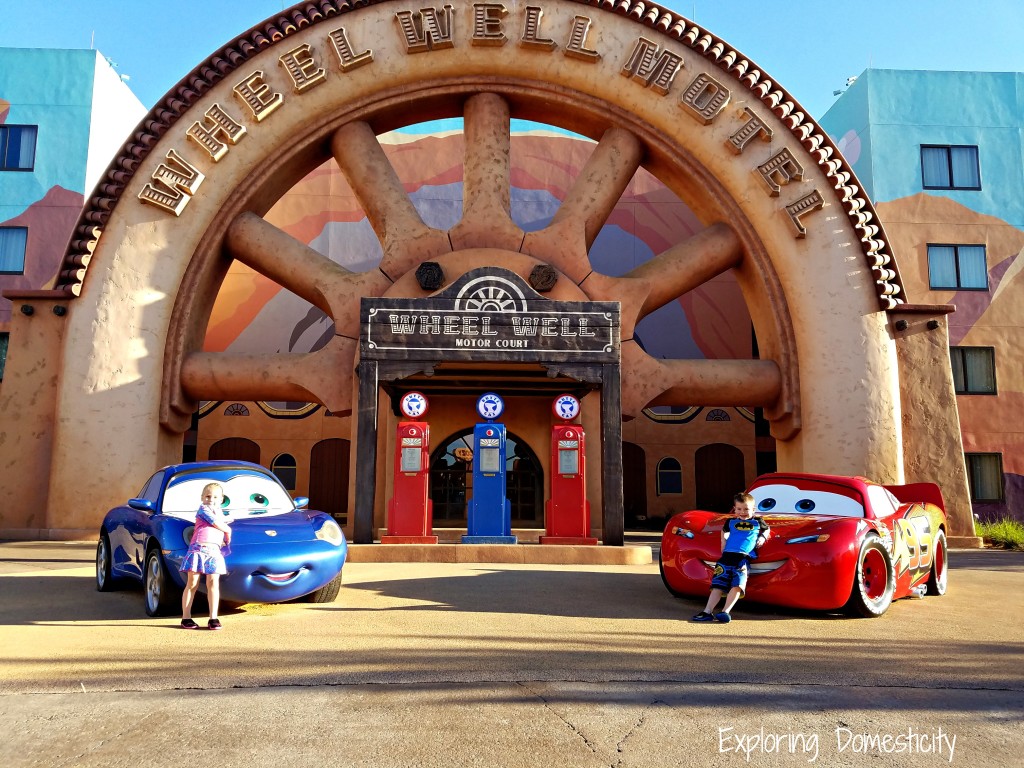 The Art of Animation Cars Suites are so cute! Our directions to building 2 were that we would be greeted by Lightning McQueen and Sally. They are right outside the door for an amazing photo op.
The dessert oranges and amazing Cars art covers the hallways. My dad is convinced they pump in a motor oil smell into the elevators. I don't know… but I wouldn't put it past Disney one bit.
The Art of Animation Cars Suites – The Rooms
The rooms are adorable! I thought the Art of Animation Cars Suites looked a little cold and uncomfortable from the photos, and not as relaxing as the soothing blues of the Nemo Suites, but they are so adorable and very comfortable.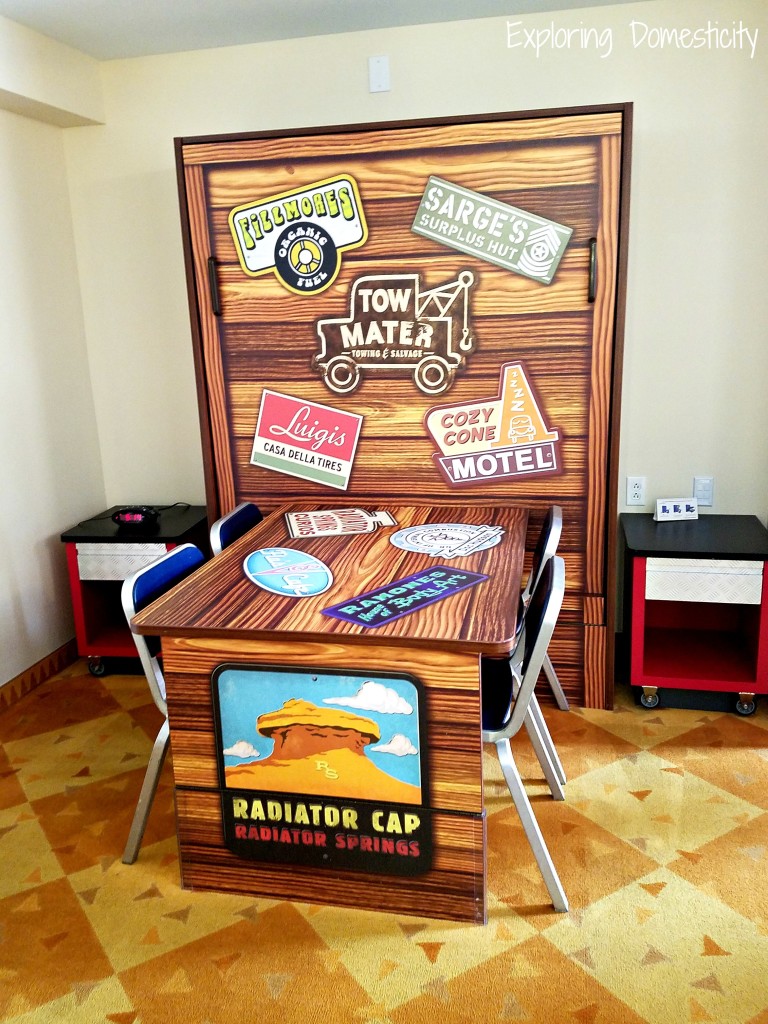 As soon as you enter the room, you see signs for local Radiator Springs businesses covering the dinette. The wall behind the table pulls down into the most adorable bed you've ever seen, with a sweet picture of Mater dozing off. There is a dimmable night light to shine down on the scene, and the bed is flanked with tool box nightstands complete with faux casters on the front.
To the opposite side is the first of TWO BATHROOMS. A pocket door separates the car wash themed sink and mirror from the main room, and another door separates the toilet and shower – with an adorable car wash scene.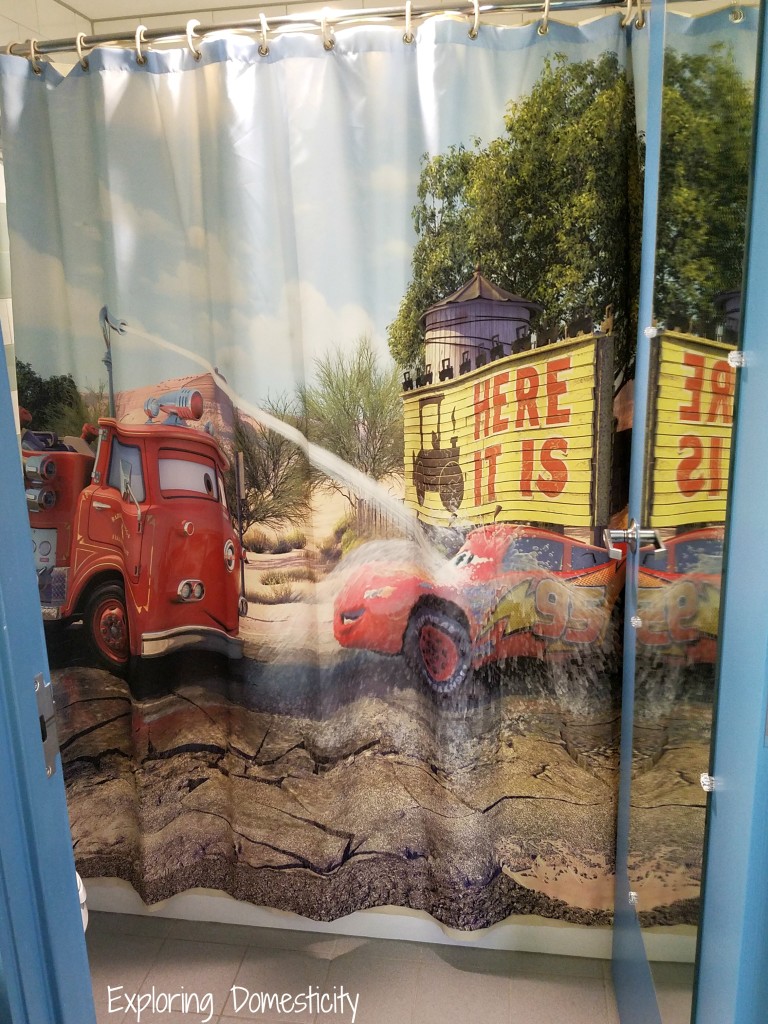 To the other side of the bathroom is a nice sized kitchenette with a sink, fridge, microwave, coffee-maker, and plates/bowls/silverware and other handy supplies. Next to that is room for trash and recycling.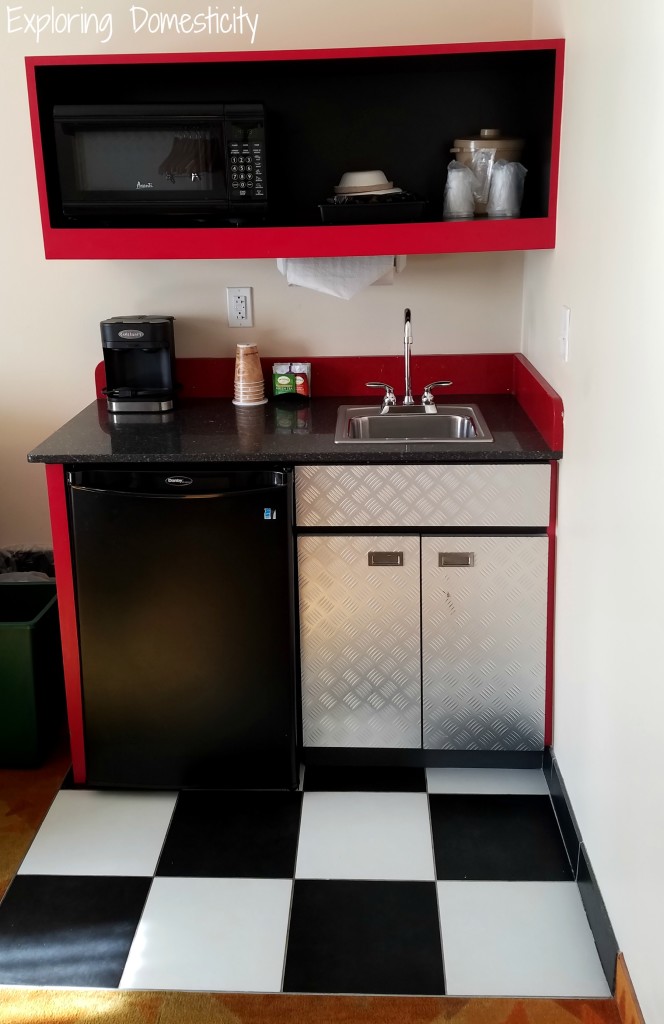 The main living space includes another adorable toolbox entertainment center with huge drawers for storing away items. To the side is room for hanging, a space to set a suitcase, and a deep drawer below. To complete the living space there is a retro chair, traffic cone lighting, and a sleeper sofa that resembles the seats in an old car, and an adorable coffee table with a map graphic on the top.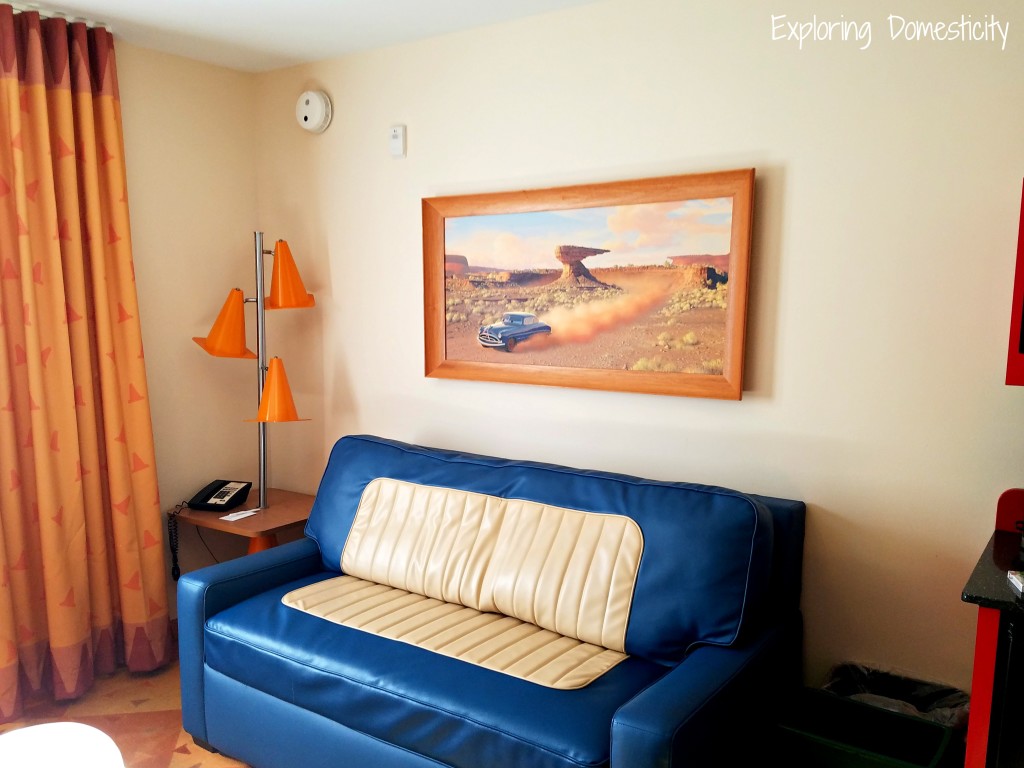 To complete the suite, there is a separate bedroom with nearly as much space as the main living areas, and an enormous bathroom with the same vanity but a large shower with a door instead of a curtain.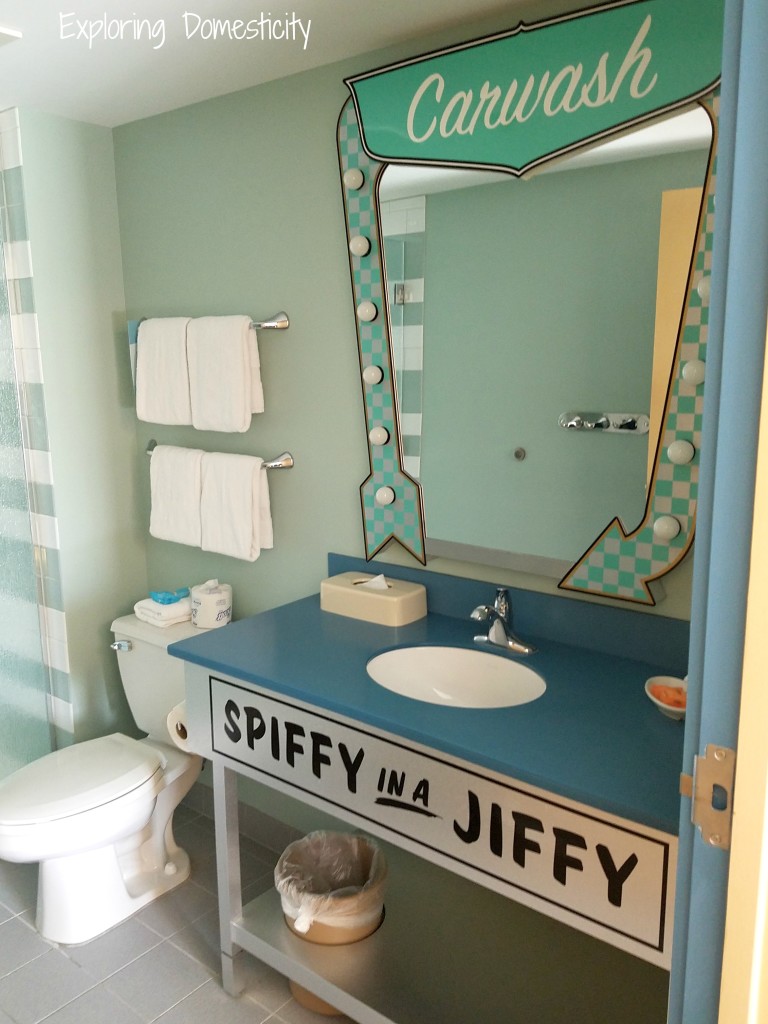 The rooms are amazing!
The only downside we found is that Disney has gotten a bit cheap with the extras. When I hopped in the shower and looked around for the Mickey shampoo, conditioner, and lotion, I found only one bottle of 2-in-1 shampoo and conditioner in it's place. Ugh! I wish I had thought to bring my own! I also was wishing I had thought to bring my own lotion as well. Thankfully, we had pocketed the toiletries from our overnight at the Holiday Inn Express on the way down.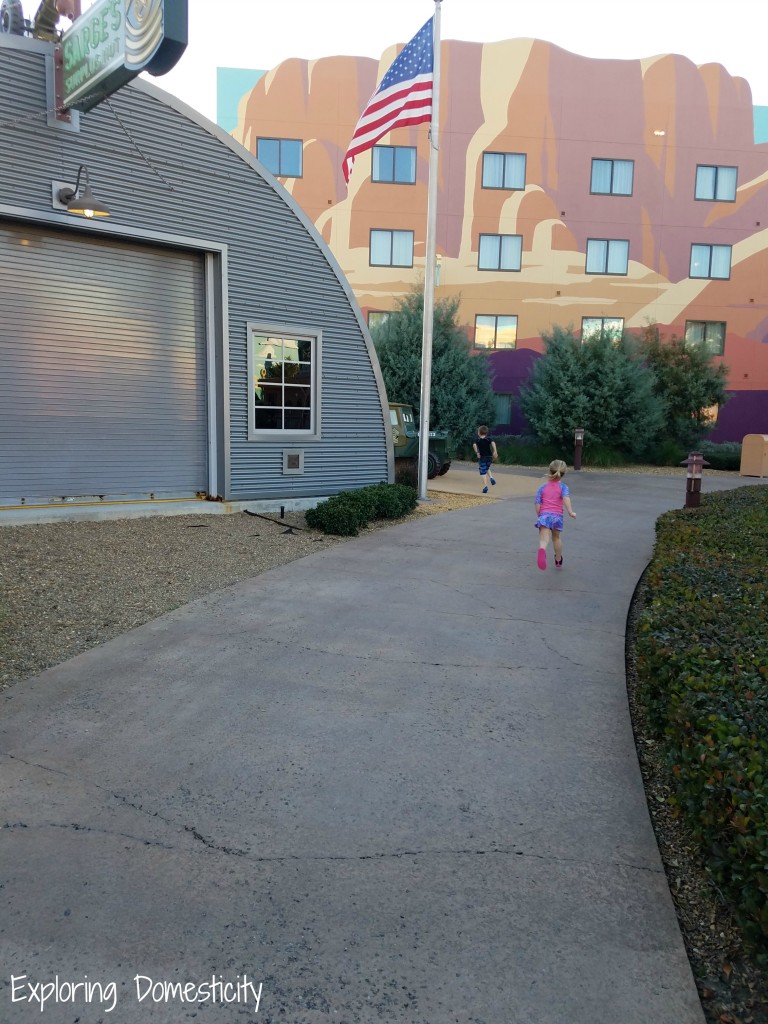 It's pretty hard to beat the themes of the Art of Animation Resort, especially for little kids. It's just as exciting as visiting one of the parks. Especially, the Cars suites. All the way around the Cozy Cone pool, complete with Cozy Cone cabanas, you will find nearly life-size characters from the movie. Not only are the cars there and a great photo op, but the scenery all around them is amazing as well. Sarge even stands in front of his large army surplus store, and Fillmore has a sign for his organic fuel.
We passed our Cozy Cone pool to head over to the Finding Nemo splash pad. This is the place where our kiddos spent the majority of their time a few years ago, at 1 and 2. Unfortunately, when we arrive no water was splashing. We decided to head over to the main pool instead.
Art of Animation Suites – The Big Blue Pool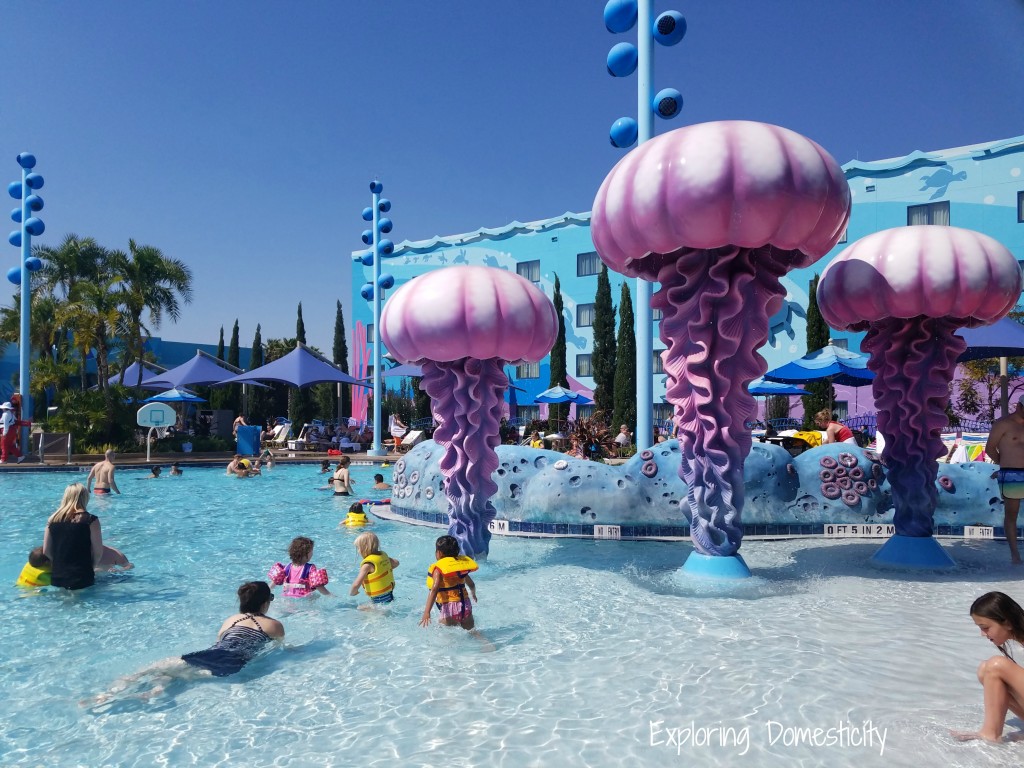 The kids started in the shallow end, where it gradually walks you in and under splashing jelly fish. The kiddos then strapped on some of the provided life vests and ventured out further into the pool. It was a chore to get them out of there! They were having such a blast.
Pool tip: There are no towels down by the pool. Usually, there will be a cart stacked with towels in the lower level of each building, but there weren't any to be found in the nearby buildings or our own by 6pm. The rooms come stocked with about 8 towels, so you will probably have one or two to spare if you bring them down. The lifeguard also mentioned that you may be able to find some towels in the lobby, but I couldn't leave the kiddos alone to check it out.
After a quick swim, we ran some freezing kiddos back up to the room and showered them off for dinner.
Save money at Disney by cooking your own meals
I've included affiliate links below so you can see exactly what we had and how we were able to save money by cooking an easy microwave meal that tasted just as good as home cooked.
As I mentioned there is a fridge and a microwave in the room. We were able to pull together a pretty amazing comfort food meal with just a microwave. We zapped some Hormel Turkey and Gravy dinners in the microwave, along with a bag of Steamfresh corn, and with a bowl brought from home we whipped up some instant mashed potatoes.
Talk about a good meal with few resources!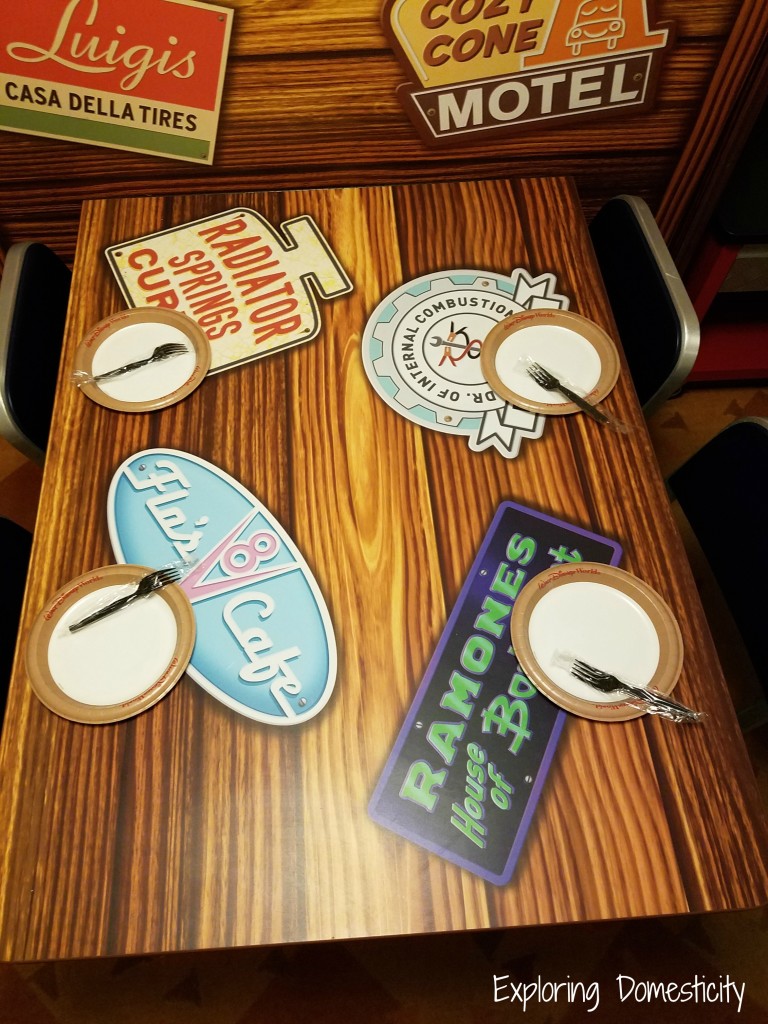 When bedtime rolled around, we pulled out the couch and table, and everyone snuggled in for the night. The murphy bed above the table comes made up with sheets and a blanket, and you will find two extra pillows in the bedroom. The couch bed comes with just the sheets, and you will find two more pillows.
We called housekeeping for another blanket. The pillows are also pretty thin. They are fine for the kids, but I bet most adults will want to stack two.
That's it for Day 1.
Nothing but a relaxing day, flying by the seats of our pants tomorrow until dinner rolls around. We have reservations at O'hana's, and can't wait because we have heard amazing things! The kids are pretty excited to ride the monorail too.
One last tip before I go. If you are the type who likes to come back to the room for lunch or to relax with napping children in the afternoon, make sure to request a specific time for housekeeping to clean your room. We requested around 10:30 so we are sure to be able to return for lunch and a siesta. Last year, we returned from the park exhausted and ready for a nap just before 3pm and found our room was just minutes away from being cleaned. Since everyone desperately needed that rest, we had to go without a room cleaning that day – and you know that's one of the best parts about being on vacation! We now know to plan ahead and schedule in advance so we know what to expect.
Alright folks! I'm off to bed in Radiator Springs!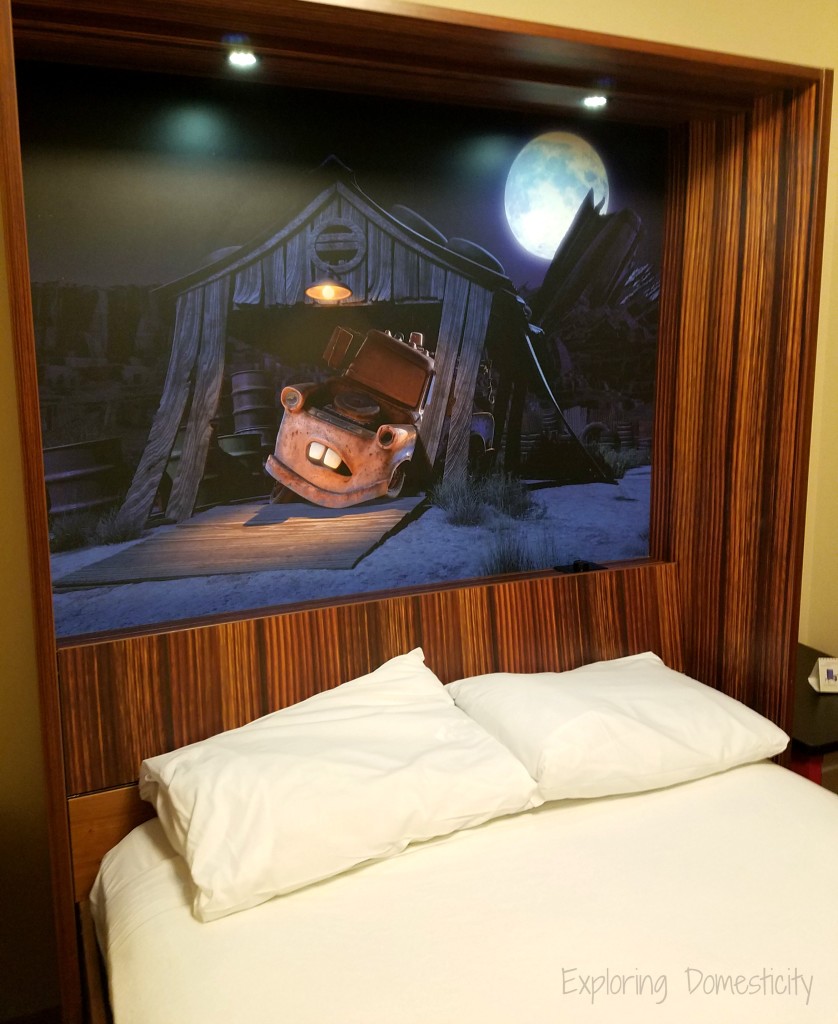 Have you ever stayed at the Art of Animation Resort Family Suites?
What is your favorite Walt Disney Resort?

More Like This