Week One is done! I am LOVING the BeFiT 30 Day Challenge videos! They are short, but leave me sweaty and out of breath and feeling it the next day. I'm enjoying the BeFiT chocolate protein powder, Burn supplements, and pre-workout as well. Enter to win some below and you can try them out too!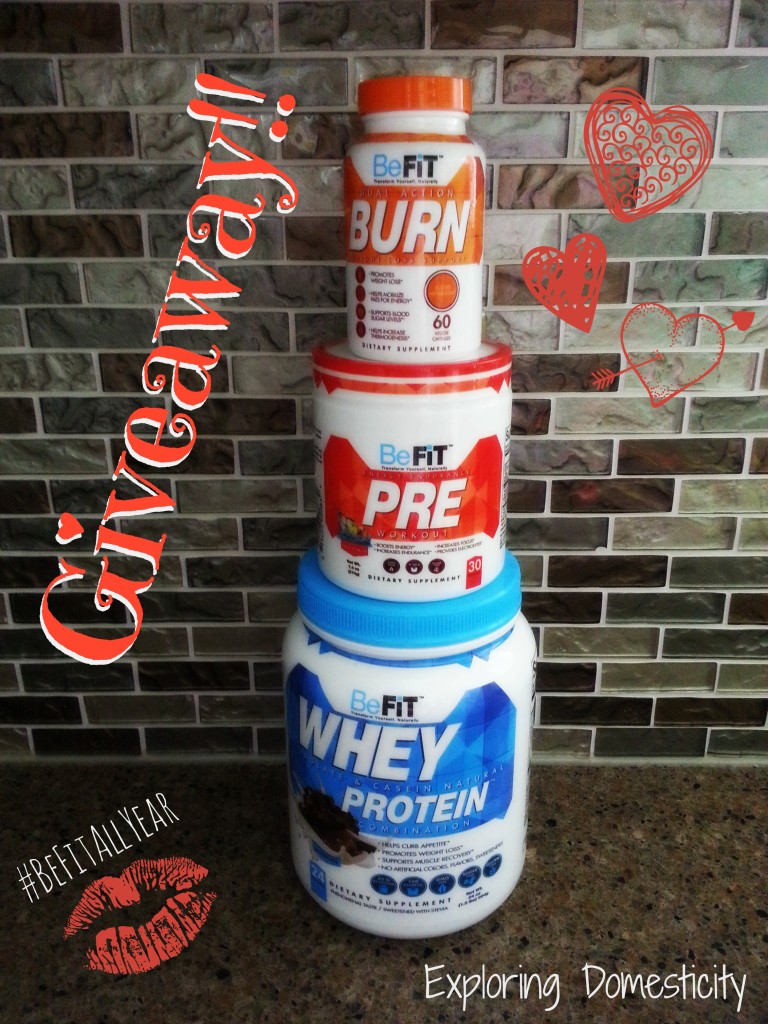 I'm really enjoying my experience with the BeFiT 30-Day Challenge! As I mentioned when I first introduced #BeFitAllYear, I was lucky enough to get the opportunity to try the BeFiT nutrition products as a SweatPink Ambassador, but the 30-Day calendar and all of the videos are completely free! So, feel free to try them along with me!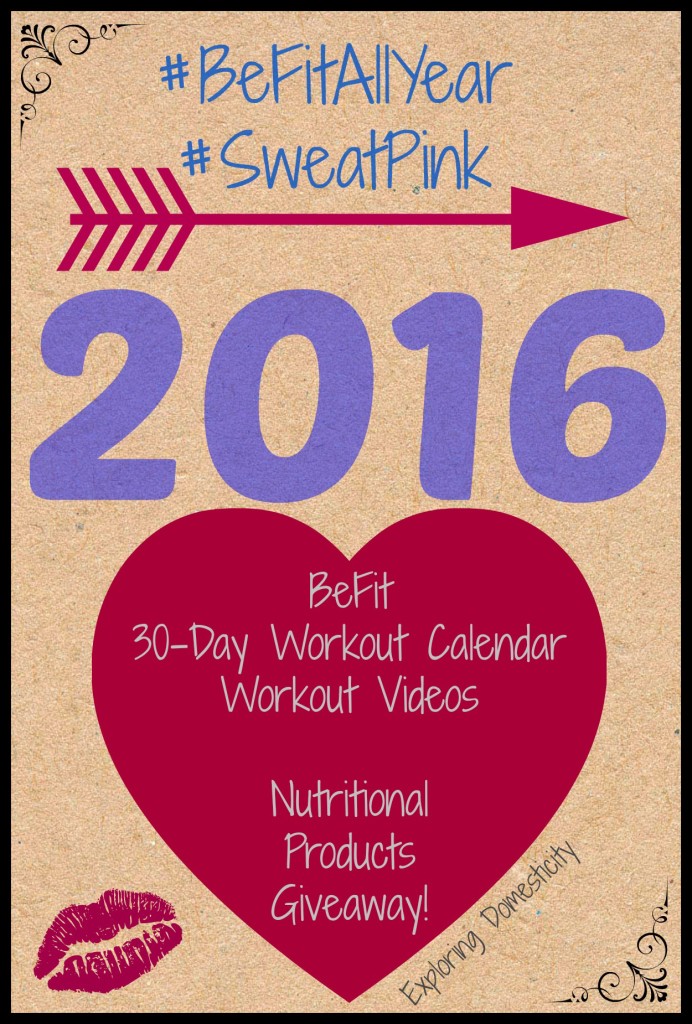 This past week, I have gotten up each morning before the kids, stumbled my way down to my office / workout space, and gotten in a quick,but super efficient sweat, showered, and went on my day. I started adding in my goodies from BeFiT after a day or two.
I mix up a scoop of the pre-workout with some water the night before so I can grab it first thing when I wake up. We happened to have some of the kids cups from restaurant, and I love them for this because you only need 4-6oz of water and I can stick my finger over the hole for the straw and use the lid to give it a shake. I have to admit, I don't like the taste… It's fruit punch and it's definitely not terrible at all, but not my favorite. It's nice to get this energy first thing in the morning, but it's supposed to be consumed 15 minutes before the workout and I start so quickly and the workouts aren't more than 15 minutes so I don't know how necessary this is for me.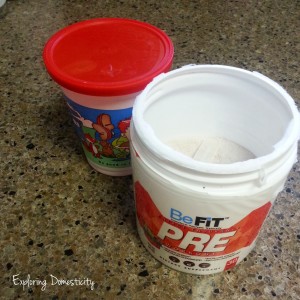 After finishing one of the awesome quick and super sweaty workouts, I will make up a shake with some unsweetened almond milk and a scoop of the chocolate BeFiT protein powder. It's very tasty! I especially love to add a spoonful of chocolate Pb2 and make it even yummier!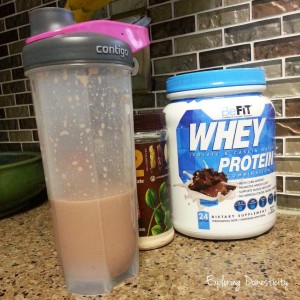 The Burn capsules are supposed to be taken before your biggest meal of the day. It's so easy! However, I remember more often before lunch whether that's my largest meal of the day or not. Dinner time is so busy that I always forget. I may need to set an alarm or something.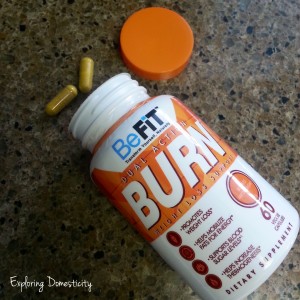 I can't say enough about these workouts and this whole program. I love it!! I'll be using the free workouts long after the 30 days, and I will also continue with the yummy protein shakes!
Join me in checking. Out the free calendar and workouts, and enter below to win the BeFiT nutrition products!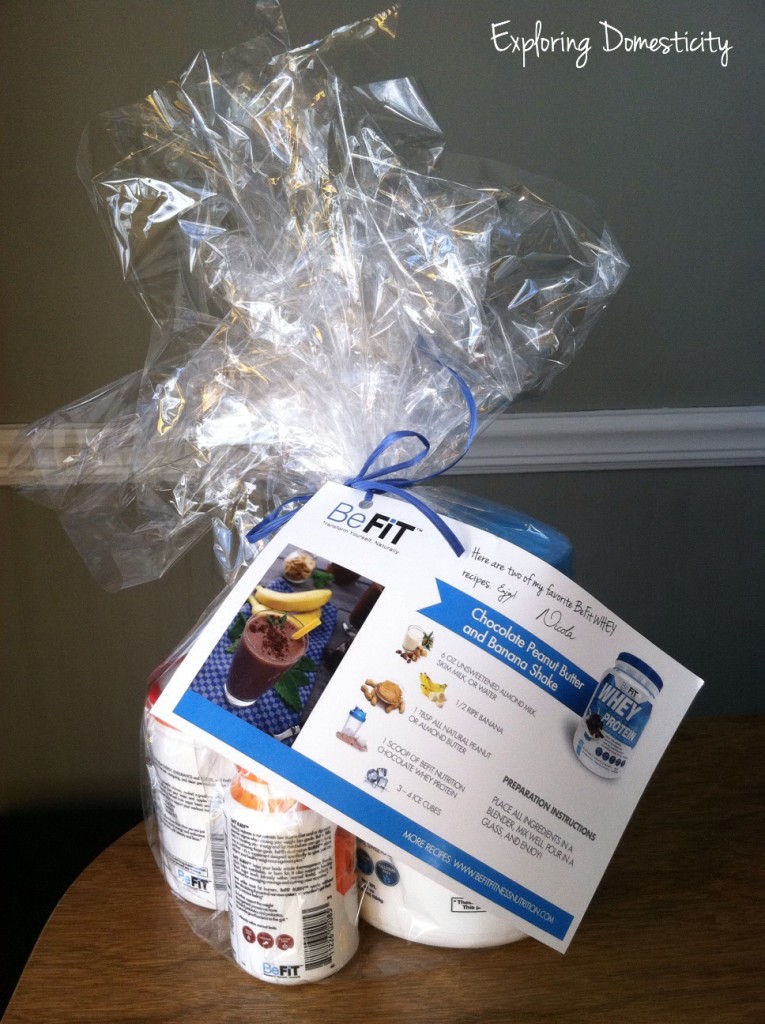 More Like This

Get Ya Some