Ok guys, the post you all (well, a few of you at least…) have been waiting for.
Last week I recapped the first day and a half of my amazing trip to LA with Planet Fitness. I stopped just short of the actual finale.
It was a long day and I would have had a ton to say about the experience even if I did leave out everything I have to say about the winner, but don't worry I'll get to that too!
So, back to where I left off.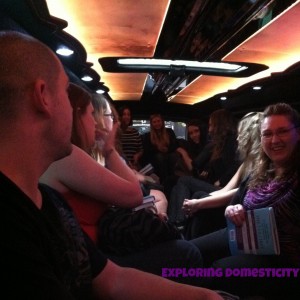 As we got accustomed to doing that trip, we were picked up in a limo at 2pm. (Those Planet Fitness people aren't messing around with those limos, we even had another set of winners heading back to Minnesota on the same flight and we were both picked up at the same time by two different limos!) We were each handed a box in the limo, and opened it to find Planet Fitness champagne glasses. So, the bottle was popped and we were on our way.
The next couple hours was a whole lot of waiting! The real bummer is that we were told to leave our phones in the limo and I have no pictures from the entire night. The biggest bummer: everyone else had their phones and were taking pictures all over the place!
We finally got to head to our seats around 4:15ish?? Again, no phone so I don't think I checked the time. We had just enough time to get settled in our seats, watch everyone else take pictures with their phones, and begin with a little pre-taping. Um, did I mention our seats were in the third row!?!?! Yep, we were directly in front of the spot where the former contestants stopped to pose for the camera before walking over to the center of the stage.
Alison Sweeney came out and she is gorgeous! I was blown away by her beauty, petite size, and bubbly and infectious personality.
The first 5 Minutes of the show was taped, so we watched Ali shoot her intro, the previous contestants say their little spiels, and the first video a couple times and clapped until our hands hurt.
During the show I was amazed at the transformations and so happy for the contestants! It was a complete whirlwind full of clapping, standing, sitting, and commercial breaks with the guy that keeps the crowd going. He kept everyone going with chatter and prizes, and you bet I made sure to get something! I practically jumped over the row of people behind me to get a DVD! Turns out it was the one I won from the #JustCrunchEm Twitter party, which is good for you because that means I can give it away! Woohoo! I love this DVD!
The whole show went by so quickly, and it was over before I knew it. Everyone got shoved out the doors, but we were able to snag Dolvett on our way out to sign our books and my DVD cover! I wish I had brought our books, but I thought I'd be lugging them around for nothing – oops! We grabbed our gift bag filled with a couple Larabars, popcorn, and a water bottle and went to check out the Jennie-O truck for our tacos, but they were out. Popped two bottles of champagne and we were on our way home.
Oh. Did I leave out some important parts of the show?
Ok, here it is… My initial reaction when Rachel came out onto the stage…
I expected her to be thin, the guys blew me away and I fully expected her to win. When she walked onto the stage The first thing I noticed was how happy she looked. She felt great and proud and it radiated from her. As she walked closer there was definitely a reaction of, "oh boy…" and a bit of a cringe shared with my neighbor. It was a bit of a shock because she was so thin. Even standing next to Ali, who I had first thought was so small, Rachel looked about half her size. I kept staring at her arms because I expected there to be more muscle, she was so athletic during the show.
So, there it is. That was my honest initial reaction, but I have a lot more to say on the topic.
I wasn't at all surprised when I started reading the reactions on Twitter, but I felt so sad. I feel completely crushed for Rachel because she can't enjoy the fact that she worked so hard and accomplished a goal.
She was the strongest competitor from the beginning. That champion came back out of her and she thrived with the challenges set before her. Did she take it too far? I don't know… She did what she had to do to win $250,000.
This is not where her story ends.
You can't change disordered eating in a few months. All of the contestants, being significantly overweight, begin with disordered eating. They are not going to get it 100% right in a matter of months, especially when that kind of money is on the line. It could take years, and her journey is far from over.
The contestants of this show get an amazing chance to jumpstart their weight loss and give it their full attention for several months, but that doesn't change the fact that they return home and have to find that healthy balance for themselves, just like the rest of us.
As far as the show goes, it wouldn't be very entertaining without the extreme transformations. If you want to watch a show that seems to (seems to because I don't know for sure) take care of the whole person, watch Extreme Weight Loss. The Biggest Loser is a different show, and I don't see anything wrong with giving people hope and inspiration. I would hope most people watching are aware of the difference between the resources available on the show and what people go trough to lose the same weight in real life. Also, to all of a sudden say this sets a bad example for impressionable kids… This show is far from the biggest contributor to those problems! She won, she deserves the money. If the show tried to put a bunch of new rules in place, it would become so complicated that everyone would have another opinion about how it should be done fairly and it would never please anyone. This is season 15, it was bound to happen eventually.
I don't care about the show. Everyone will have an opinion and there will never be a time when everyone is pleased.
What I do care about is the person. As I re-watched the show from home, I was so saddened by watching how happy and proud Rachel was and knowing she would be attacked soon after.
This is a young girl who felt like she had changed her life around. A life in which she had an unhealthy relationship with food that felt like a hopeless battle. Regardless of her size and anything else, she realized that she didn't need to use food to compensate for something and, more importantly, that athlete was still in there and it felt good to let her out.
I nearly cried watching how the happiness radiated out of her. Ok, she might not be the perfect weight and she still may have a long road ahead to find that balance, but there is no reason to take away her joy and all that she has accomplished.
Congratulations Rachel. I wish you all the best as you continue on this journey and find what makes you happy!
Did you watch the show? What was your initial reaction, and how do you feel now days later? I tend to stay away from controversial topics because this is my happy place, but I was there and I have some thoughts. However, I would love to keep this as positive as possible!