Comfort food at it's best! This Chicken Artichoke Casserole is creamy, tangy, and delicious. It's definitely a one-dish meal that is not to be missed!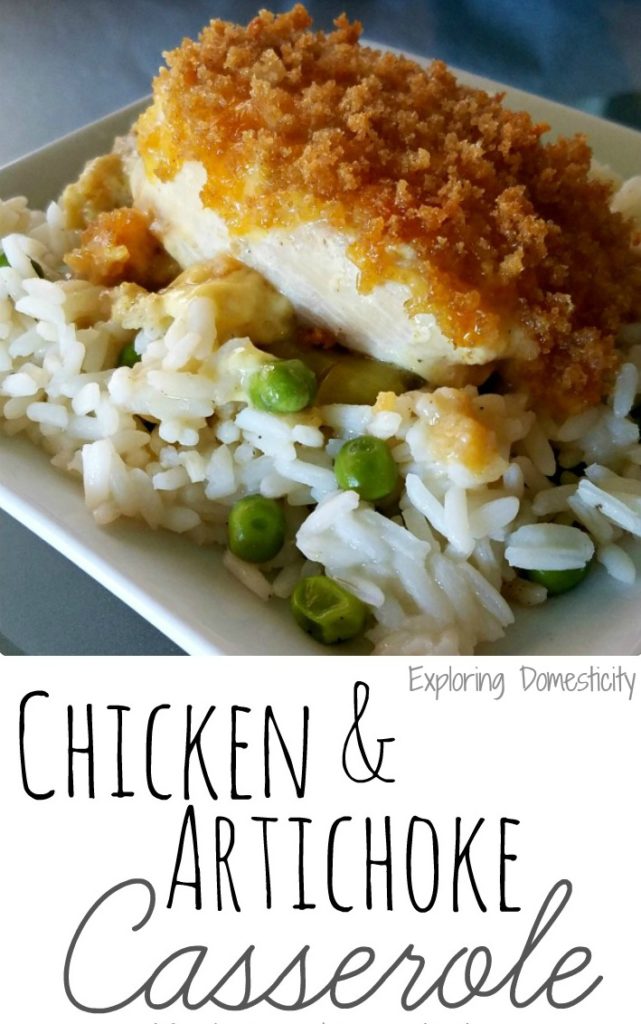 This post may contain affiliate links for items we like and hope you will find helpful. 
When I first shared this recipe, the photos were all from our dark cabin kitchen, and everyone started eating it before I got any good finished photos. Therefore, I ended up with a picture of the Chicken Artichoke Casserole in the oven with spoonfuls missing. However, it definitely proves one thing…
No one can resist this creamy, tangy, and delicious dish!
This recipe came from an old church cookbook, and my mom started making it for our family at the cabin a couple years ago.
It was an immediate hit!
I mean, what's not to love? Chicken, artichokes, a creamy delicious sauce, and a crunchy top. Serve it over some rice, and you have a total winner!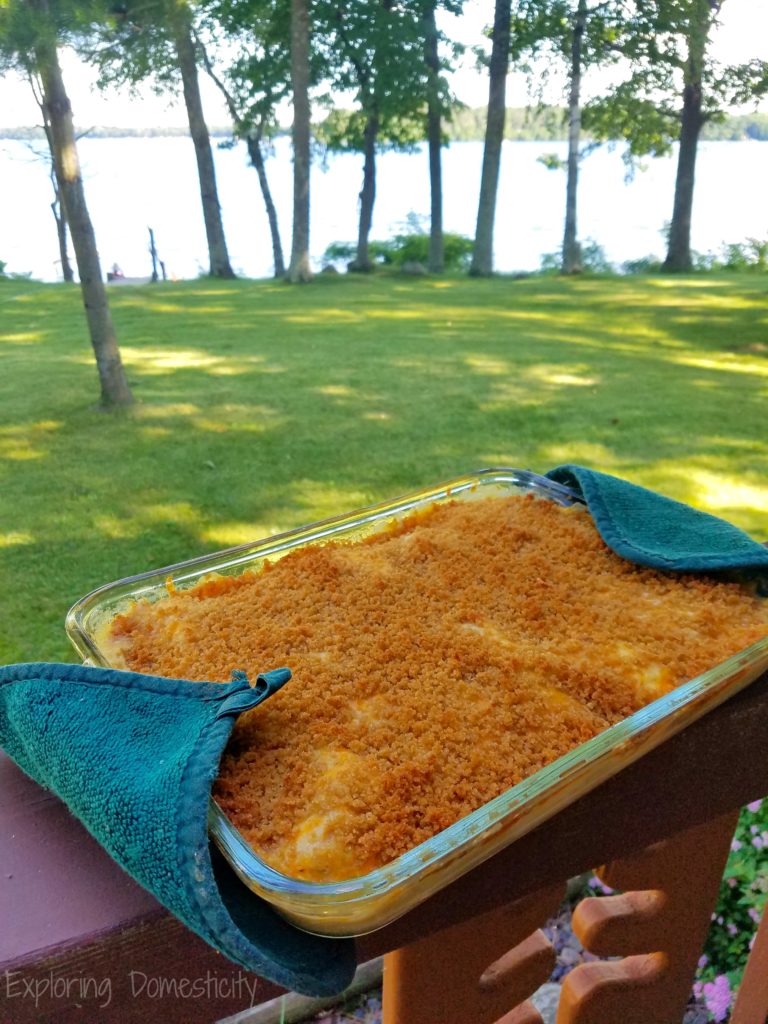 We still tend to enjoy this mainly at the cabin. Winter or summer, this Chicken Artichoke Casserole is pretty hard to resist.
If you have some leftover chicken laying around, this is a fantastic way to revamp those chicken leftovers into something totally different and delicious. The rest of the ingredients are pretty simple, and often things we have around anyway.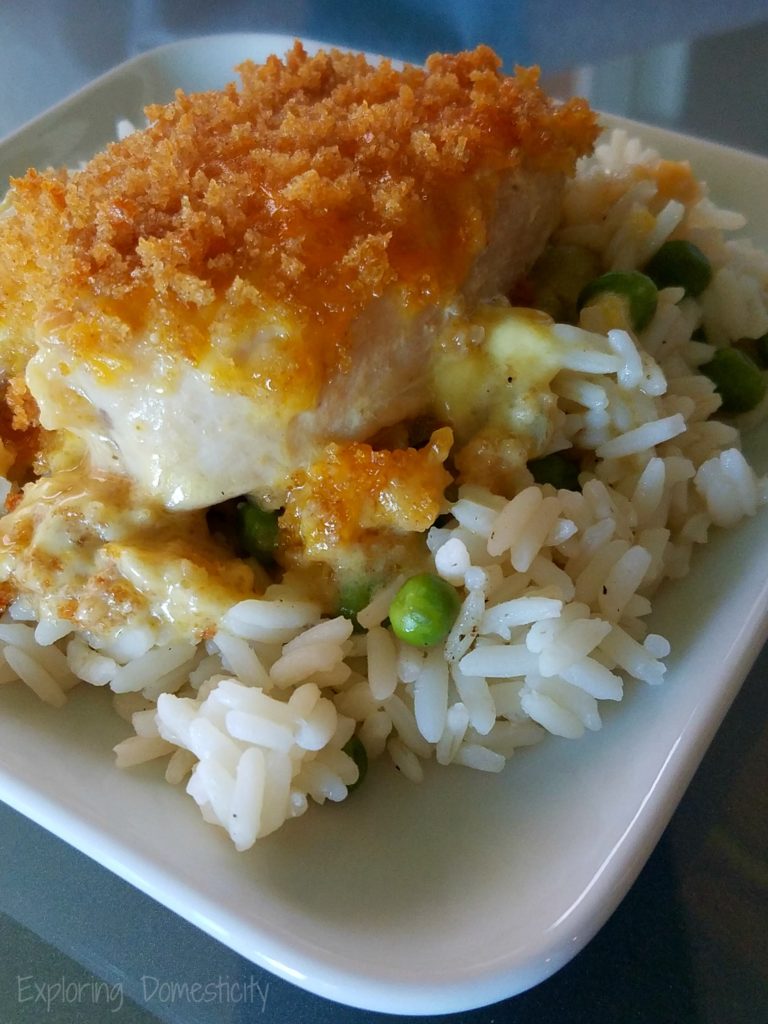 The last time we made this, we didn't have the cream of chicken soup. Luckily, you can find a very simple recipe from a Pinch of Yum that will get you in the ballpark. Even without following the directions exactly, it turns out great in this dish!
We love to make up a batch of rice with peas to go along with our Chicken Artichoke Casserole. The perfect bite has some fluffy rice, creamy sauce, a piece of chicken, and a tangy artichoke.
So good!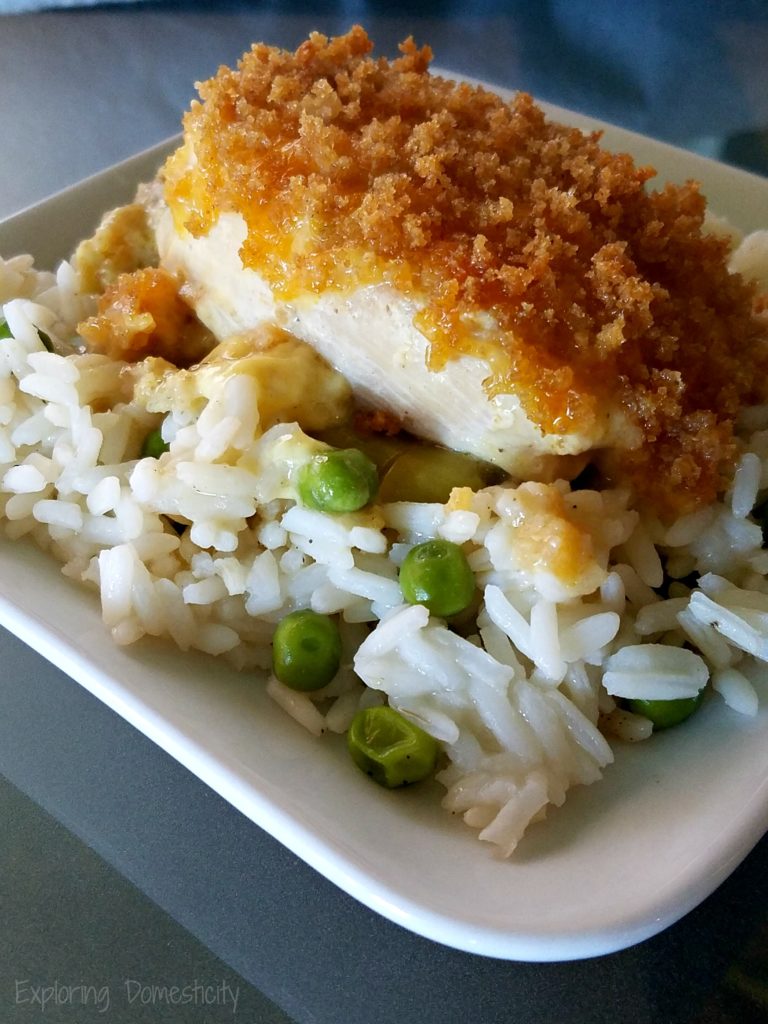 Can you really beat a one-dish meal?
Sure, you may have to use an extra bowl to mix up the mayo, curry, lemon juice, and soup… but for the most part, it's all in the casserole dish.
There is nothing better than a casserole for an easy and comforting meal. Wrap it in this super cute carrier, and you're ready for a potluck. It stays hot, and I guarantee everyone would want the recipe.
With the creamy sauce, tangy artichokes, and crunchy breadcrumbs, Chicken Artichoke Casserole makes me happy just thinking about it. Most importantly, it's a meal our whole family likes. From our picky 4-year-old to Grandpa who doesn't touch mayo, everyone loves it!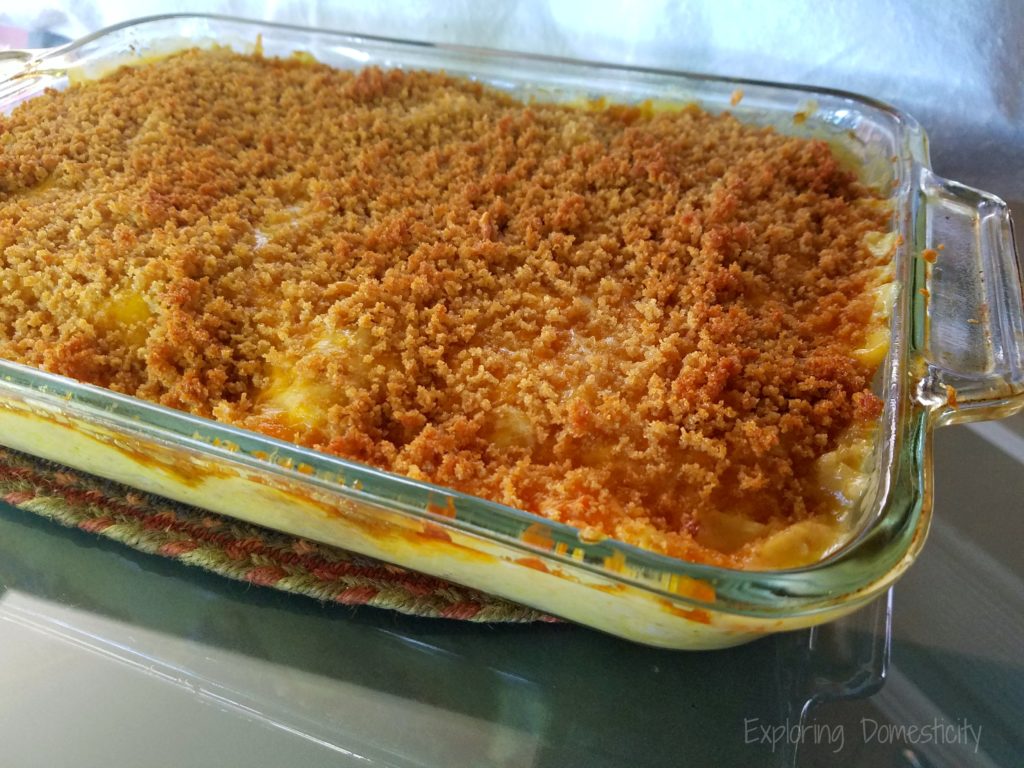 Chicken Artichoke Casserole
What you need
2 (14 oz) cans quartered artichoke hearts (these are already quartered)
3 cup cooked chicken pieces
2 cans cream of chicken soup
1 cup mayonnaise
1 tsp. curry powder
1 1/4 cup grated sharp cheddar cheese
1 1/5 cup bread crumbs
2 tbsp. lemon juice
What you do
Preheat oven to 350 degrees
Drain artichoke hearts and arrange in a buttered 9″x13″ casserole dish.
Spread chicken pieces evenly over the top
Add soup, mayonnaise, curry powder, and lemon juice and cover the chicken
Sprinkle cheese in an even layer over the top
Toss breadcrumbs with melted butter and spread evenly over the top
Bake uncovered 30 minutes
This time around, I made sure to stay close by so I could get a few photos without everyone digging in. The others definitely did not do this meal justice. It's our favorite, and I hope it will be your new favorite too!
Are you an artichoke fan?
Casserole or Hotdish?
Some of our favorites for Chicken Artichoke Casserole