A lighter sweet and salty snack option. These chocolate covered pita chips are simple to make, take no time at all, and are delicious and addicting!
Homemade pitas keep the calories low, and dark chocolate helps deliver antioxidants and keep Momma happy!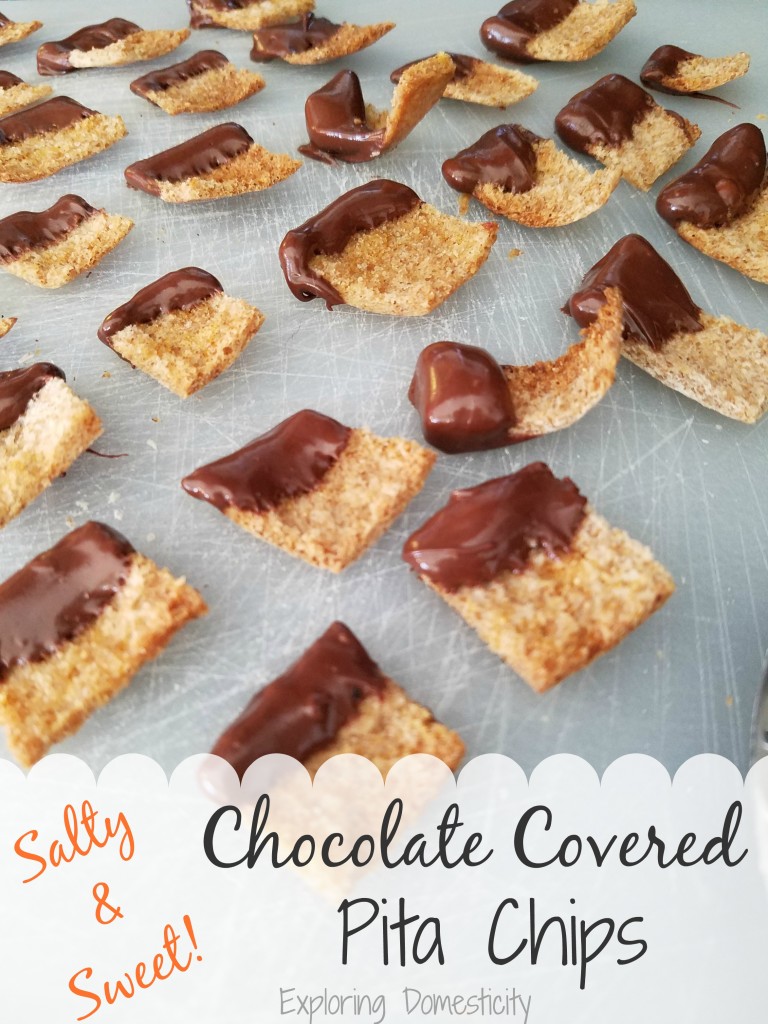 This post contains affiliate links. If you choose to make a purchase through the link, this site will receive a small commission with no affect on your purchase price. We hope you find the links helpful!
Chocolate Covered Anything Day
Did anyone else know that last Friday was Chocolate Covered Anything Day?
I did. I marked it on my calendar, and… forgot by the time Friday came around…
Better late than never!
Here is the genius idea that Chocolate Covered Anything Day inspired…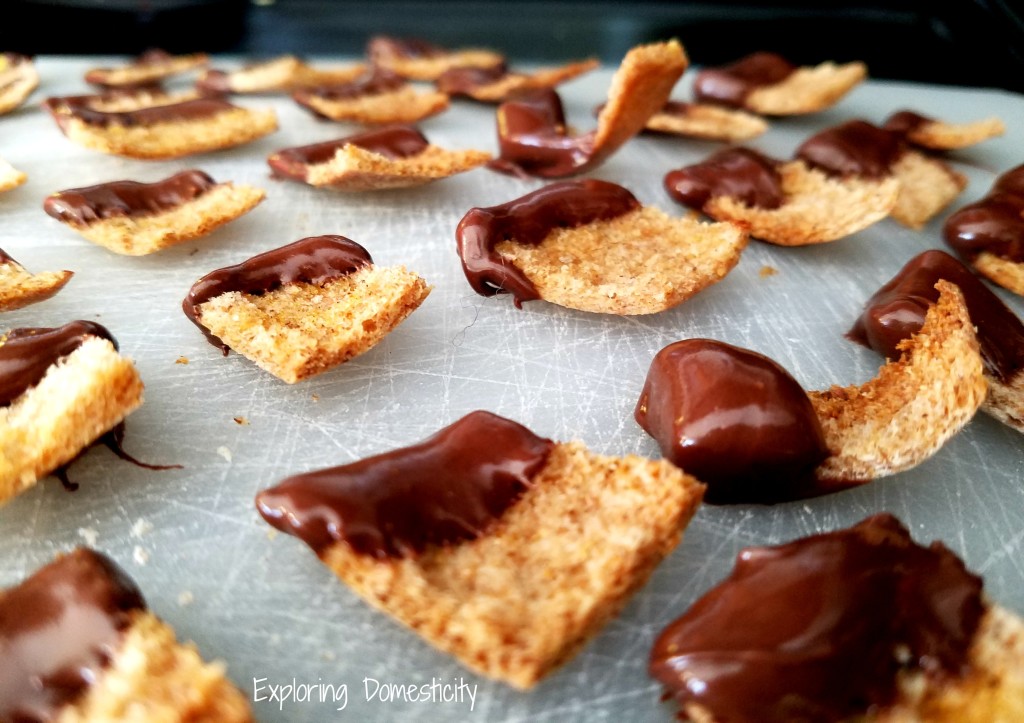 Chocolate Covered Pita Chips: Salty and Sweet
Salty and Sweet is where it's at.
I remember the first time I tried chocolate covered potato chips. What a wonderful idea! I'm also a fan of sea salt with chocolate or caramel. Chocolate covered pretzels are also amazing… and who can resist salty popcorn or fries with a chocolate shake?
Unfortunately, you can't eat that stuff all the time.
It is possible to make better choices with the salty snacks you use – nuts are a great option – and go with a darker chocolate with a higher percent of cocoa.
I make pita chips to eat with hummus and to satisfy salty cravings. They are yummy!
Pita chips are easy to make in no time with your favorite pitas. We use Trader Joe's Pita Bread. I like that they are usually pretty uniform without super thin or super thick spots. You can find them anywhere, even online. This brand of pita bread sounds like a good choice.
It's as easy as cutting them to the size you want for your chips, and seasoning and toasting them up. So easy!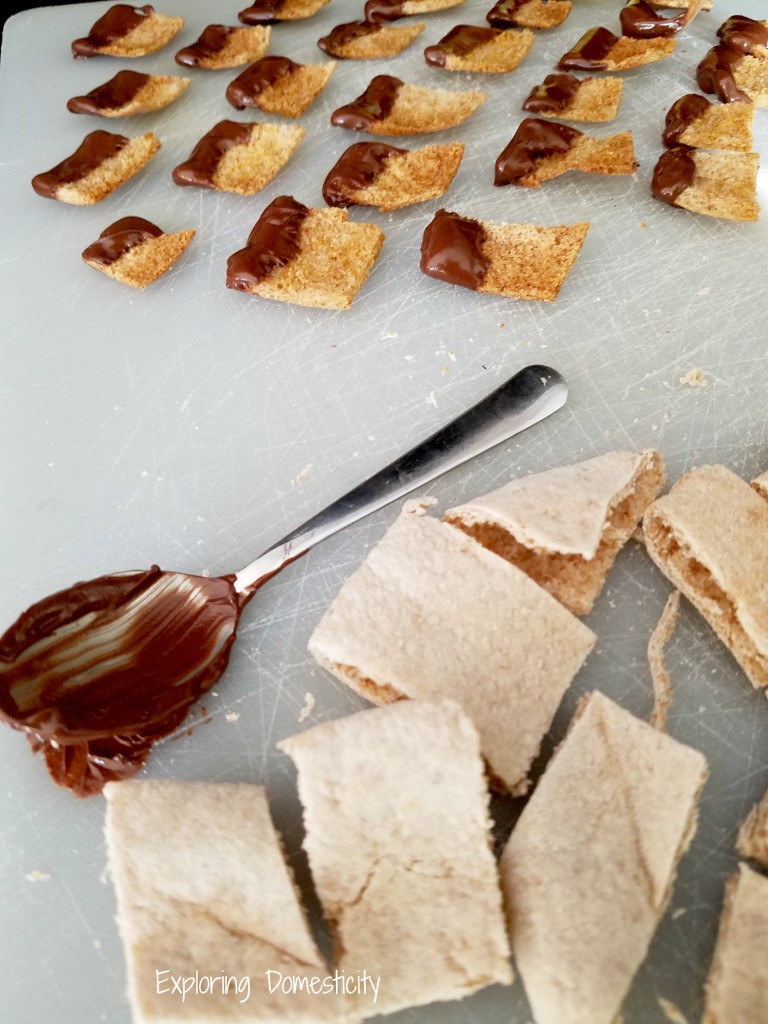 Chocolate Covered Pita Chips
Making pita chips is a piece of cake. It's merely taking your favorite pitas, giving them some seasoning, and toasting them into chips.
It's so easy, I've never even pay attention to how I make them. Most of the time, I just give them a quick spray, seasoning, and then just watch them until they're toasted just right.
Pita Chips
Cut into bite-size pieces. This goes really fast with a pizza cutter!
Peel the layers of the pita apart for single-layer chips 
Spray the pan and the top of the pitas. You can use cooking spray, oil, butter, or if you're like me and keep olive oil in a spray bottle, you're all set. (I completely recommend the USA pan – nothing sticks to this thing!)
Season. I typically just use season salt or garlic salt. In this case, I used Himalayan sea salt.
Toast. I often do small batches in the toaster oven on "toast." You can also preheat the oven to 400 degrees and cook for roughly 7-10 minute
Flip halfway.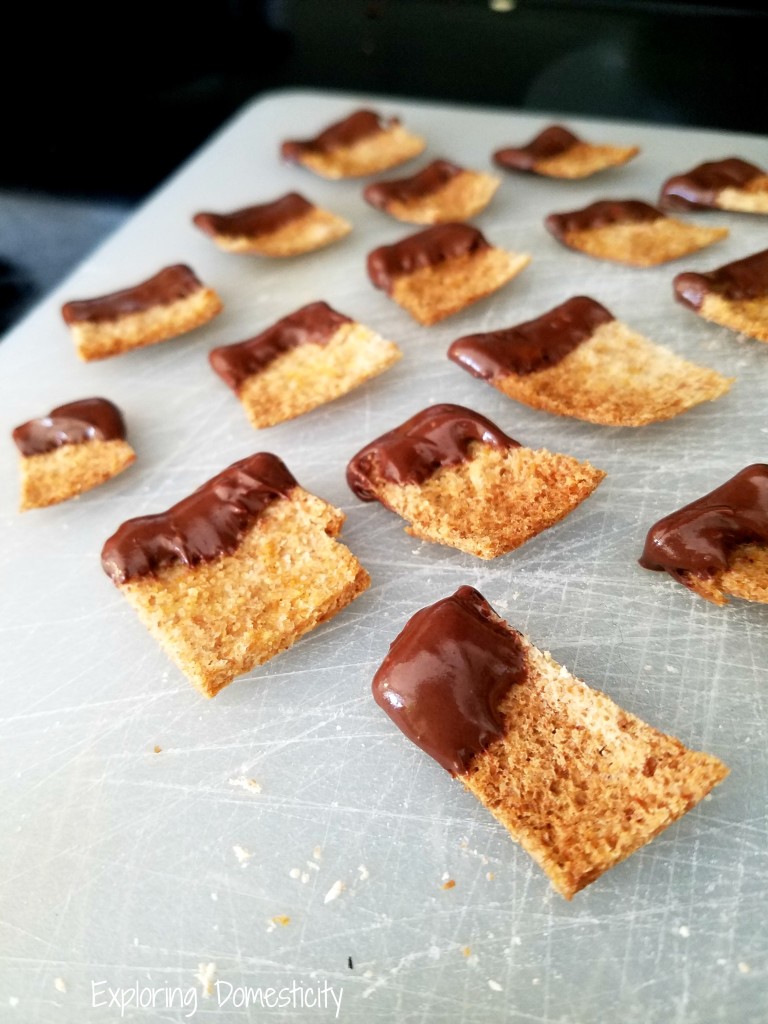 Chocolate Covered Pita Chips
Now that you've made the pita chips, all that you have to do is melt your chocolate and dip them.
Using the microwave or a double-boiler, melt your chocolate and stir until smooth. Dip the pita chips, covering about 1/3 – 1/2 of the chip. Set on a smooth surface so they will remove easily. Chill in the refrigerator or wait about 15 minutes or so.
I love dark chocolate. If we're making this a healthier alternative to chocolate covered potato chips, using a nice dark chocolate just makes it that much better. I like to go with one that is 70% or 85% cocoa.
I always grab the Moser Roth chocolate from Aldi, but just found out you can also get it on Amazon!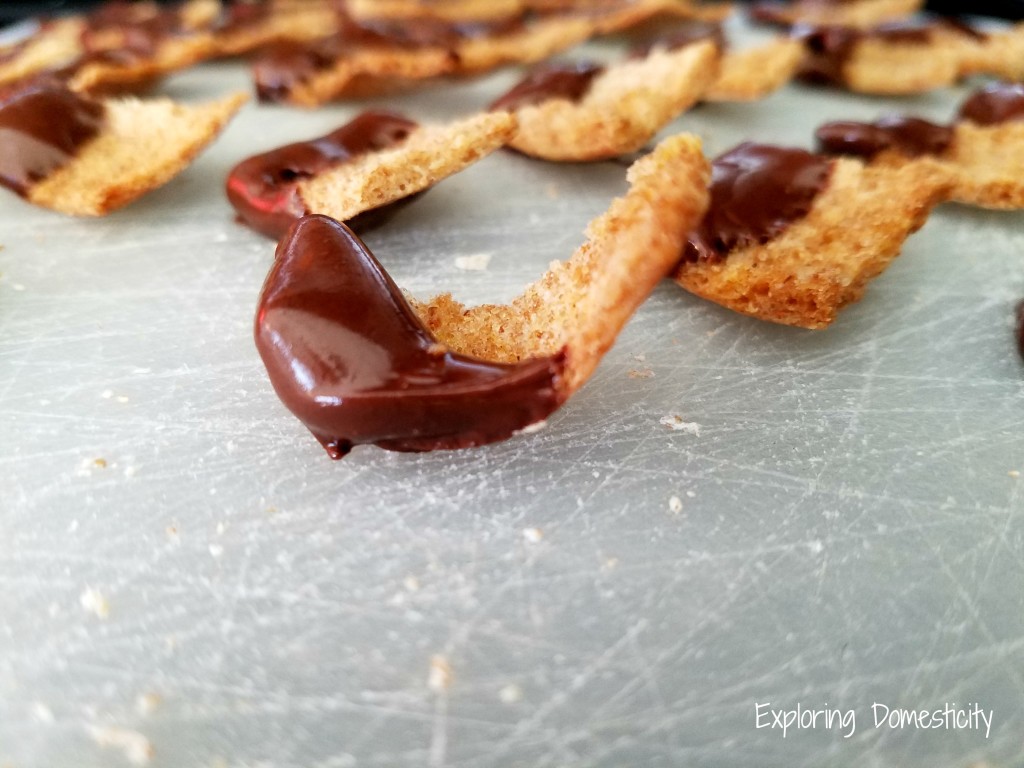 These are so addicting! At least I know I can have a few more than if these were chocolate covered potato chips!
Do you love a salty and sweet combination? Are you a dark or milk chocolate fan?

More Like This