This Coffee Mug Holder is as easy to make as it is adorable! Made from pallets, the only supplies purchased was the hooks for the coffee cups. Perfect wedding shower gift for coffee lovers!
This project comes together in no time! It's so easy but makes such a statement! The adorable quote from Johnny Cash about June Carter makes it the perfect gift for your favorite couple.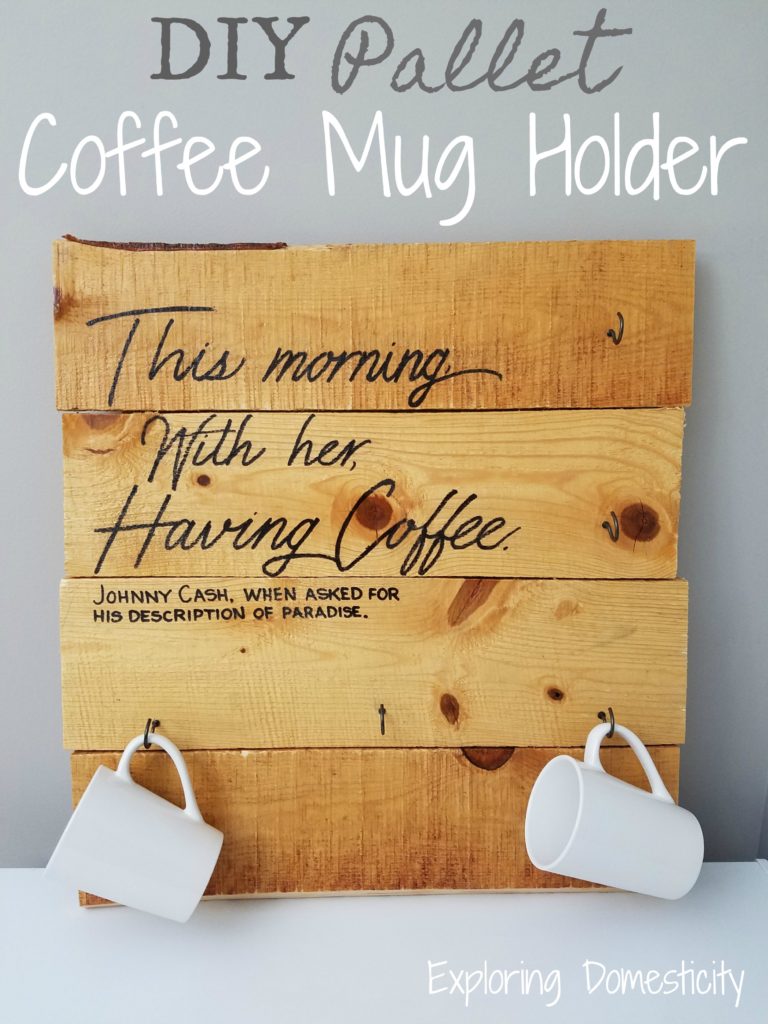 This post contains affiliate links to the products we used or hope you find helpful.
If you've been following along on Instagram, Facebook, or Twitter, you'd know we've been working on the decorations and gifts for a couples shower that was finally held this weekend.
Of all the projects – and there were a lot of them! – this is definitely my favorite!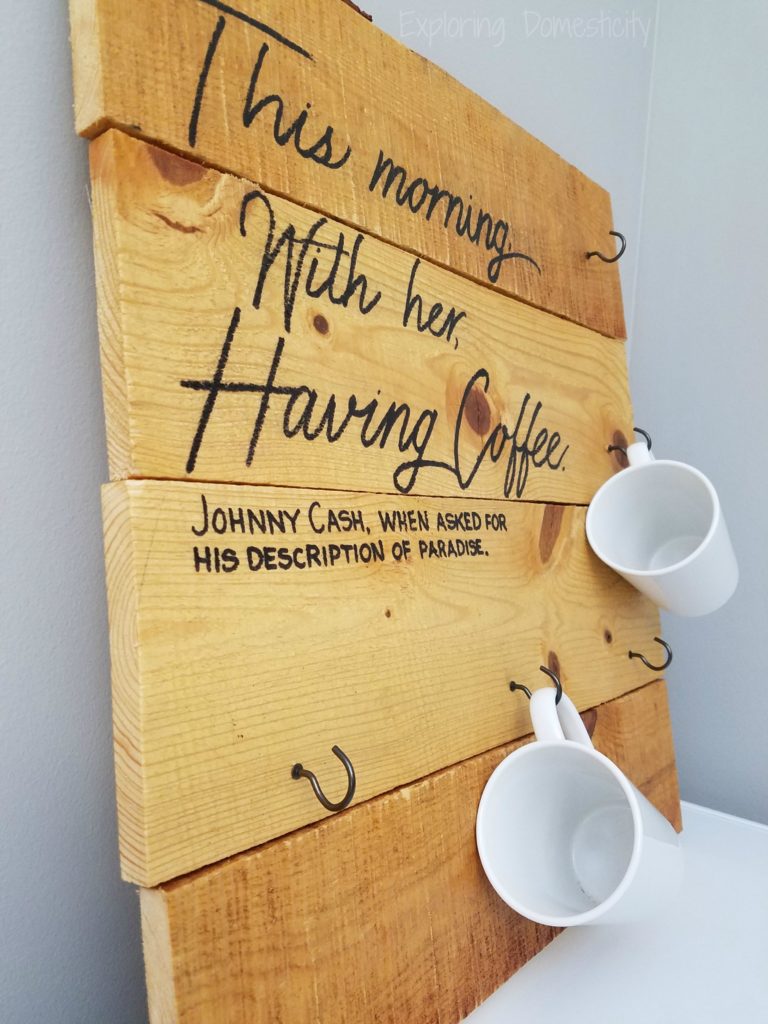 Johnny and June Wedding Shower Coffee Cup Holder
I was on for the decorations, games, and desserts for a couples shower held for my cousin and her sweet fiance. They met in Nashville, TN and are both very musical.
So… a Johnny Cash and June Carter Cash theme seemed totally appropriate.
Along with the song Johnny and June and some sweet love letters, there are some adorable quotes from Johnny Cash to June Carter.
One of the best Johnny Cash quotes is perfect for any coffee lover. In our case, it is great for these coffee lovers and could serve double-duty for the coffee bar at the shower.
"This Morning, with her, Having Coffee."

— Johnny Cash when asked his description of paradise
How sweet is that!?
If that quote isn't perfect for a coffee mug holder, I don't know what is!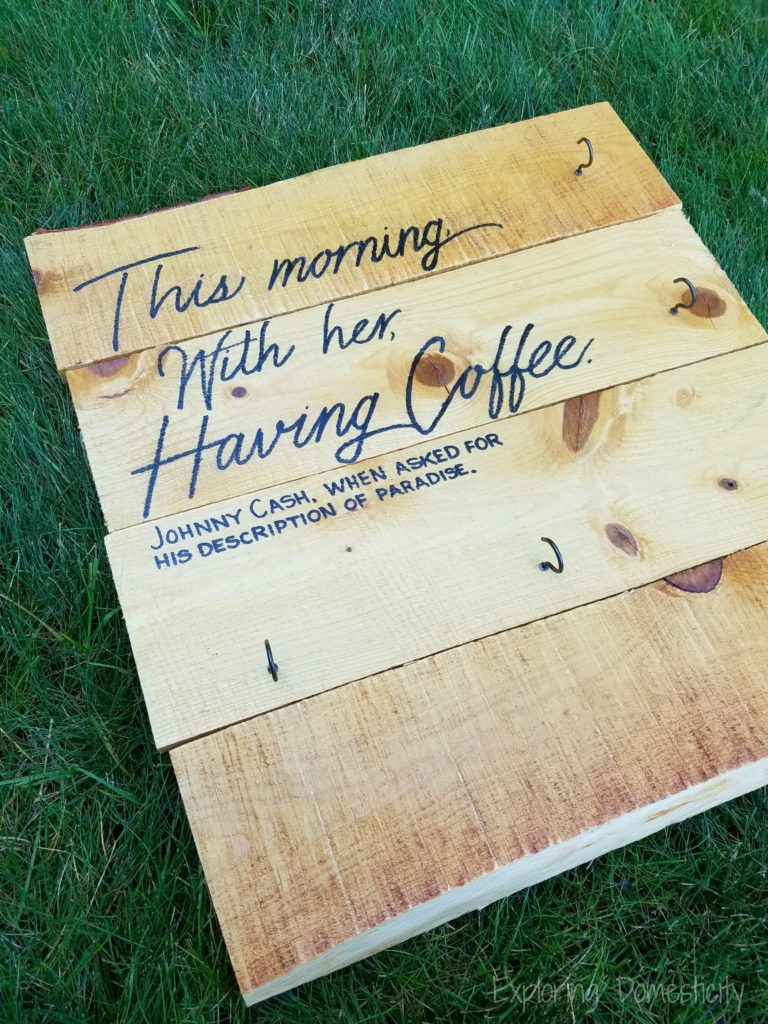 Creating the Coffee Mug Holder
For how amazing it looks, I can't believe how easy this coffee mug holder was to create!
Using one pallet, some coffee cup hooks, and a Sharpie, you can recreate this in no time.
Pallet
Anyone who has pulled a pallet apart a pallet knows, pulling out all those nails can be such a pain. In this case, you can take your pallet and cut the pieces right down the sides so you don't have to bother with the nails.
With our standard size pallet, we used the four center pieces of wood and it was perfect! We also used the smaller pieces from the back and a nail gun to quickly attach them right to the back. We didn't even have to cut anything down beyond just cutting them off the pallet. So easy!
If you can't find a pallet, you can get pallet boards or ready-made boards for signs easily off of Amazon.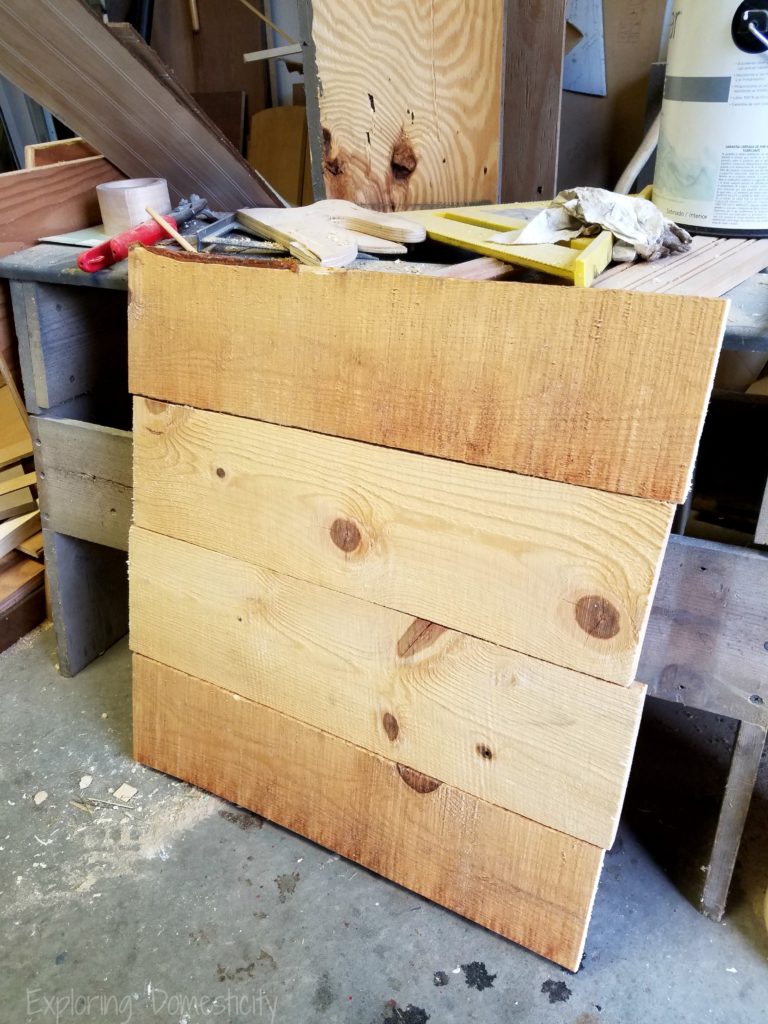 Slapping a quick coat of poly on at this point doesn't hurt. The boards are usually rough, which is part of the appeal. However, it can make writing on them a little tricky. With a quick coat of poly, the grain will raise and you can give it a light sanding.
Coffee Quote
The most difficult part about this project is writing the quote on the boards. I would have tried my best, but I never would have done as amazing of a job as my dad did with a Sharpie. What talent! 
In case you don't trust yourself to freehand right on the board, you can print your quote on paper first. Then, place it where you'd like it on the boards and take a pencil to press down around the outline. The indentation should be there on the board enough for you to follow with your marker or paint.
You could also try to find a great coffee decal or use a Silhouette or Circuit machine to make your own.
Hardware
Once we had the saying on the board, we pre-drilled small holes for the coffee cup hooks. I got a large pack of them at Walmart for $3, but you can also find them on Amazon. I love the brown color of these for this project!
On the back we attached some heavy-duty holders so the sign can be placed on the wall over two nails. There are a few different types of fasteners you could use, depending on the size and weight of your sign.
It turned out so amazing!
We used it for the coffee bar, so it doubled as decor and the couple of honor are able to take it home as a gift. Perfect!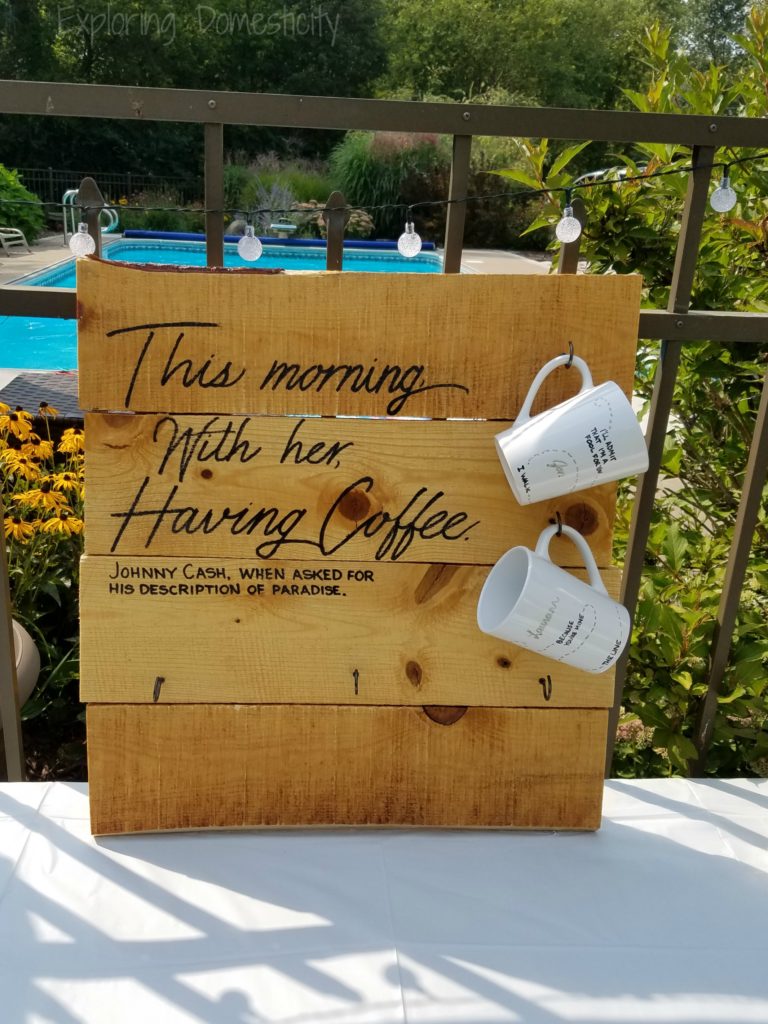 Walk the Line Couple Coffee Cups
As an added special touch, we made some personalized coffee mugs for the happy couple to place on their coffee mug holder.
This is similar to the Wedding Shower Guest Book Plate we did a couple years ago. With cups from the dollar store and some black and metallic sharpies, we created custom mugs.
After you get your mugs – either from the dollar store or ordered online – it's best to give them a good cleaning. The reason the Dollar Tree mugs work so well is that there is something about the inexpensive glaze that allows the mug to hold the Sharpie design/writing.
Amazon has some kits, with markers and mugs, to make it really easy.
Going with the Johnny Cash theme, these mugs are decorated with the lyrics from Walk the Line. When put together, they connect to complete the effect. It's a bonus that the bride is left handed too!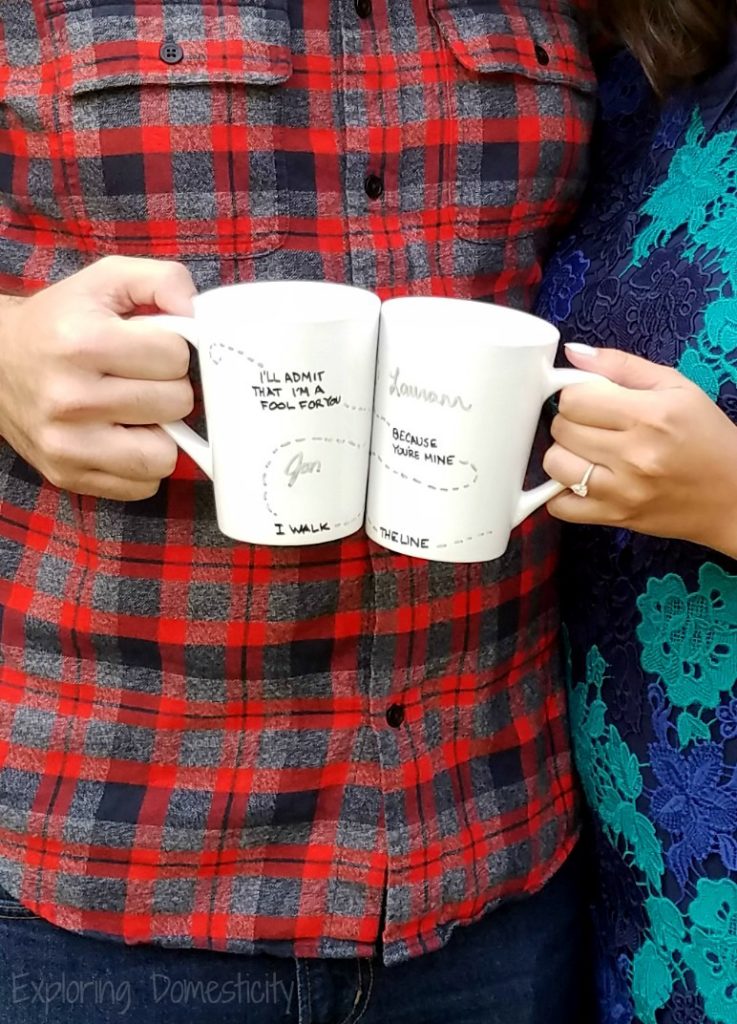 The whole shower turned out great. I'll be sharing some more of our decorations and our Johnny Cash Relay Couple Shower Game very soon! Be on the lookout for it, because it was a lot of fun!
Are you a coffee lover? Do you know a sweet couple who would love this gift?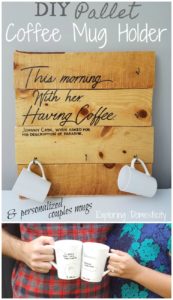 Materials for Coffee Mug Holder and Personalized Cups
More Like This