Each year, we try to make at least one fantastic dining reservation while we are at Walt Disney World. This year, we decided to try dinner at O'hana at the Polynesian Resort. The food was delicious, but read on to see if I thought it was worth the price or good for kids…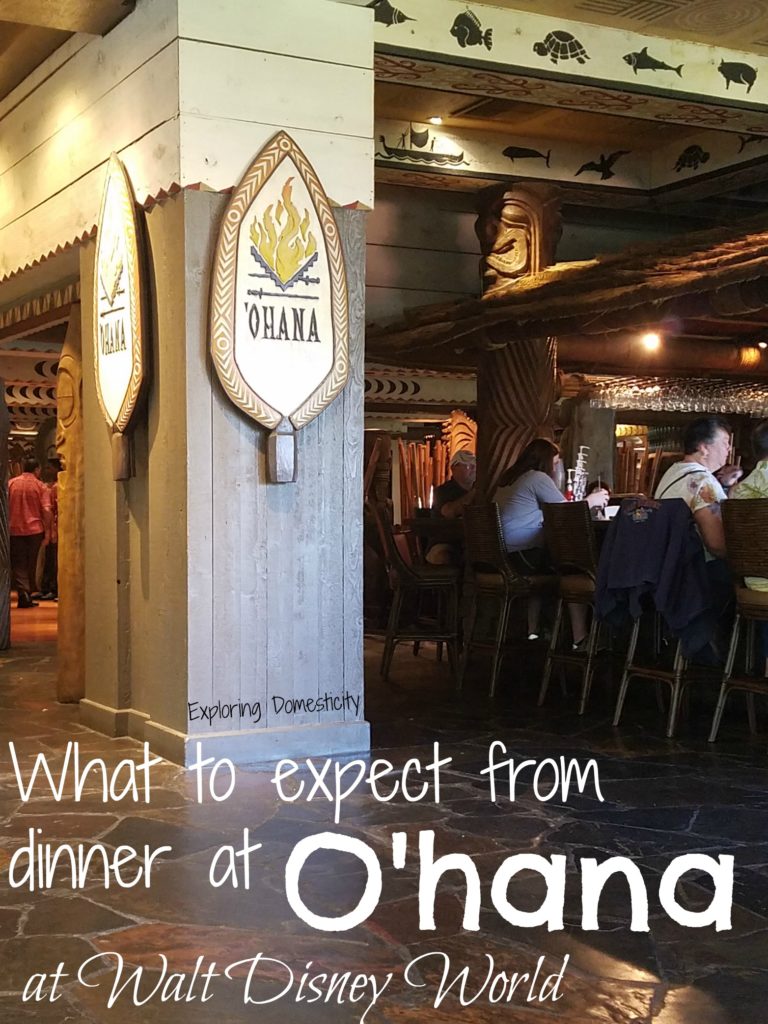 I kept a daily play-by-play while we were in Walt Disney World, and I'm going to share it bit-by-bit each week. We stayed at the Art of Animation Resort, in the Cars Family Suites, and visited Disney Springs, had dinner at O'hana, and had a great day at the Magic Kingdom. We visit Walt Disney World each year and, for that reason, we like to take it slow, relax, and enjoy ourselves instead of stressing to fit it all in. I'd say we get a pretty fantastic vacation balanced with fun and relaxation.
If you've been keeping up with our Walt Disney World vacation for Spring Break 2017, you know that I left you hanging with Day 2. We spent the day at Disney Springs and the evening with a reservation at O'hana. There is so much to say about both, that they each became their own post. So, here is the continuation…
…Some rest and lunch back at the room was all we had time for before it was time to start getting ready for our 3:40 pm dinner reservation at O'hana. Dinner reservations start at 3:30, so we were going to be one of the first seatings. We wanted to give ourselves plenty of time to take the bus to the Magic Kingdom and the Monorail to the Polynesian.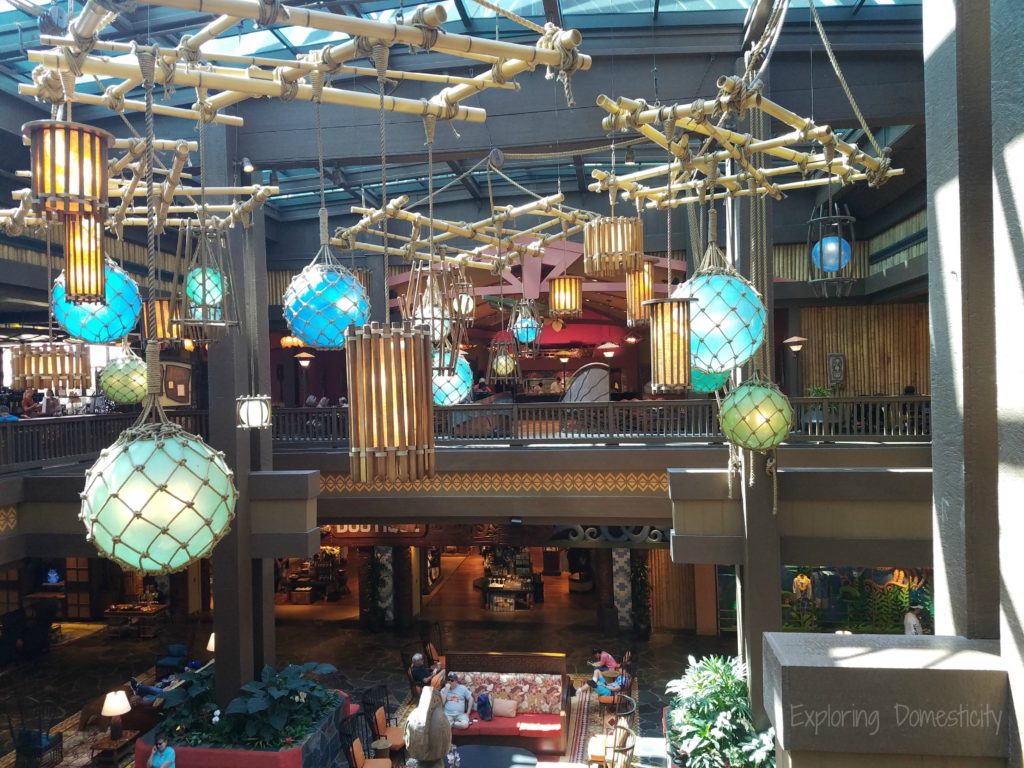 We had time to spare and were able to visit the shops and take a walk out to peek at the pool. O'hanas opens at 3:30, so I got in line while the family waited outside the restaurant. They began checking us in and handing out pagers at about 3:15, and the servers all came out with a brief introduction and song once 3:30 pm arrived. We were called in shortly after.
Dinner at O'hana
Our server, Lazy Susan, was so friendly and a real treat. As O'hana means "family" we were called "cousin" and told that the meals are served family style and we can have as much as we please. Our little guy felt pretty special to be asked to help carry the bread to our table.
We were seated around a round table with gorgeous views out the windows around us. Non-alcoholic drinks are included with the meal so we had a variety of tea, water, apple juice, and chocolate milk at our table.
Pineapple Coconut Bread & Amazing Salad
The pineapple coconut bread was very sweat and tasty, but none of us wanted to fill up on that in anticipation of what was to come. Next, they brought out the salad, which was one of my favorite parts of the meal. The salad is mixed greens with a  Lilikoi dressing that is delicious! The edamame and crispy wanton strips made it extra yummy.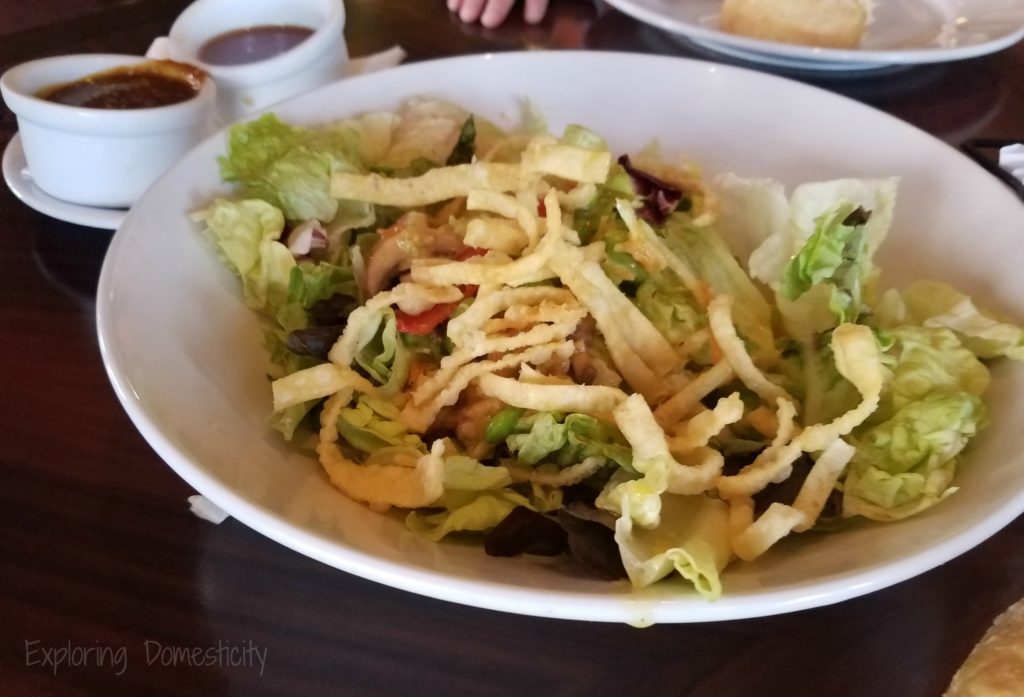 Noodles, Vegetables, Wings, & Dumplings
Once we had finished our salad, that bowl was switched out for a large bowl filled with noodles covered with a sweet teriyaki sauce in the center, and stir-fried vegetables, honey-coriander wings, and pork dumplings around the edges. They also brought over peanut and sweet and sour sauces – so good! I expected the noodles to be my favorite, but they were sweeter than I expected. Definitely still good, but my favorites were the vegetables (broccoli, baby corn, water chestnuts, mushrooms) and the dumplings in the peanut sauce.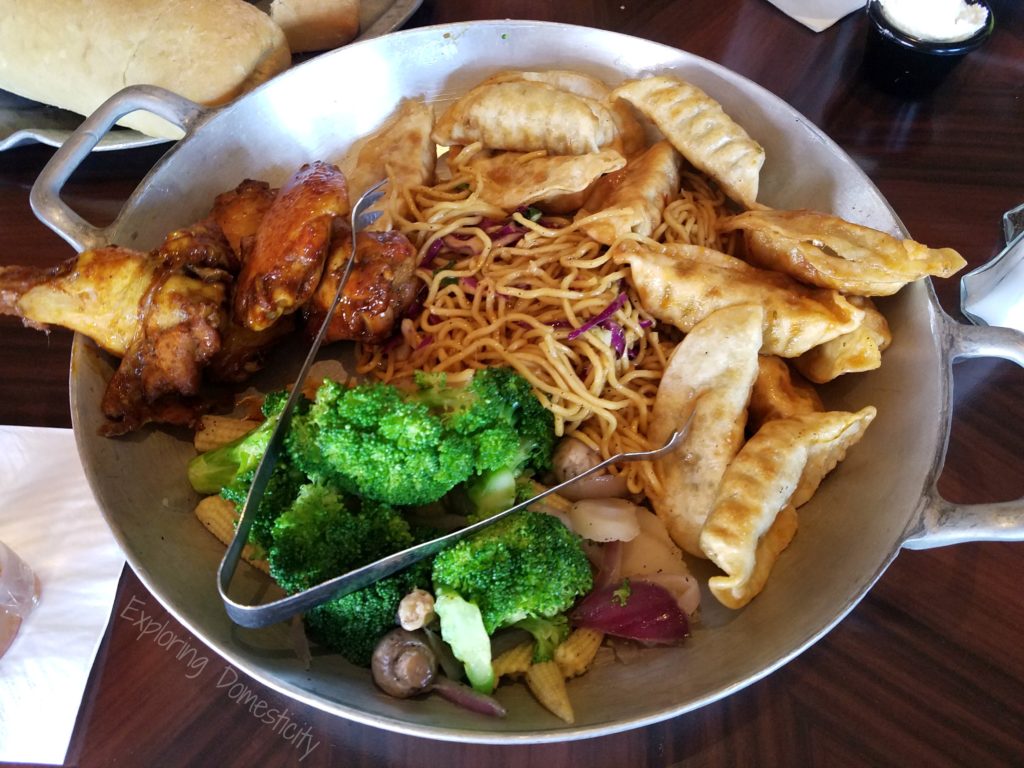 Steak, Chicken, & Shrimp
After we had put a good dent in that, some very hot moist towels were delivered for our sticky fingers and then the skewers started to arrive. Serves walk around with very impressive, huge skewers of Szechuan Sirloin Steak, Sweet-and-Sour Chicken, and Spicy Grilled Peel-and-Eat Shrimp. By far, my favorite was the shrimp. Good thing too, because I must have looked a little excited because our server pushed at least a dozen onto my plate!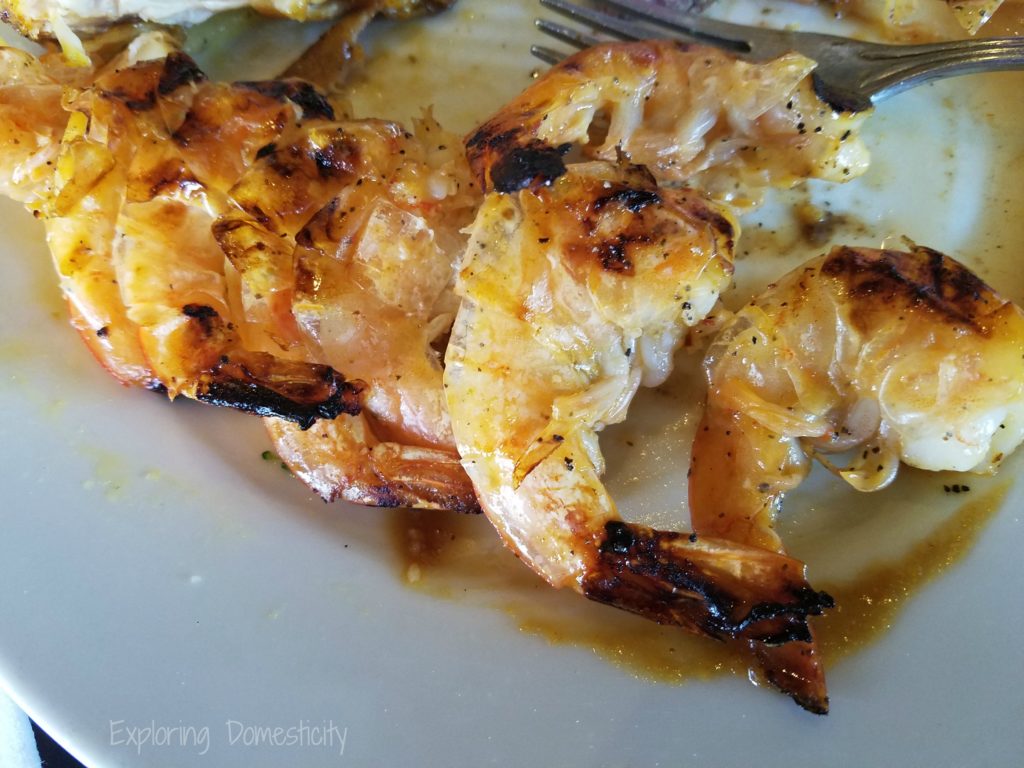 The kids were quick to bow out at this point. Our little guy had been shoveling in as much as the adults and it was starting to catch up to him, and our little lady wasn't a fan of much but that was mostly due to a long day and a tired girl.
Games for Kids
Just in time, our entertainer – who had been walking around the restaurant singing beautifully with a ukulele – called the kids up for a game. Our little lady jumped at the chance to stretch her legs, but her brother was a little too cool and didn't want to go. Luckily one of our servers convinced him to follow him over to where the game was starting.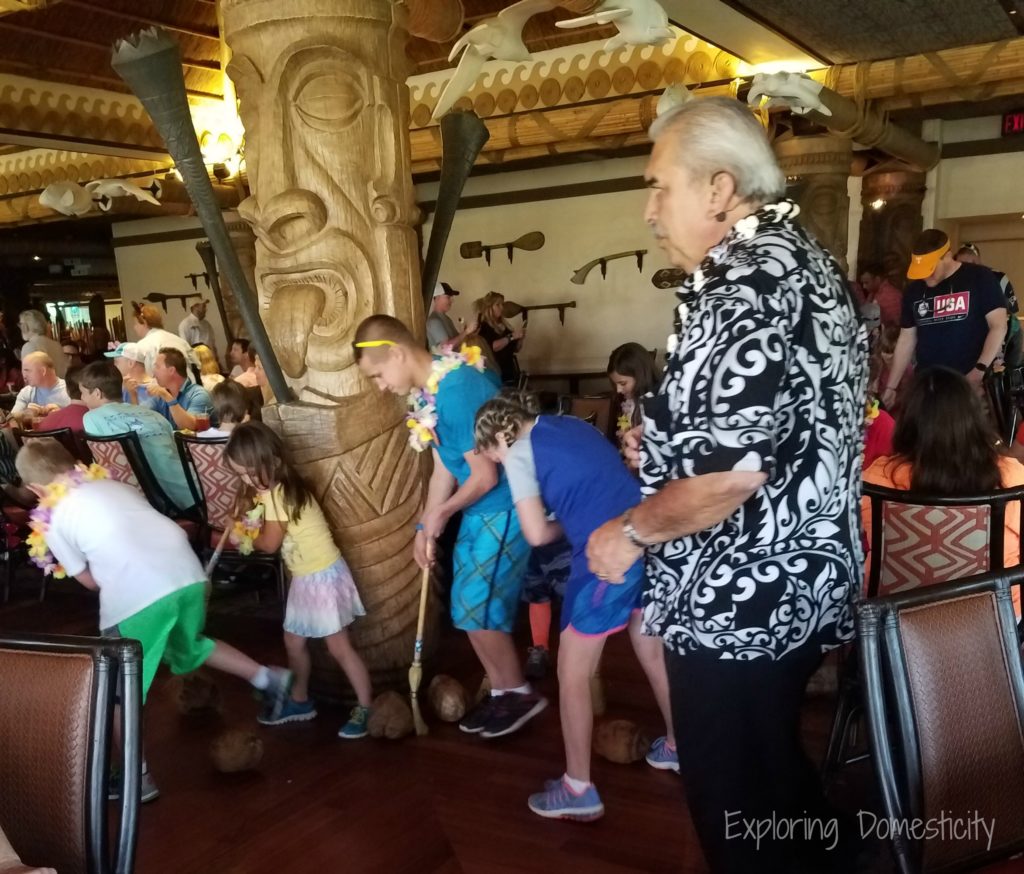 Each kiddo was given a colorful lei, a broom, and a coconut. They were to use the broom to push the coconut over to some bins around another corner of the dinning area. Our kiddos were adorably bringing up the rear and getting pointers on how to push the coconut with the broom.
A little disappointing…
I have to admit, the game is nice, but it's not enough to keep kids entertained during this long meal that isn't super exciting for kids. When I read that the kids stay entertained because they can get up for games, I thought there would be more opportunities or even a place for the kids to play. That isn't the case. The game is right around the dining area and it's not the most exciting experience. This was the biggest problem with our dinner. The kids weren't as into it and maybe we should have tried another character dinner as we have in past years…
After the excitement of the game, the best part of the entire experience occurred…
Dessert!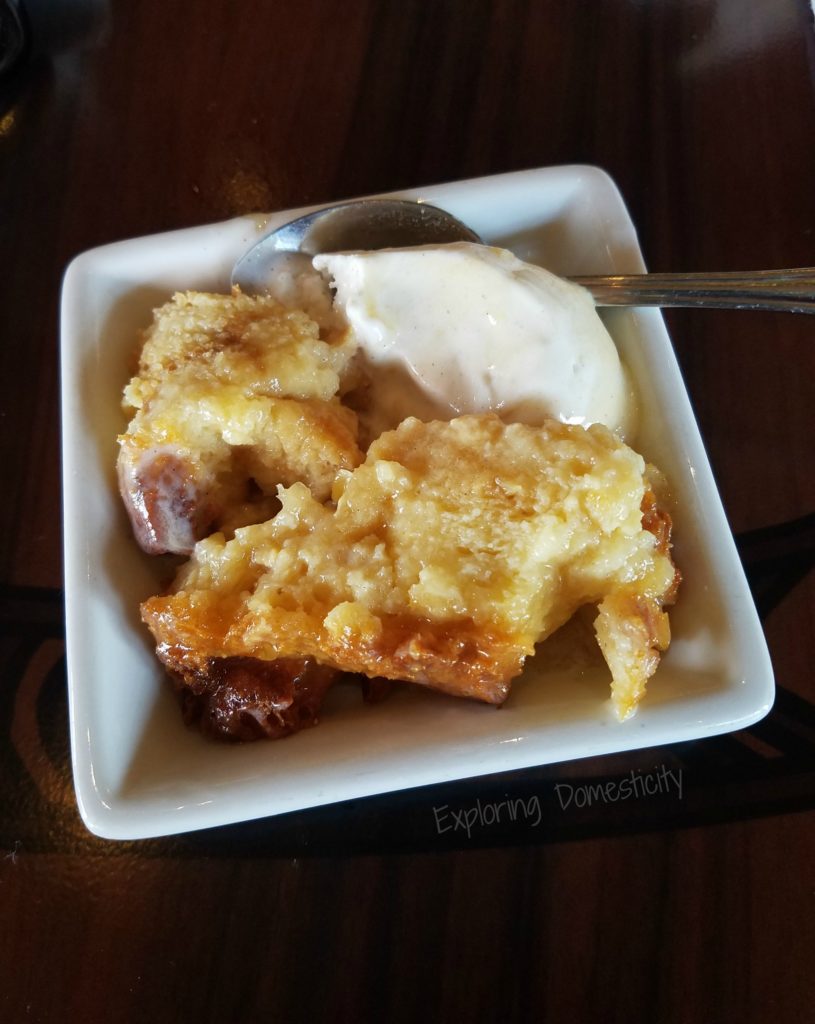 I don't think I could ever adequately explain the heaven that is the O'hana Bread Pudding à la mode with Bananas-Caramel Sauce… Oh my goodness…
It comes to the table in one big piece with a large scoop of ice cream on the top and our cousin, Lazy Susan, poured a generous amount the the decadent banana-caramel sauce over the top.
The best way to describe it is that the dessert tastes exactly like the best bakeries smell.
It is warm, comforting, rich, and has a warm spice of cinnamon and caramel. It is amazing!
The kids had a small brownie with a marshmallow topping and M&Ms, and thank goodness too because we weren't sharing! They loved it.
Is dinner at O'hana worth the price?
The short answer, for us, is that we wouldn't do it again.
Everything I read had people raving about this dinner. I will admit, the food was all delicious and I think we would have enjoyed it more without kids.
In our experience, the kids weren't as excited about this which made it a little more stressful for the adults. Our daughter was tired from the day at Disney Springs and she's our more picky eater, so she wasn't on her best behavior during our meal. Our little guy was scarfing it all down, but at some point we all hit a wall. We just don't seem to enjoy this type of restaurant. It reminded us of the time we went to Fogo de Chao, and we were overwhelmed by all the meat circulating so we didn't feel like we ate very peacefully and ended up full just looking at the food.
So, the $250 check at the end didn't feel like money well spent. However, I'm glad that we went and we really can't say anything bad about the amazing food, and the AMAZING dessert!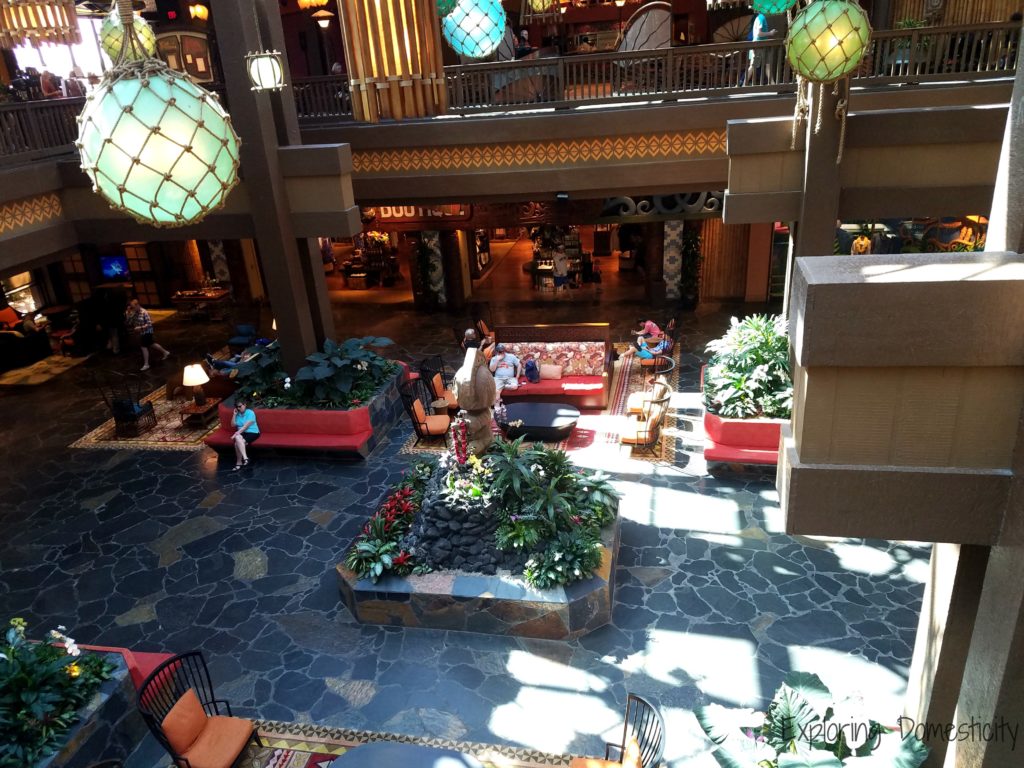 After dinner
After dinner, we left to find that the monorail wasn't running. So we had a take a bus over to the Magic Kingdom to catch our bus.
Through all the buses today, we've found that the Art of Animation bus seems to be the very last in line at any stop. Fortunately, we plan our vacations without packing too much in, because you would have to plan accordingly if you were short on time.
During dinner and the bus ride, we got the added bonus of some new news on our house offer. Turns out it wasn't simply accepted, but the bank has some terms that are a little alarming – paying all their closing costs, incurring fees if we are not able to close on the agreed date (which is now only a week away because they strung us along for so long), and a couple other things which require some work and a rush on our end. That brought us down a little bit right at the moment that we found the monorail wasn't working, but if that's the biggest pitfall of the day, I'd say it was pretty fantastic.
The kiddos were able to get in a quick swim back at the Cozy Cone pool before bed. Their first pick, the Nemo pool, looked like it was having some debris cleaned out – yuck! They still had a good time at our tiny pool. We also noticed that the bathrooms at the pool are pretty great. The Cars theme carries over and there are lockers and showers.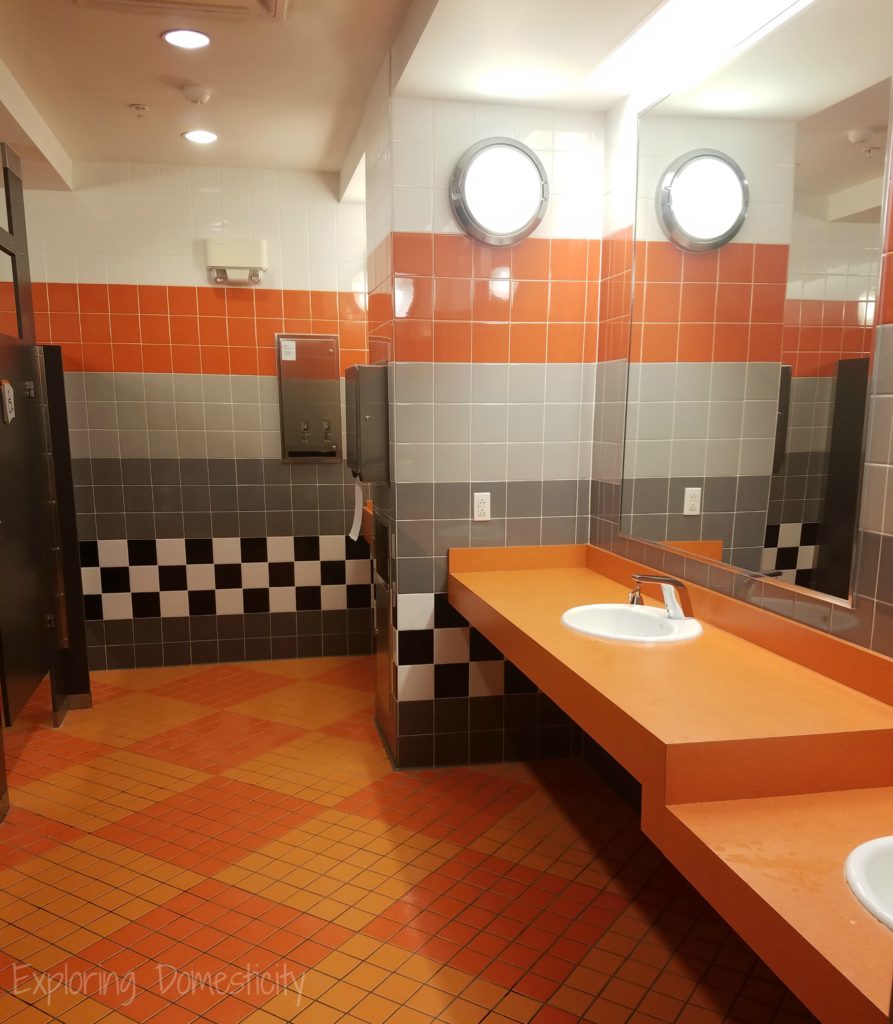 So, here we are! What a day! Tomorrow will be all about the pool and getting some sun on these pasty Minnesotan faces. Then, it is a full day at the Magic Kingdom!
Have you had dinner at O'hana? How did your experience compare?
Have you ever been to a restaurant that brings around your food on skewers like this?

More Like This