Everyone with a Disney Vacation planned counts down the days until it arrives. Creating a Disney Character Countdown Chain makes it that much more fun.
We have been counting down the days until our Walt Disney World vacation, and now we can do it with Mickey Mouse, Minnie Mouse, Donald Duck, and Goofy countdown paper chains. They are adorable and so easy!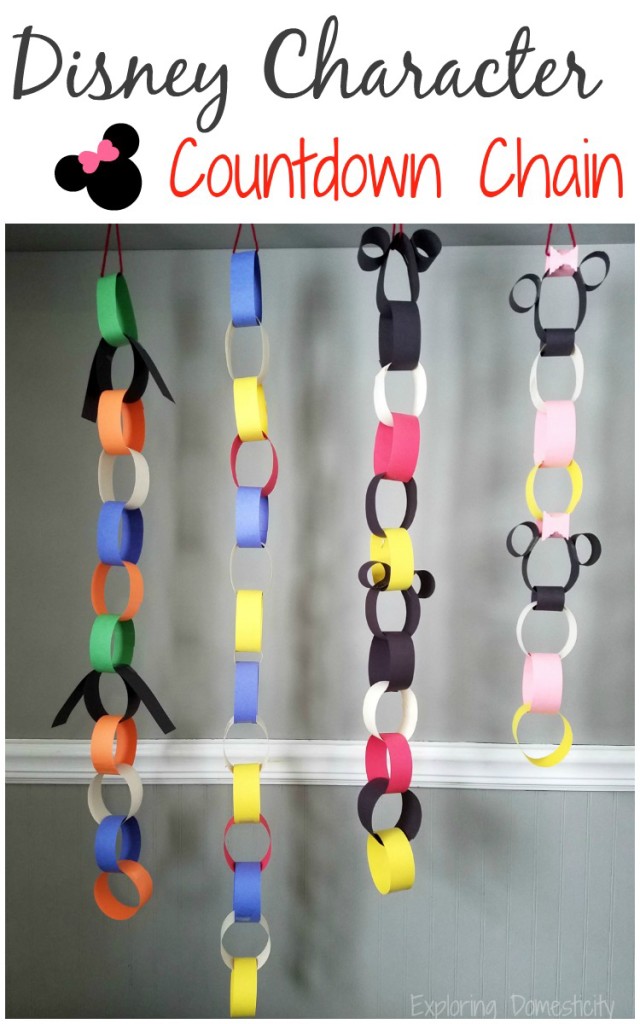 If you follow me on Instagram, Twitter, or Facebook, you may have seen that my parents surprised me and the kids with the best Christmas present EVER!
A TRIP TO DISNEY WORLD!
We have gone to Walt Disney World every year since our little guy was one and our little lady was one month. This year, we have a kindergartner and a lot less flexibility for traveling.
So, we missed our usual trip time in the Fall and, each time it was brought up, I kept telling my parents I was going to have to make it happen and get the kids to Disney World.
Little did I know…
On Christmas, I received a small box made by my dad and there was a piece at the top to pull up. When I pulled, two Mickey ears and our welcome book popped up. I may have cried. It was the best!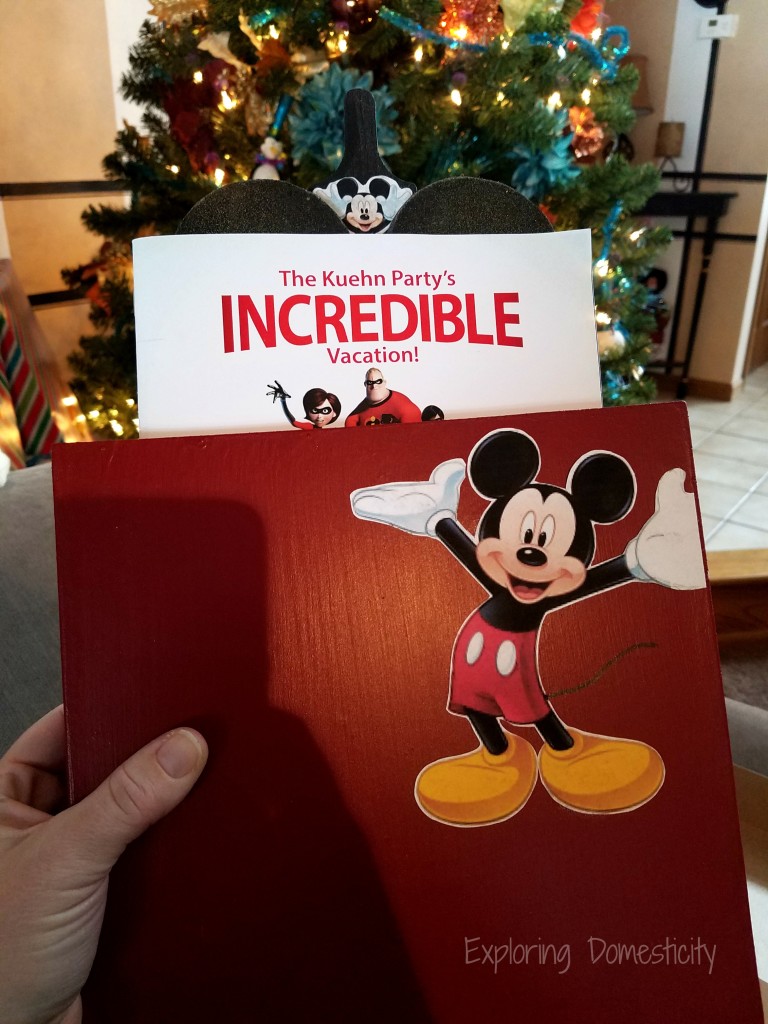 Let the countdown begin!
Disney Vacation Countdown
The Disney vacation countdown started the day after Christmas in my planner. However, I keep losing track of the days and the kiddos need a visual.
The kids have recently gotten into making paper chains, and we have seen some really fun ones on Pinterest, so we thought we'd give it a try.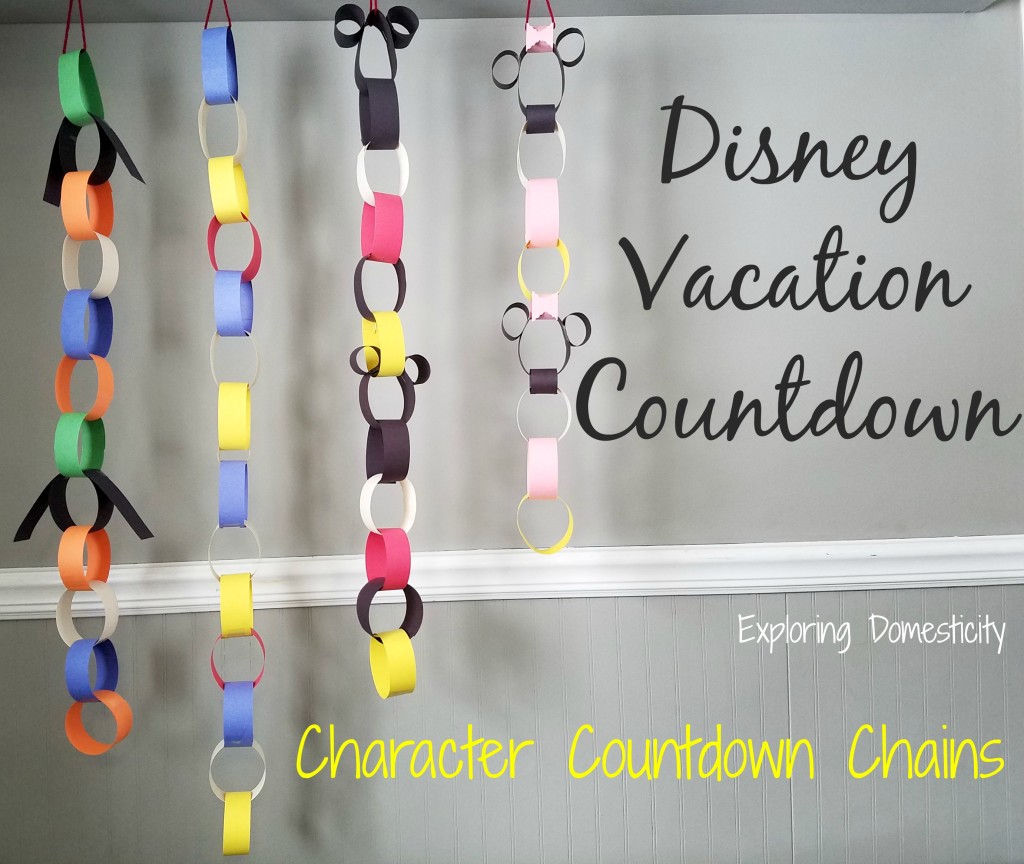 Disney Character Countdown Chain
As I mentioned, we found some really fun Disney paper chains on Pinterest such as this Mickey Mouse Chain from Mamas Like Me. I also found the Disney Princess Countdown from Making the World Cuter, and the Winnie the Pooh Countdown also from Making the World Cuter, after we made our own chains. My little girl and I already decided we need to make princess chains as well, so we may be looking to these for inspiration!
We wanted the whole Mickey Mouse Clubhouse crew for our countdown, so we did Mickey, Minnie, Donald, and Goofy to start.
When my little guy got home from school he assured me he could make us a Pluto too if I have enough yellow. I also think my little lady is going to insist we buy some purple construction paper so we can do Daisy too.
For all of our chains we used the shorter side of the construction paper and started cutting a lot of strips about 1.5 inches wide with our new paper cutter. I don't think I could handle doing this without a paper cutter – it's a lot of strips!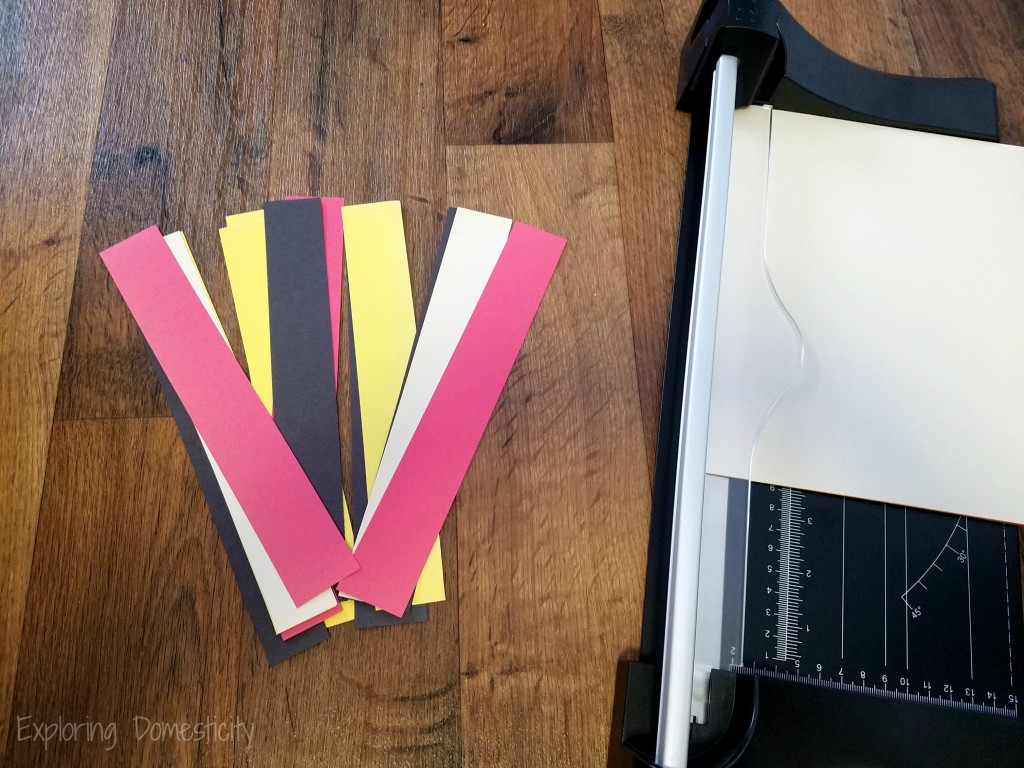 We used the Marigold 12″ Professional Titanium Rotary Paper Trimmer Cutter from Overstock.com. We got this paper cutter recently to review, and I have been needing one so badly! I love that I felt safe with the paper cutter around my daughter because it doesn't have the arm with the blade that looks so scary. You slide the blade back and forth over the paper and it isn't exposed. The only problem is that it makes the most terrible squeaking sound, like nails on a chalkboard! I'm sure it will loosen up over time…
Mickey Mouse
Disney Character Countdown Chain
Our Mickey Chain is composed of 6 full black strips, 4 half black strips, two whites, two reds, and two yellows.
The face is open with two half strips attached for the ears. I put the white pieces facing the sides because the plan was to cut small glove shapes and bend them forward. In the end, we made a lot of chains and I opted against the embellishments, but I still this it's a cute idea!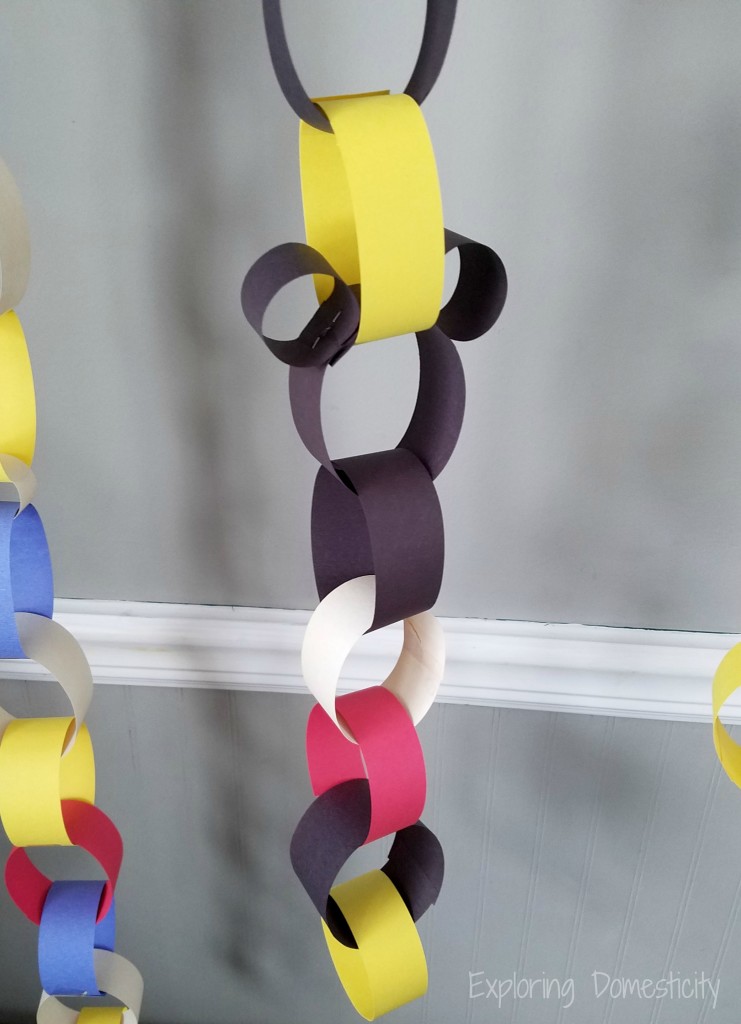 Minnie Mouse
Disney Character Countdown Chain
The Minnie Chain is composed of 2 full black strips, 6 half black strips, 2 full pink strips, 2 full yellow strips, and two pink half strips.
We did Minnie a little different from Mickey because he looked a little dark, so we tried to keep Minnie looking more pink. My favorite part is Minnie's little pink bows. They are adorable and very easy! We used a half strip and just cut the sides of the bow into the center. When the chain is wrapped around, the bow sticks out. Again, we planned to add Minnie's white polka-dots and hand cut-outs, but that may be for another time…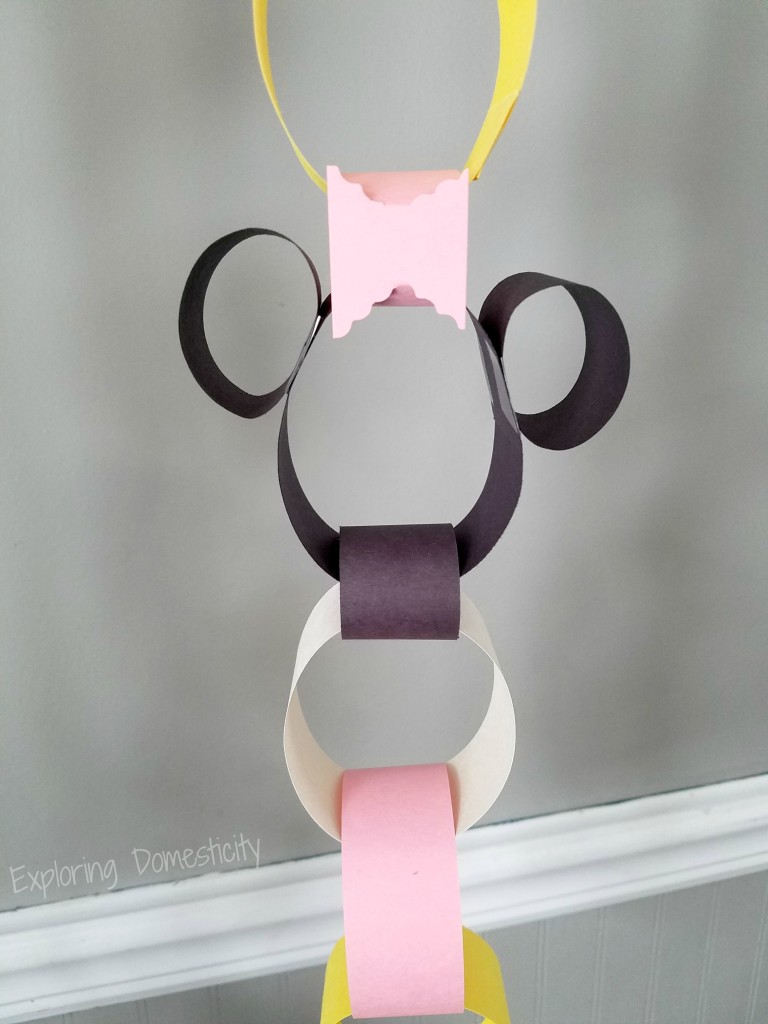 Donald Duck
Disney Character Countdown Chain
For Donald's Chain we went all plain colored, full size strips with just one white half strip in the center. It was definitely the easiest with 4 blue, 4 white, 4 yellow, and two red.
Nothing fancy, but you can definitely tell this chain is Donald.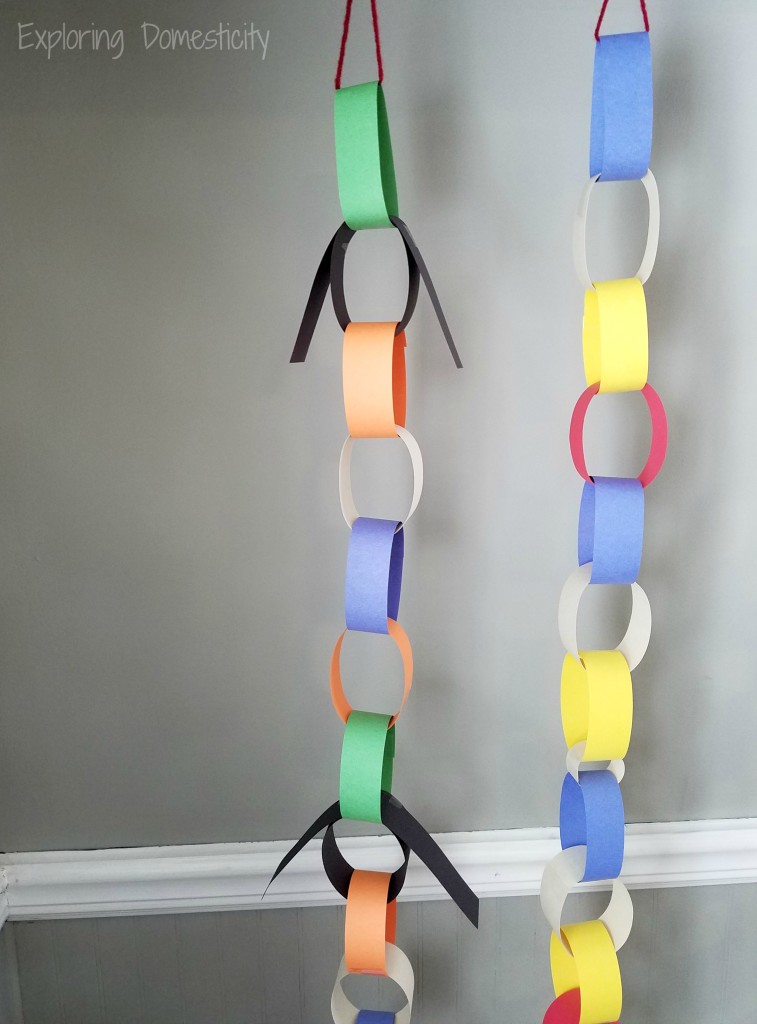 Goofy
Disney Character Countdown Chain
The Goofy Chain consists of all full strips as well, with 2 green, 2 black, 4 orange, 2 white, and 2 blue. In addition, we added two half strips to each black chain for the ears.
I love the goofy chain the most. The fun colors and those adorable ears are my favorite.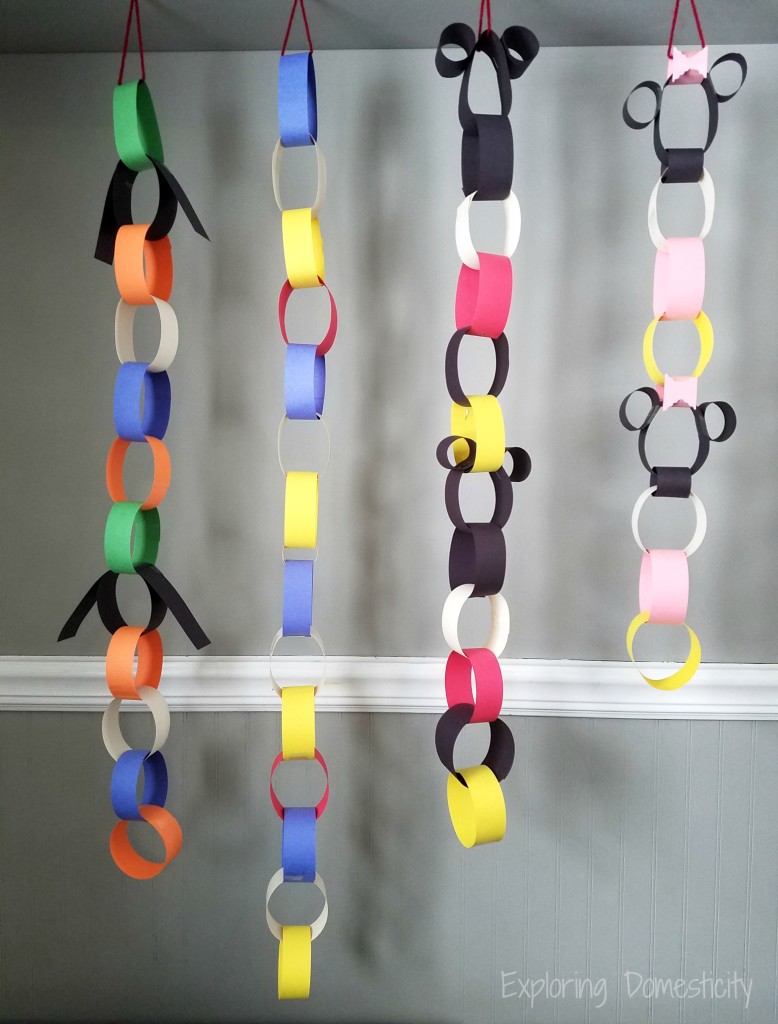 When it was all said and done, without counting the small rings, we ended up just one chain off from our current countdown! That was completely unplanned!
We're 63 days away from our Walt Disney World Vacation. Do you have a Disney Vacation planned? How do you like to countdown?

More Like This