Finding great games for kids and games to play as a family can be difficult. These teacher-created, family friendly games from RoosterFin are fantastic!

This is a sponsored post for RoosterFin, Inc. All experiences and opinions that follow are our own. This post may also contain affiliate links we hope you will find helpful.
Games for Kids
We love playing games as a family. It's a great way to spend time together and give the kids some undivided attention.
Finding games for kids that are fun with a learning component is like winning the lottery!
A majority of educational games are a bit heavy on the education piece and light on the fun and creative side. Y'know how kids can just tell when you're pushing an educational game because it looks a bit like school work?
However, these games we recently found from RoosterFin are the opposite. We started playing them and had so much fun. Only after realizing that they have some smart educational components, did we really see the genius of these games.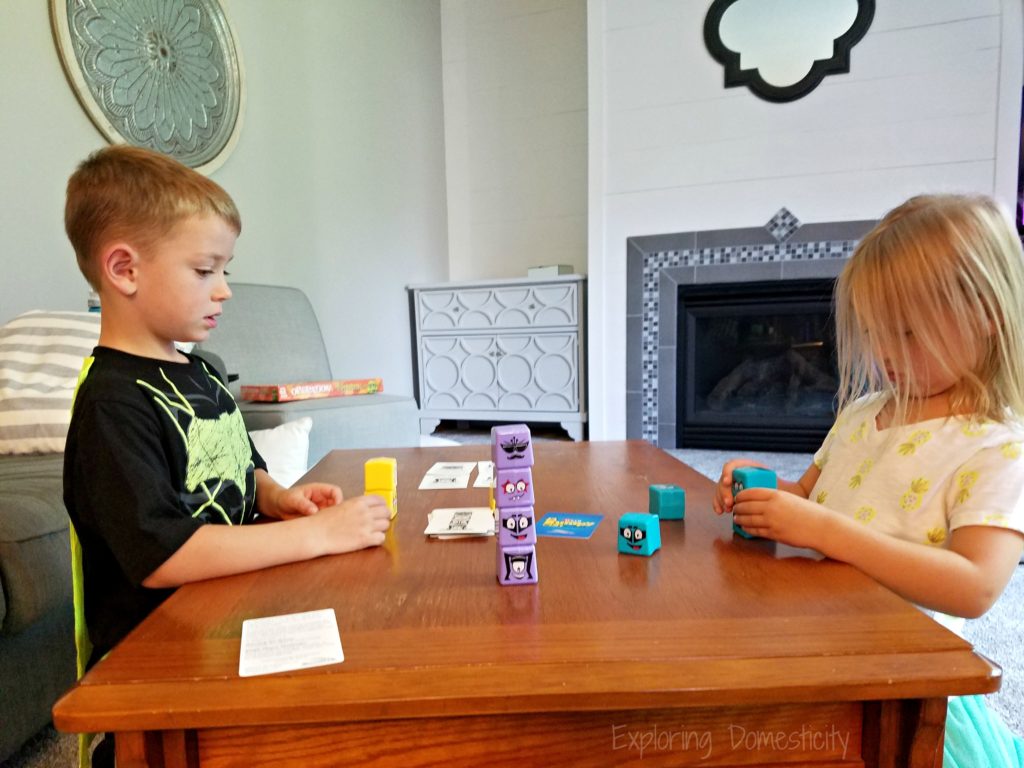 About RoosterFin
RoosterFin games are teacher-created, simple to learn, family friendly games. Joe, the owner of RoosterFin brings a unique skill to board games with his ability to create authentic game engines. His gift is in understanding how math applies to games. Joe's background, coupled with his years teaching kids, enables him to create award-winning games that are continuously simple to learn and fun to play. Since Joe has left his life in the classroom behind, he has devoted his full attention to making great games.

Lumpy Cubes
Until recently, we had two kiddos who couldn't read. As most parents of young children know, it can be difficult to find games that are fun and keep their attention without a reading component.
Lumpy Cubes Hero Edition  is the current favorite game in our house. I wish we would have found this sooner!
The game is so simple, but the kids wanted to play it over and over. All they have to do is copy the pattern on the card and stack their cubes to match.
Lumpy Cubes is fantastic for learning because it teaches kiddos to be observant, recognize patterns, and helps with fine motor skills involved with stacking.
It's fun because we can play this game as a family. It's really nice because they can play it without adults or alone. Yaaasss!
That's the key to a great game, if you ask me!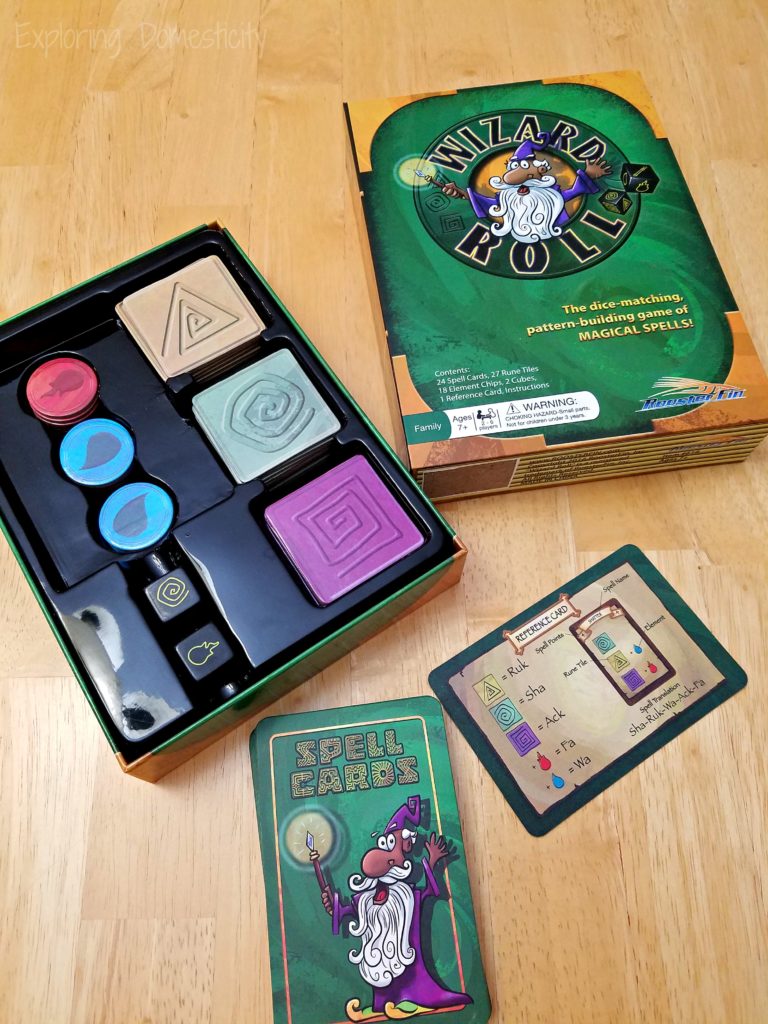 Wizard Roll
I should say first that our kiddos are a bit young for this game. The age suggestion is 7+ and we have a 4-year-old and a 6-year-old. When we had their 13-year-old sister try to play this with them while we were out, it didn't go anywhere. They were a little confused while trying to learn.
Wizard Roll is another pattern-building game, but stepped up a notch.
You're rolling the dice to collect the components for the spell on your spell card. It's not difficult, but the rules are a little more complex and there are twists and turns if you roll the magic wand or have a bad roll.
This video for how to play Wizard Roll definitely helps simplify it all. Once you figure it out, I think kiddos under 7 can get it.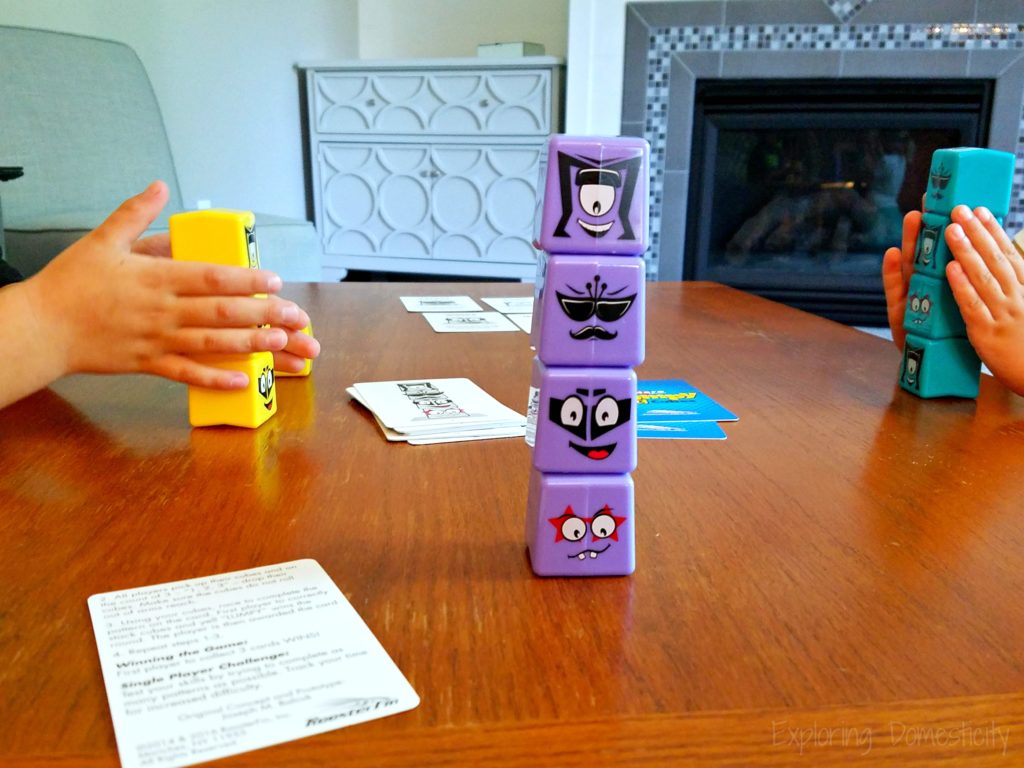 Of the two games, Lumpy Cubes is definitely our favorite. With the age of our kiddos, it's definitely the easiest to play. We LOVE finding a game that is simple and doesn't take much time to get into. The kids caught on so quickly and wanted to play over and over again.
This review got me thinking of how hard it is to find different games for non-readers. We were so happy to find Lumpy Cubes. Easy, fun, and a bit of learning while they play. We love it!
Find RoosterFin Games
Rooster Fin has other games that look like a lot of fun as well! We want to try Ninja Squirrels and Monkeys Up next!
You can find out more about RoosterFin and all their games for kids at RoosterFin.com, and you can join their mailing list to keep up to date on all their games.
You can also find RoosterFin games on Amazon – what can't you find there!?

More Like This