Easter is quickly approaching! Time for Easter baskets, colored eggs, and fun times with the kids!
It wouldn't be Easter without eggs. 
Eggs are some of my absolute favorite foods. I used to be a strictly scrambled girl, then I branched out to over-hard eggs, but now I love to experiment! Some of my favorites to pair with eggs are, avocados, tomatoes, hot sauce, spinach, and asparagus. I even had my eggs with left-over salmon the other day! I probably wouldn't have thought of that breakfast if I hadn't seen someone from one of my many DietBets post a picture of shrimp and eggs.
I had never considered shrimp for breakfast, but shrimp is pretty awesome, so why not??? Shrimp is a great low-cal, low-fat food full of antioxidants, omega-3 fatty acids, and vitamin B12.
It took me a little while, but when I gave it a try I loved it! I love a little garlic with my shrimp, and it really tastes delicious with the eggs. I also love a little kick so I add a little hot sauce, but the little bit I add doesn't make the spice stand out too much.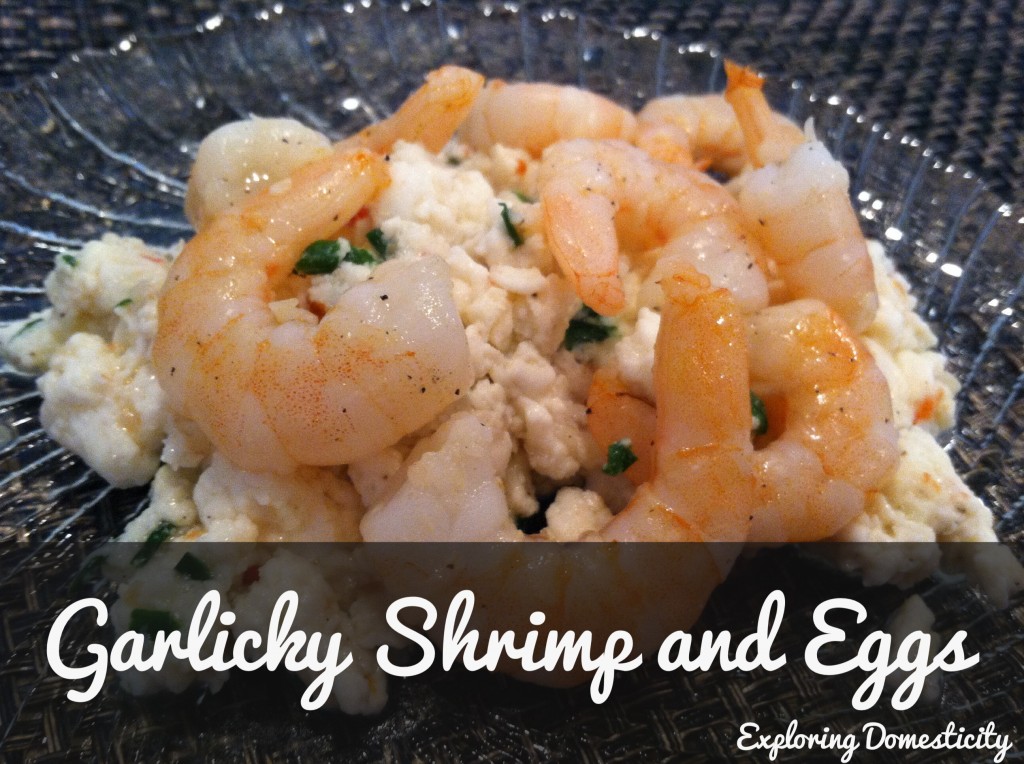 Garlicky Shrimp and Eggs 
Ingredients
Makes 1 serving
6-8 medium Shrimp I used raw, but cooked would be fine, you just have to be really careful not to overcook
1/2 tsp olive oil
Egg Whites – 3-4 eggs, or 1/2 to 3/4 cup of liquid egg whites
1/2 tsp chopped garlic
1/2 tsp hot sauce I used Sambal Oeleck Chili Paste – that stuff is amazing!
1 tsp chives, chopped I keep some in my freezer in an old spice jar – it really comes in handy
Salt and Pepper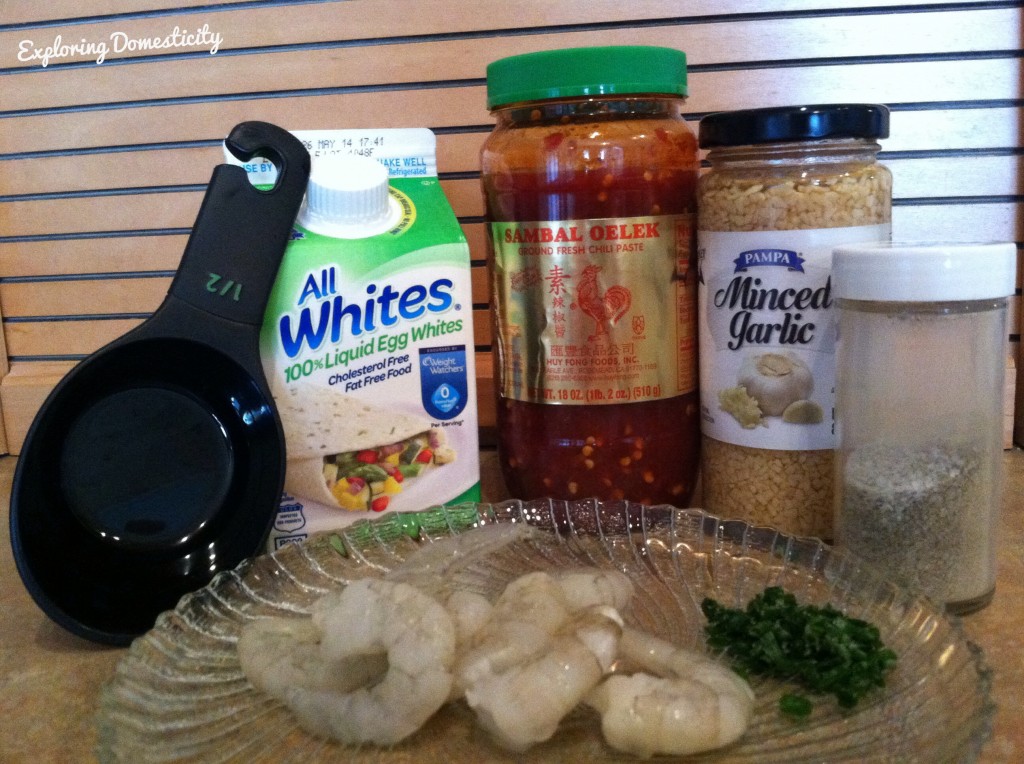 Instructions
Place 1/2 tsp of olive oil in a pan over medium-high heat and let it heat up a bit. Add your shrimp and 1/2 tsp of garlic. When the shrimp start to turn pink, but before they are fully cooked, remove then from the pan.
Reduce your heat to medium-low and add your mixture of egg whites, hot sauce, chives and salt and pepper. Just before the eggs are fully cooked, add your shrimp back into the mix to heat up and finish cooking.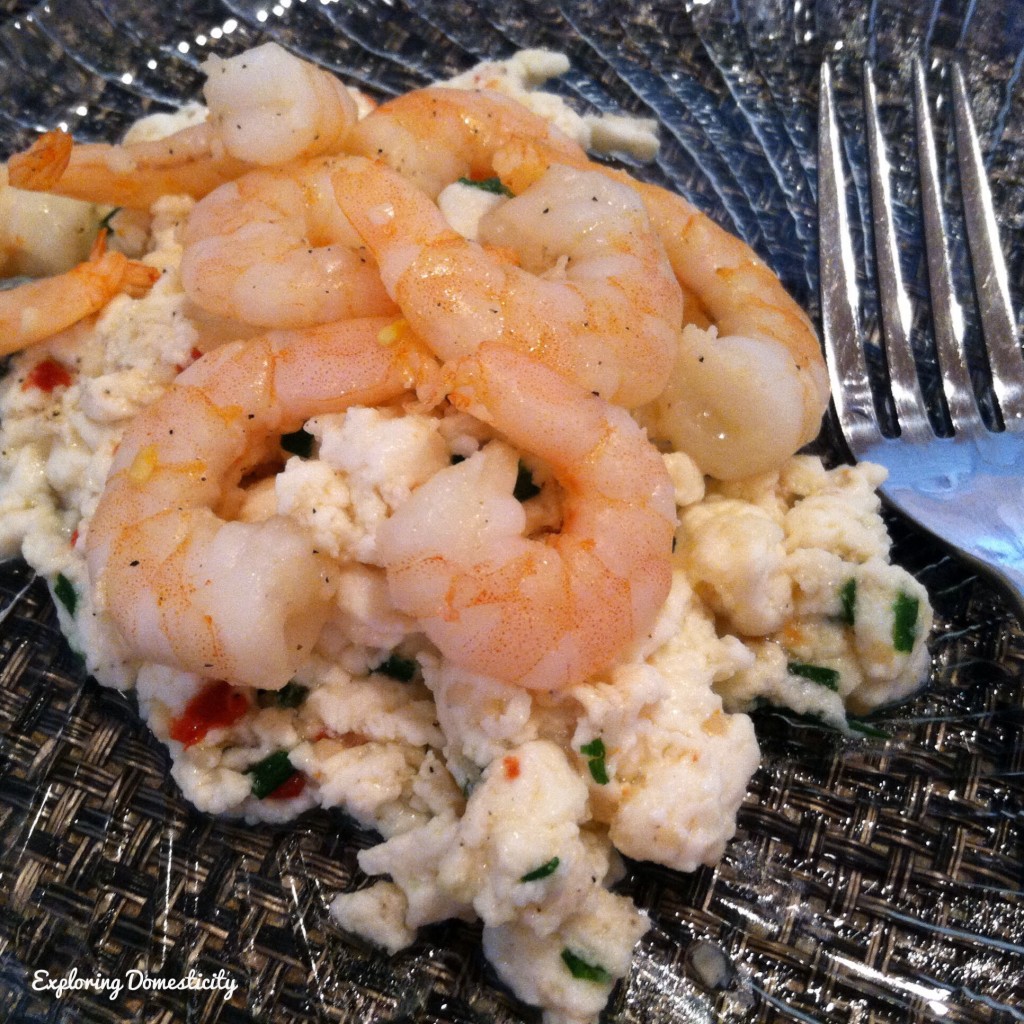 That's it! So delicious, a hearty start to your day, and a great bargain meal because eggs are cheap and, with only 6-8 shrimp, it's not a budget-busting way to eat seafood. I love that!
What do you think? Something worth trying?
Do you, or how do you, eat seafood for breakfast?
What do you think of when the Easter a Season comes?