Our last day in Walt Disney World. So sad! We spent some time around The Art of Animation Resort. Find out what to expect at the Art of Animation quick-service restaurant, the Landscape of Flavors, and the Art of Animation laundry facilities.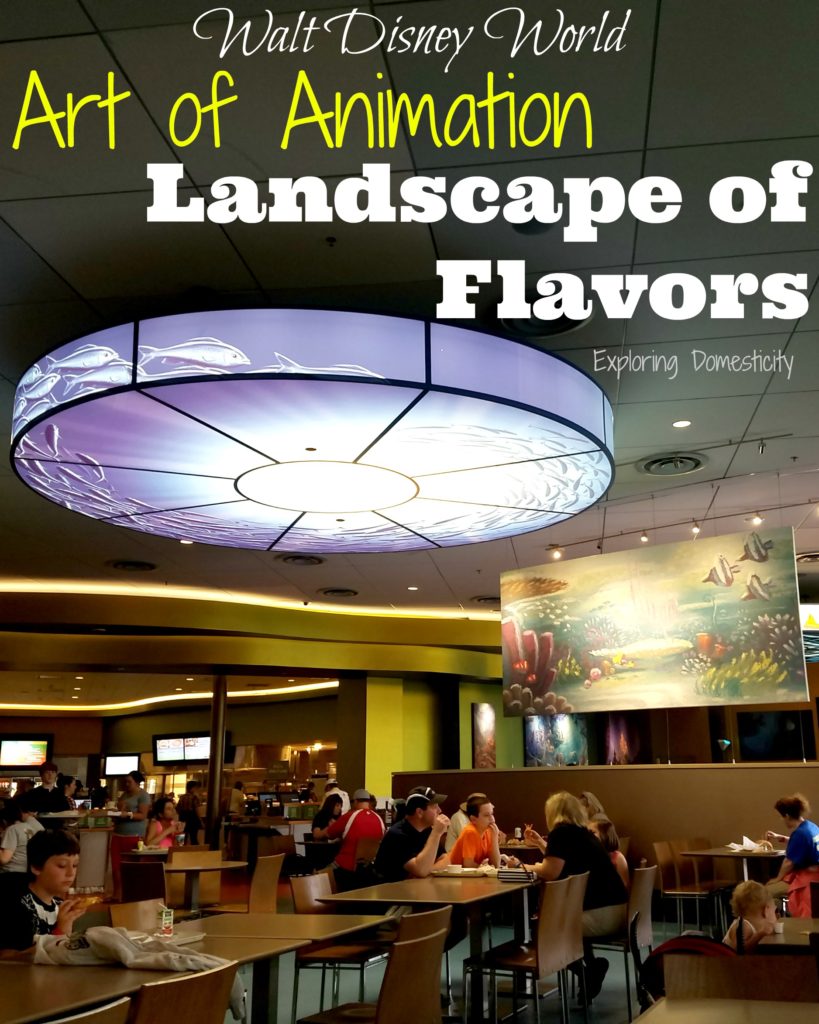 I kept a daily play-by-play while we were in Walt Disney World, and I'm going to share it bit-by-bit each week. We stayed at the Art of Animation Resort, in the Cars Family Suites, and visited Disney Springs, had dinner at O'hana, and had a great day at the Magic Kingdom. We visit Walt Disney World each year and, for that reason, we like to take it slow, relax, and enjoy ourselves instead of stressing to fit it all in. I'd say we get a pretty fantastic vacation balanced with fun and relaxation.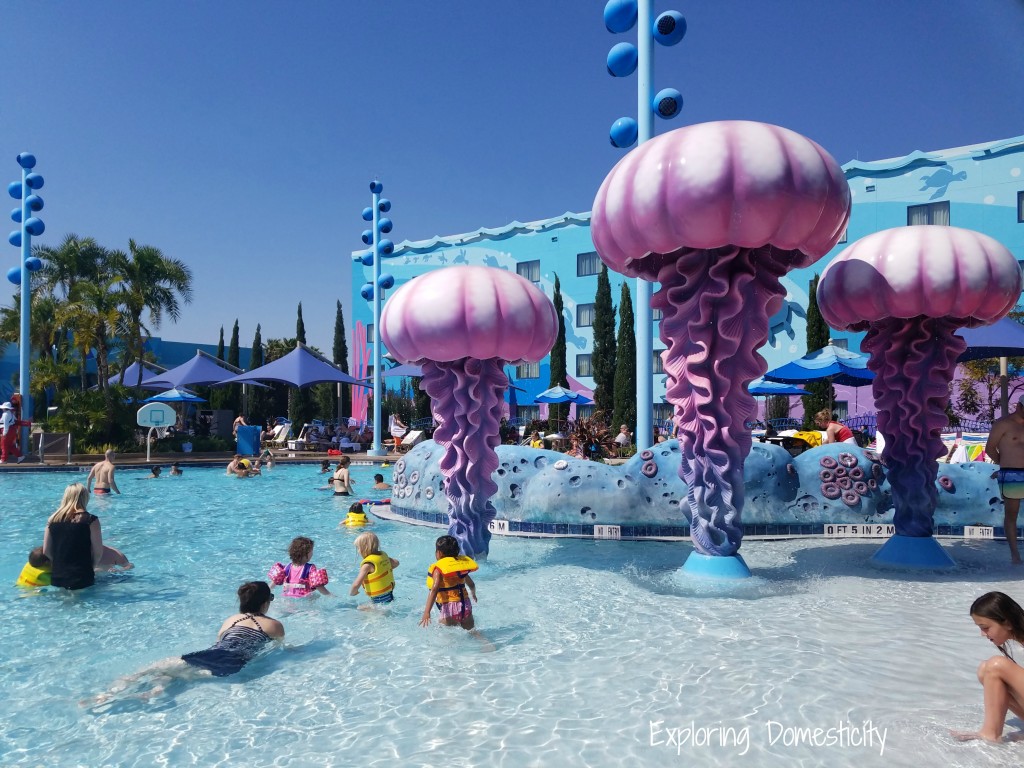 We planned to take it easy again with another day at the pool. We weren't sure if the weather was going to cooperate because it was a bit cool in the morning and scattered thunderstorms were predicted for the afternoon.
We were right at the gate when the pool opened at 10am and the sun was shining. The kids jumped right in the pool and spent at least an hour or two swimming.
Landscape of Flavors
We've eaten a lot in our room and with snacks and food we got at Walmart or brought from home. However, we decided to try the Landscape of Flavors – the Art of Animation food court – for our lunch.
Sure, the prices are a little steep if you are eating all your meals, which is why it makes sense for a lot of people to purchase the meal plan. However, once we got our food, we all decided that the price tag was just about right for the quality and amount of food we received.
There is plenty of seating all around the outer edge of the space, with great lighting and decor. In the center is the drink station. This year, we decided against purchasing the refillable drink mug, but you will find all sorts of drink options and a spot to wash your mug. We don't drink that much soda (pop) or juice to make it worthwhile.
You can ask for a water glass when you pay for your food and the water in the machine is much better than the stuff out of the sink in the room. Also, there are lemon wedges over by the tea, so you can add one for even more flavor.
The options can be a little overwhelming, but everything is labeled and you can take your time. Most items are made to order, so it will take a little time. I would suggest sending one adult to find a table with the kids while waiting.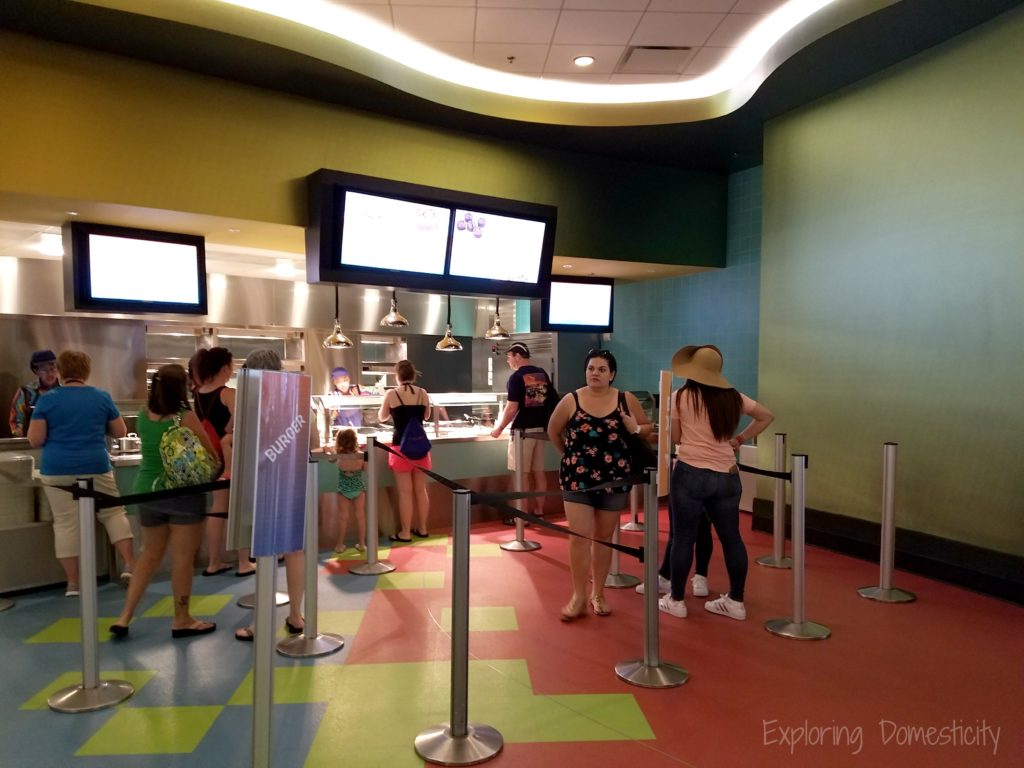 The kids can make their selection and then head over to the cooler where they can pick our their drink and sides. There are healthy options like apple slices and carrots, and a variety of drink options. We only ate there once, so our kiddos went for the chocolate milk and chocolate chip cookies and that was ok by us.
Burgers
All of the adults in our party chose to go over to the burger section. The kids also got their chicken nuggets there. We all picked a side of french fries, and they were pretty delicious!
Also at that station, you could pick your own burger toppings. They had large pickles spears, lettuce, onion, and tomato. Also at this station they had sides of caesar salad, coleslaw, and small containers of honey mustard and BBQ sauce. We had to request ranch dipping sauce for the chicken nuggets, and they brought over a small container from the salad station.
Surf and Surf Burger
I couldn't resist ordering the Surf and Surf Burger. We're talking a big brioche bun topped with a large crab cake and popcorn shrimp. Yum!
The "burger" comes with a delicious sauce that must be something like a chipolte tartar sauce. I chose lettuce and a tomato slice for my toppings, along with fries and caesar salad for my sides.
It was a lot of food!
I ended up with a lot of fries leftover. The sandwich was so filling! It had four huge popcorn shrimp on the top and they were sweet and delicious. I was also thrilled to see that the crab cake was packed with huge lumps of crab! It wasn't all filler like a lot of other places, just big pieces of crab bound together. Delicious!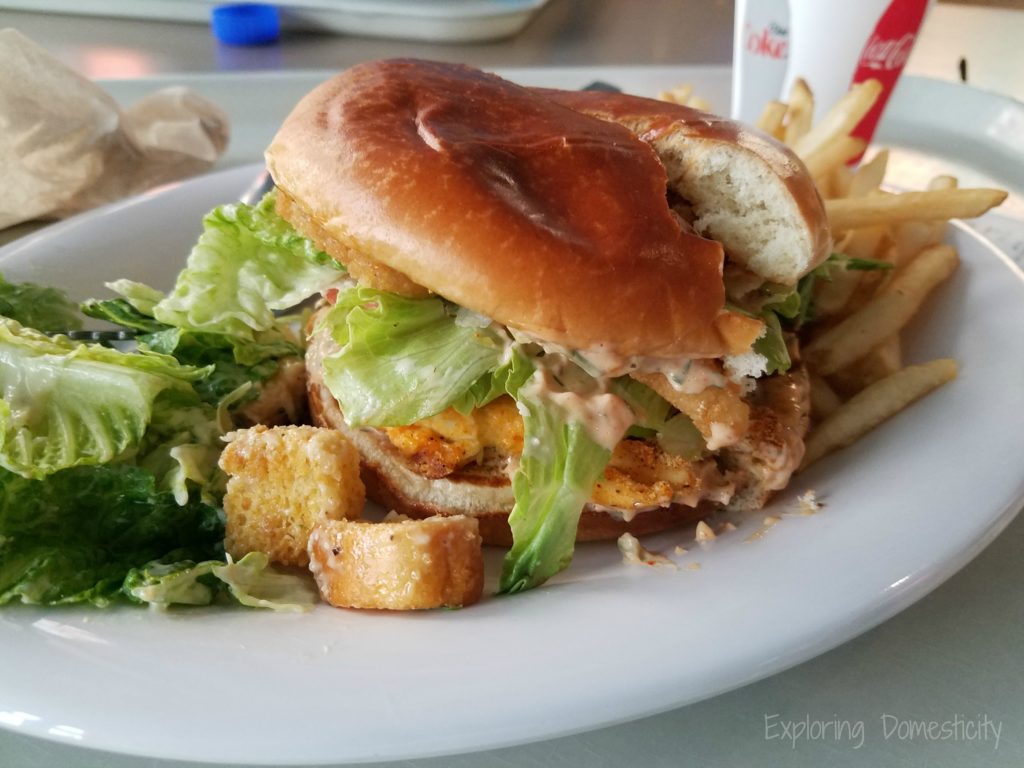 Angus Bacon Cheeseburger
Both of my parents got the Angus Bacon Cheeseburger. They both agreed it was better than you can get at most restaurants at home. It's not even comparable to fast food places, since it is such a huge step above. I would say you could compare the food to your local burger joint.
The burgers were cooked to a perfect medium with thick slices of bacon and cheese on top. You can add your own toppings and find condiments at the center drink station.
Lemon Tart
For dessert, we had a delicious lemon tart! It was light and fluffy, almost like a cheesecake, with a flaky crust and a dollop of whipped cream. Such a great, light end to a heavy, huge meal.
While we were all inside having a fantastic lunch, the weather did take a little bit of a turn. The pool was cleared, but it didn't result in much. There were some very tiny, misty sprinkles off and on the rest of the afternoon, but the sun stayed out the whole time and the pool stayed open the rest of the day.
Magical Express
While we were by the lobby, I swung in to set up our Magical Express ride for the next day. They just need your confirmation number and they can tell you when your departure will be (our's had changed by 4 minutes) and will setup a time 3 hours prior. Our bus will pick us up at 12:55 outside the lobby.
I was a little early for being able to print our boarding passes, but once we were within 24 hours of our departure I went back and they printed them off for us.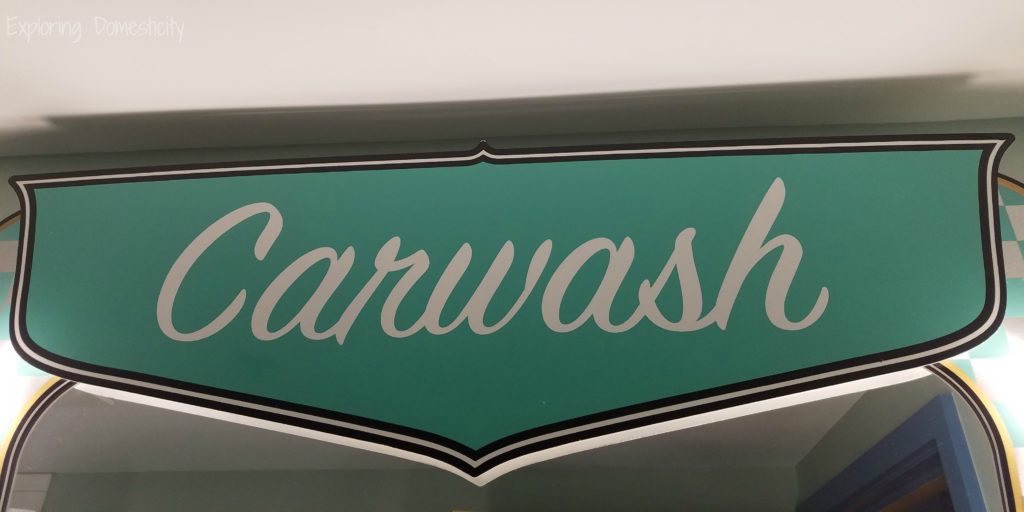 Art of Animation Laundry Facilities
We were done with swimming for the day and decided to start getting our things ready to leave the next day. We had a lot of laundry and decided to do a load at the laundry area by the main pool.
Bring a credit card, not coins, to do your laundry.
There is a machine on the wall to swipe your card. Then, you choose your machine and you have 30 minutes to start it or the money goes back on your card. We brought our own soap or you could buy it for a dollar from a vending machine. The wash and dry were $3 each. The wash lasts 30 minutes, and the dry lasts 60 minutes or you could select your desired time.
Packing and relaxing were the name of the game for the rest of the afternoon/evening. We snacked on leftover food for our dinner and got everything ready to go for the morning. We did go for a bit of a walk on our final time down to get the laundry. We walked over the bridge to the Pop Century Resort and took a look around. The kids played for quite a while at the cute little Nemo playground, and then we headed back just as another misting sprinkle started.
We're bummed to be leaving, but ready to get home and back to normal before reality hits with school and closing on our house in 4 days!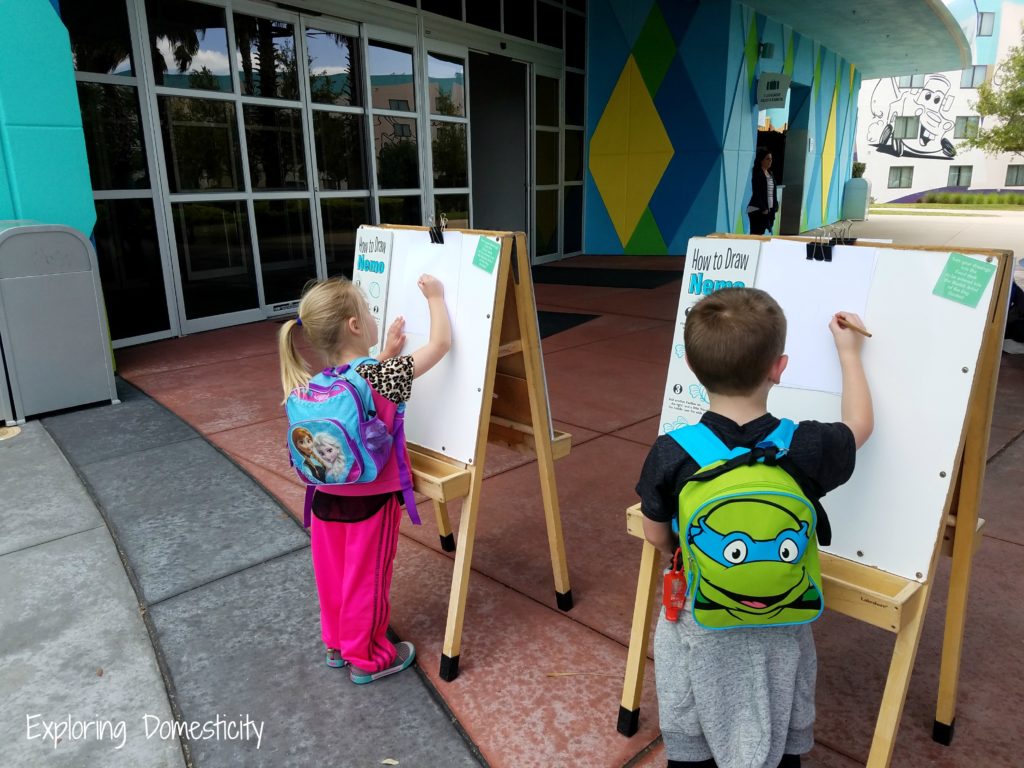 Ok, so those of you who've been following along know that we have closed on our house and have started the renovations. I've shared our Disney trip each week for a month now, and there is so much going on in our lives at the moment. I can't believe it's only been just over a month since we were there! It seems like eternity and I'm ready to go back!
In case you missed it, here are all the posts from our Walt Disney World Vacation in 2017!
Day 1: The Art of Animation Cars Suites
Day 3: Art of Animation Pool Day

More Like This