How many of you vowed to get healthier and more organized in the New Year?
I know two of my goals for 2017 are to get healthier and more active, and to declutter and clean our house.
So, why not put the two together? Let's get Lean & Clean in the New Year with a fun and free 1-week challenge that combines a cleaning or decluttering task with a workout move each day.

I'm super excited for this!!
Starting Monday, January 23, we'll start 7 days of cleaning or decluttering different areas of the house combined with a workout move to help get more out of your cleaning. We'll be getting Lean & Clean!
This one-week challenge is free to join, and should be a lot of fun!
Who can't stick to something for a week? We all can together!
Not only will this be fun and help keep us accountable, but there will be prizes for those who stick with it!!
In addition to the prizes along the way, there will be a prize for the person who invited the most people to the challenge. This is open to anyone! So, spread the word to anyone you think might enjoy getting Lean & Clean with us!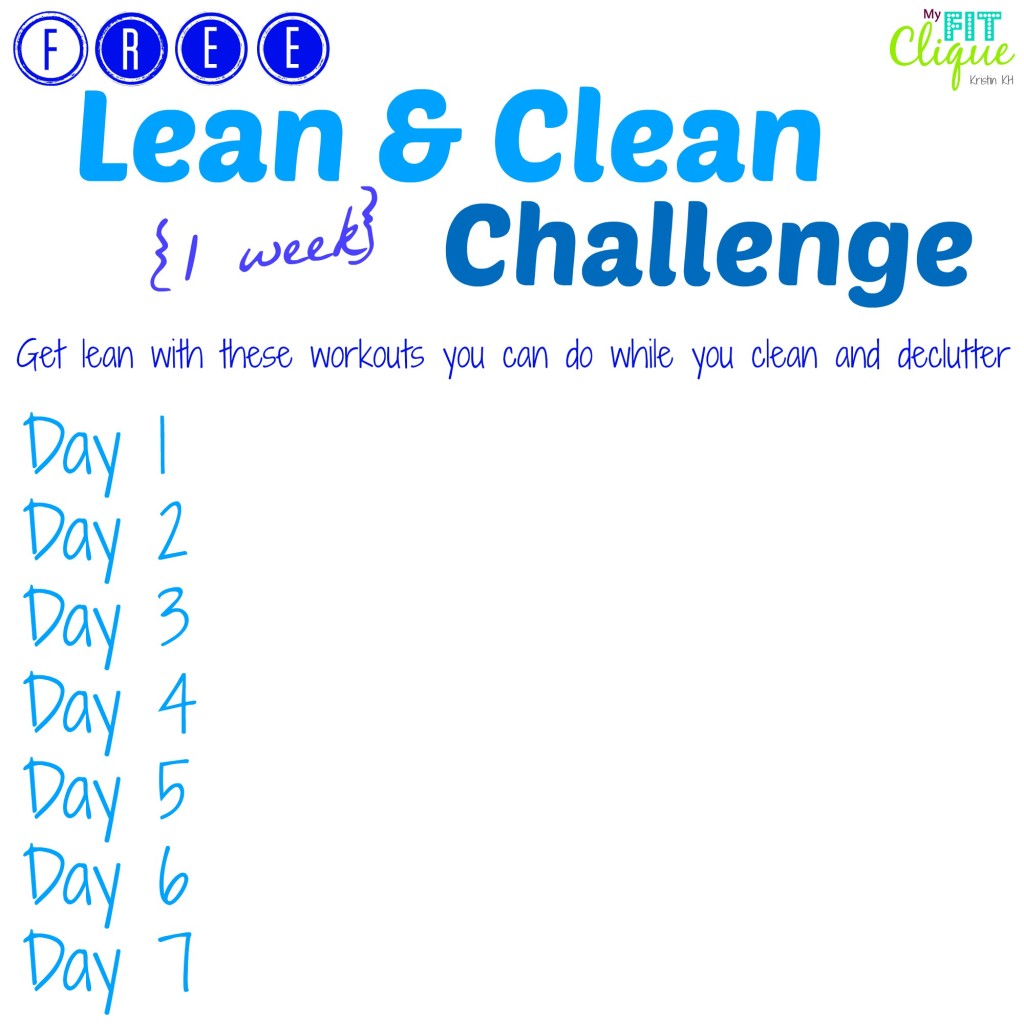 I know… That's a bit of a tease…
The tasks range from a 10-minute tidy to organizing your pantry, combined with things like wall-sits or lunges.
Psst… You can take a sneak peek in the challenge since it's already right there.
Details for the Lean & Clean Challenge
When: January 23 – January 29, 2017 – just 7 days!
Where: From your own home, checking into the Lean & Clean Challenge Facebook Event
What: All you have to do is follow along with the prompts for each of the 7 days and learn a new workout you can do while doing that task. Check-in to the Lean & Clean Challenge Facebook Event for accountability and to share your successes!
What else!? Check-in regularly or invite others to join and have a chance to win prizes just for getting Lean & Clean!
Want to join us for the Lean & Clean Challenge?
If you're interested in joining us, you can do it a couple ways…
Go directly to the Lean & Clean Challenge right now and join
shoot me an email at myfitclique(at)gmail(dot)com
let me know if the comments
or message me on facebook and I'll send you an invite!
See you there!
What are your goals for the new year? Did being healthy and active or cleaning and decluttering make the list?

More Like This