The answer to keeping kids from making a mess of the whole house while playing may be easier than you think. A less mess playtime is possible.
What if I told you you I've witnessed a miracle and watched my little guy keep his toys and supplies within 2 square feet and clean up after himself completely un-promted?
It's a miracle, right!?
This is such an easy idea and a very simple tool that you can use to help small children clean up after themselves and not make such a large mess in the first place.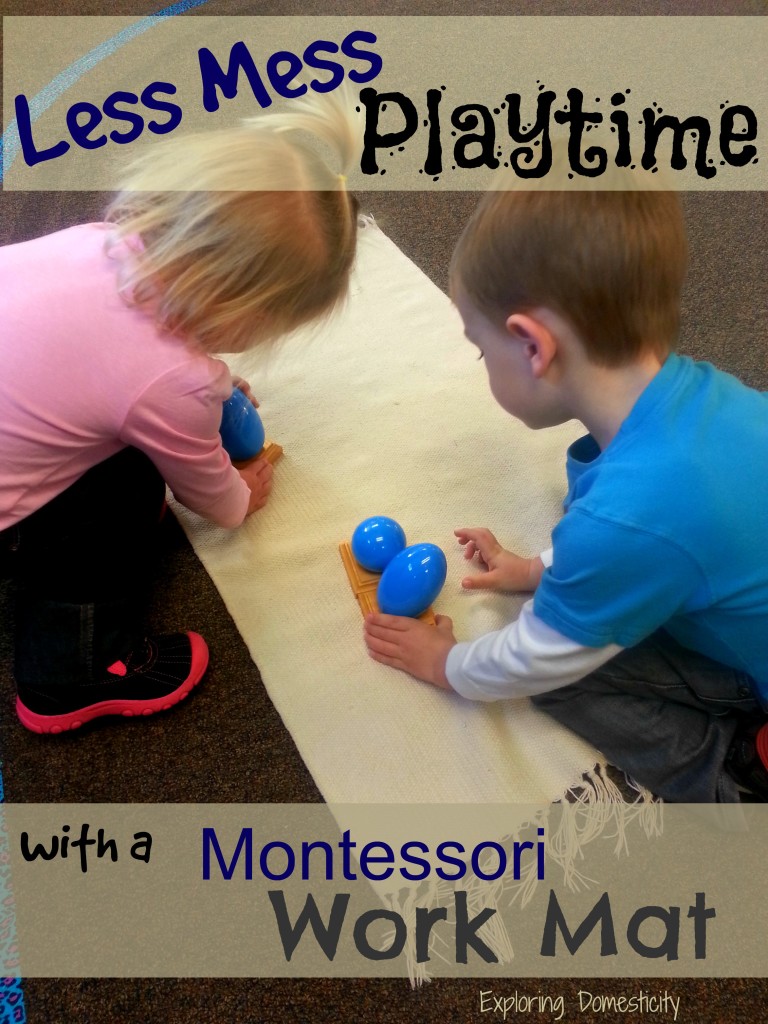 This post contains affiliate links. If you make a purchase from the link, this site will receive a commission with no affect on your purchase price. Thank you for your support!
Fact: Kids can make a huge mess of the whole house in minutes.
Enter the Less Mess Playtime Montessori Work Mat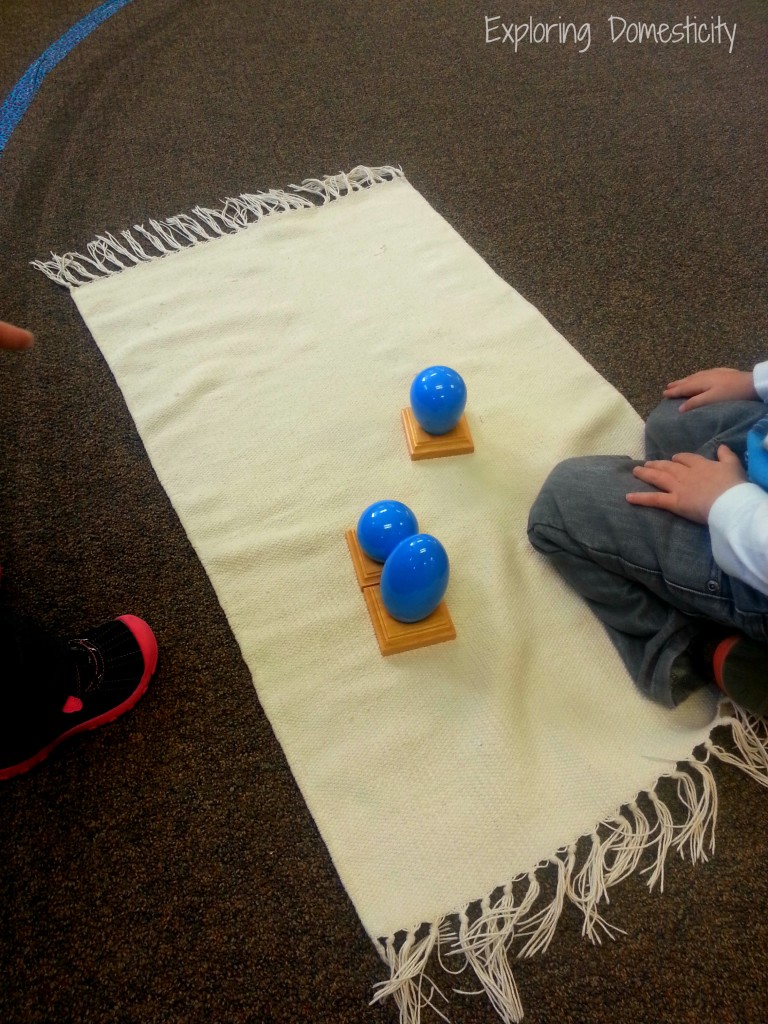 If you want to keep the mess to a minimum and help teach respect for space and belongings, the Montessori Work Mat may be the answer.
The mat gives children a visible boundary, and the way it is presented as something to be respected helps children keep to a small work or play space, take care of their possessions, and clean up after themselves.
It's really something to see!
I've seen the Montessori Work Mat in action during my little guy's first Parents Day at his Montessori preschool. I didn't know anything about Montessori teaching, so I was so impressed when my three-year-old, who cam make a mess of the whole house in 3 minutes or so, carefully removed a plain run from a stand, rolled it out on the floor and spread out his items. He then put them back and, with a lot of concentration to get it just so, rolled the rug nice and tight and placed it back in the stand.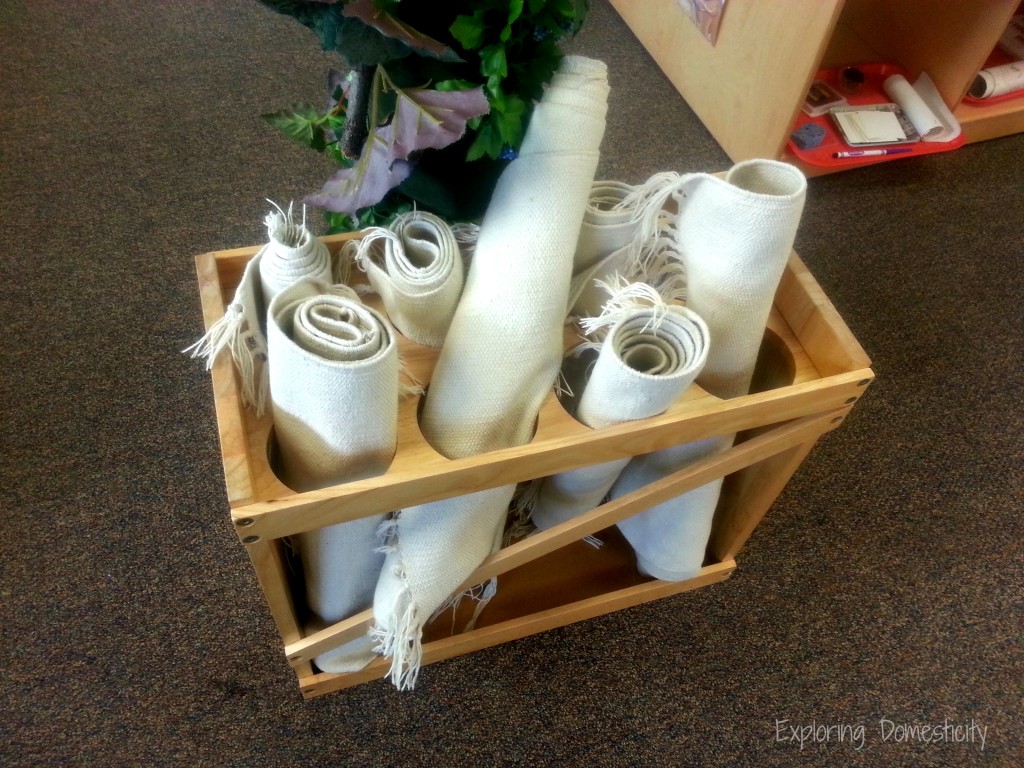 I was speechless.
Such a simple, and wonderful idea for a less mess playtime!
The Behavior Analyst in my totally gets it.
Reasons a Montessori Play Mat Works
The rug creates a clear boundary for toys and materials
Very specific instruction about the rug creates respect for the area and objects
Requiring the rug to be rolled and put away when finished signals to clean up
I learned a bit more about the Montessori teaching of a work rug from Montessori Training and Sugar Spice and Glitter. It may seem a bit excessive, but I love the way it's taught with being very precise and particular about the rug when rolling it own, not stepping on the rug, and carefully rolling it back up and putting it away.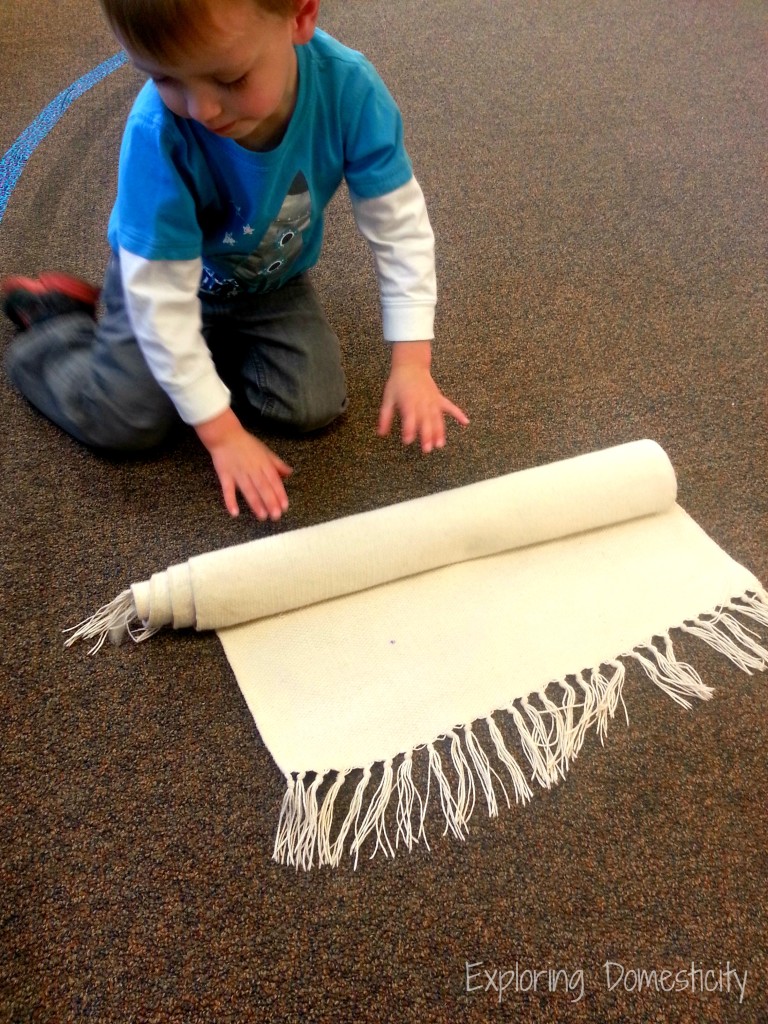 Have I done this in my house?
Haha! I saw this at my kiddo's preschool two years ago and I haven't done it! Shame on me!
I actually just remembered it recently when going through old pictures. My little girl goes to the same preschool, but she's home with me three days a week while her brother's in kindergarten. That girl can make a mess in no time! A small plain colored rug is on my shopping list.
I've seen a classroom full of kids using these mats and without prompting removing them from the rack and returning them when they are done. It's amazing, and I love transferring that idea to home.
Do you think this less mess playtime idea could work for you?
Do you like the idea of a concentrated area and encouraging less mess and only playing with a few things at a time?