I was thrilled to be contacted by SBLI to discuss my family's recent experiences finding life insurance. I received compensation for my time and effort, but all opinions come from my own experiences and are 100% my own.
Do you find it morbid to talk about life insurance?
I don't. I'd rather have a plan than leave that burden and struggle up to my loved ones.
Finding the time to sit down and make some discussions about life insurance is a whole other matter!
My husband and I went through this process last year and it was confusing! I think that's one of the biggest reasons so many people put off getting life insurance. There are so many questions and there is no right or wrong answer.
You can't predict the future, but you can get started with the process and start planning for the future now.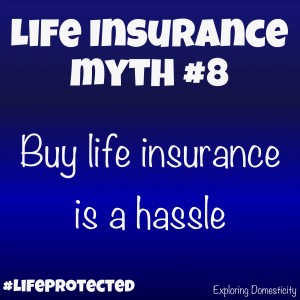 My husband and I got started. We had our physicals done, which was easy as can be. A woman came to our house, got the appropriate samples, our medical history, blood pressure and weight (the hardest part!) and then it was over.
We were approved in no time and then had the difficult task of deciding how much we could afford and how much coverage we wanted. This is the hard part!
It basically comes down to doing the most you can afford now, so you have the best outcome if the worst happens.
We considered our children, my husband's daughter, me being an only child, me being a stay-at-home-mom, and my husband being in business for himself at the time. It's a lot to think about! We also needed to figure out what we could afford to still save money and live comfortably.
One of the biggest things we needed to consider was my worth as a stay-at-home-mom. It was a real treat to hear our financial advisor explain the "monetary value" of a stay-at-home-mom. He actually put the value of my job over what my husband contributes.
According to the Life Happens and LIMRA Insurance Barometer Study, if moms were compensated for the top 10 most time-consuming tasks, SAHM moms would earn $118,905 and working moms would earn $70,107 (on top of their actual working salary) per year!
Go Mommas!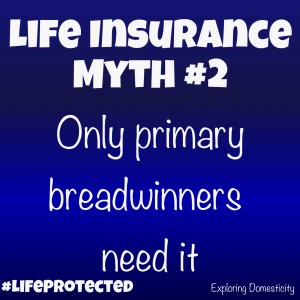 We just got our policy a little less than a year ago, but things have already changed with our working situations.  It is recommended that you revisited your life insurance needs each year and with every life-changing event.

SBLI has some great tools for helping make the process a little easier.  I'm definitely going to use the SBLI Life Insurance Check Up to assess our needs now that a few things have changed.  If you haven't started to look at life insurance, the Life Insurance Quick Guide will walk you through some stats and common myths about life insurance and get you some answers.  It's a great starting point!
So, let's chat life insurance!  Join SBLI, me, and some other amazing co-hosts for a fun and informative chat about protecting your family and planning for the future.  Prizes and details are below!  Y'know I love a Twitter party, so I am so excited!
#LifeProtected Twitter party details

What: Join us for a Twitter party to raise awareness about the importance of life insurance!

This September marks the 10th anniversary of Life Insurance Awareness Month – an effort to raise awareness about the importance of having life insurance to financially protect those you love.

This year, we're celebrating with a Twitter party to dispel eight myths commonly associated with life insurance and share tools to help you assess your life insurance needs. We'll also be sharing tips on ways to have that important conversation – we call it the No Nonsense Conversation™ – about your family's financial security.

When: Tuesday, September 16, at 1 p.m. ET (the party will last one hour)

Where: We'll be on Twitter – follow the #LifeProtected hashtag to track the conversation. You can see the details and RSVP via this Twtvite: http://twtvite.com/lifeprotected

Hashtag: #LifeProtected

Prizes: Five randomly selected winners who answer trivia questions during the party will receive $50 VISA gift cards!

Host: @SavingsBankLife

Co-hosts: @ExpDomesticity, @brandyellen, @ThriftyJinxy, @dawnchats, @naptimeismytime, @CptFussybuckets, @TheRebelChick, @AFewGoodJens, @familyfocusblog, and @adventuresof8
Have you gotten life insurance yet? If so, how did it go? If not, what's the biggest thing holding your back?
Stay-at-home-moms, have you figured out the monetary value of all you do for your family?