Is your little girl into all things magical?
As I round up gift ideas for myself, I thought I should share all these adorable and magical gifts so you can find the best present for your little one. Check out all things mermaid, unicorn, fairies, and anything just plain cute. Welcome to my first gift guide.

This post contains affiliate links. If you you make a purchase, I will receive a small commission with no affect on your purchase price. Thank you so much for your support!
My little lady is turning four soon and her favorite things include everything magical. She looooves mermaids, fairies and sparkle are her favorite, and ponies and unicorns can't be beat.
I have a secret: it's totally fun for Mom too! 
I'm having the best time looking for potential magical gifts for this birthday. I've already started buying and the only thing I'm having trouble with is limiting myself. So, here are all of my fantastic finds. I'd love to hear your favorites in the comments to make my decision easier!
Magical Gift Ideas
Mermaids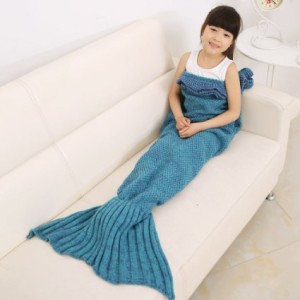 Mermaid Tail Blanket. This is the one gift I already have for my little one. It's a knit blanket in the shape of a mermaid tail. First, this is a practical gift because it's a warm blanket. It's very cozy and perfect for a little one watching a movie or playing board games. Second, it's so whimsical and a really fun way to pretend to be a mermaid. This mermaid tail blanket will be used much more than a mermaid costume. It's even open at the top so it can be wrapped around your middle comfortably while sitting. She's going to love it! (I received a discount on this one for an amazon review, which I've been talking about a lot lately. I share how to get free or discounted products like this here.)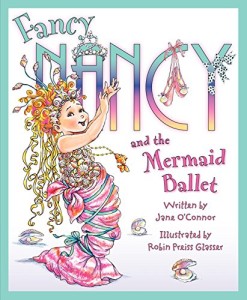 Fancy Nancy and the Mermaid Ballet. This is perfect for little girls because it combines mermaids and ballet. Both are my little one's current obsessions. We love the Fancy Nancy books and Fancy Nancy and the Mermaid Ballet would be a great addition to our library.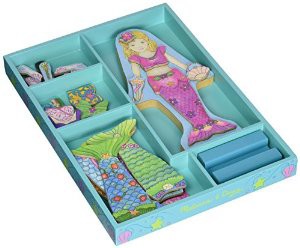 Melissa & Doug Merry Mermaid Magnetic Dress Up. "Paper Dolls" are still a favorite with little girls, but now they are magnetic. The Melissa & Doug Merry Mermaid Magnetic Dress Up set comes in a sturdy wooden storage tray. I also love that there is a wooden stand for the doll.
Unicorns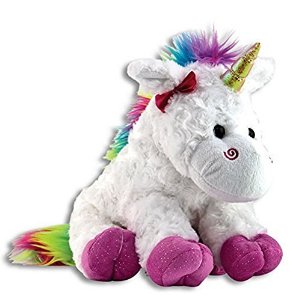 Plush Unicorn. Stuffed animals are always a favorite, and you never know what may turn into your child's favorite lovie. The Petting Zoo Plush Rainbow Unicorn looks so soft and fluffy and it's a good size at 10 inches. It has a sweet little bow, rainbow mane and tail, and sparkly horn and hooves.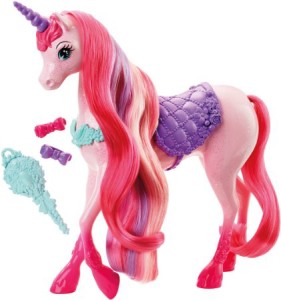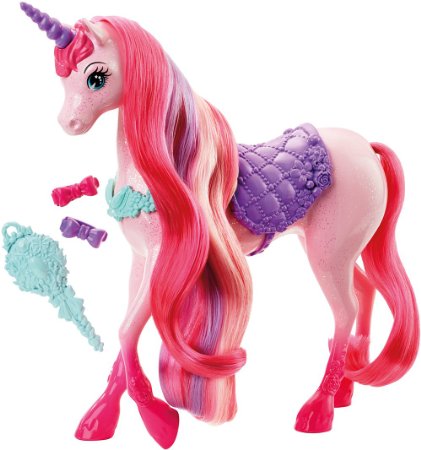 Barbie Fairytale Endless Hair Kingdom Unicorn. My little girl has always enjoyed Barbies and, at four, they are beginning to entertain her longer and longer. The Barbie Fairytale Endless Hair Kingdom Unicorn adds another bit of whimsy to Barbie's world. The long, colorful hair and sparkles everywhere would make a little girl so happy.
Faries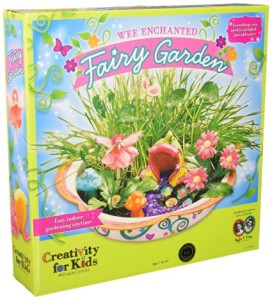 Fairy Garden. This is a great project for a little girl. Gifts that are an activity that can be shared with the family are extra special. I've wanted to create a fairy garden with my little girl for a while, and this Enchanted Fairy Garden Kit makes it so easy! The kit contains an 11 inch fairy garden dish, fairy, house, toadstools, gems and pixie dust, butterflies and flowers, stones and gravel, seeds (wheatgrass and bean mixture), soil, paints and brush, and illustrated instructions with lots of ideas.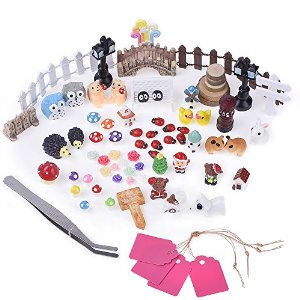 Miniature Fairy Garden Ornaments Set. If you want to plant your own fairy garden in a perfect spot in the yard, this set of ornaments will give you plenty of ideas and props. The Antner 72 Pieces Miniature Fairy Garden Ornament Kit for DIY Dollhouse Decor with Storage Box is full of tiny little fences, bugs, flowers, lights, etc. So cute!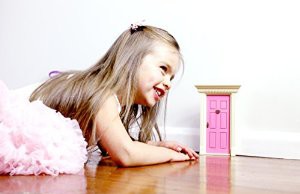 Fairy Door. When kiddos are little, you can beat a gift that allows them to dream a little longer. Putting a little bit of whimsy outdoors and inside let's little ones add some magic to each day. 'Lil Fairy Doors come in different colors and go right on the wall so fairies can come in and out. It's such a sweet idea!
Elves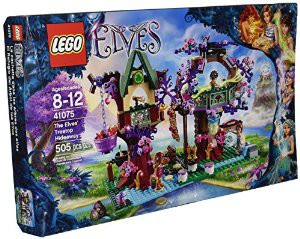 Lego Elves Set. Legos are a great gift for anyone. You can find just about any theme these days for just about any age. Legos really help kids use their imagination and this Lego Elves The Elves' Treetop Hideaway set is beautiful and so fun.
Genies
Shimmer and Shine Genie Ponytails. Such a fun dress up idea! Dress up like a genie with the pink Shimmer Ponytail or the blue Shine Ponytail. Shimmer and Shine is such a cute show, but even if it's not a favorite, the genie ponytail will be.
I hope you got some great magical gift ideas! I'm going to keep working on narrowing it down. Comment with your favorite to help me out!!! Thanks in advance!

More Like This

Get Them Here