I love that my girls are growing up watching and joining me in fun fitness activities.
I love hearing stories from other moms, especially those who are committed to living a healthy lifestyle and raising a healthy family. I'm very inspired by other moms and I love to hear how they stay committed to setting a healthy example for their little ones and raising a healthy family.
Today we're hearing from Motivating Mom Alyssa
If you'd like to be featured as a Motivating Mom, send a message to Exploring Domesticity on Facebook or email exploringdomesticity(at)gmail(dot)com with the subject, "Motivating Mommas."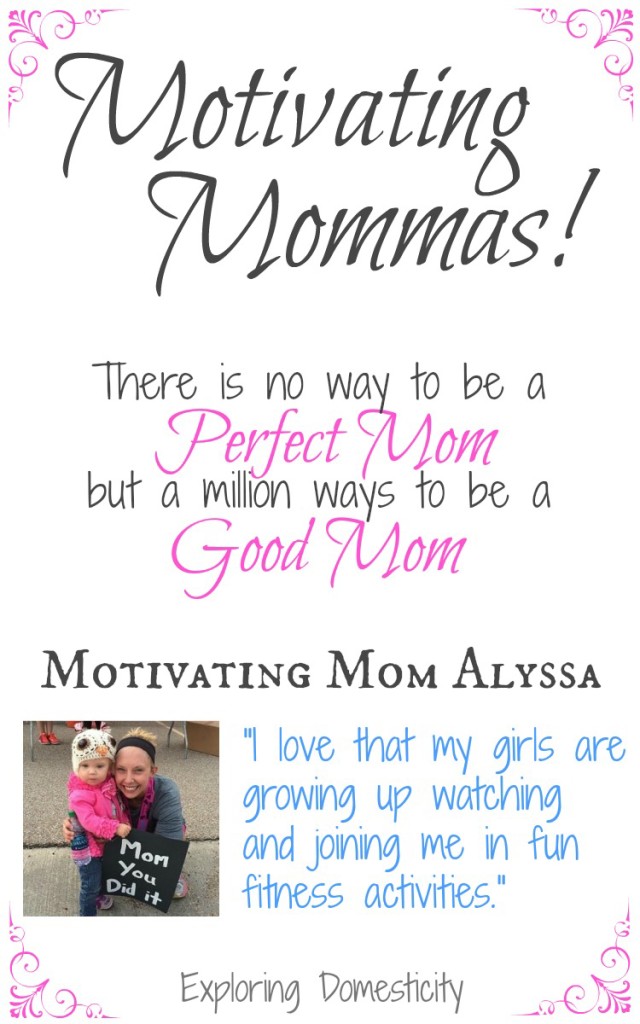 Motivating Mom Alyssa
Name: Alyssa Serchia
Number of children and ages: 2 daughters – 2.5 and 7 months
Are you a SAHM, WAHM, or work outside the home mom?
I stay home with my girls while working with doTERRA essential oils and teaching Moms in Motion fitness classes!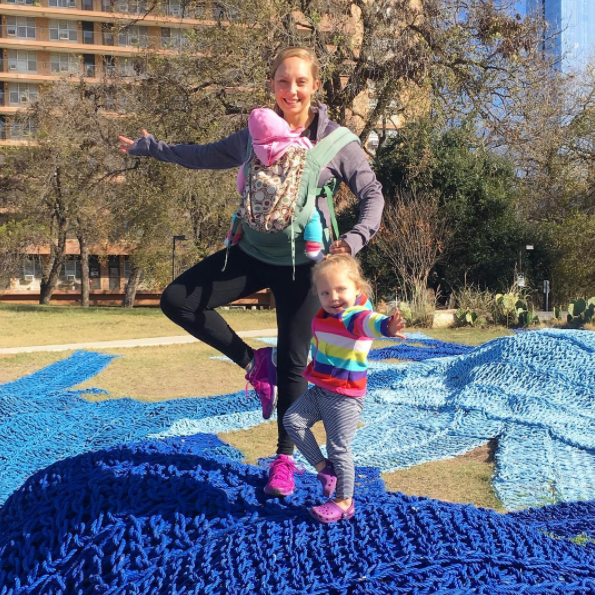 Describe your background as it relates to health, fitness, weightloss, etc.
I have a Bachelors degree in Health and Exercise Science. I've been a personal trainer for 11 years and a certified group ex instructor for 9. I've recently gotten my Pre and Post Natal Fitness certification.

When do you typically fit in your physical fitness?
I workout twice a week with my kids and other moms and kids at the Moms in Motion class I teach. I also love running with my BOB stroller (and without if I'm lucky!). Most of the time my girls are a part of my workout either in the stroller or in the living room with me. We also love active outings like walks, hiking and exploring the beach.
Just do something little everyday.
.. Little activities add up!
How do you make healthy eating a priority?
We've recently started meal planning and prepping more consistently and it has made a huge difference! I also try to keep junk out of the house because if it's here, we'll eat it. We hardly ever go out to eat because there aren't many good options in our town, so it's not too tempting!

How do you get your kids involved in a healthy lifestyle?
I love that my girls are growing up watching and joining me in fun fitness activities. My 2 year old has started joining me on squats and burpees and yoga poses and we both love it!  A favorite for both girls is pushup kisses! When we aren't doing official workouts we like to run little races in our driveway! I also like including the kids in the kitchen. Cooking and baking is a family affair I while it can get messy, I love that they are learning kitchen skill and trying healthy things!
What are your biggest struggles?
My biggest struggle is pushing myself during workouts these days. I manage to get out and do something each day which is great, but I lack that extra motivation sometimes to really kick it up the notch. I also am always looking for new healthy snack ideas because we are all always hungry!
What are your biggest accomplishments as a mom?
Does keeping 2 kids alive count?! Haha, but really, I'm just thankful that my girls are happy and healthy. When my 2 year old is potty trained I'm guessing that will top my list – but alas, NOT YET!!
What are your biggest accomplishments in regards to health and fitness?
I'm pretty proud of the 2 half marathons I completed in between having my first and second babies. I was in the best shape of my life during that time and PR'd both of them! I trained for them with the stroller and other mama friends which made the whole process even more memorable. I'm also so grateful that my daughters are growing up with a love of movement and the outdoors.
Share your 3 best tips for moms who are struggling?
Just do something little every day. Get outside and walk, do a plank during tummy time. Little activities add up!
Find a support system. Even if it's 1 neighbor to walk or run with or a moms fitness class. Surrounding yourself with other moms who prioritize their health really makes it easier!
Give yourself a little grace. Beating yourself up about not hitting fitness goals isn't healthy for anyone. Love yourself and remind yourself how amazing you are just for keeping those kiddos alive!
Connect with Alyssa!
www.homefieldfitness.com
instagram.com/homefield_essentials
facebook.com/homefieldessentials
If you'd like to be featured as a Motivating Mom, send a message to Exploring Domesticity on Facebook or email exploringdomesticity(at)gmail(dot)com with the subject, "Motivating Mommas."

More Like This