Motivating Mom Elizabeth has overcome some major challenges in her life. It's a constant struggle, but she is one awesome mom, doing the best she can for her own health and her family.
I discovered that fitness – working out, doing yoga, etc – as well as cleaning up my diet really helped…
It's so interesting to me to hear stories from different Motivating Moms out there. Elizabeth has a story so different from our past Motivating Moms. She has overcome some challenges and put her health and children first. Regardless of our stories, we are all moms trying to do the best we can.
We're sharing Elizabeth's post this week, because PTSD Awareness Day is June 27. Elizabeth's story is a reminder that all moms fight different battles.
Let's hear from Motivating Mom Elizabeth!
If you'd like to be featured as a Motivating Mom, send a message to Exploring Domesticity on Facebook or email exploringdomesticity(at)gmail(dot)com with the subject, "Motivating Mommas."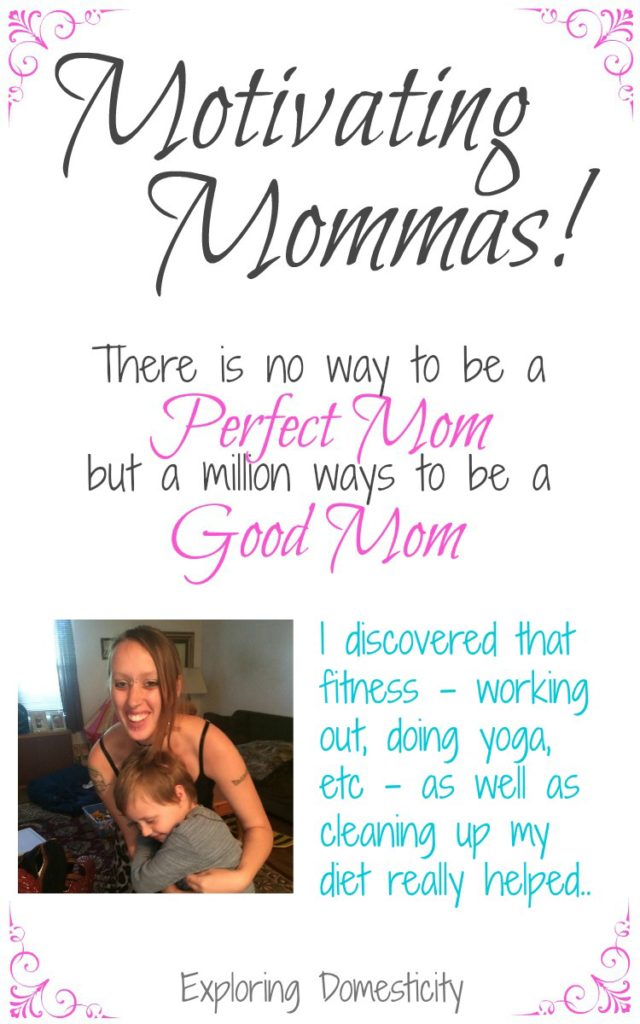 Motivating Mom Elizabeth
Name: Elizabeth
Number of children and ages: three kiddos, one 9 y/o boy, one 3 y/o girl, and one almost-2 y/o girl
Are you a SAHM, WAHM, or work outside the home mom? SAHM
Describe your background as it relates to health, fitness, weight loss, etc.
I spent a large portion of my life thinking that fitness was something for stupid people. I guess it was all those "dumb jock" stereotypes. I thought that because I considered myself a writer and an intellectual I could not be involved in sports or fitness at all. I didn't really care about my physical health as a teenager. I would always say, "my mind matters, my body is secondary."
Then I got involved in an abusive relationship and developed PTSD. Things got really unhealthy for me after that; I turned to hard drugs to self-regulate my hyper-aroused systems and to deal with some of those traumatic memories. But then I became pregnant, and obviously I had to find healthier ways to deal. I discovered that fitness-working out, doing yoga, etc-as well as cleaning up my diet (I was already vegan, but I started eating less processed foods) really helped me stay sober and also helped regulate some of those PTSD that drugs had been masking. It is really important to me now to do at least 20 minutes of fitness every day, even if it's just light stretching.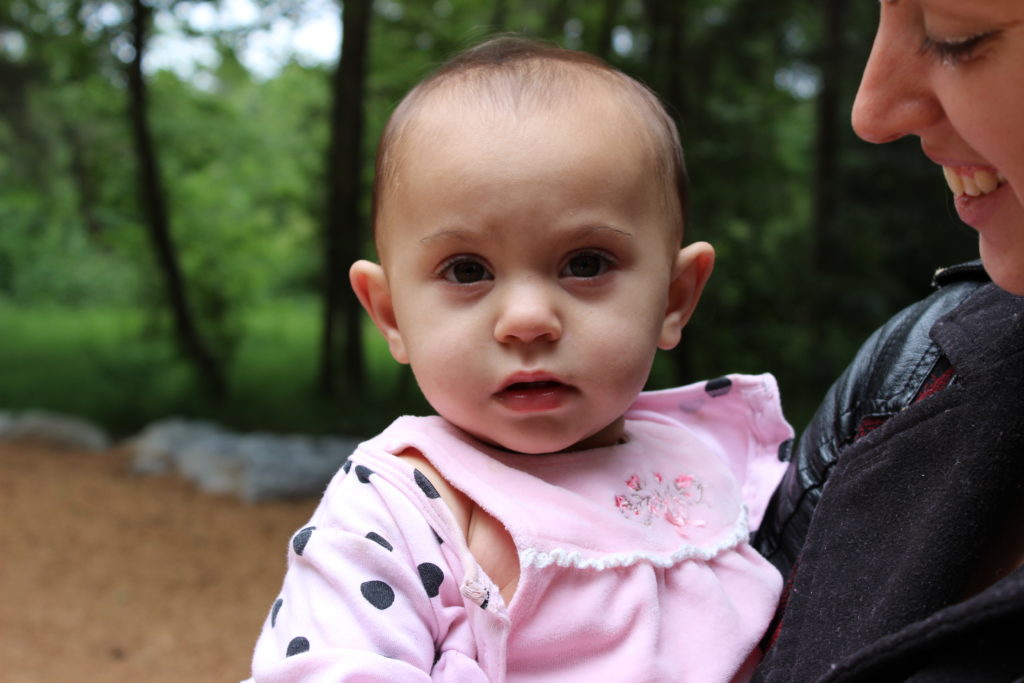 When do you typically fit in your physical fitness?
I usually work out in the mornings, after having a cup of coffee and hydrating with water. I rotate between three different work outs, which includes movement prep, a physio ball workout, and yoga. I take a break on Sundays, which I can "feel" emotionally, but I have found is necessary if I want to see any physical results. I have more intense add-ons to each workout, which include kettlebells, weights, deeper stretches, etc that I can do on days when I have more time and stamina.
How do you make healthy eating a priority?
I have been vegan since I was fourteen. I definitely feel like I have "vegan powers" because of it, haha. For example, all of my child labors have been relatively quick and easy. I mean, don't get me wrong: they hurt, A LOT. But in comparison to some stories I have heard, I had it pretty easy. That's just one of many examples. I don't want to be an obnoxious vegan, but I do think it is a really healthy diet. In the past couple years I have also tried to cut down on processed foods. I still eat them, but less than I used to. I eat mostly whole foods, and that is what I cook for my kids every day for dinner. My 3 y/o is super picky, but kale and quinoa are on her short list of foods she will eat, so I consider that a win!
The vegan diet is definitely the biggest way I keep my kiddos healthy.
How do you get your kids involved in a healthy lifestyle?
The vegan diet is definitely the biggest way I keep my kiddos healthy. They aren't 100% vegan. My husband isn't vegan and he sometimes gives them animal foods…mostly eggs, not too much meat or cheese (though the picky 3 y/o does love cheese when she gets her hands on it). They also eat animal foods at daycare, but they go to a pretty health conscious daycare so those meals include a lot of veggies and whole foods too.
My kids go to daycare in the morning, but on the mornings that they are home, I let them get involved with my workout. My daughters both know my routines and can follow-to an extent. I actually have a video of my middle child doing lifts with a 3 pound weight when she was 2. It was pretty cute…and impressive!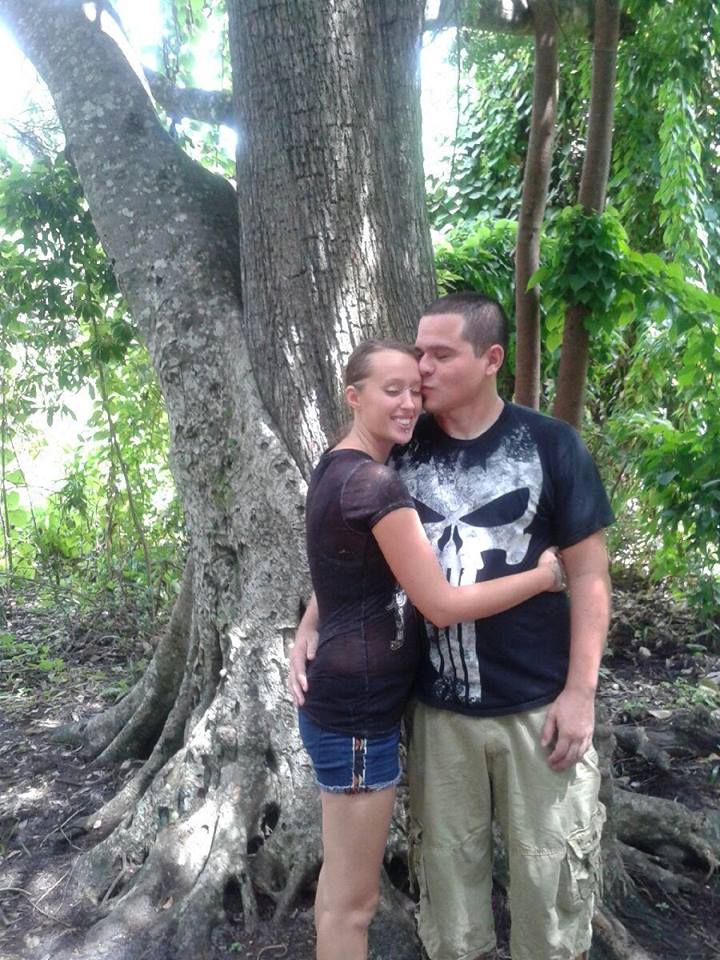 What are your biggest struggles?
My biggest struggle is definitely PTSD. I was in an extremely abusive relationship. I won't go into the details here. If you're really interested, you can read more about it on my blog, but just trust me when I say that it was extreme. Across the board abuse. Physical, sexual, verbal, emotional. He even held me hostage in a motel for three days once. And I was just a kid. He wasn't, but I was a teenager in my first intimate relationship. It really scarred me, and my PTSD is severe. I struggle with it every day. Some more than others, but still something every day. Sometimes I get really depressed. Like just living in a body that has been through so much violence feels too much, and I want to get away from my own body. That's a pretty horrible feeling. It's a tough struggle.
every day I'm sober is a win as a mother.
What are your biggest accomplishments as a mom?
My sobriety.
I struggled a lot with addiction as a teenager, and then again after developing PTSD. I never did drugs around my son, but he was diagnosed with autism right around the same time I was diagnosed with PTSD and it was pretty clear he needed more care than I could provide. Luckily, my family stepped in, but that left me alone, and pretty crazy.
My abusive ex had been a meth addict, and he used to force me to take drugs after beating me. I think it was either to make me feel complicit, so that I wouldn't go to the police, or maybe to calm me down. Maybe even out of guilt-maybe he thought it was a nice thing. I don't know, but the association was built into my brain between drugs and trauma relief. Add that downers do alleviate many of the symptoms of PTSD and I became pretty severely addicted.
I got clean when I found out I was pregnant with Anabelle. I had tried many times before then, but nothing worked. Nothing motivated me enough.
I wanted to get clean so that I could be a mom, and I did it. It's still a struggle to this day, I still attend relapse prevention groups, but every day I'm sober is a win as a mother. Addiction is hard to overcome, and even harder when you're also battling PTSD, so I think I deserve to feel proud.
I'm also pretty proud of the fact that both of my daughters love to read. We don't have a lot of money and I often feel guilty that I am not able to provide for them as much as other parents, but they are really smart, and generally happy. Maybe those material things don't matter so much.
Oh, and, I am also able to build them a pretty good book and toy library with my thrifting skills! Every Monday I got to Goodwill for $1.79 day, and I always bring home some toys or art supplies or books for them. So as money-poor as we are, all three of my kids have a pretty good store of toys and activities.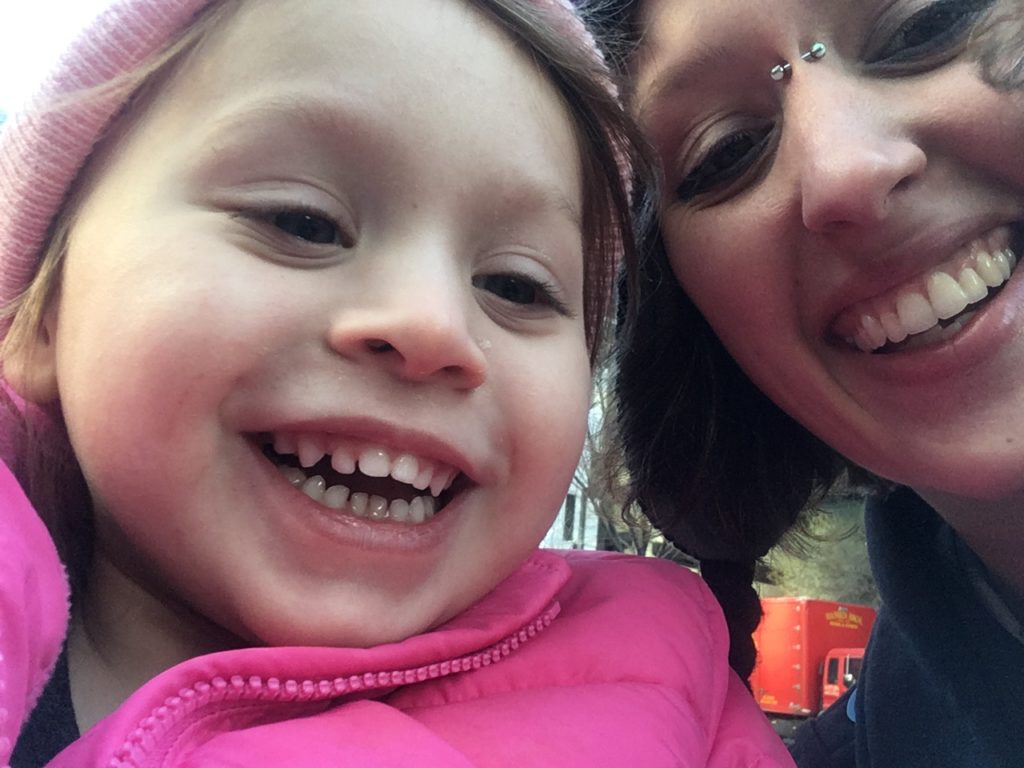 What are your biggest accomplishments in regards to health and fitness?
Well, getting clean from hard drugs is a pretty big win for my health too, obviously.
Also being vegan. I have been vegan for 15 years and counting, and I know that it has contributed to the fact that I was able to get off drugs with relative ease, that I don't really have any physical remnants from my use, and also that I have been able to "bounce back" from my three pregnancies with relative ease. I mean, don't get me wrong: my body has changed. I will never be 100lbs again, but I'm a healthy weight and I think the veganism helped.
I am also proud that I am able to work in at least 20 minutes of fitness six days a week.
turn nursery rhymes into fitness anthems (I've done that…jumping jacks to the abcs, sits up to Itsy Bitsy Spider, etc)
Share your 3 best tips for moms who are struggling?
-Find a way to exercise for 10-30 minutes every day. Even if it's walking with your stroller. Even if it's stretching in the shower. Even if you have to turn nursery rhymes into fitness anthems (I've done that…jumping jacks to the abcs, sits up to Itsy Bitsy Spider, etc). Seriously, get creative if you have to, but make it work. It helps with so many things…how you feel mentally, physically, and emotionally all improve with fitness.
-Try to eat vegan even just one day a week. Once you've gotten use to that, make it two. If you like it, make it three and keep going. But even if you just stick to one day a week, having one day of plant-based whole food meals will improve your health, weight, and mood. I promise!
-Drink water! Lots and lots of water! Dehydration can be hard to notice when you're busy, but it's insidious. It will affect everything-from making you feel more tired, to bringing down your mood, to making your mind feel cloudy.. We rely on water, so make sure you're getting it. If you drink a soda or a coffee, try to balance it with an equal cup of water. I LOVE coffee, but I always drink a big glass of water after my coffee and before I work out because otherwise I feel terrible.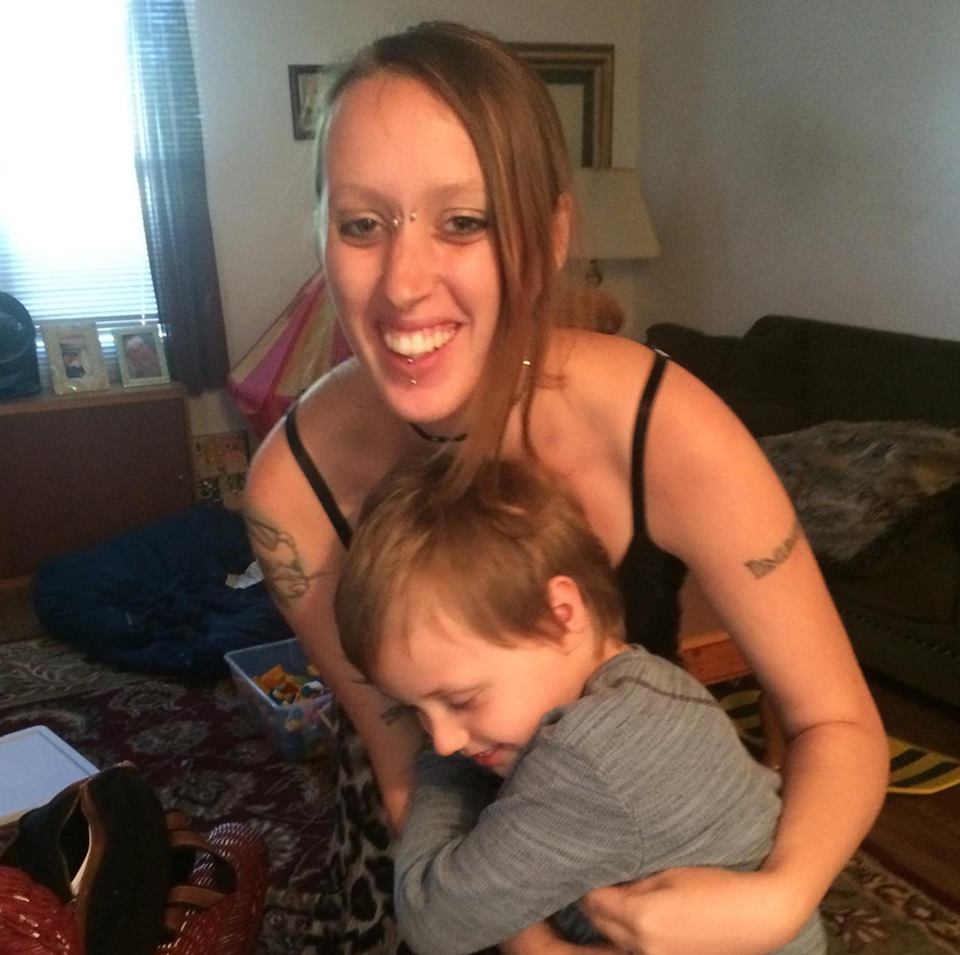 Do you have a blog or social channels you want to share?
Yes! I would love for you to visit my blog Betty's Battleground. I write about my experiences living and parenting with PTSD, which includes posts related to trauma and domestic violence, mental-health or parenting related tips, and also book reviews and my sweetheart, Off-Fridays. It's a link-up every other weekend for mental health bloggers.
I am also trying to grow my Twitter following www.twitter.com/bettymama206
Check out my blog's contact page for guest post opportunities and other social channels too ☺
Oh! And if you have a story to tell about drug addiction, I'm compiling monologues for a play. E-mail ebricosubmissions(at)gmail(dot)com for more details.
Check our other Motivating Mommas and get some great tips for healthy moms and healthy families!
If you'd like to be featured as a Motivating Mom, send a message to Exploring Domesticity on Facebook or email exploringdomesticity(at)gmail(dot)com with the subject, "Motivating Mommas."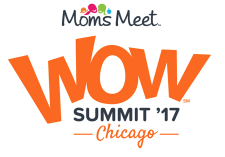 Learn about Healthy Families at Moms Meet WOW Summit!
If you're interested in learning about raising a healthy family, connecting with other moms, and finding some amazing companies committed to healthy families and a healthy environment, check out the Moms Meet WOW Summit! It is a blast!  
You can also get an extra 15% off the already reasonable price of $39 with the code EXD15 when you purchase your WOW Summit tickets through my affiliate link.
If you're on the fence, feel free to message me with any questions. I had so much fun the year I went, and left with so many amazing products!

More Like This