Dreaming of a home gym, home office, or even just some space of your own? You can have it all in one room, even in a small house!
With distinct areas and using things I already had, I got a gym, office, dressing room, and sitting area all from one small bedroom. I love this multi-purpose room! Momma finally has her own space in this house!
You guys! I finally feel like I have a space that is my own after 6 years in our 2,000 square foot house with a family of four.
Guys have it so nice, by default they seem to claim the garage, basement, and even seem to get add a storage shed to the backyard. Do you know what we get? The kitchen, that is always a mess and stresses us out thinking of all the meals to cook, the bedroom which we have to share with another person, or other communal areas. I've never felt like I had space I could call my very own.
Our house is on the small side with four very small bedrooms. When I was kid less and bought the house, we opened up the wall through our TINY closet into the other room to make it into a walk-in closet for myself and my husband. At the time, we also had just one bathroom, so I added a vanity and always did everything in that room. After a day of breaking down because I worked from home and had no place but the bedroom and living room to try to work, my husband also shoved a roll top desk into that closet.
When my little ones stopped sharing a room, my little guy was very excited to move downstairs into the biggest bedroom. A few months later, his uncle and dad introduced him to video games and he started coming up a lot at night and saying he'd like to be upstairs.
Inspiration hit and I started thinking about turning the closet back into a bedroom, and my very own space in the house was born!
We knew there was no way my husband and I could both fit our things in our bedroom closet, so I would be moving my things downstairs where the closet was bigger. I was also able to move my desk to a room where I would use it. I would also have a place to out the elliptical, creating some more play space for the kids behind the pool table. Win, win, win!
I'm so excited to show you how it turned out!
This post contains affiliate links.
I created four distinct spaces, without buying a thing! Sure, I have visions of a perfectly decorated room, but I have time for that and in the meantime I have my own space!
Dressing Area
The closet is a work-in-progress, but I have eliminated so many clothes I never wear. It has really felt good to pare down a bit.
Next to the closet I placed a dresser and left the top drawer open for my makeup, hair, and jewelry. On top I placed a little jewelry organizer, decorative tray, and my favorite lamp. This lamp is so cool! I don't know of it's really old or just looks old, but it has three settings, with the turn of a key, with a light on top and the bottom glows for a night light. Over the dresser is a fun little vanity mirror I got at IKEA years ago.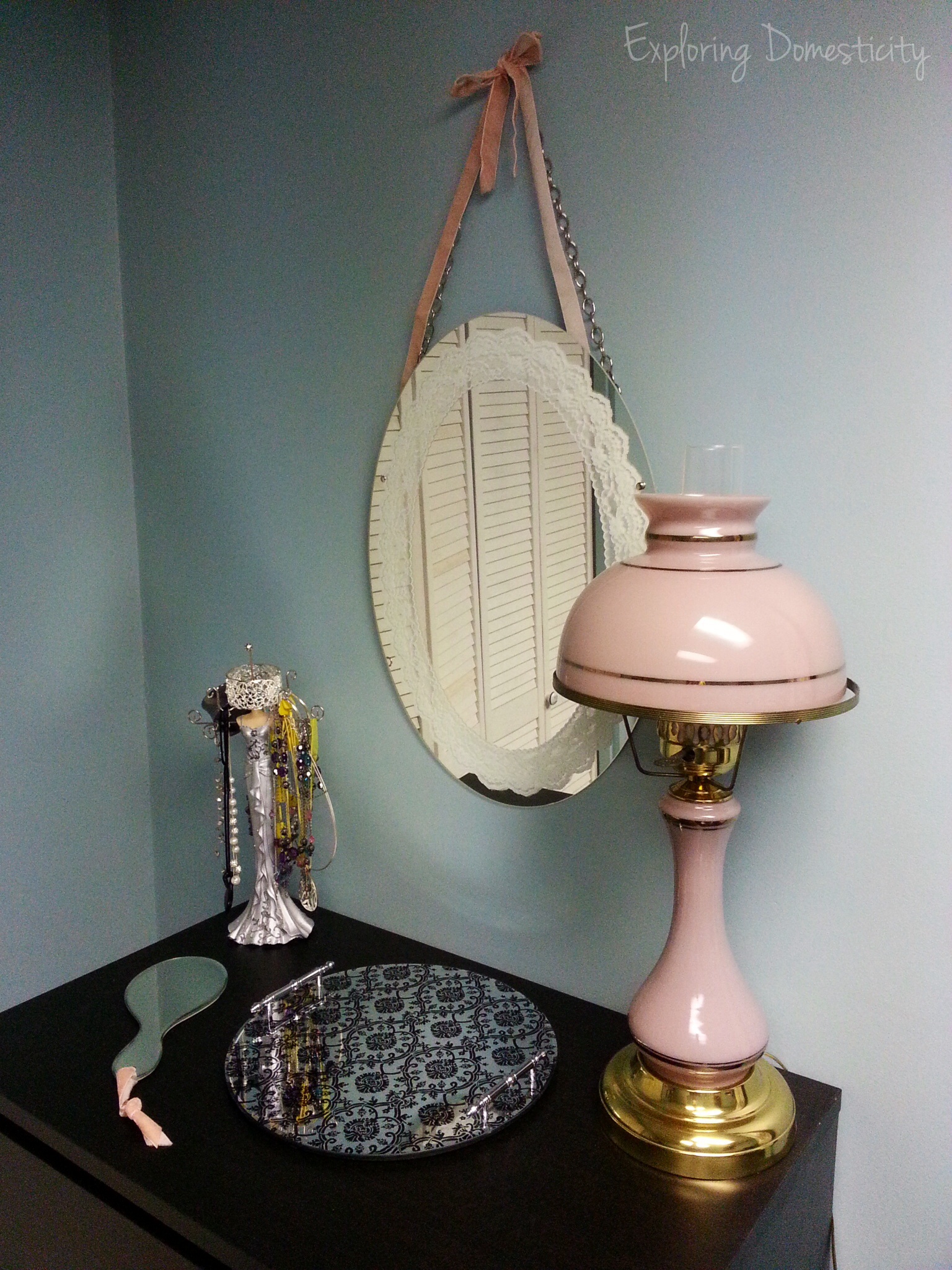 Office
On the other side of the closet I placed my desk and office space.
Over the desk I still need to hang this awesome clock from Valdler, along with my major accomplishments – the kiddos handprints and my graduate diploma. I haven't hung these yet, because I feel like I need another frame or two on this wall instead of lining them up. Who has some suggestions for me? I'll gladly take them.
On the other wall I envision placing a couple dry erase boards, cork boards, or a pretty vision board. I have my comfy office chair that is a little big for this small desk, but I'm also excited to use my new exercise ball for sitting. I finally have space for an exercise ball! I always wanted one, but we just didn't have room. I got this one from Peak Win Athletics to review and I love the pink color.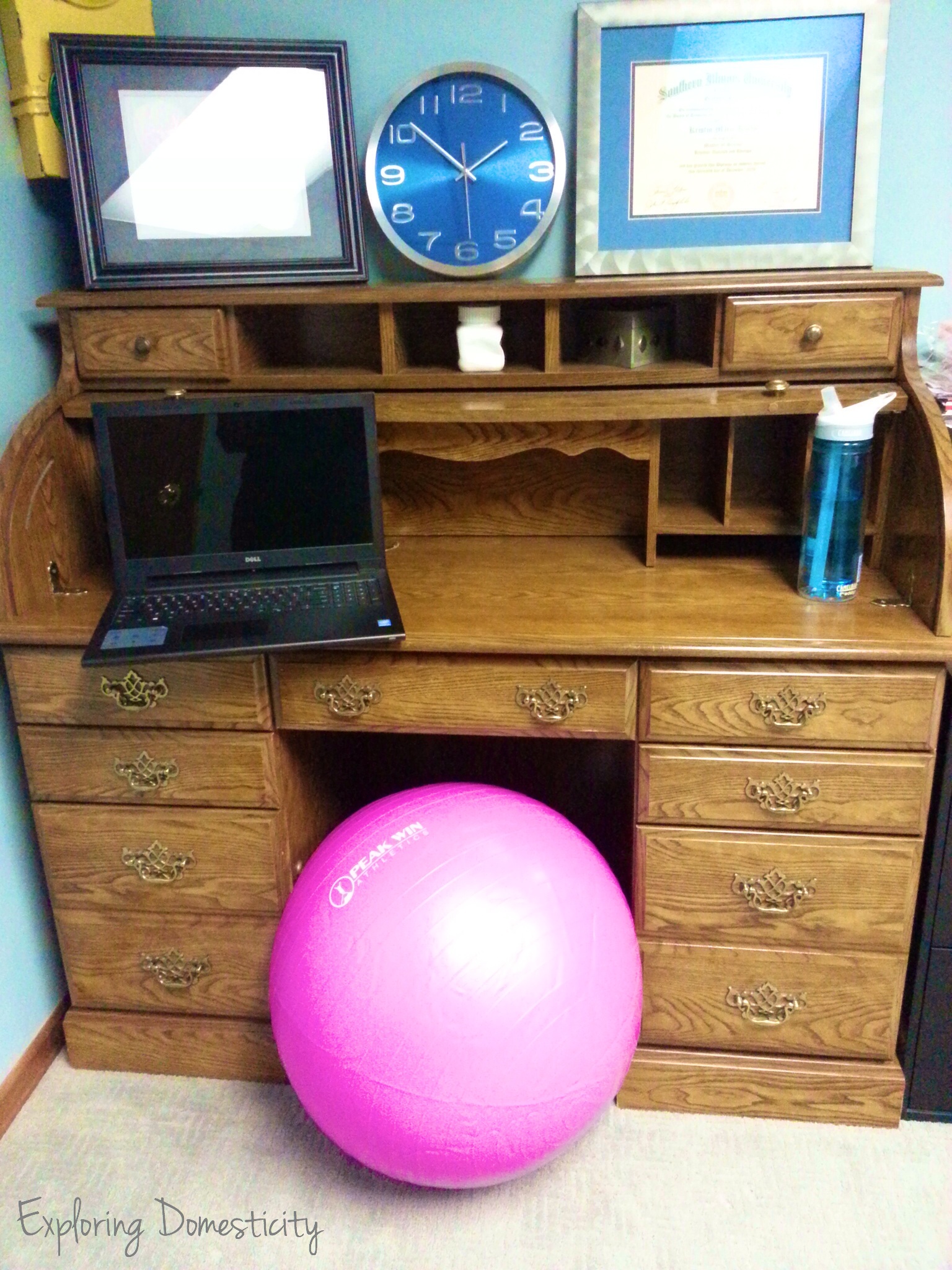 Which brings me to the next space…
Gym
As I was thinking about this room, I never envisioned all of this fitting in it! We've had the elliptical out behind the pool table in our basement for years and always had to move it when we entertained, so it was a bit of a pain. I was shocked to find It would fit in the room and not take up too much space.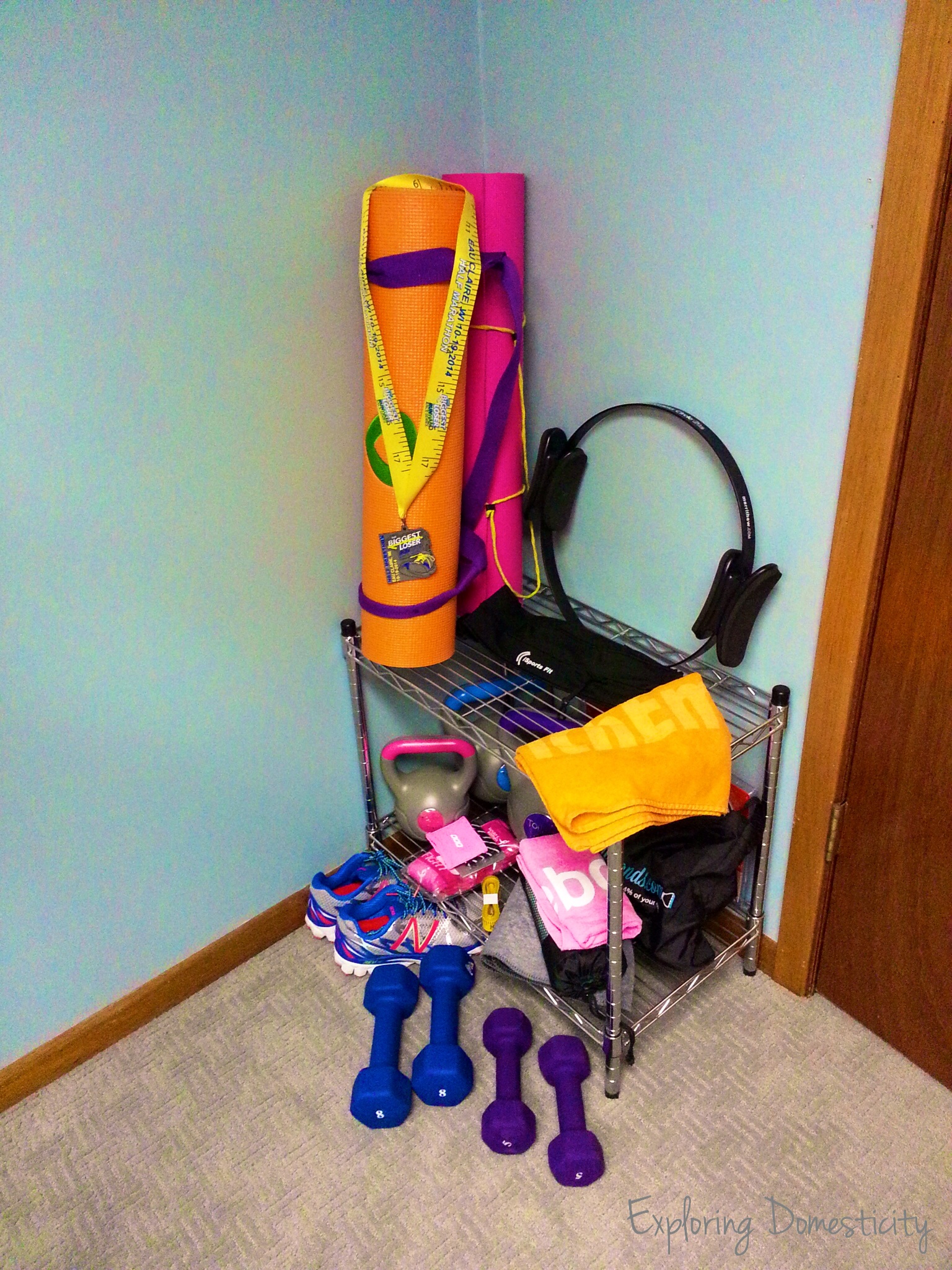 Behind the door I have a shelf to hold my other exercise equipment. It felt great to get it al out of the living room! I can keep my DVDs on the bookshelf, play them on my computer on the desk, and I have a lot of space to move!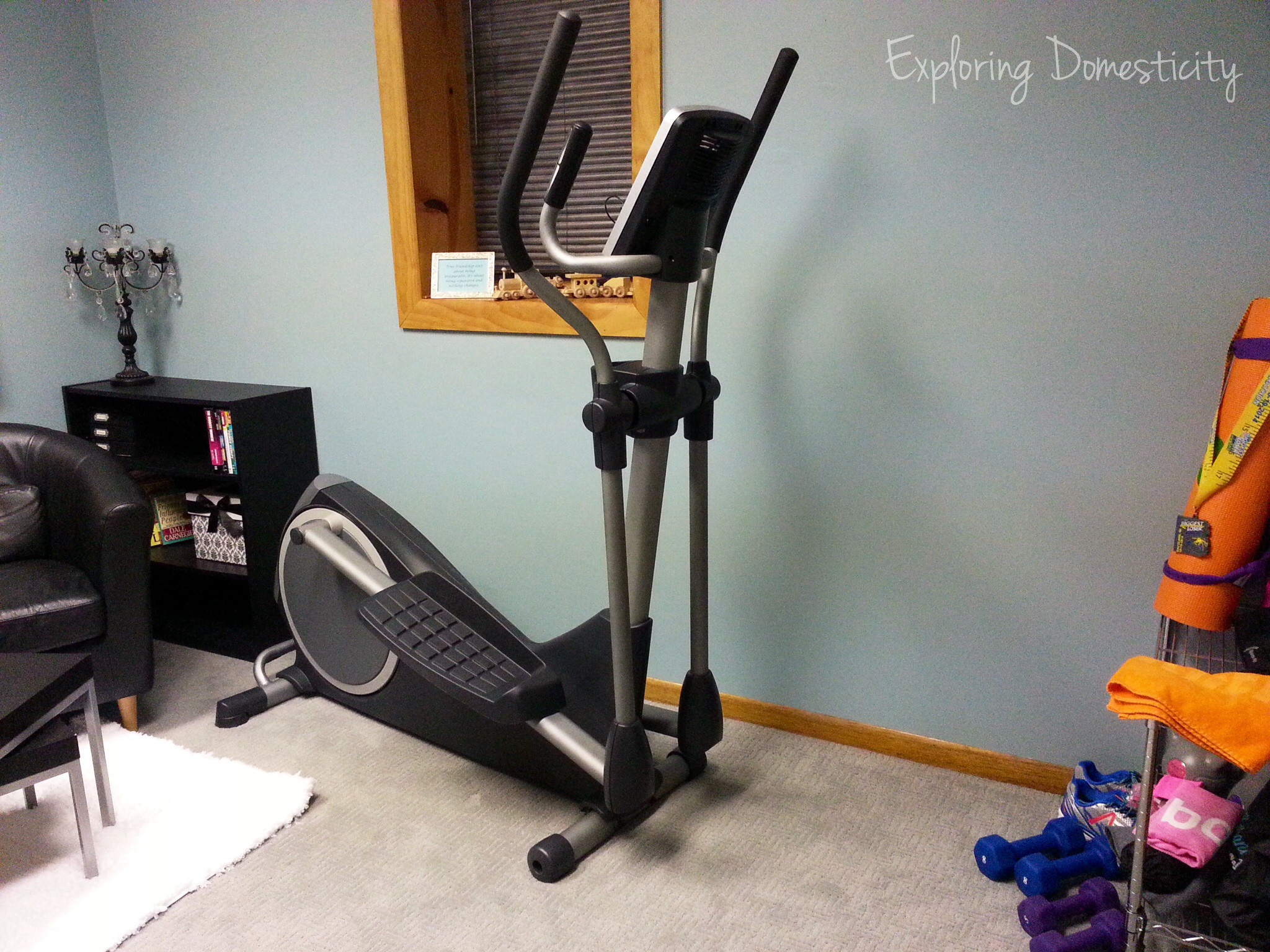 Sitting Area
This was a total bonus! I never thought I'd be able to fit two chairs in here, but it worked out so well! I've had these chairs from IKEA since my apartment days and, while they didn't really work in the house, I couldn't get myself to get rid of them.
I also finally had a space to hang my great-aunt's painting. It's a monster and I wouldn't have thought it'd look so good in this little room, but it totally defines the space. Bonus: it covers all the holes from things we had hanging over my little guy's bed. I also love how the plush rug defines the space as well.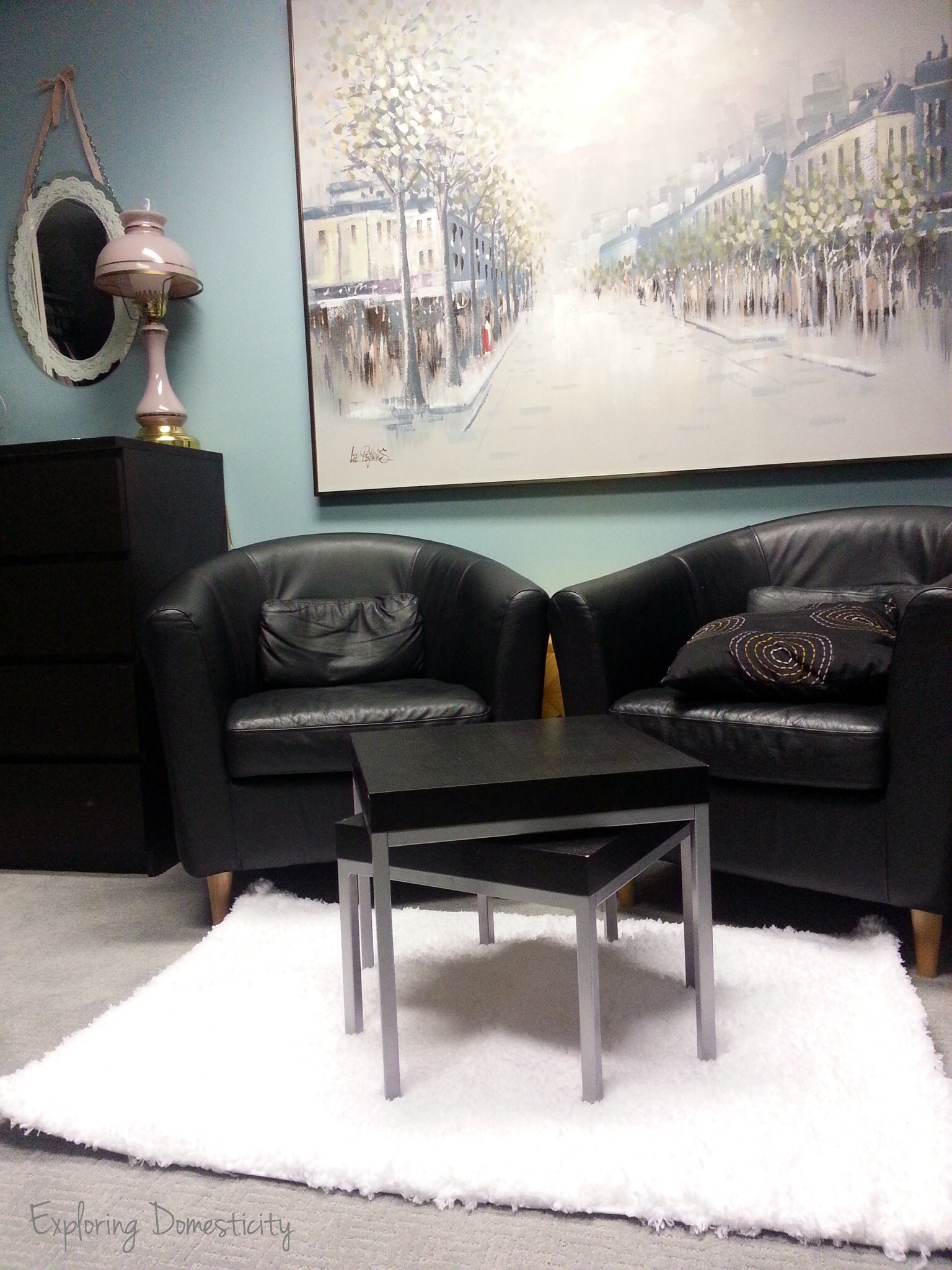 There you have it! I'm over the moon excited about this space, the different uses, and the great feeling I have when I walk I to my own personal space. It's coming together, and I can't wait to add some more decorative touches. The best thing about it, I never purchased anything for this room. Everything in it was grabbed from other areas of the house with the exception of the clock, rug, and exercise ball which I got in exchange for Amazon reviews – gotta love that!
More Like This



Get Ya Some