We went on the most beautiful trip the first week of summer vacation. We started from our cabin in Wisconsin, visited Mackinaw Island for a few days, and "camped" in Door County Wisconsin before returning home to Minnesota. All the while, I stealthily snacked on Hail Merry Bites so I wouldn't have to share with the kids!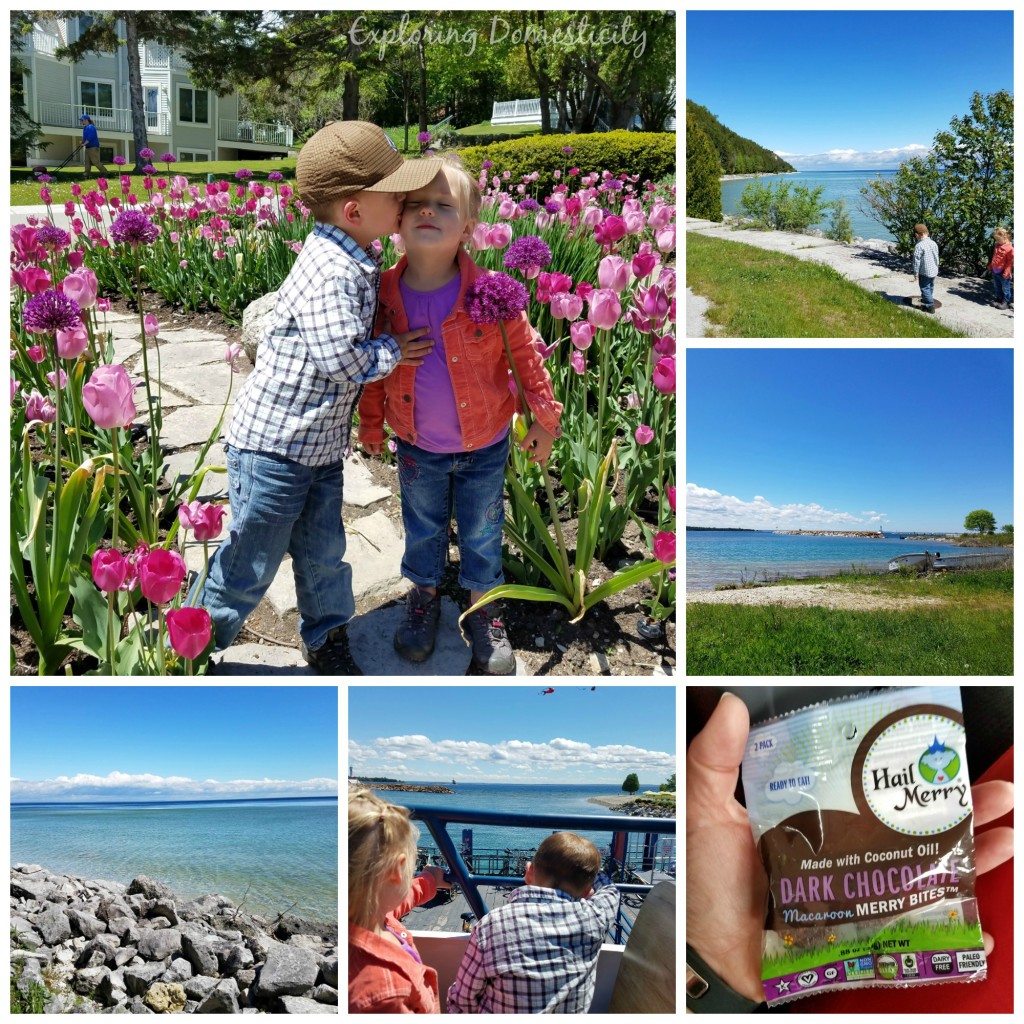 I received this product for free from Moms Meet, May Media Group LLC, who received it directly from the manufacturer. As a Moms Meet blogger, I agree to use this product and post my honest opinion on my blog. The opinions posted are my own.
Just as preschool was ending and we were packing for our trip during the first week of summer vacation, I got an amazing package from Moms Meet and Hail Merry!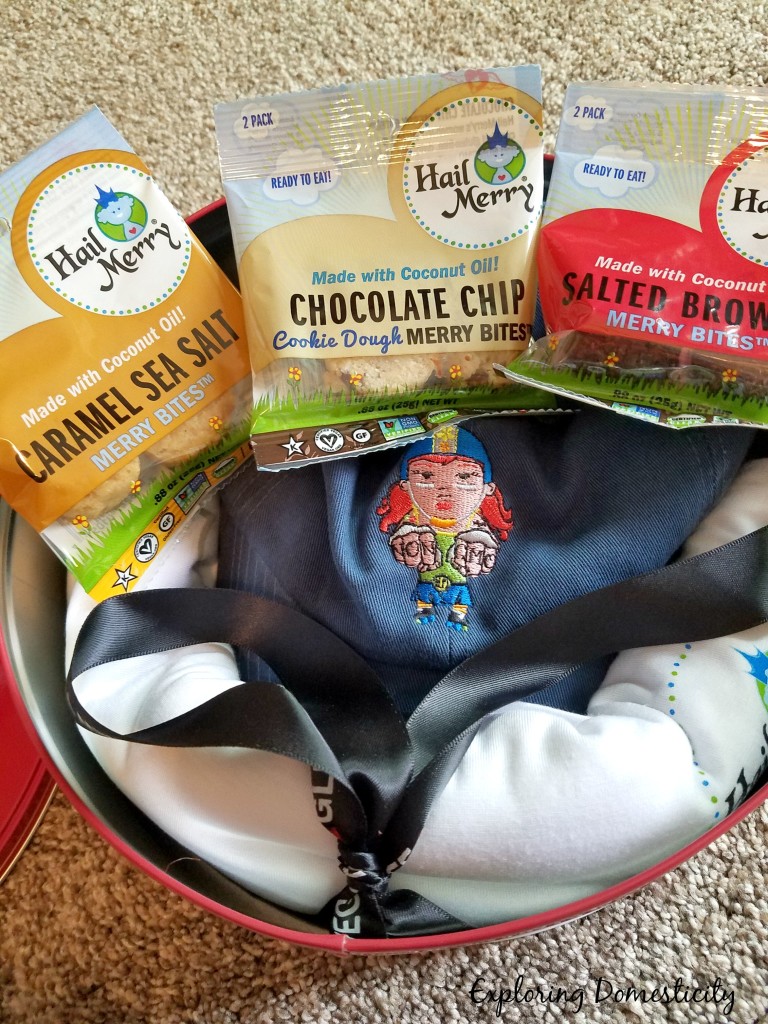 I should have guessed immediately that it is a women-owned company because the shirt they sent is adorable! I wore that thing all during our trip!
I also quickly packed up all the single-serving (2 bite) packages of Hail Merry Bites for our trip. I love that they are in single-serving, on-the-go packets. They included a larger bag as well and it was nearly impossible to stop at just two!
All flavors of Merry Bites™ are Certified C.L.E.A.N., Certified GlutenFree, Certified Vegan, Certified Kosher, Dairy-Free, Grain-Free, Peanut-Free, Paleo-Friendly and Non-GMO Verified. They also all contain nuts, which isn't a problem in our family but not suitable for those with nut allergies. Their products are low-temperature dehydrated rather than baked or roasted at high temperatures, which protects the integrity of the raw dietary oils and pure ingredients. Since coconut oil melts at 76 degrees, they literally melt in your mouth!
The Chocolate Chip Cookie Dough bites are amazing! They have the coconut texture and a bit of the flavor, but they melt in your mouth and the chocolate chips give you that creamy chocolaty flavor.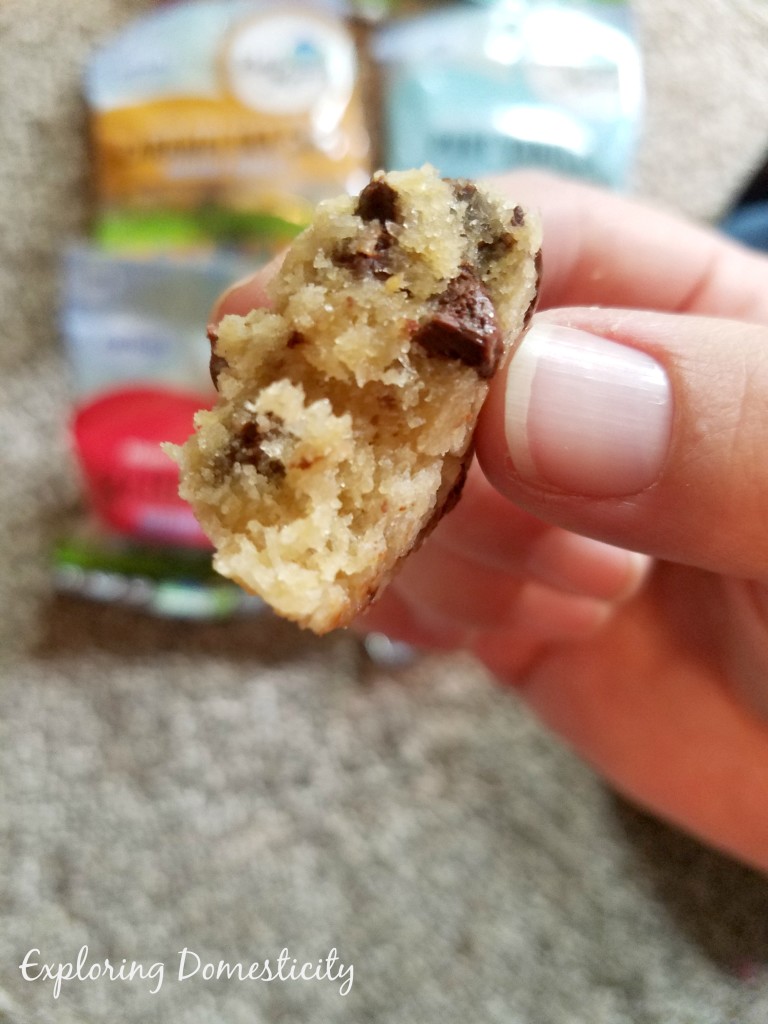 Halfway, through the large bag of chocolate chip cookie dough – that I did share with the kids! – I finished packing and we spent Memorial Day Weekend at the cabin with our extended family.
Early Tuesday morning we hopped in the car for the 6 hour drive to Mackinaw City, MI. It was a long ride, but beautiful! A black bear cub crossed the road in front of us and we followed Lake Michigan for the end of the trip.
I snacked on another package of the chocolate chip cookie dough bites and tried the lemon macaroon bites. So good! The lemon flavor is intense and delicious!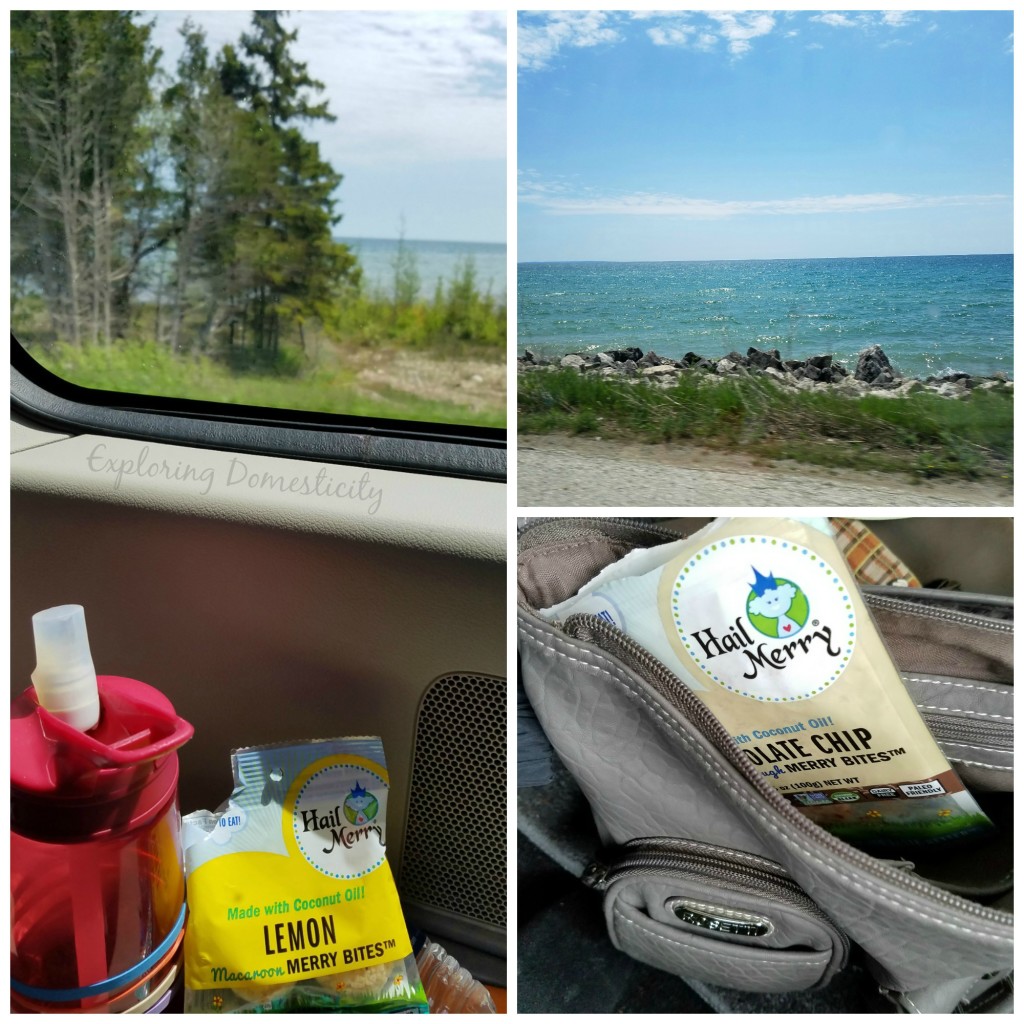 We got to our hotel (we always love to stay at a Holiday Inn Express) in Mackinaw City in the late afternoon and we made an early night of it before our day on Mackinac Island. There are no cars on the island, only horses and bicycles for getting around, and we took a jet ferry over the the island. It's crazy! It looks like an enormous speed boat and kicks up a huge rooster tail.
Mackinac Island is gorgeous! Our first day was a bit rainy, which kept the crowds at bay. We got on a horse and carriage tour and learned all about the history of the island. We then switched to a larger carriage and team of horses and visited the arch rock and the forested areas.
When we had finally had enough of the rain, we took the ferry back to the mainland and rested at the hotel. Of course, I took the time to try a new Hail Merry Bite. The salted brownie bite was one I was looking forward to! It was a bit drier than I expected, but the salty flavor was delish!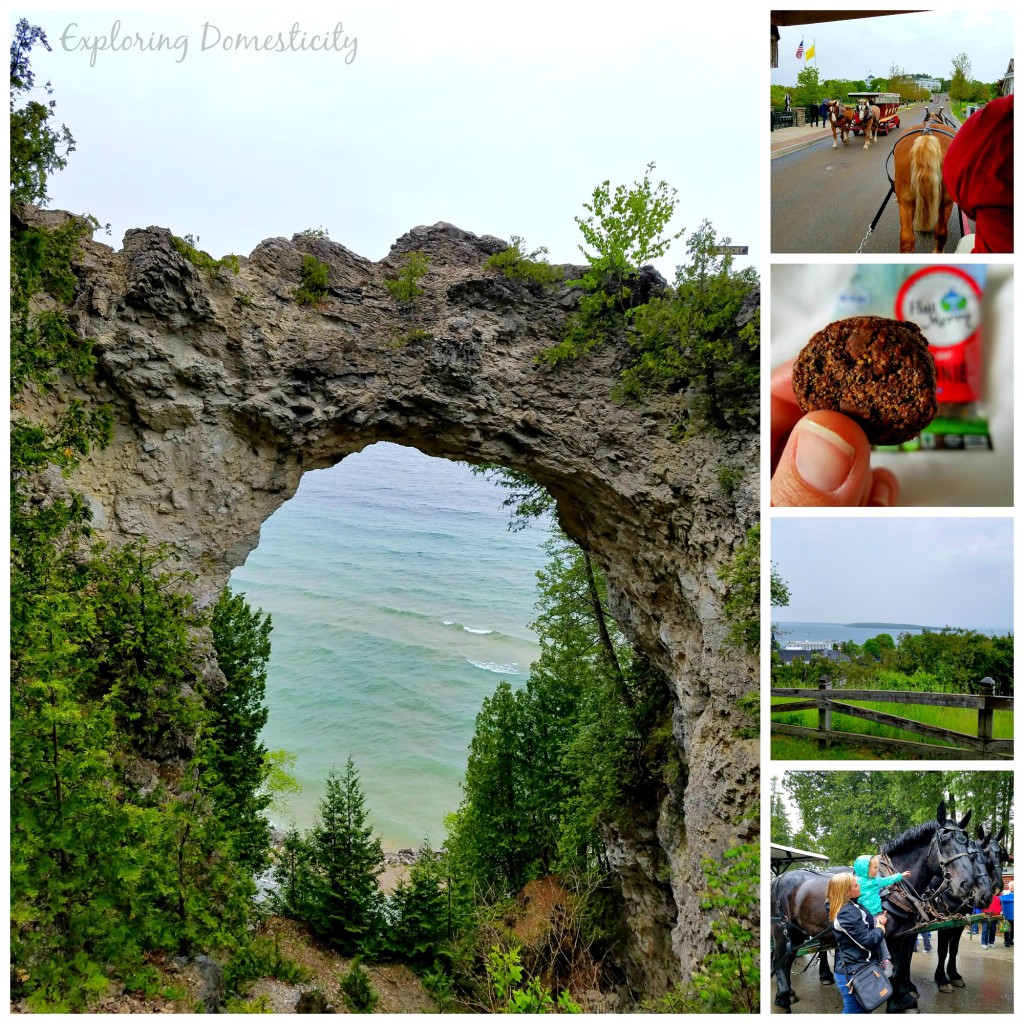 We took the ferry back to the island the next day and the sun decided to join us. It was gorgeous, and the most perfect day! We decided to follow one of the paths around the island along the water. I have way too many photos to share! If you follow me on Instagram, you saw more than a few.
The water was bright and blue and the day was beautifully sunny but cool. It was perfect for walking, and we got all our steps in early that day! We gawked at all the beautiful old homes and thought about the generations that must have been there forever. We saw the arch rock from down below, stopped at a natural spring, and couldn't take our eyes of the water and gorgeous scenery.
We had an amazing lunch and were shocked to find that the kids meal, which were as big as the regular meals, were complimentary. Who does that!? I wish I could remember the name, because that place was amazing!
We stopped and smelled the tulips that are everywhere in the spring, walked past the fudge shops, and stopped and stared at all the colorful kites flying in the breeze. We got back on the ferry and, because it was a beautiful day, sat on the top deck for the ride. Brrr! It was a fun experience, though.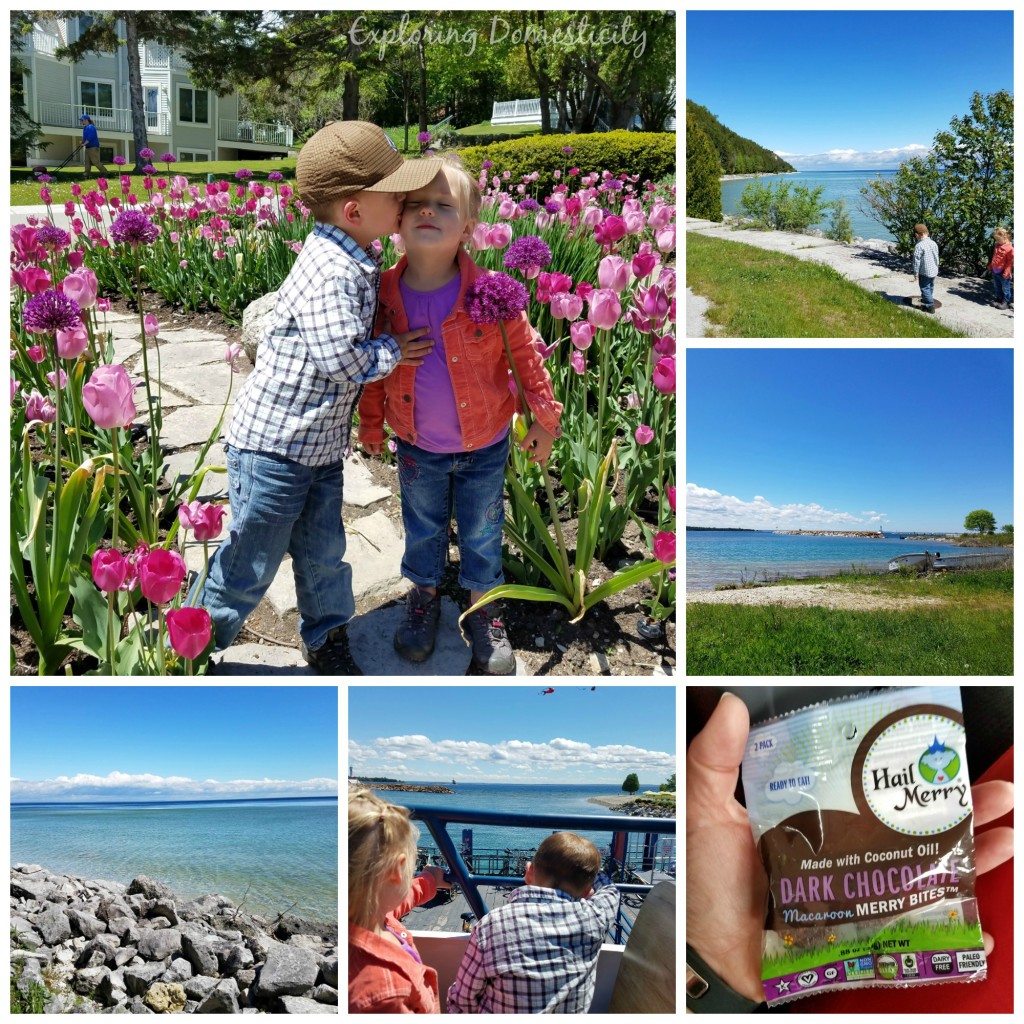 We could have explored the island everyday, but we had the best time and fit in everything we wanted to do. The next morning, we got back in the car for another long drive to Door County Wisconsin.
We rented a "cabin" at the Rustic Timbers resort and it was amazing! They had just added some new cottage trailer and it was perfect! The kids had a lot of fun on the huge playground and the huge Jumping Pillow, inflatable slide, and the clear plastic balls they could get inside and run around. It's such a great place!
After the long drive and exploring the campground we took advantage of our beautiful cottage and rested up for the early morning to come. I, of course, took the opportunity to try the caramel sea salt bites. They are delicious! You really can't beat the caramel and sea salt combo.
The next morning we took a drive and shopped our hearts out. They have the cutest places in Door County. My favorite was the Christmas store. The kids got ornaments for the tree and we got a big, beautiful advent calendar shaped like a chalet to fill up with goodies this Christmas.
We had lunch at Al Johnsons, which is a must see! The roof is covered in grass and at certain times of the day you will find the goats up there eating away. It's fantastic! I didn't expect too much of the food because the place is so touristy, but every single one of us got something delicious. My mouth waters at the thought of my grilled veggie sandwich. Yum!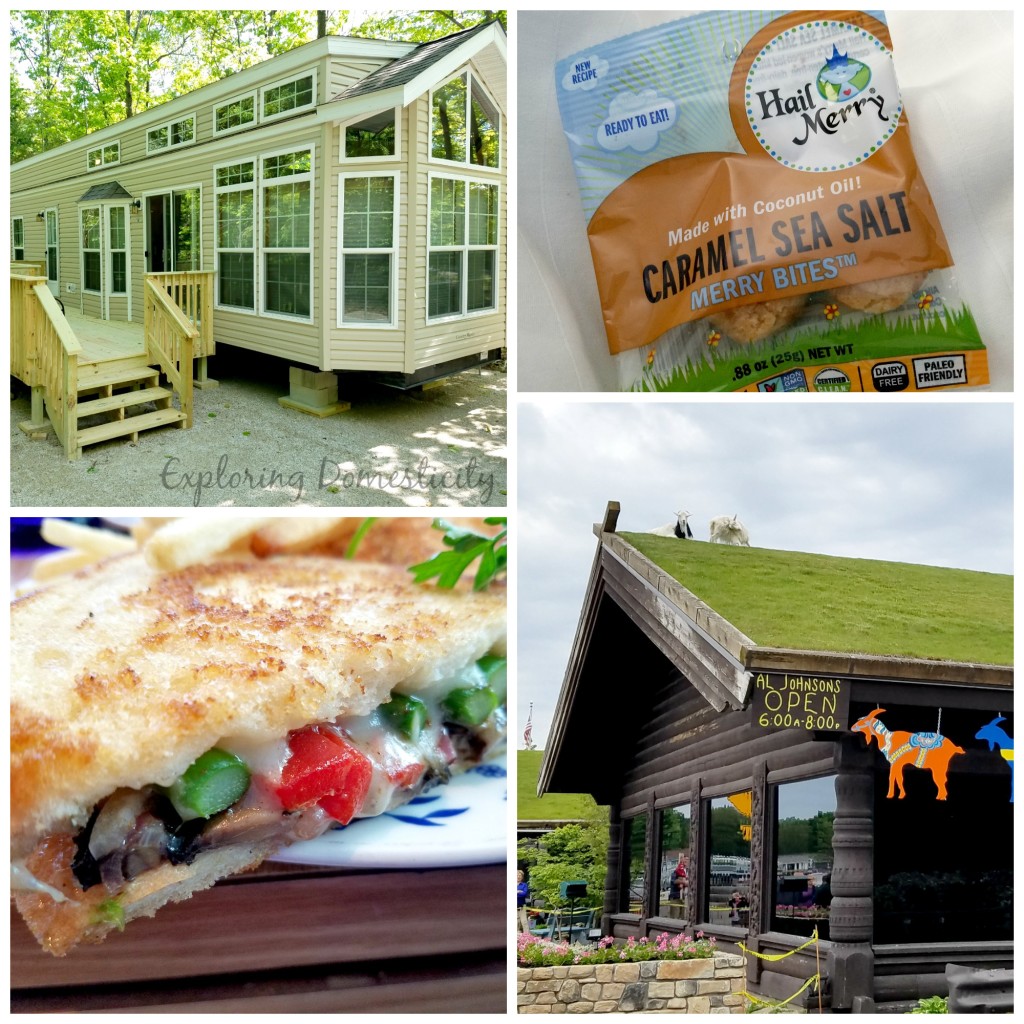 The next day, we said goodbye to our cottage and packed up for the 5 hour drive home. I believe I snacked on another flavor of Hail Merry Bites, but we were all so exhausted, I don't think I took a picture…
It was an amazing trip. If anyone from the north wants a fantastic road trip, this is a perfect one to plan!
I also totally recommend Hail Merry Bites for a fantastic road trip snack. Next up, I have to try the  Miracle Tarts® and Mini Miracle Tarts® – almond flour shortbread cookie crusts, filled with coconut oil-based ganache in a variety of flavors like: Chocolate Almond Butter, Meyer Lemon and Coconut Vanilla Creme.
Hail Merry® products can be found in the refrigeration section of your local grocer. To find a retailer near you, visit hailmerry.com/where-to-buy. You can also download a form to bring into your retailer to get Hail Merry Bites in your store. Connect with Hail Merry online to see their latest products and get exclusive access to discounts and special offers! hailmerry.com | twitter.com/hailmerrysnacks | instagram.com/hailmerrysnacks | facebook.com/hailmerry.
Do you have any summer trips planned?
What are your favorite road trip snacks?

More Like This