It's always a good idea to give the special teachers in our lives a little bit of recognition for all of their hard work and attention. This is a sweet way to dress up a practical teacher gift for Christmas or anytime.
This practical gift of items teacher's love to get is dressed up a bit with an adorable presentation in these sweet teacups.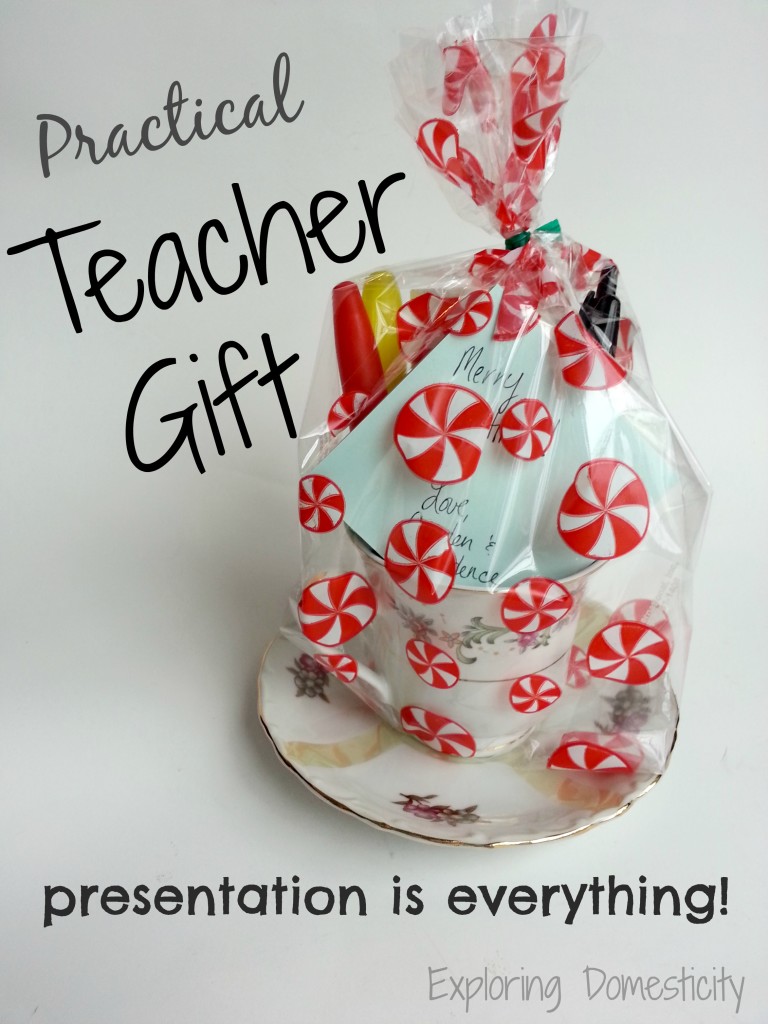 This post contains affiliate links. If you make a purchase through the link, this site will receive a small commission with no affect on your purchase price. We hope you find the links helpful!
Coming up with a gift that teacher's will actually use and love can be so hard!
It's easy to go with the simple go-to of candy, coffee, candles, etc… Gift cards are always appreciated, but feel so impersonal… Teachers get so many of the same gifts, it can be hard to think outside the box.
The gifts teachers really want and will use are practical things, but how do you make a useful and practical gift really special?
It's all about presentation!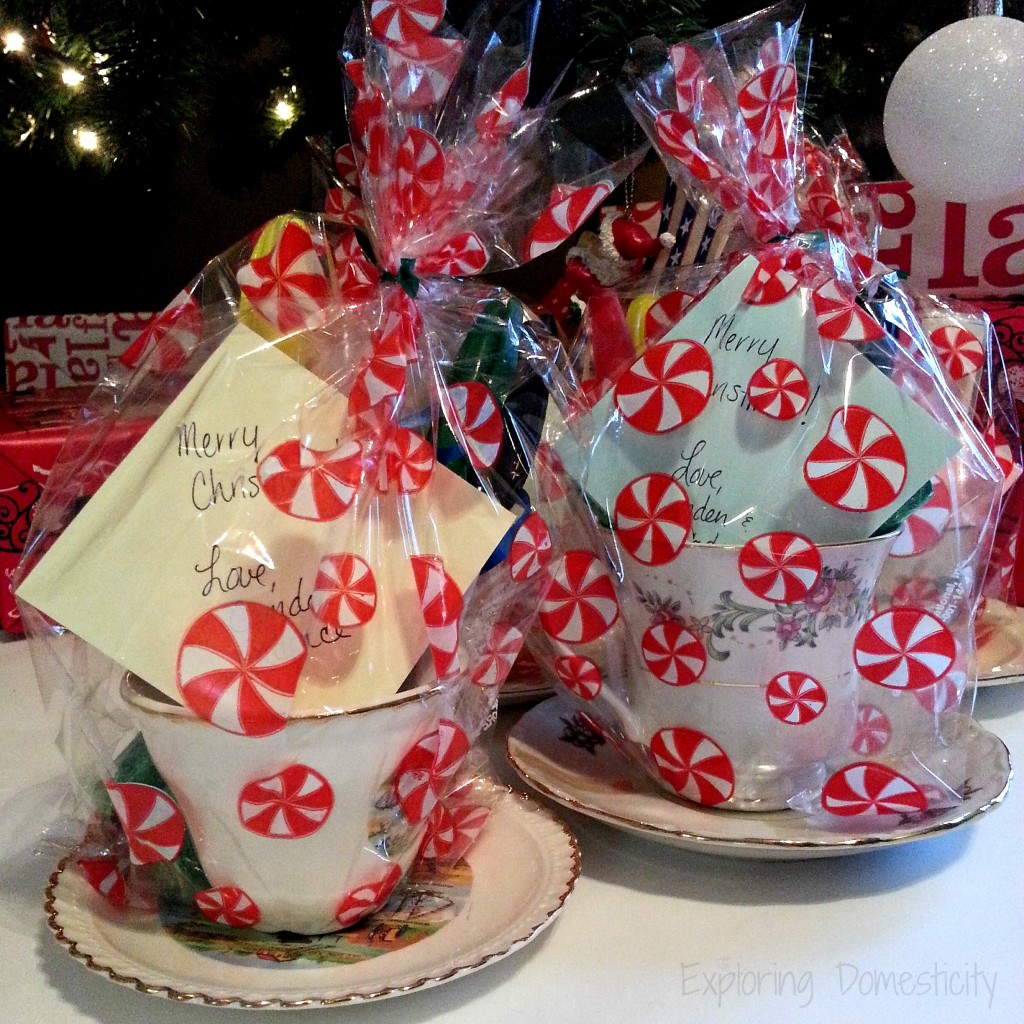 You can find teacups and saucers for practically nothing at thrift stores or the Goodwill.
For groups of teachers, such as the kiddos' preschool last year, having different teacups makes each gift unique and special.
The small, standard-size favor bags work well for wrapping the teacup, but a little larger bag is needed if you'd like to include the saucer. We just wrapped the cup and left the saucer below.
The clear bags are really nice because teachers can see the gift without having to unwrap or take out all the contents.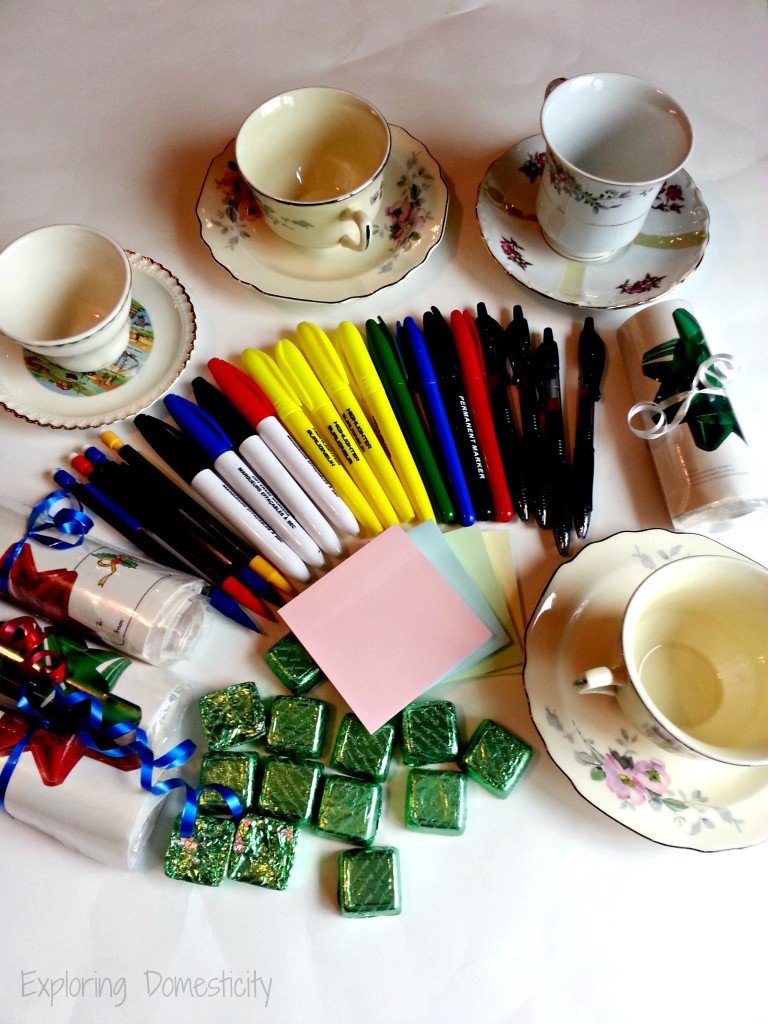 Inexpensive gift for multiple teachers
Teacups and saucers from a second hand store is a really inexpensive way to give something special.
The cups and saucers we used were sold for $0.49 and I think I got them for 50% off, so we paid only about 50 cents per teacher. I like to look for a unique pattern – you can spend a little more and get these gorgeous teacups and saucers.
I was just there today and noticed all the other fun things that could be used: candy dishes, crystal bowls, cream or sugar bowls from china sets, other unique cups. Any would be great on a desk!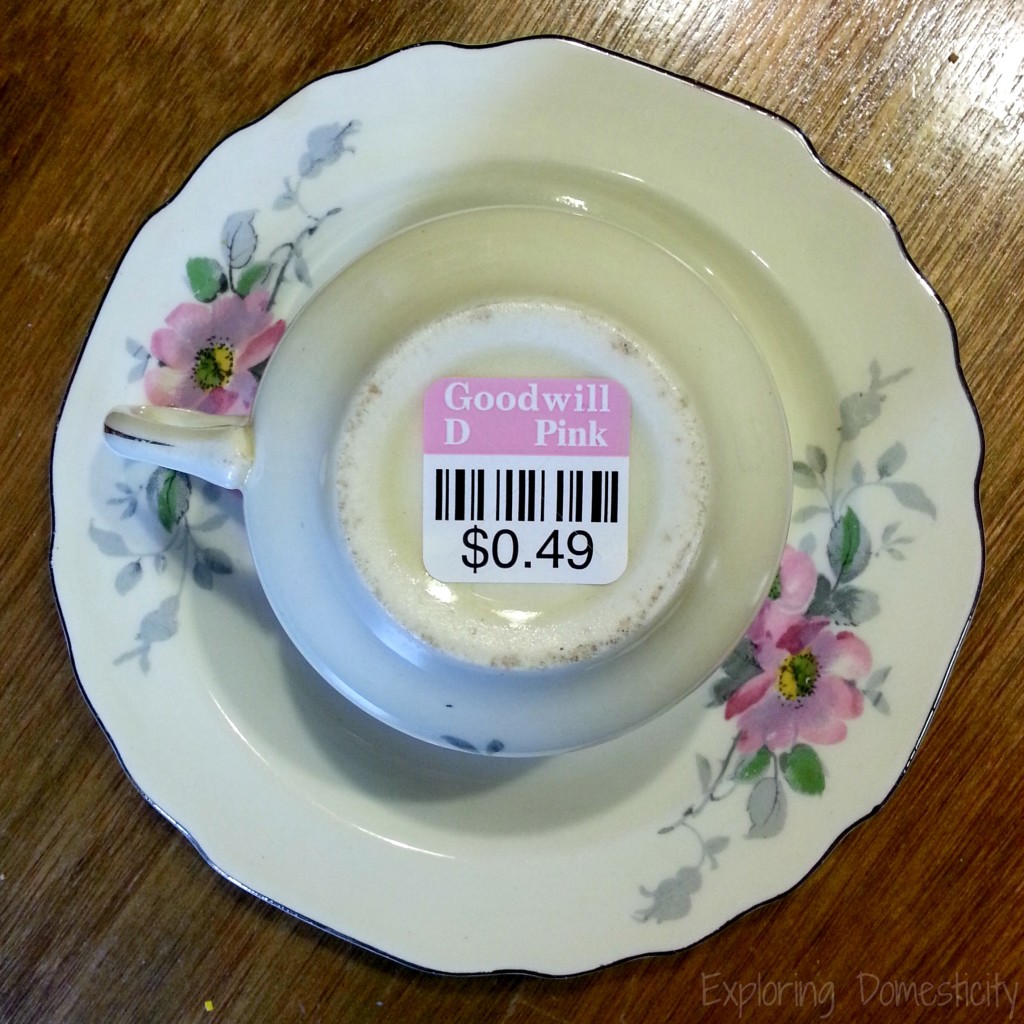 We got our supplies at the Dollar Tree and split up packs of multiples between the teachers.
We had a couple boxes of chocolate mints from another store and some pens because we buy them in bulk. From the dollar store we bought:
gift / favor bags
post-its
permanent markers
highlighters
pencils
dry-erase markers
So, in all, I think it cost us less than $10 for really cute and useful gifts for four teachers. Can't beat that!
Practical teacher gift items to include
Teachers often spend the year buying extra supplies for themselves or the classroom. Anything you can give them that they can use in the class will always be appreciated.
Post-its – who doesn't have a weakness for Post-its, especially in different colors???
Dry erase markers
Nice pens – I don't know anyone who doesn't love a good pen, G2 pens are my favorite!
Colored pens
Highlighters
Sharpies – there are so many good deals on Sharpie sets this time of year!
Notepads
Pencils
Stickers for students – this is a welcome gift for the teacher and your own kiddo
Mints, Gum, or chocolates
Gift Card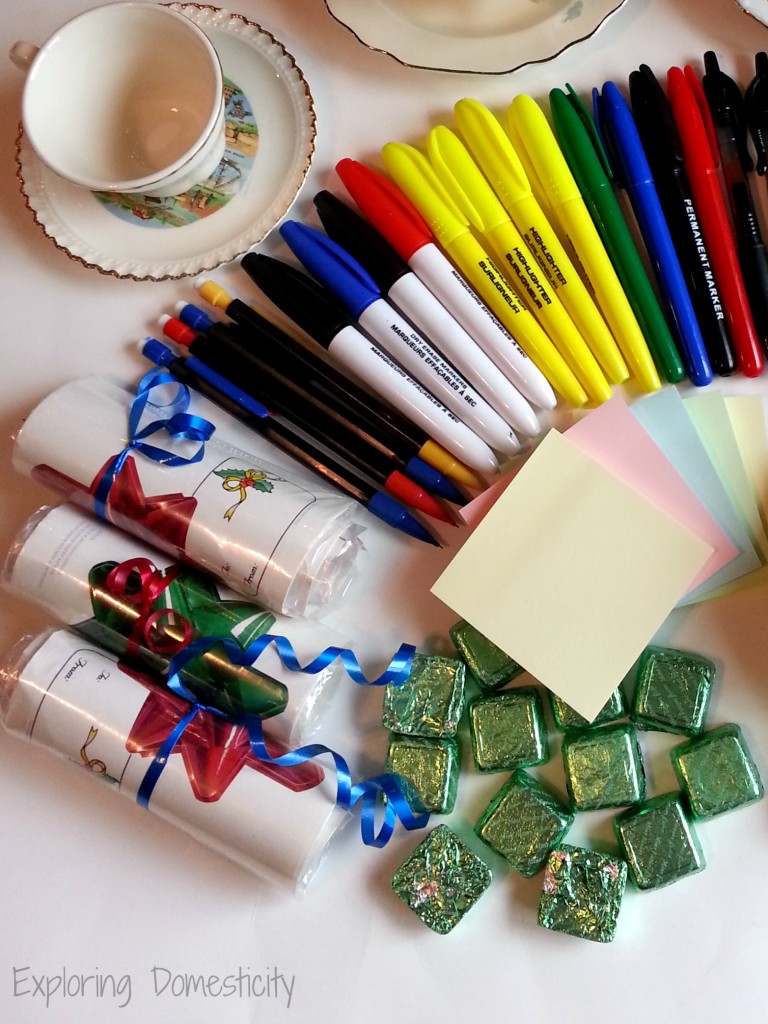 As a personal touch, we add these bows that my dad designed. It's special from our family, but gift wrap, tape, or bows is a great addition to a Christmas teacher gift. Everyone runs out this time of year!
These bows are really fun because they are stickers and can be rolled and tied with a ribbon.
Perfect for anytime!
We delivered these gifts at Christmas last year, but they would work for anytime. With a more generic gift / favor bag, these will be perfect for Teacher Appreciation, the end of the year, a special event, or anytime in between.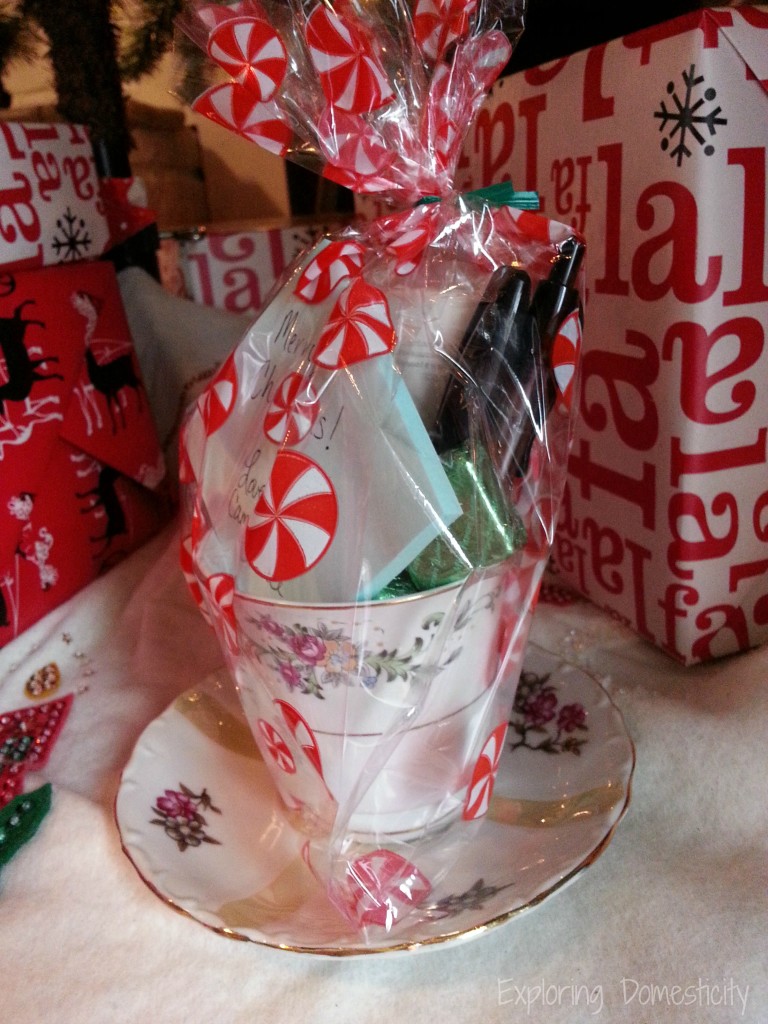 We have the same preschool teachers this year, so we won't be recycling this idea this year. However, we definitely will in the future! We also have coaches, instructors, and bus drivers we'd like to find gifts for, so I have another idea… Coming soon!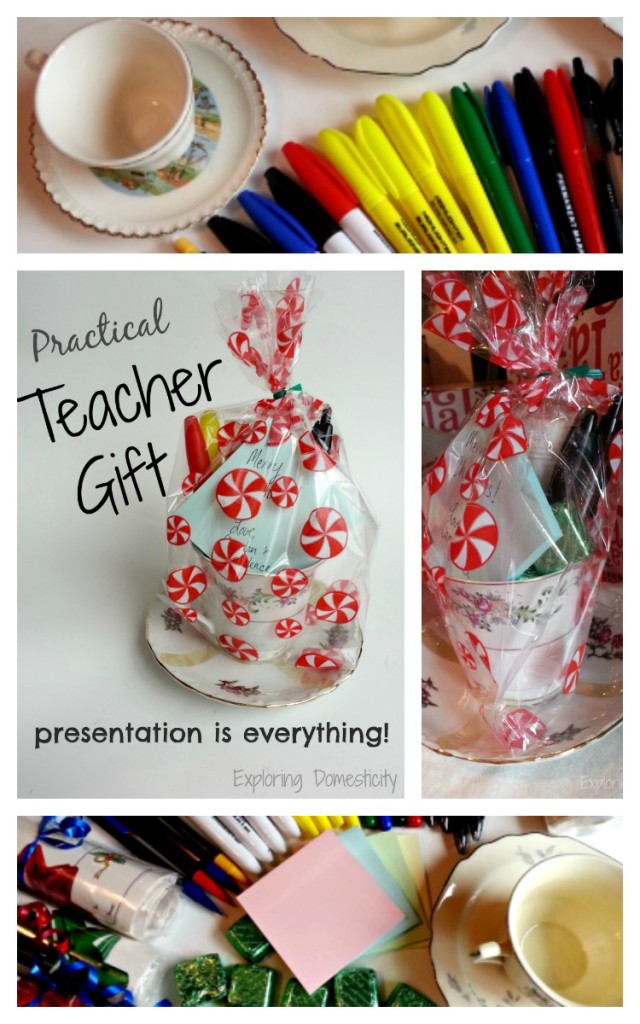 What is your favorite teacher gift to give? Or, receive? I'd LOVE to hear from teachers!
Do you give a practical teacher gift, something special or homemade, or a great gift card?

More Like This