It took less than 24 hours for us to get our first offer on our house. Two days later and we had four offers to choose from and sold for 15k over asking. It doesn't have to take a major renovation to make you house show at it's best. Here are some small fixes to sell your house fast.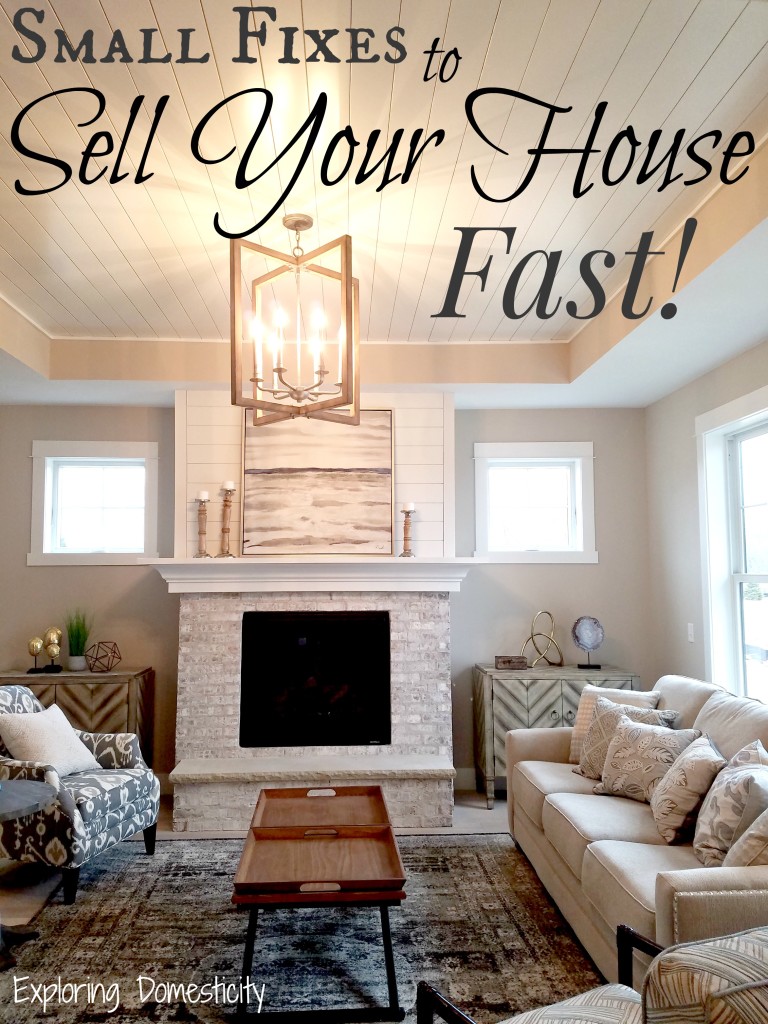 This post may include affiliate links which are intended to help you locate resources. This site will receive a very small commission on any purchases made, but will not affect your price. We hope you find them helpful and thank you so much for the support!
When it comes to selling a house, small fixes equal big sales. We're sharing some of the small fixes we took care of to equal the big – and fast – sale of our house.
Small Fixes to Sell Your House Fast
Unless your house has some huge problems that need addressing, most of your attention should be on the details.
Sure, a scratch in the paint or a burnt out bulb may not keep people from buying your house, but they will contribute to the overall look and feel. Enough small items, and the whole perspective on the house drops a little, which affects your bottom line and how long your house is for sale.
We didn't have many large projects to take on because we have remodeled each inch of our home at least once in the 7 years we've been here, but we did have plenty of small projects to address.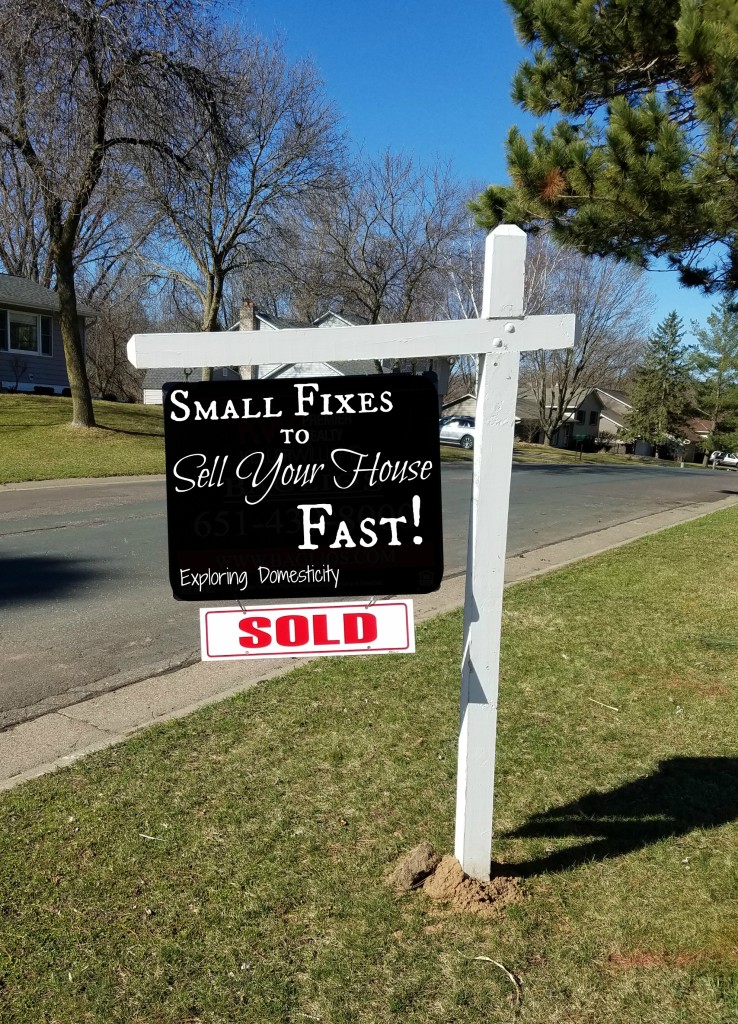 How to identify what needs work
It can be so hard to see your own home through someone else's eyes. We tend to get used to the places we live in and not see them as we would if we were walking in for the first time.
Ask friends and family
It's a great idea to invite friends or family in to get an idea of what things stand out to them. I would probably recommend family or very close friends, because it can be hard for them to be honest and hard for you not to take offense when they point out your clutter in areas, some dust you didn't notice, or just a design choice they don't love.
Take a look at your house as if you were the buyer
A fresh set of eyes is one of the greatest tools you can have. If you can't find others for advice, start looking around your home as if you were a potential buyer. Pretend you're judging a house on an HGTV show.
Not only that, make yourself a picky buyer who wants a move-in ready home. Identify areas they may be turned off by or things you could showcase better.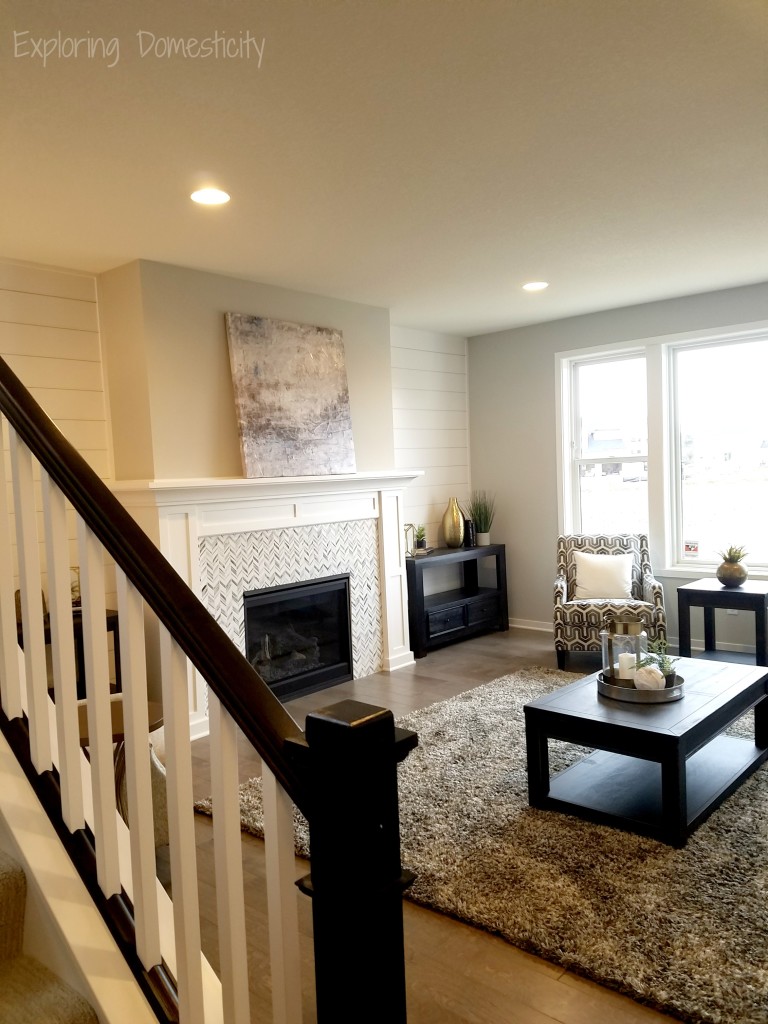 The MOST IMPORTANT fix to sell your home fast
I can't stress this enough….
Declutter, declutter, declutter!
If you do only one thing, get as much of your stuff out of your house as possible! We rented a huge truck and put half of our stuff in storage, and it was the best thing we could have done.
Instantly, the house felt more spacious and looked bigger and brighter.
Low cost fixes anyone can do
Even if you're not particularly handy, or you don't have a lot to invest toward selling your house, there are a few quick and easy fixes to sell your house fast.
Remove Rugs
This is one that I didn't really consider when we started. I thought rugs help places feel cozy and look nice. In reality, they tend to break up the space more than they help.
Removing rugs creates more visual space on the floor without any breaks and make a space look bigger. 
Of course, in large spaces, rugs still help to define the space and create warmth, but in the kitchen – especially a small once like we have – it's better to leave them out.
It's amazing what a difference it makes!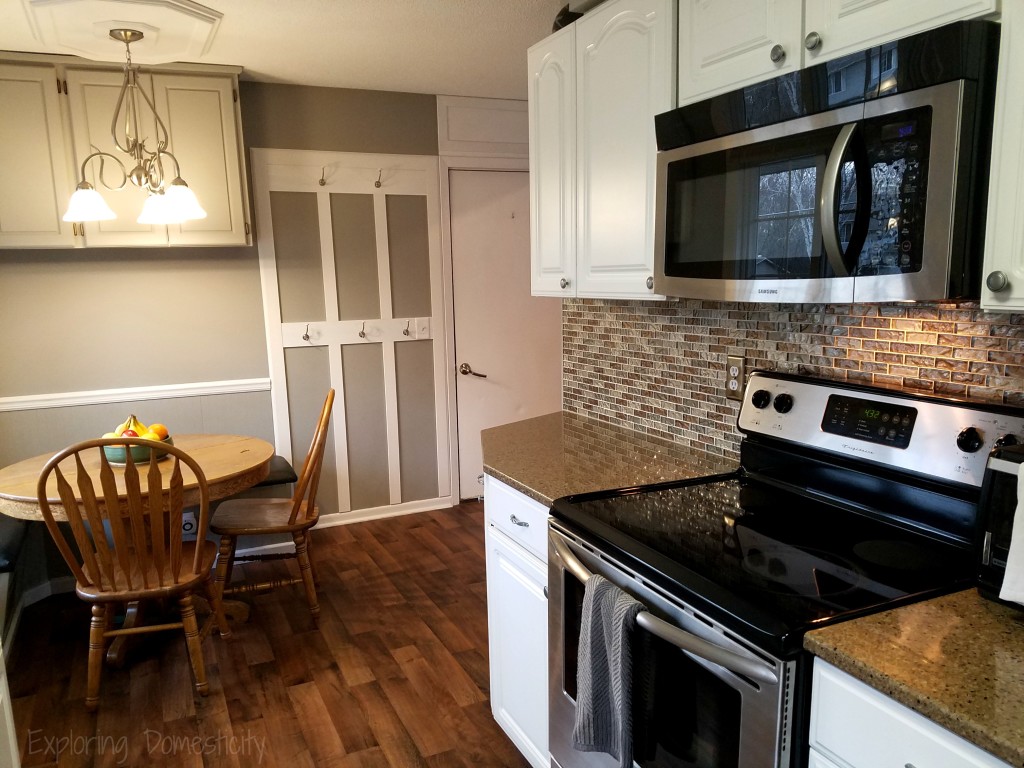 Show Buyers How to Use the Space
I mentioned that decluttering was the most important thing. However, it's also important that the space isn't so bare that potential buyers don't know how to use the space. Give them ideas with some staging.
Showcase some of the unique areas. Show buyers  that there is plenty of space to hang there coats when they come inside. Show them that extra bedroom could really be an amazing office sanctuary.
People love ideas, and it's allows them to start picturing themselves in the space.
New Light Bulbs
Replacing burnt out bulbs is such an easy fix. We had one bulb in our ceiling fan that needed to be replaced. We also used light bulbs to make areas of the house brighter. It makes a huge difference when you light up the rooms and even the lamps you wouldn't typically turn on.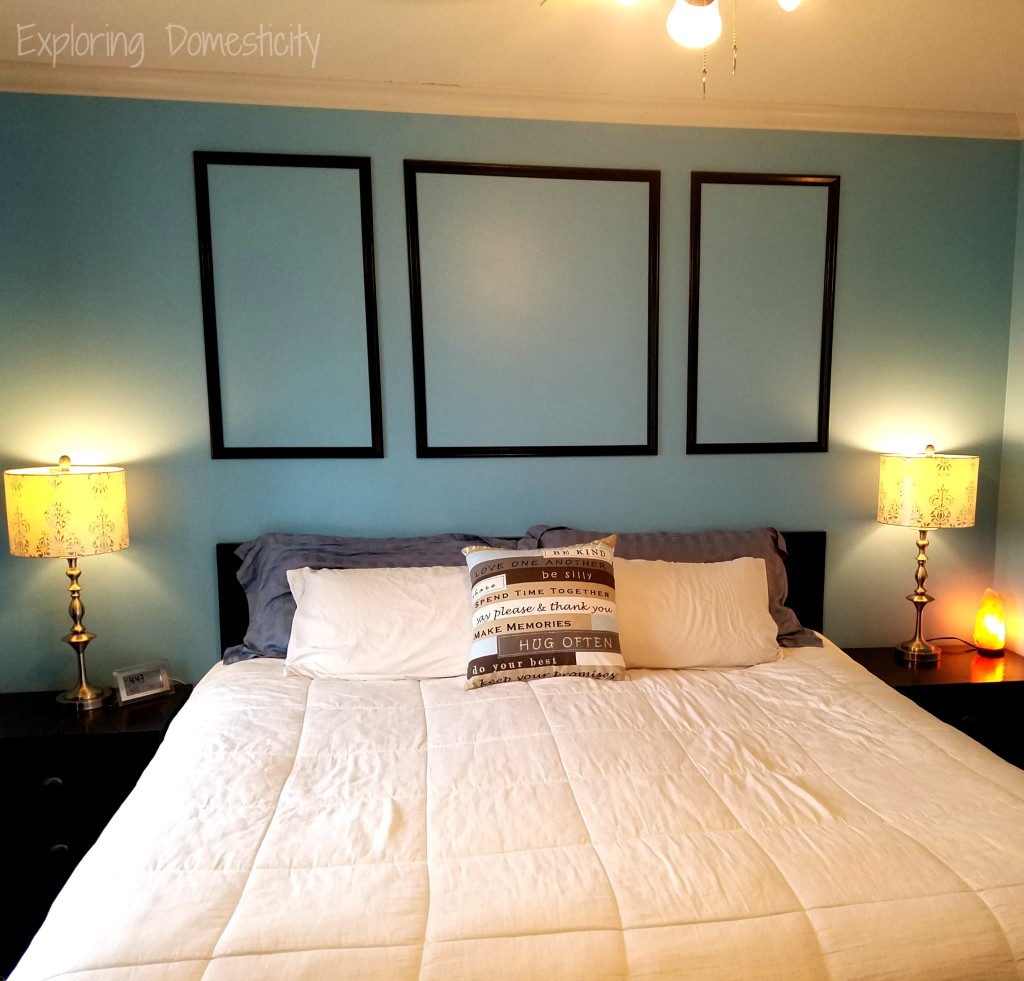 Patch Walls
Maybe this is one that does require a little handy work, but it's not that hard. Patch any holes, nicks, or cracks in the walls.
Many houses have settling that results in small cracks in the walls, and it's normal, but it also causes people to wonder if there is a larger problem. So, take that eyesore away and don't give them a reason to wonder.
While you're decluttering, you'll take many personal photos off the walls and be left with holes. While these won't deter most buyers, it's the easiest thing to fill a small hole and it's just one more thing they won't have to notice.
Fresh Paint
Once that patching is finished, you'll have to cover it up with some fresh paint. It's a great time to grab a brush and head around the house covering areas that have taken some wear and tear over the years. It makes a huge difference!
Switch Plates and Switches
This is something we did in a couple rooms. We had a decorative plate in our son's Route 66 bedroom, so we were sure to replace that with a more generic switch plate. We also had a dimmer switch in the bathroom that was starting to get fickle right as we were deciding to sell our home. It's such an easy fix to put in a new switch, but it keeps the potential buyers from wondering if there is a larger electrical issue.
These small fixes are so important because they can keep your buyers from worrying about larger problems.
Don't give them a reason to wonder!
Clean Vents
It is important to do a major cleaning before listing your home. This means hitting all those areas that might get overlooked during daily or even monthly cleaning.
Cleaning your vents is a small fix that will help your house sell fast, because it's showing attention to detail. It says to your buyers that the home owners took great care of their house.
Adjust hinges so doors close fully and smoothly
Potential buyers will open every cabinet, closet, or door they come across. Make sure your kitchen cabinets are closing fully, your closet doors are sliding smoothly, and all other door or latches are secure.
We had curtains on our closet doors, but decided to install new doors on all the closets and made sure they were opening and closing smoothly. It made such a difference! Like most things we buy, we found an amazing clearance deal at Menards, but you can even get closet doors on Amazon – what don't they have?
We also had to adjust the hinges on some of our kitchen cabinets because they had loosened up over time and weren't closing tightly, or even level with the others in some places. It's something that is not a glaring change, but contributes to the overall look.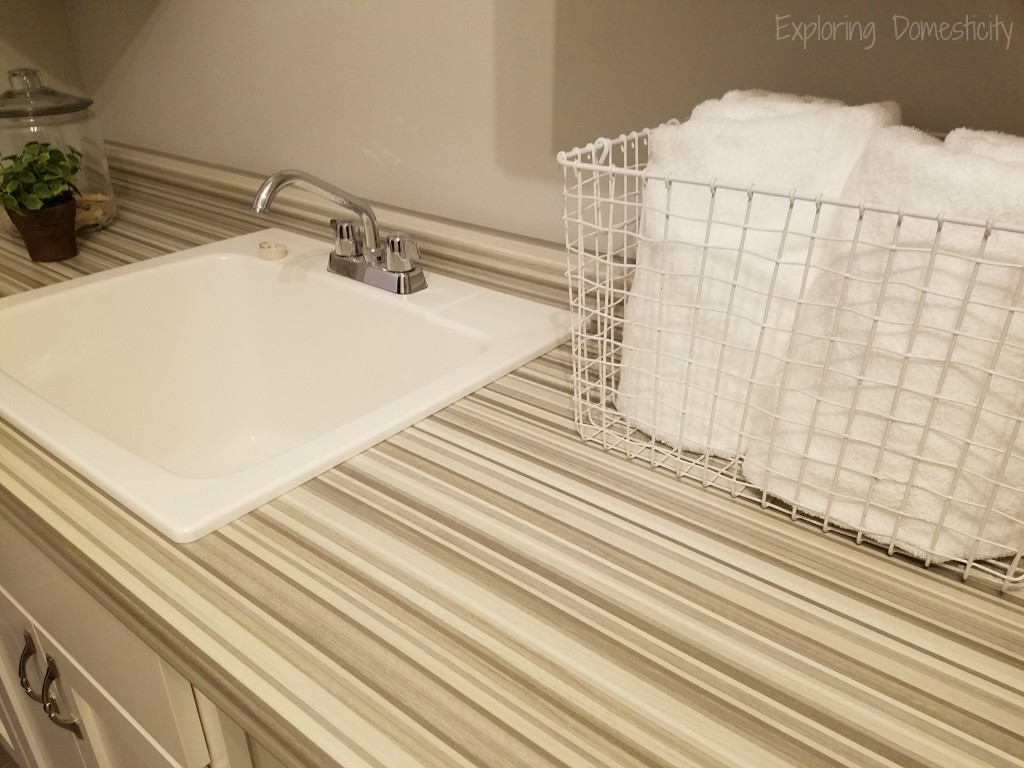 Side note: this photo is from a model home we went through during the Parade of Homes, and they had some amazing laminate counter tops!! I couldn't believe it! They sure have come a long way.
Leaky Faucets
Now, I don't know how many potential buyers will turn your faucets on and off, but they will notice if there is a leak or water when there shouldn't be. People get very nervous about plumbing problems, but a leak is often an easy fix. Take care of any leaks before listing.
Are you selling a home now or in the near future?
Share some of your tips and small fixes to sell your house fast!

More Like This