February is here!  Time to go out of our way to show our love for our family and friends.
Out of love for my kiddos, I've been trying to put some of my frugal ways aside to ensure that I am feeding them some of the best foods possible.  Products from companies such as Harvestland and Manitoba Harvest help me to feed my family foods that I can feel good about.
I have a fun recipe to share made with Harvestland Chicken Breasts and Manitoba Harvest Hemp Hearts and a GIVEAWAY of both, so you can make it yourself!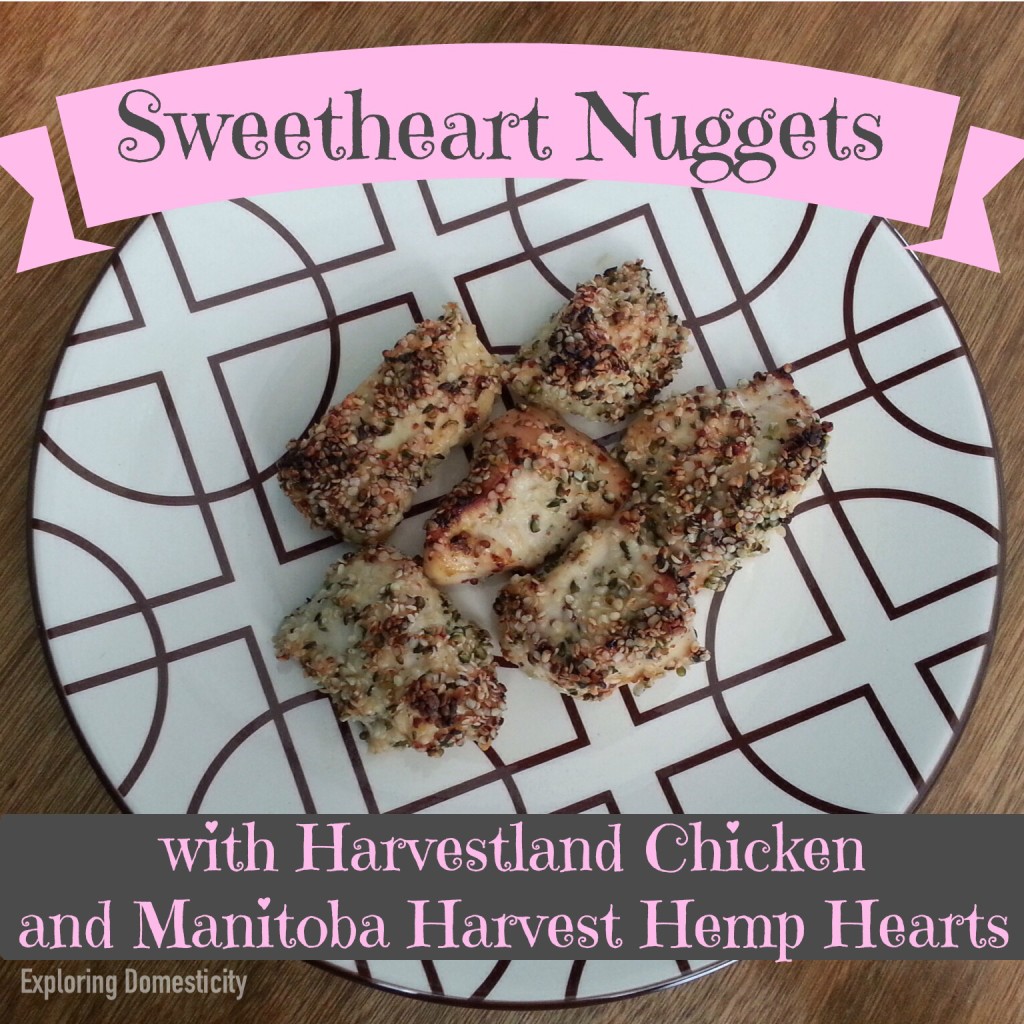 I was so excited for the chance to try Harvestland products through Moms Meet – they have never steered me wrong with products that are better choices for my family.  In fact, I first found Manitoba Harvest Hemp Hearts and purchased them through the Kiwi store from their partner company Kiwi Magazine. Seeing as my bag of hemp hearts, which are a regular addition to every salad I make, was running low I jumped at the chance to share them with you as a Sweat Pink Ambassador.
I've been hoping to put them together for a while now and it didn't disappoint!
The amazing quality Harvestland Chicken Breast, that required almost no trimming, is covered in honey and whole grain mustard and rolled in the yummy Manitoba Harvest Hemp Hearts.  So, there you have Sweetheart Nuggets.
Sweetheart Nuggets
Ingredients
3 Harvestland Chicken Breasts
1 cup Manitoba Harvest Hemp Hearts
1 tablespoon Honey
2 tablespoons Whole Grain Mustard
salt and pepper
Directions
Pre-heat oven to 375 degrees
Cut Harvestland chicken into 1 inch pieces
Combine honey and whole grain mustard and cover chicken
Roll in Manitoba Harvest hemp hearts
Bake in oven for 15 minutes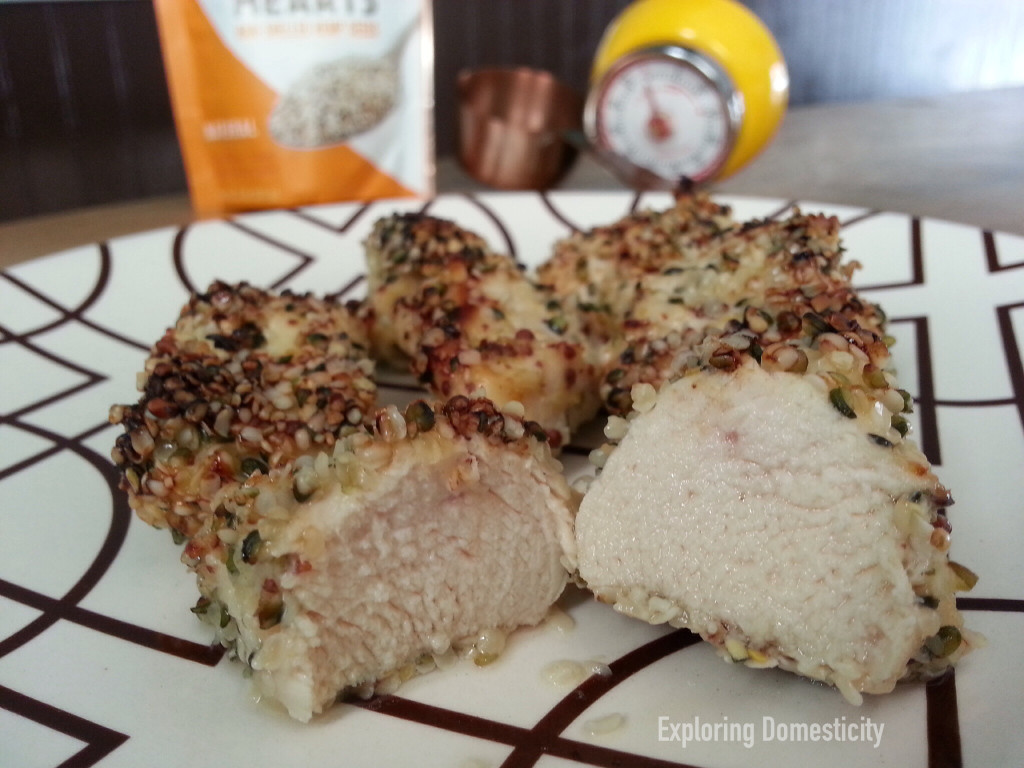 We loved these Sweetheart Nuggets!  My kiddos aren't fans of the pressed-meat chicken nuggets, but they loved these large pieces of delicious organic chicken.
More to love about Harvestland products
All chicken, turkey, and pork products come from the family farm and are raised with the highest standards
All animals are fed an all-vegetarian diet
No antibiotics, steroids or hormones
Also offer USDA-certified organic chicken products
The Harvestland product line included fresh, frozen, and deli meats
There are so many amazing products! I picked up chicken thigh filets and used them in an awesome recipe for Moo Goo Gai Pan, we will be having fresh turkey burgers this week, and I have a pack of frozen chicken burgers in the freezer. I'm so excited to try them all!
More to love about Manitoba Harvest hemp hearts
Per 30 gram serving, Hemp Hearts contain 10 grams of plant-based protein and 10 grams of Omegas
More protein and omegas and less carbs than the same serving of chia or flax
Non-GMO Project verified
The facility also has an external global "gold stamp" in food safety and quality
There are so many reasons to love these two products, so why not put them together!?
The great news is that you can get your hands on some too! The folks at Manitoba Harvest will send a bag to one of you and the folks at Harvestland sent me such a generous amount of $5 off product coupons and I will gladly pass one along to you as well!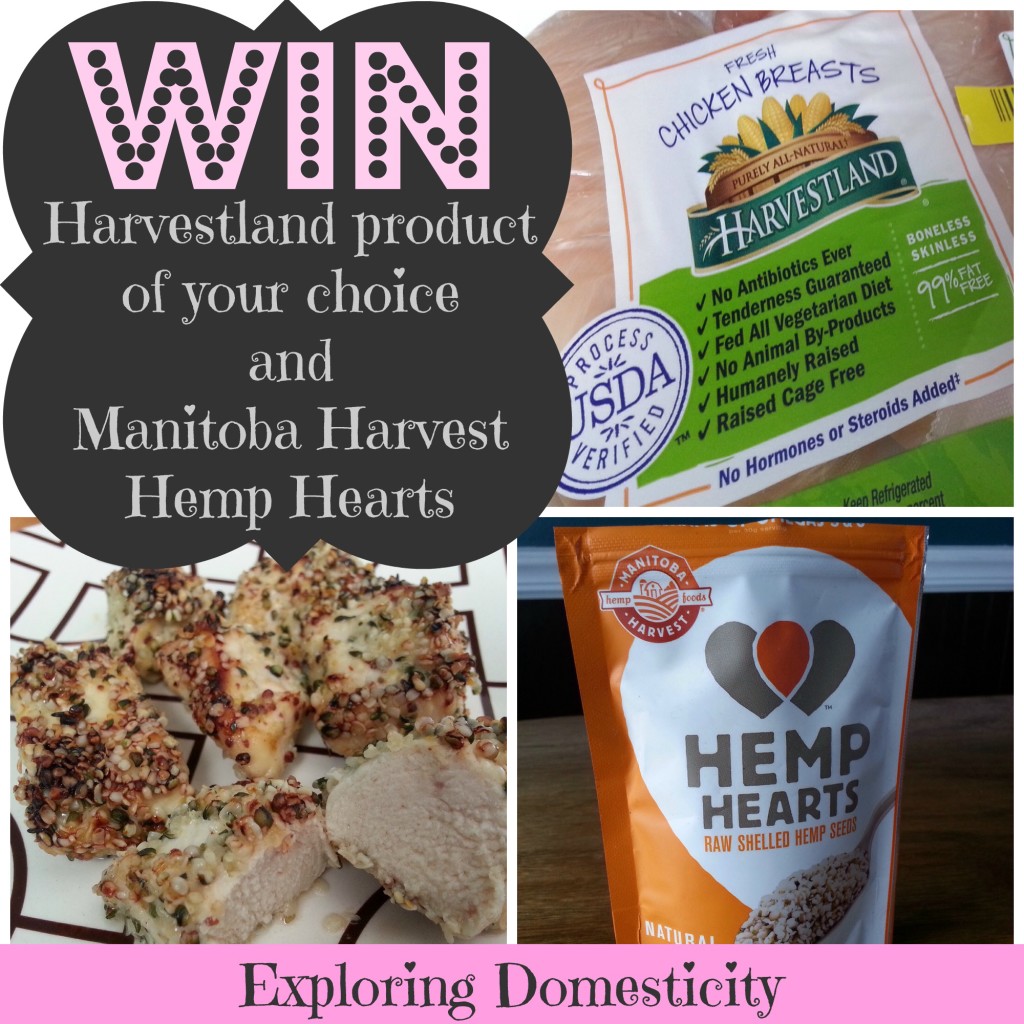 What would you use the Harvestland or Manitoba Harvest products for?