Ok you guys, let's be real…
I have literally had no significant weight loss since November. Womp womp…. I can't remember exactly where I was at before our Florida vacation, but I have basically gone up and down within the same weigh "decade" ever since.
I don't know what my problem has been… I'm proud to say healthy eating, moderation, and exercise have been on my mind the majority of the time, but I've only been doing enough to maintain instead of lose.
I'm a lot more comfortable in my body now, so that may be affecting my motivation, but I still have a looong way to go.
Thinking back on all the time that feels wasted – I say feels because I know in my heart that it wasn't – I did not gain, I ate good foods (for the most part), and I exercised more than I did years past. Most importantly, I fed my family healthy meals and continued to make small changes and be the example I want my children to see. – has really given me some drive to buckle down and get it done!
Enter Miss Jillian Michaels.
30 Day Shred
I recently happened upon a major score that has given me my motivation back! The 30 Day Shred DVD that I've been coveting, but for some reason felt I wasn't going to buy until it was on sale, was at our local Goodwill for $1.99!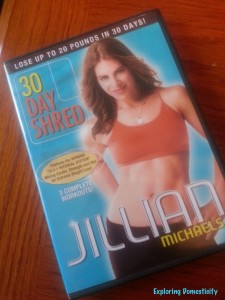 Talk about fate!
I'd been eyeing that DVD for nearly a year now and, after being completely inspired by hearing Jillian speak at BlogFest, I found it for a steal!! It has really given me that extra boost I need and I'm loving it!
30 Day Shred – Level 1
I thought this was a great workout. I love the blocks of strength, cardio, and abs. The short time is totally doable. I did that on day one and, by day two, felt ready to try Level 2.
30 Day Shred – Level 2
This one stepped it up a little bit, but was also completely doable and I didn't feel like I was pushing too fast. I loved feeling challenged with sweat pouring into my eyes by the end with double jump rope. I also had a little problem that other moms of two can understand with the jumping. 😉
Tip: Many of the movement combine squats with arms, and I found to really helpful to position myself over my coffee table so I could gauge how far Down I was going while concentrating on the arms with the weights. It also adds some security so I couldn't fall far if things got too tough.
30 Day shred – Level 3
I haven't done this one yet. Any tips? Is it a big step up from Level 2? I'd love to hear about it!
Jillian Michaels Key Note Speaker at BlogFest
I can't tell you how much I was looking forward to hearing Jillian speak as the Key Note speaker at IDEA World BlogFest with SweatPink!
I know her style is not everyone's cup of tea, but I love her! If you watch Biggest Loser, as I do, you get some glimpses into the awesome trainer she is instead of just focusing on the yelling. I also saw her at the Biggest Loser 15 Finale, and she seems really goofy and funny too.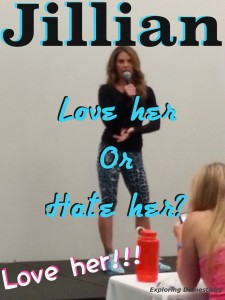 Jillian addressed us all as peers and was so motivating! For those if us who weren't already fans, she converted more than a few!
She started off by saying that she has been very lucky; however, luck is simply preparation meets opportunity. She was prepared and believed in herself! She advised us all to make specific plans, and look at things with a business mind, but know our weakness and get help.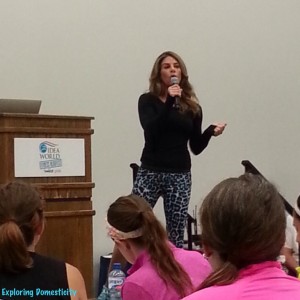 Funniest tip
"Don't mess with hot yoga! … Or the vegans!"
I guess Jillian took a lot of "heat" for not enjoying hot yoga. The way she told this story was so entertaining, but her overall message was to be open to anything and the best approach to fitness is a holistic approach. Different things work for different people, and that is why there is room and opportunities for everyone. Be flexible and have an open mind, because the best approach is a holistic approach.
My favorite take-away message
"Why not me? I deserve it. We're all worthy."
Fear is pervasive and corrosive. Every failure is an entry point for learning, and 99% of the time mistakes are recoverable. If you don't fail, you haven't tried hard enough.
There are really only three scenarios:
1. You try, and fail.
2. You try, and you succeed.
3. You do nothing, and the worst scenario will happen anyway.
With neglect always comes decay! Regret comes with the chance we didn't take. Failure does not equal regret. Learn and move forward intelligently.
It was so great to get her perspective on things. Jillian was so motivating and really funny! The stories she told were littered with profanities and very real and funny. It was like talking to one of your girlfriends – your super-successful celebrity girlfriend with a rockin' body and more money than you'll see in your life.
What do you thing? Jillian: love her or hate her?
Have you done the 30 Day Shred? Any tips for Level three?