This is a Sponsored post written by me on behalf of Manwich for SocialSpark. All opinions are 100% mine.
What happend to our summer???
In just a few short hours I will be the Momma of a preschooler!  Wasn't it just yesterday that I was single, living alone in grad school, and learning how to finally cook for myself?
These days I can't even go to the bathroom alone, I'm cooking meals for five, and trying to find time to take care of the kids while working a part-time job and devoting time to my full-time passion.
Healthy eating is not quite as quick and easy as it was when I had all the time in the world to make a big salad, eat an entire head of cauliflower for dinner, or  perfectly portion my pasta so I didn't go above my portion-size.  Now, I'm all about relatively easy with great taste the whole family can enjoy.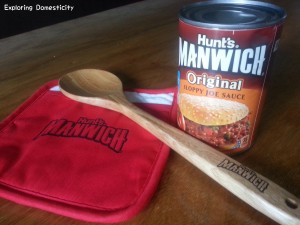 Thanks to Manwich, we had the opportunity to try out a couple recipes to make a quick weeknight meal everyone will enjoy.  I love having a sauce on hand to jazz up a recipe and add some extra veggies without adding artificial  flavors or preservatives.  Plus, how cute do those kiddos look with sauce all over their faces?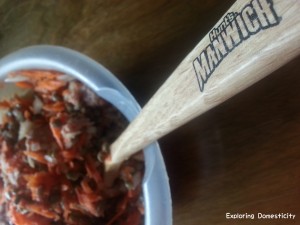 On the back of our Manwich can was a recipe for Manwich Meatlof, which was great since that was my plan anyway – I altered the recipe a bit to include even more veggies and some lentils.  The  recipe called for pouring more than half of the Manwich on the top of the meatloaf, giving each bite that delicious saucy sweetness.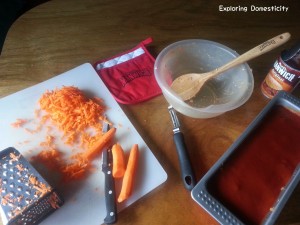 There are plenty of Manwich Recipes on their website, as well as Easy Weeknight Meals  with kid-stopping power.
I'm not much of a Hawaiian pizza person, but I love the idea of a flatbread pizza with Manwich and can't wait to create my own!  I also love the idea of creating a unique sandwich with Manwich. [Added benefit: Manwich sandwiches are so messy they require two hands to eat wich leaves no room for phones at the dinner table.]  There are so many great ideas for making weeknight meals easier. You can also try my Manwich Loaded Baked Potatoes.
I've never had a hard time finding Manwich products, but you can go here to find them in a store near you.
How do you feel about school starting? Do you have a new preschooler, kindergartner, or so e other milestone?
Which Manwich recipe are you looking forward to trying?  What recipe do you think could use a little Manwich?