How many of you have tried to make it through any central area of the Walt Disney World during a parade or firework show?
You get some major points for making it through alive.
How many of you have made it through the most congested areas of Walt Disney World with a stroller?
You should be given a medal, and you should get major points that the others made it through alive!
And those poor babies, forced to sit at shin-level to the adults so focused on their own destination that they forget that Disney World is a place for children to experience joy and wonder and a place where the rest if us have the ability to feel like children, they should be given the biggest medal of all!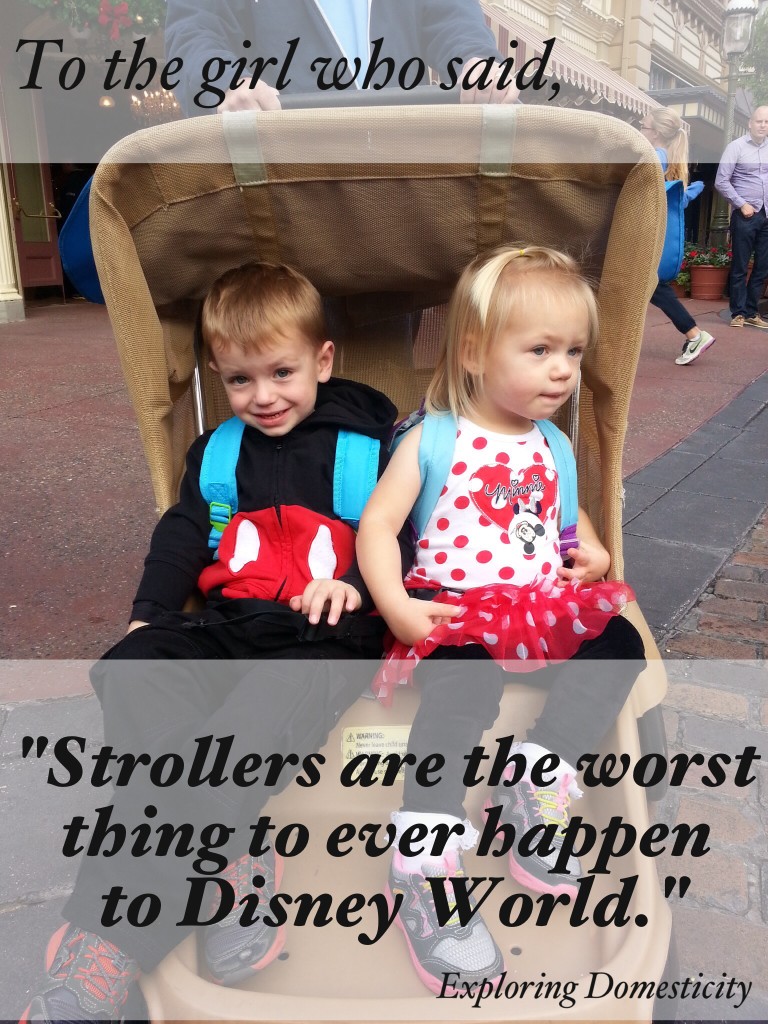 While we were at The Magic Kingdom last weekend we were forced to brave those crowds during the light parade. It went well until we came to a particularly congested area with room for barely two lanes of traffic… And we had a double stroller…
As I maneuvered past parked strollers, parade watchers, and the other lane of traffic, I desperately made sure I wasn't about the hit the heels of the girl in front of us one more time, that we were going to make it through without hurting the people sandwiched around us or my little ones in the cart, and that we were going to be able to keep moving without getting stuck in one place and blocking all traffic.
It wasn't easy, but it happens and we've all been in those situations. Strollers or not, it can be frustrating.
I was hunched over the awning of the stroller desperately trying to make sure I didn't injure or irritate the girl in front of me, when we came to a particularly tough spot. As I checked the kids, checked the wheels, and tried to find a way to push on, I looked at a teenage/twenty-something girl, literally inches from me, as she complained loudly to her friend,
"strollers are the worse thing to ever happen to Disney World."
Yes, it is a pain pushing those strollers through the crowds of people. Yes, that stroller cost me $31 dollars. Yes, Disney strollers are designed to be shorter and you can't see the front over the canopy, making it impossible to be sure you won't hit people in the ankles. Yes, the kids would rather walk and half the time you just push their stuff around and struggle to keep their hands in your's while you push that beast of a stroller one-handed.
But you know what?
It is worth every minute of it when I look at the wonder on those precious faces and realize I am giving them a gift of magic and ensuring that they will have wonderful childhood memories. I'm also doing a little bit to prolong that innocence that ends far too soon, and giving them just a little more whimsy to combat our day-to-day realities that affect those little ones too.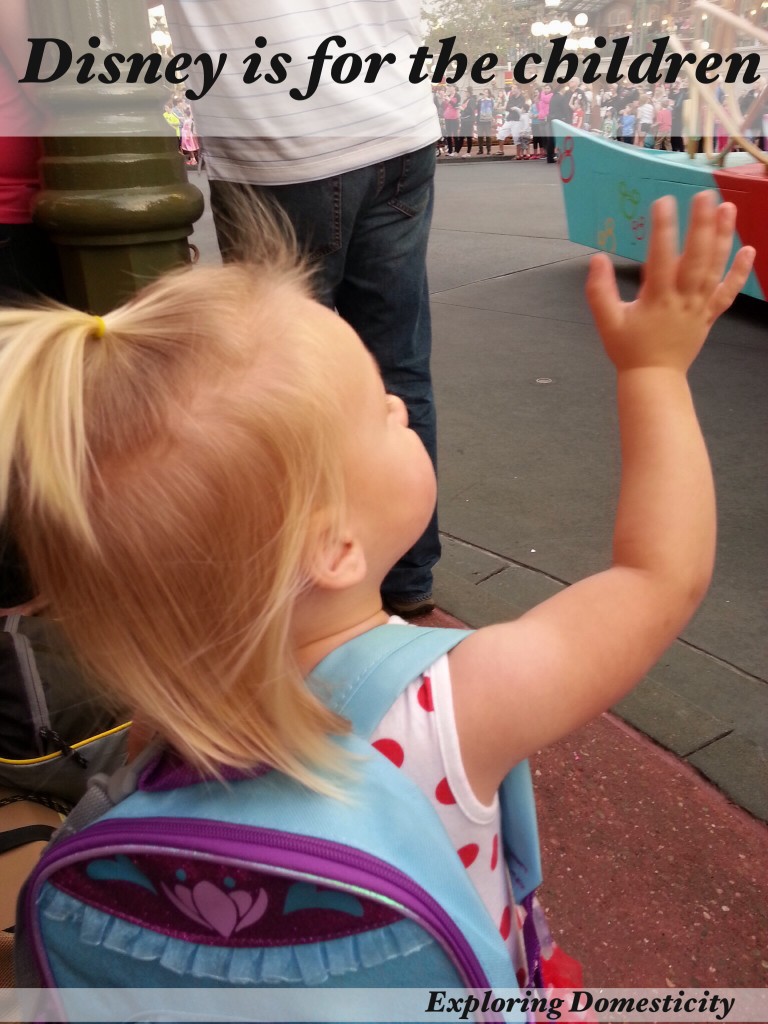 Disney is for the children.
I'm sorry that you can visit Disney World and still hold on to your cynical views of entitlement.
Do yourself a favor, look around and decide what is really important.
Look closely at those children and the joy on their faces.
Look closely at the parents. It is a complete chore to give those little ones the gift of a day at Disney World, but if you look close enough, you will see that the parents would do it all ten times over to see their children that happy.
So, with many things I could have said in that moment not suitable for Disney, I kept plugging along with that beast of a stroller, looked her dead in the eye and said,
"you're right, Disney World is totally the wrong place for children."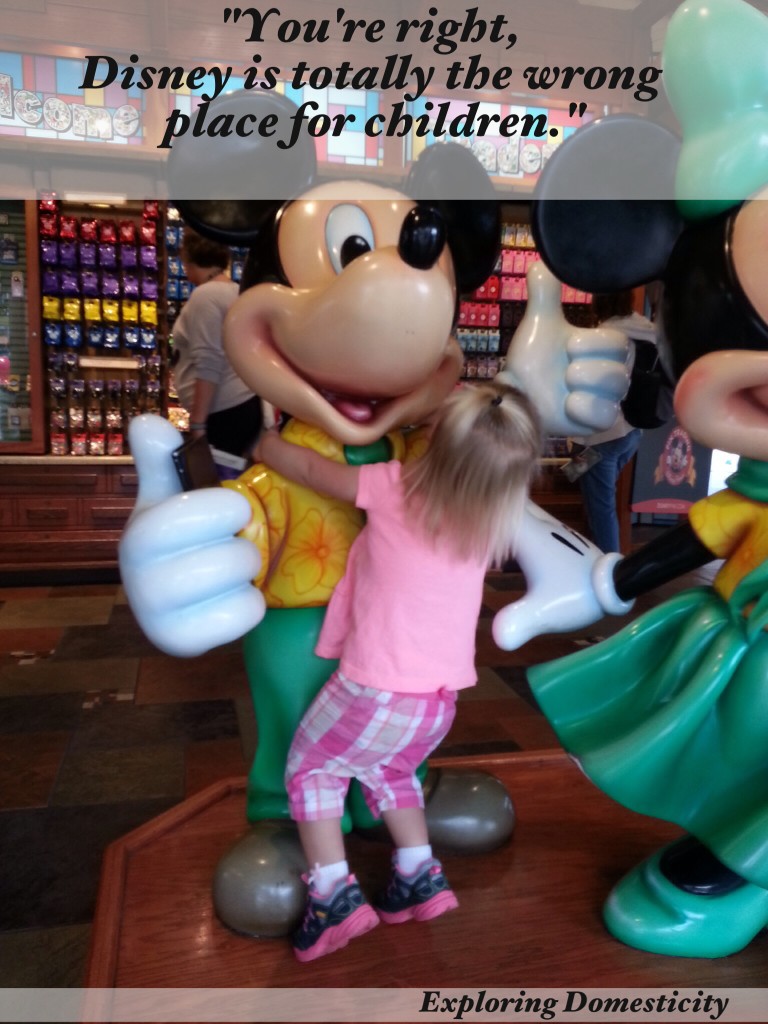 As she didn't respond rudely again, I hope it made her think and possibly go out of her way to help another struggling mother or create a magical moment for one of those other precious kiddos experiencing the wonder only Disney can bring.
And for the poor girl – no older than the other- who pushed through these crowds directly in front of our stroller that is the worst thing to ever happen to Disney World…
She calmly raised her foot each time we stopped to protect her ankles, used her own body to block my children from the oncoming crowd, mentioned to people who were especially pushy that there were children below, and helped guide us through the madness.
It's people like her who are the best thing to happen to Disney World. I will be forever grateful to that stranger who understood that Disney is for the children.