Full of flavor, this shrimp and potato dish will melt in your mouth and have you scooping seconds. With a zip from the addition of garlic and vinegar, the creamy potatoes and tender shrimp are really kicked up a notch! This dish will quickly become a family favorite, and leave you wondering why you never thought to pair potatoes and shimp before.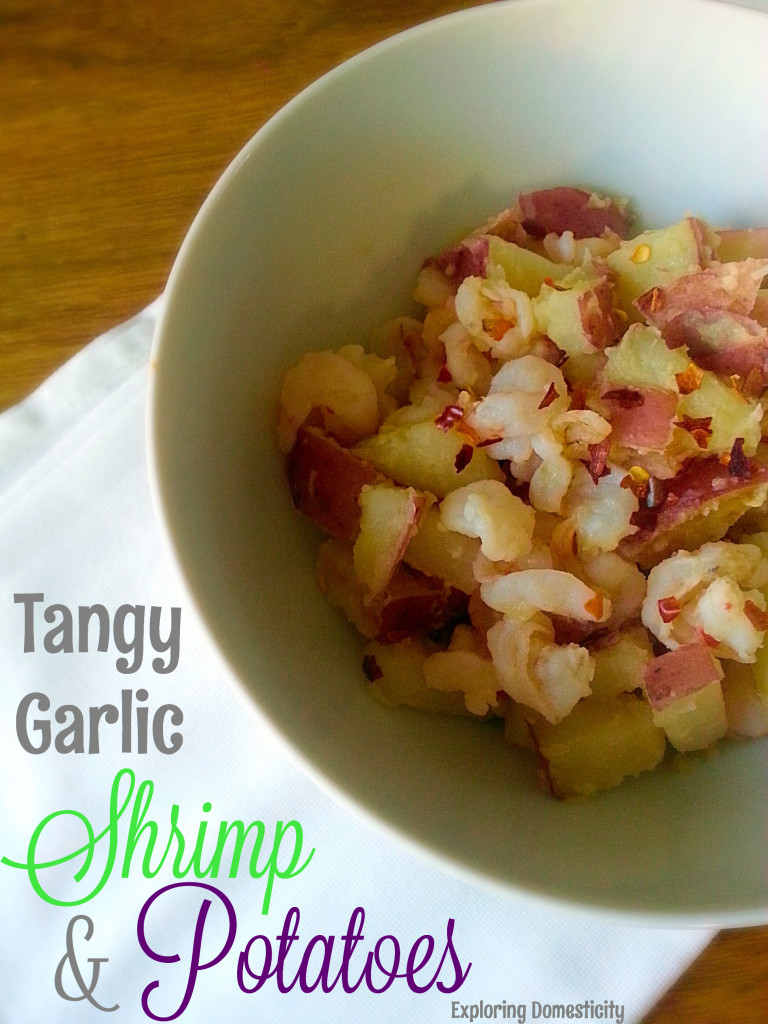 I never thought shrimp and potatoes would make such a fantastic combination. I found the recipe for Shrimp and Potato Tapas in a Weight Watchers cookbook about 7 years ago. It seemed like a strange combination to me, but a very easy recipe, so I gave it a try. We changed it very slightly over the years, but it's been a favorite ever since!
The ingredients list is relatively small and it's a one dish meal, which I love! Y'know, I hate dishes or meals with too many steps or ingredients… These Tangy Garlic Shrimp and Potatoes are perfect!

Tangy Garlic Shrimp and Potatoes
What You Need
2lb red potatoes, cut into 1/2 inch pieces
2 tbs olive oil (I use garlic infused)
1lb medium shrimp, cut in 1/2 lengthwise
4 tsp minced garlic
2 tbs white wine vinegar
2 tsp garlic chili paste (can substitute 1/2 – 1 tsp crushed red pepper flakes)
2 tsp salt
What You Do
1. Combine the potatoes and enough water to cover in a large saucepan bring to a boil. Cook until fork tender about 7 minute Drain and let cool 5 minutes. Be careful not to overlook or the potatoes will turn the potatoes mushy.
2. Heat oil in large nonstick skillet over medium high heat. Add the potatoes and cook shaking the pan occasionally until browned and crisp, about 5 minutes.
3. Add the shrimp and garlic and cook, stirring frequently, until shrimp are opaque in the center, about 2 minutes. Stir in vinegar and chili paste (or red pepper flakes) and salt.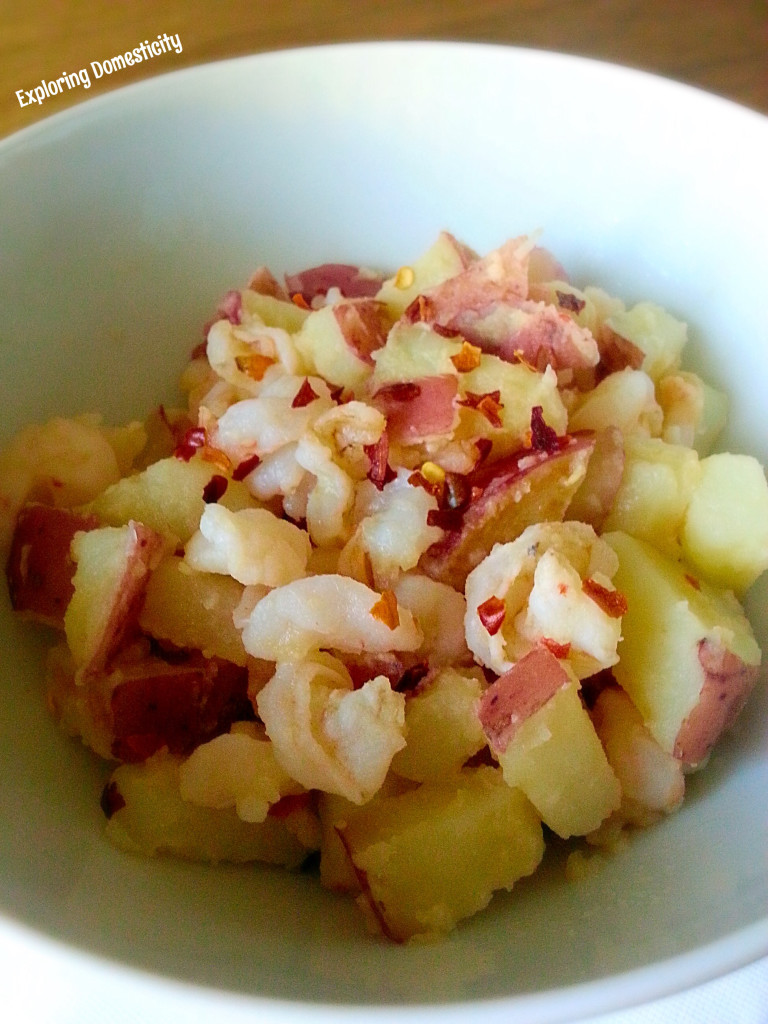 We LOVE this meal! Serve it with a nice, big salad or a veggie of your choice. It's delicious!
The Weight Watchers recipe we adapted and doubled, had this listed as 3 points for 1/6 of the recipe. The amounts are slightly different, with a little less olive oil and vinegar, so I won't guess at the number of points in this recipe now.
All I know is that this is delicious and, once you try it, you'll love it!!

More Like This