Kids are never too young for Disney! You can bring a baby and have a wonderful vacation. Here's how to enjoy Walt Disney World with a Baby.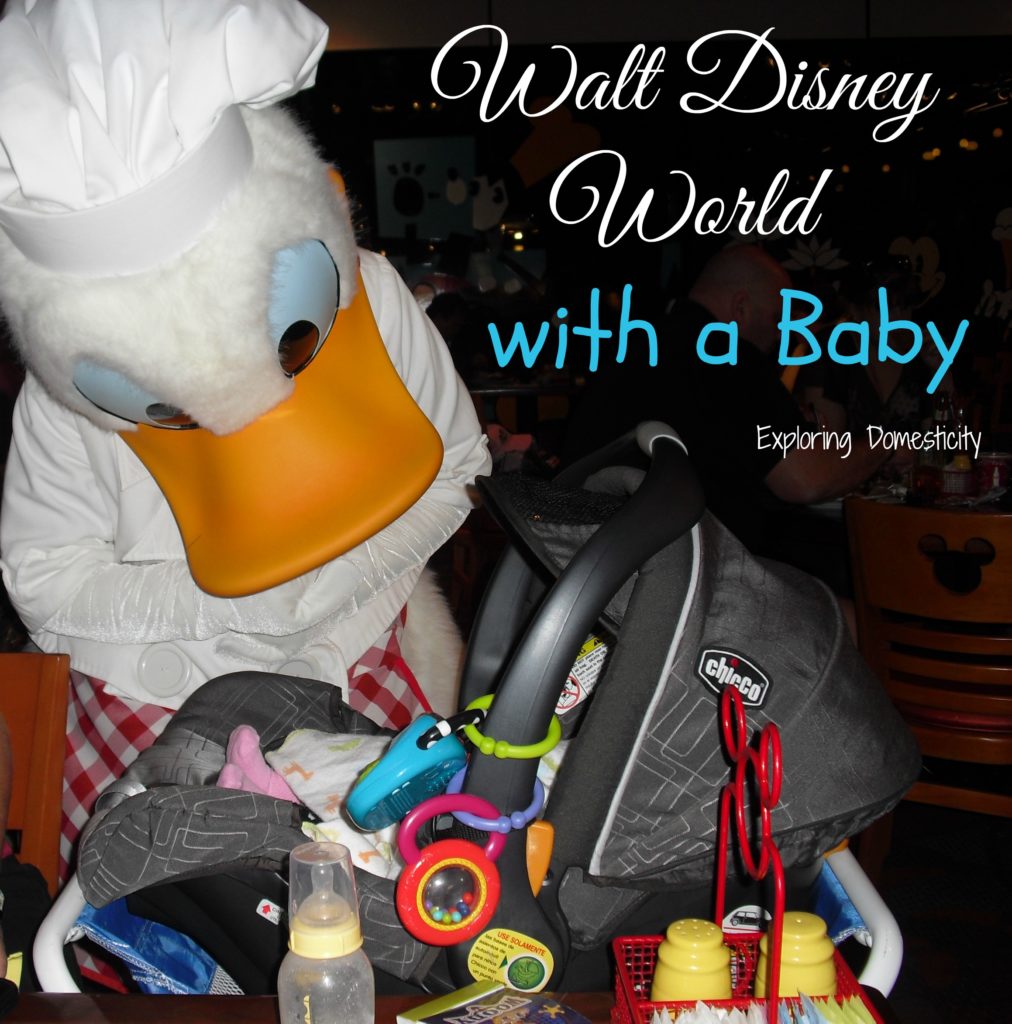 This post contains affiliate links. We hope you find them useful for visiting Walt Disney World with a Baby!
The first year we took our kids to Walt Disney World, they were 1 year old and 1 month old.
We were actually vacationing in Florida with the grandparents, and we made a last-minute decision to stop at Walt Disney World on our ride home.
Yep, you read that right, we drove from MN to FL with a 1 year old and 1 month old!!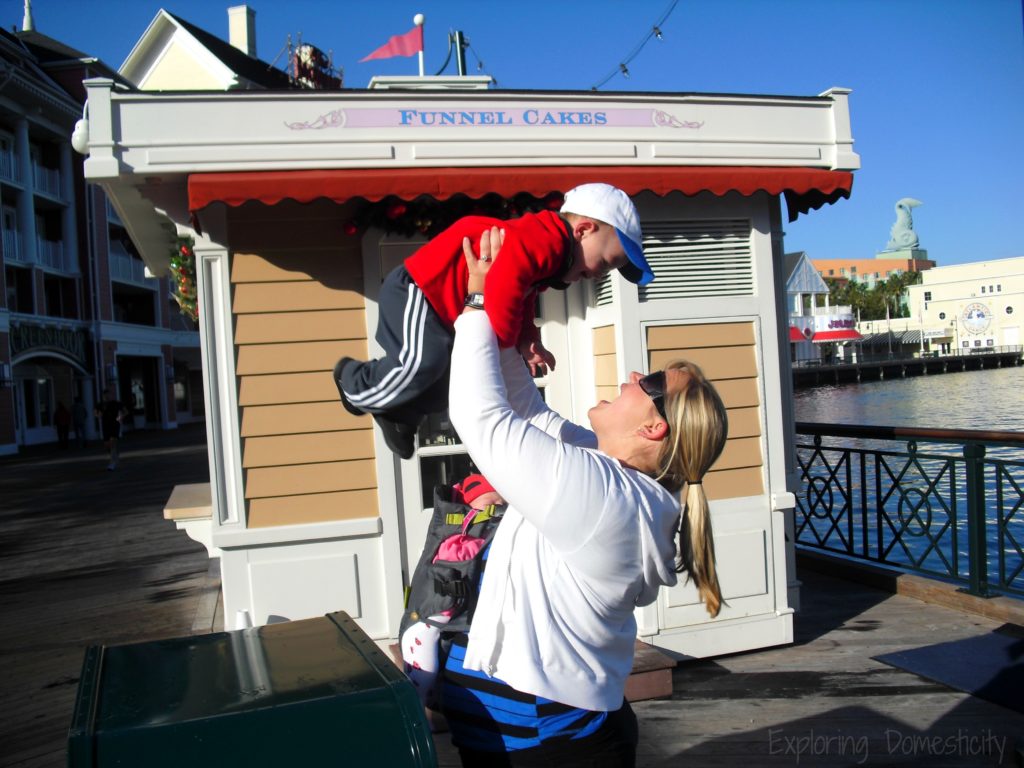 Walt Disney World with a Baby – Disney Resorts and Free Activities
We got last-minute reservations at the Swan and Dolphin, because we love the boardwalk. There is always something to do there, even if it is just a low-key walk. That is why it's so perfect for very young children.
That first year, we didn't visit a park. We decided to keep the trip stress-free and easy.
Instead of a park, we took advantage of some of the free things Walt Disney World has to offer. We spent time on the Boardwalk. We did what we still do at the beginning of our trip each year, and visited Disney Springs.
Disney Springs has changed a lot from that first year, but we always love it. It's the perfect way to get into the Disney spirit without all the planning, tickets, schedules, etc.
Walt Disney World with a Baby – Character Dining
The best thing we decided to do was get reservations for a character dinner at Chef Mickey's at the Contemporary Resort.
At one year old, the classic Disney characters are the way to go! Mickey Mouse Clubhouse is so popular at that age.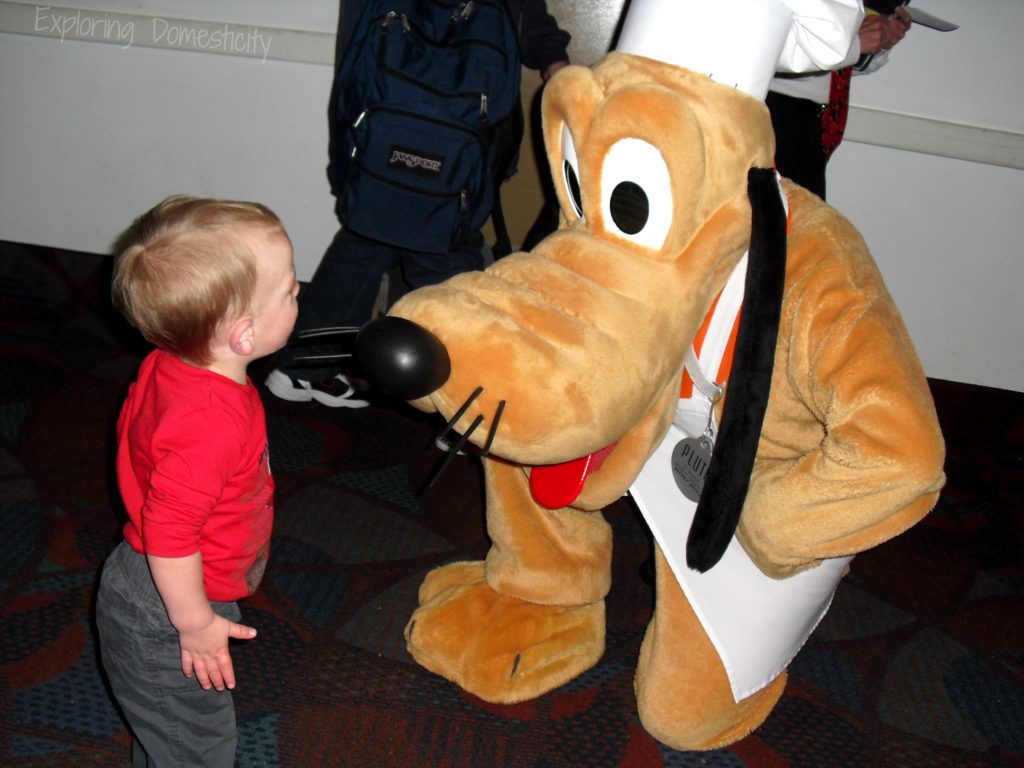 Our little guy was floored to see Mickey, Minnie, Goofy, Pluto, and Donald. The best memory I have is when he stood in the aisle starstruck as he saw Pluto a table away. I can still hear the adorable 1 year old voice repeating, "hi plato." Not a typ-o, that's how he said it and it's adorable!
We wouldn't trade these memories for the world!
The key, for us, was keeping it very relaxed. There are so many free things you can do in Walt Disney World, it's easy to work around napping babies. Which brings me to a tip we learned a couple years ago about Walt Disney World with a Baby….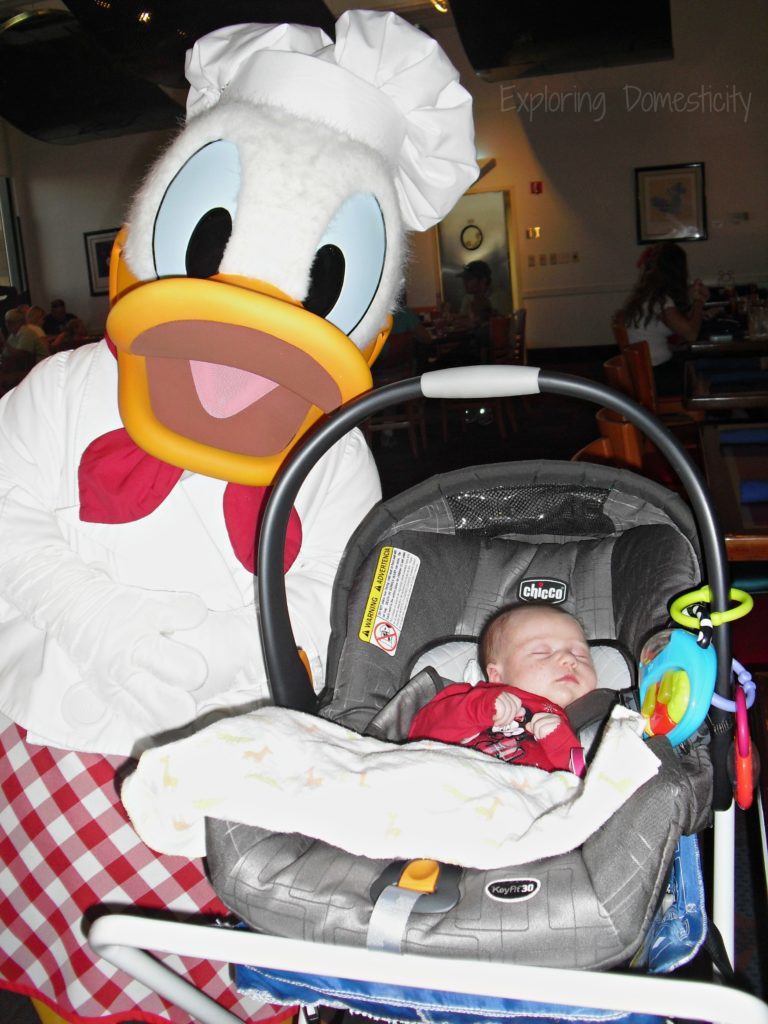 Tips for Walt Disney World with a Baby
Schedule Room Service
If you plan to return to the room for naps, make sure to schedule housekeeping ahead of time. When the kids were 2 and 3, we made the mistake of assuming we could get into our room at naptime. Our room wasn't cleaned and we ended up just having to miss our service for the day because the kids (and us) needed those naps.
Take it Easy
I know there are a lot of families who really like to pack it all in on a Disney Vacation, but we are not one of them. Personally, I think this is why we love this trip so much each year. As I mentioned to Parents Magazine – that's right! I was interviewed for my Disney knowledge! – we like to follow the kids' lead.
It is no fun at all to push kids too far! It's unnecessary stress for the whole family, when it should be fun.
Take advantage of the Disney resorts and free areas like the Boardwalk and Disney Springs. You will feel better about your budget, and won't feel the pressure to "get your moneys worth."
Disney has you covered!
Even though we didn't visit the parks on our first trip, in the following years I was very relieved to read that there are Baby Care facilities at the park. They are perfect for nursing moms, potty training or diapered kiddos, or anyone who needs a cool break from the crowds.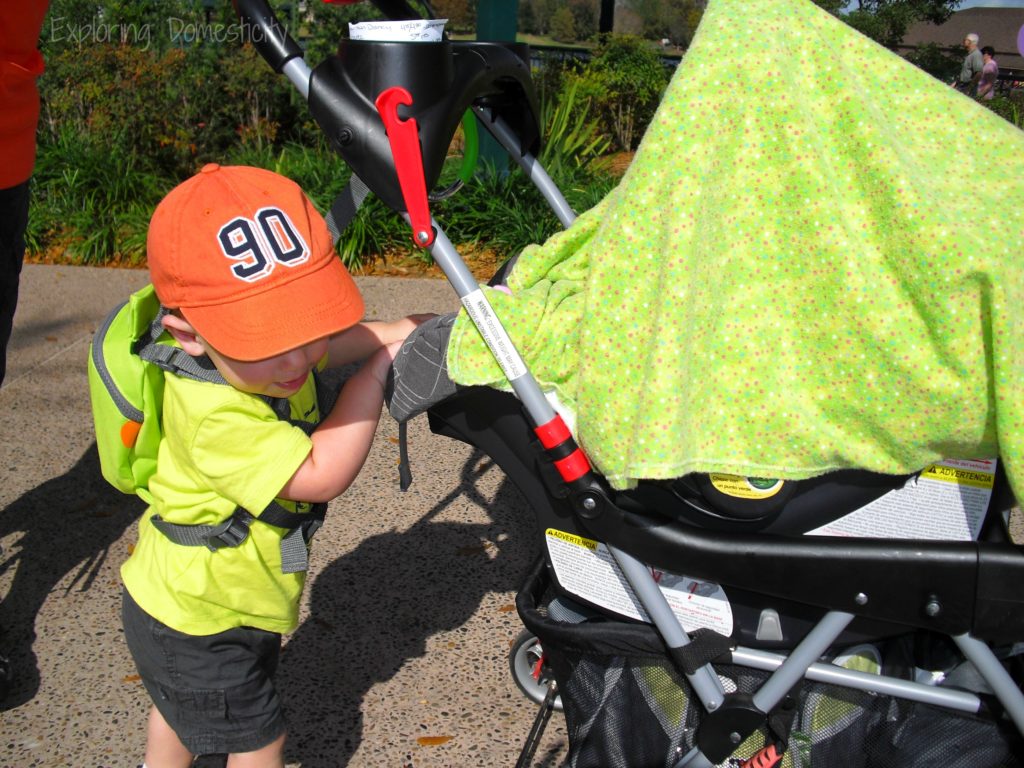 Keep the kids close
A stroller at Walt Disney World is a MUST, but it will drive you crazy. It can be crowded, the stroller is a pain on the bus, and half the time the kiddos want to be carried anyway. If your kiddo is very young like our little one was, a wrap or carrier is the way to go. They can stay close and sleep while you explore and enjoy.
If you do have to bring the actual baby carrier, or car seat, I can't recommend the snap and go stroller enough! It is a lifesaver, and so easy to cart that carrier around. That's what we have in the photo above.
If you also notice our little 1 year old is wearing a backpack with a strap. This is also a complete lifesaver at Disney! It allows them to explore, without the worry that they'll get lost in the crowds. (We got this one in later years and love the space for storing things and the length of the strap.)
Babies are FREE!
If you do visit a park at Walt Disney World with your baby, you'll love to hear that kids under age 3 are FREE! We definitely took advantage of that on our following trips. Just another reason you can feel free to come and go as you please and not push it too hard.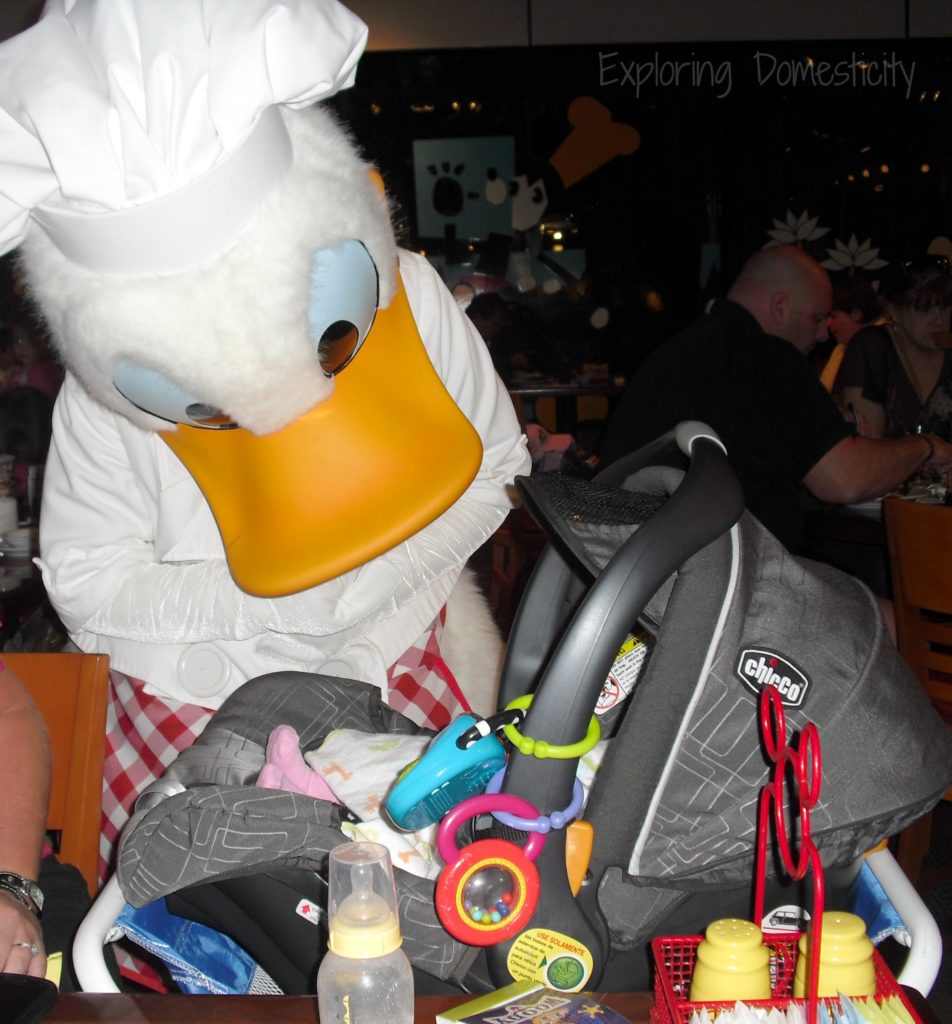 Other Resources for visiting Walt Disney World with a Baby
I love this article on Disney Baby with 5 Reasons Why Your Baby is Not Too Young for Disney World. I especially like her point about taking babies on rides. There are so many rides with no height requirement. Disney is really unique in that the whole family can ride.
My favorite tip from the article, How young is too young? Bringing a baby to Walt Disney World, is to order baby supplies you will need ahead of time from Amazon and have them shipped to your hotel. Genius! You can even order from the Disney Baby Collection on Amazon and fit the theme.
This tip from Traveling Mom, along with the rest of the 10 helpful hints, is so smart. She suggests to bring extra reusable shopping bags with you at the start of the day. Folders need to be folded up on the buses from the parks to the resorts. Throughout the day, so many loose items accumulate in the stroller. It's nice to have a quick solution to store everything away and get that stroller folded up quickly if needed.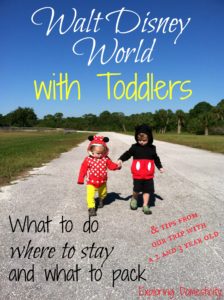 We have visited every year since this first trip. You can read about our tips for toddlers from our second trip here! Walt Disney World with Toddlers.
Are you thinking of visiting Walt Disney World with a Baby? Let us know when you're planning a trip!
Have you visited Walt Disney World with a Baby? What are some tips you found? Share them below!


More Like This