Have you heard about Heidi Powell's new show? She's taking the Extreme Weight Loss approach to slow, lasting changes over the course of a year to help mothers achieve their fitness goals and set a healthy example for their families, and is called "Bringing Up Healthy."
Ok, not really…
But this did happen during the Extreme Weight Loss premier…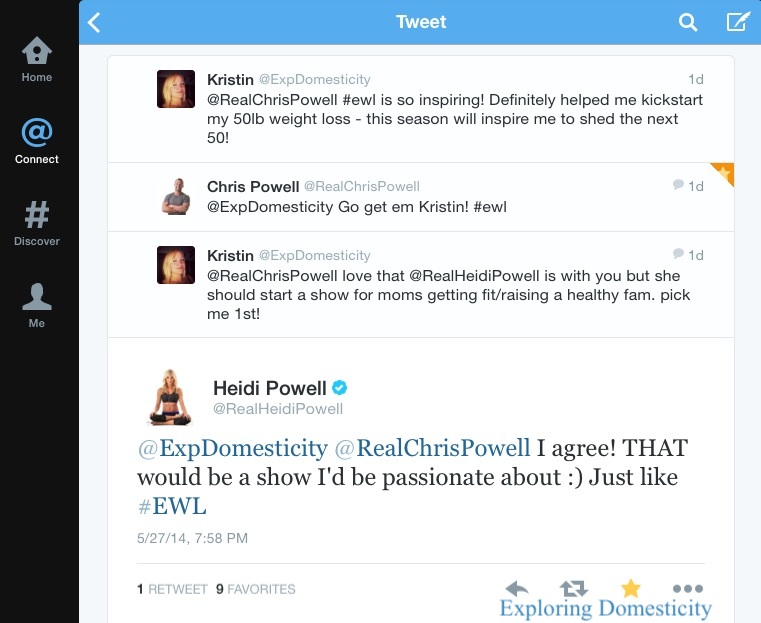 So why not?
I would tune in for a show focused on building healthy families. There would likely be a fantastic transformation as the Momma learns how to make health and fitness a priority instead of just an added item on their already full plate.
I've been trying to figure this out for over a year…
I'm making small steps and I'm proud that my kiddos will ask for fruits and veggies and to do do yoga or wear their running pants, but they also requested a dinner of Doritos and Skittles the other day… Womp womp… I take this as a reflection of Mom's current behavior… along with some other influences, I don't put all that on myself but it is a wake up call.
I also know there is more I can do for myself to get to the kind of fitness level I would like. The weight has been coming off, but I need to start working harder to tighten things up. This is where I'm really lost…
A show with moms losing the baby weight and getting a better body back would be such an inspiration! I'd love to learn what to do to help get rid of this tummy and the bat wing arms!
The best part of helping moms with young children is that they learn from us. What better time to change ourselves for the better than when impressionable little ones are watching our every move!?
And, c'mon, how flippin' adorable is it to watch them do things like this on their own???
Ok ABC… I handed you this gem on a silver platter. Appeal to the desire of moms to do all they can to raise healthy, happy kiddos and be the role model to teach them the healthy habits.
And Heidi… when ABC begs you to do this show, the kiddos and I can meet you in Arizona! My almost 3yo and Cash seem like they'd be a riot together! And we can work on tackling potty training without edible reinforcement! 🙂  Sound like a plan???
What do you think?
What else can we add in our pitch for a show for us healthy mommas?