I guarantee you I was one of the first people registered for IDEA World BlogFest with SweatPink. I jumped on that opportunity so fast it left my whole family stunned! I'm a very frugal lady who either never spends money or doesn't spend it without taking A LOT of time to think about it, but when that first email came out I talked it over with my mom and husband and decided to go for it that day!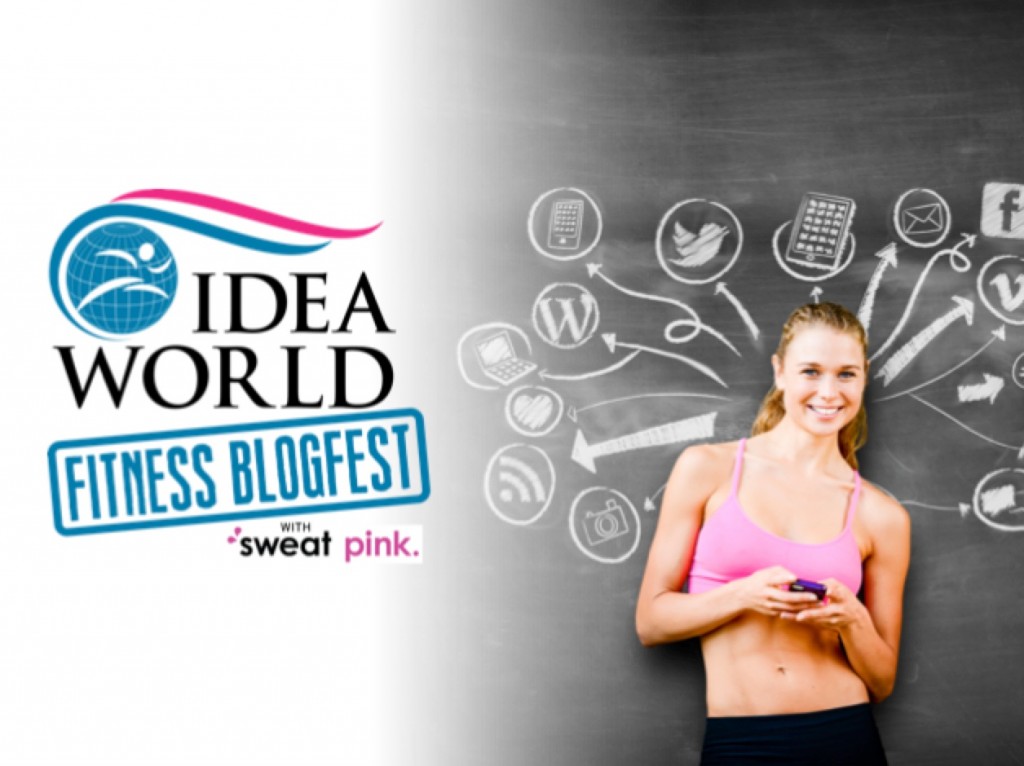 I cannot wait!
I'm so happy I signed up so fast because I also jumped at the chance to speak during the BlogFest Lightning Round and, thanks to you guys, I was chosen! I'm so excited for this chance because I will get the opportunity to introduce myself to every amazing person in that room all at one time!
Now, if only all my practice could get that presentation to cover all I want to say in five minutes without sounding like an auctioneer!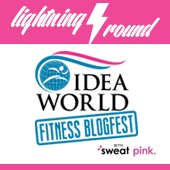 I also would feel a lot more calm if my packing was done and I felt confident I had everything I need. I've got my lists, did some shopping, and think I have a decent idea but I really hope I don't forget something!
I also hope the fact that I left my shoes in the splash pad parking lot today for someone else to enjoy isn't an indication that I have too much in my head to get any one thing right!
We have so many exciting opportunities available to us that week! Not only do we get to meet some amazing people, but we will learn so much and leave feeling completely empowered and ready to conquer the world. I most look forward to that feeling and how high I'll be flying before I get back to reality of a SAHM of a 1 and 3 year old who works part-time from home and will be losing her nanny a week later…
The keynote speaker is Jillian Michaels, we will learn about building our brand with Cassie Ho from Blogilates, and we get to workout with Tony Horton! Besides all of that, everyone in attendance will be amazing bloggers who I have looked up to for the past year!
I can't wait to meet the Fit Approach ladies – they are all so sweet and I'm sure they will be in person! They're also having a meet and greet with Lorna Jane! She is so inspiring and I've gotten so much out of the Lorna Jane Challenges.
Speaking of challenges, this past week Sweat Pink and Lorna Jane began the #activelivingchallenge. I've been joining in each day with photos and have loved seeing everyone else post as well. That meet-and-greet will go along with this challenge, which is so exciting! If you're not going to BlogFest you can still participate in the challenge and be in the running for a Lorna Jane gift card. Come follow me on Instagram and find out what all these photos are about!

If it isn't extremely apparent – I feel like a hyper little poodle with all these exclamation points! – I'm pretty excited!
I've been looking forward to this for months now and can't believe it's only days away. I'm ready to be back in CA, and I can't believe I've been twice this year! The last trip was a dream and I know this one will be great! I'm so ready to meet all the other Sweat Pink Ambassadors who will be there! I feel so fortunate to represent DietBetter while I am there – they have done so much for me personally with my weight loss and professionally supporting me and believing in me. I'm also very excited to support Amy with Momentum Jewelry at the Expo – it is such a small world that we live just minutes away from each other and will be meeting in California! It's going to be amazing!
So, who will be at BlogFest??? And who will be wishing they were! I'll keep you posted on Facebook, Twitter, and Instagram!