The much-anticipated day at The Magic Kingdom WDW 2017! We took it easy much of our trip and planned only the Magic Kingdom and didn't visit any other parks this time around. We planned to get there early for the opening, hit as many rides as possible early on (without fastpasses), return midday for a rest, and go back in the evening.
Here is Day 4 of our WDW 2017 trip. You can find Day 1, Day 2 part 1, Day 2 Part 2, and Day 3 here.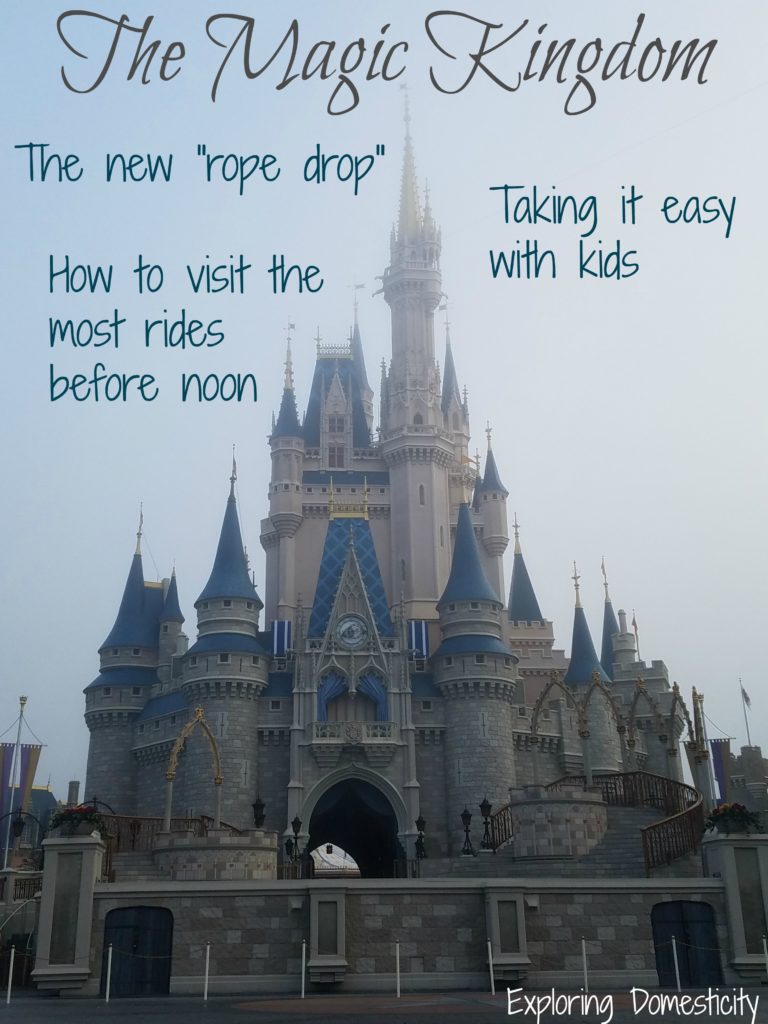 This post contains affiliate links we hope you will find helpful. Thank you for your support!
I kept a daily play-by-play while we were in Walt Disney World, and I'm going to share it bit-by-bit each week. We stayed at the Art of Animation Resort, in the Cars Family Suites, and visited Disney Springs, had dinner at O'hana, and had a great day at the Magic Kingdom. We visit Walt Disney World each year and, for that reason, we like to take it slow, relax, and enjoy ourselves instead of stressing to fit it all in. I'd say we get a pretty fantastic vacation balanced with fun and relaxation.
Magic Kingdom WDW 2017
After pinning all sorts of Magic Kingdom tips and coming across a fantastic plan from Couponing to Disney for hitting 7 major Magic Kingdom rides before 10am, we had a plan for our day at the Magic Kingdom.
We aimed to get to the bus stop by 7:45 and found the line already pretty crowded. We were one of the last ones on and squeezed into the last bit of standing room left in the front of the bus. The kids were champs standing for that ride and holding on.
The Magic Kingdom Opening
When we got to the magic kingdom we made it through security, scanned our magic bands, and looked to see where we were supposed to stand for the rope drop….
Surprise! They don't do it that way anymore.
I was looking forward to seeing the characters on the train and the show to open the park because I had never made it to one before. However, as we walked through the gate, entered the park, walked up main street, it occurred to me that something was not quite right…
After checking to make sure I had the time right, I googled the rope drop and found that it had just been changed this year. The new way seems to make a lot more sense and cut down on congestion of the crowd as everyone gets where they're going.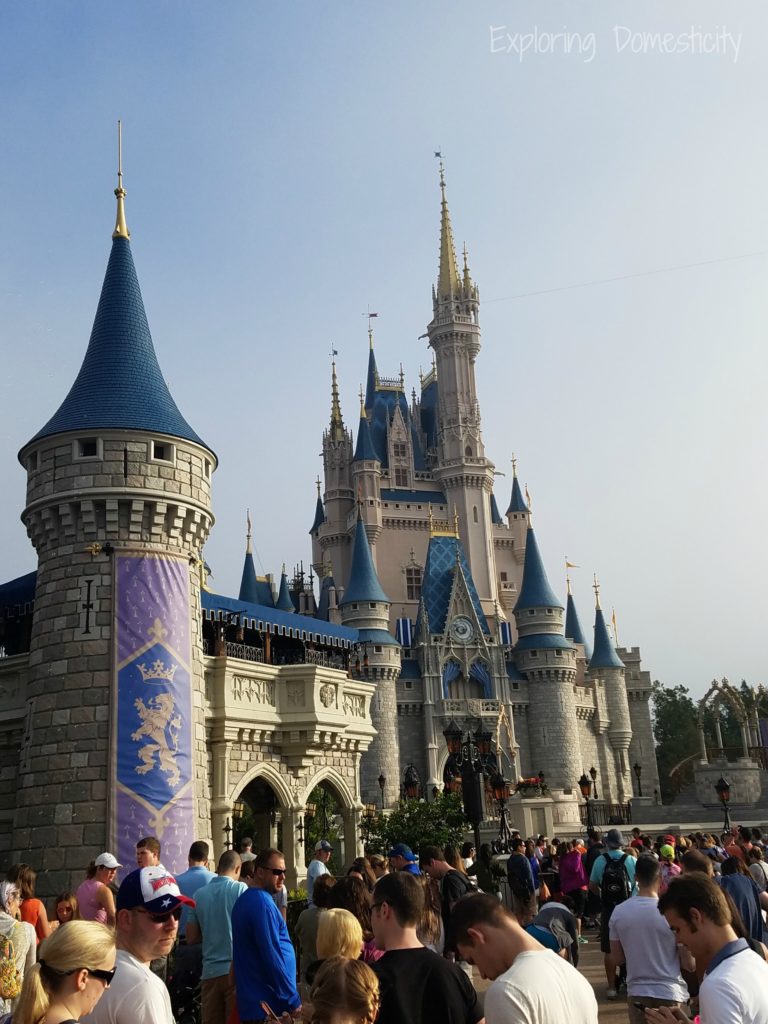 We got some great pictures of the castle standing in the fog on this cool morning. However, the wait for the kids was pretty long and they kept asking when we could go on some rides. With the new method, you definitely don't have to arrive all that early. We got there when it was pretty bare and had all sorts of people crowd in front of us toward the rope before the show started.
We did have some time to apply sunscreen and plan out our day. The kids were really excited about the show too. Once they saw all the characters come out, they couldn't quit talking about it.
Peter Pan's Flight
We had a plan to head straight to Peter Pan's Flight asap. I've actually never been on that ride as far as I can remember, because the wait is always over an hour. We also found the fastpasses were sold out before we started making selections.
I would definitely recommend hitting this ride first thing in the morning over a fastpass. We did end up getting a fastpass for 9:30pm (the earliest and only option we found) and the kids were a little disappointed to miss all of the fun scenes while winding through the line.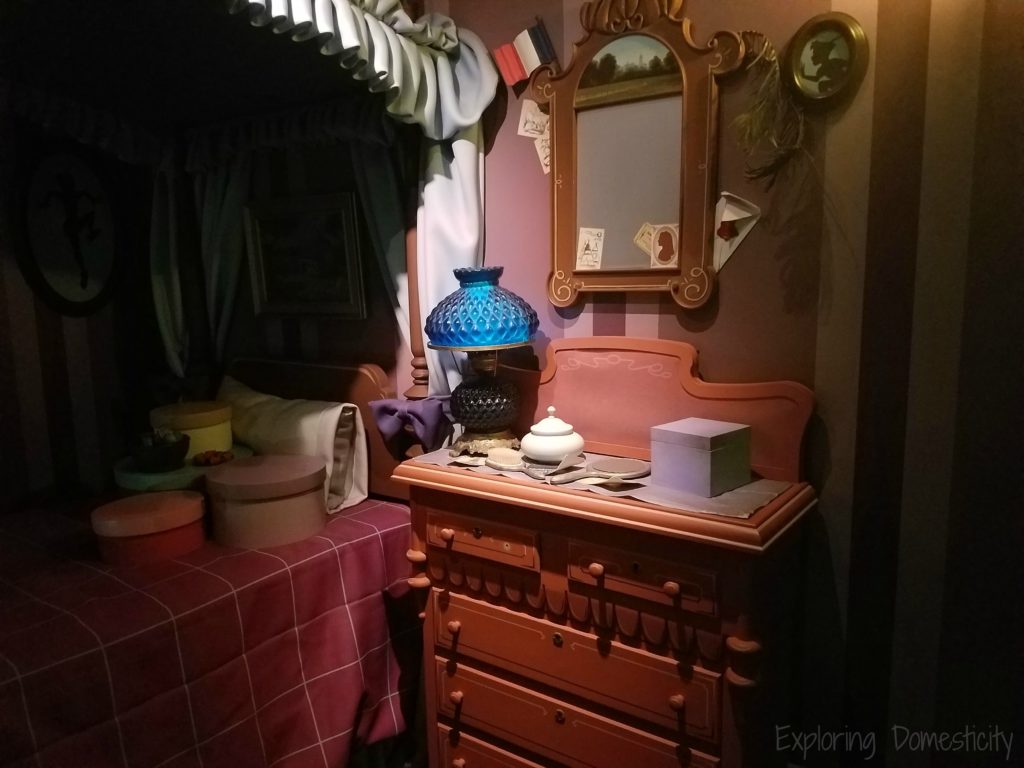 We got there with a bunch of others but made it through the line pretty quickly. The kids loved the ride although the adults all agreed it was so fast and we would never spend an hour in line for that ride.
It's a Small World
Next, our guide said to go to Winnie the Pooh next, but the kids aren't huge fans and everyone wanted to see It's a Small World. If you were trying to hit the major rides as quickly as possible, Small World shouldn't be on your early list. First, it's a very long ride. Second, the line is never crazy long for this one and you can get on it pretty easily at anytime.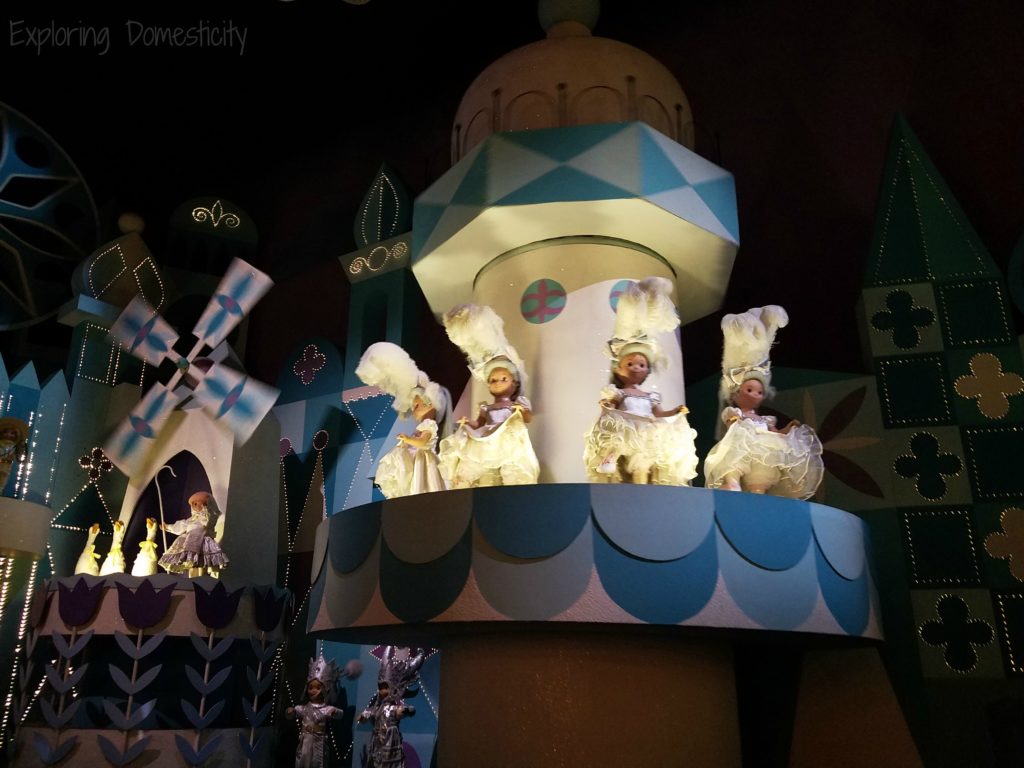 Under The Sea – Journey of the Little Mermaid
The kids still love it, so after that ride was done, we headed over to The Little Mermaid. When we were here last year, this ride had just opened, so it had a long line and was hard to get on. As I checked the My Disney Experience app throughout the day, this ride didn't seem to have crazy long wait times. I think you definitely can get on this one without too much waiting. Plus, the scenes in line are entertaining.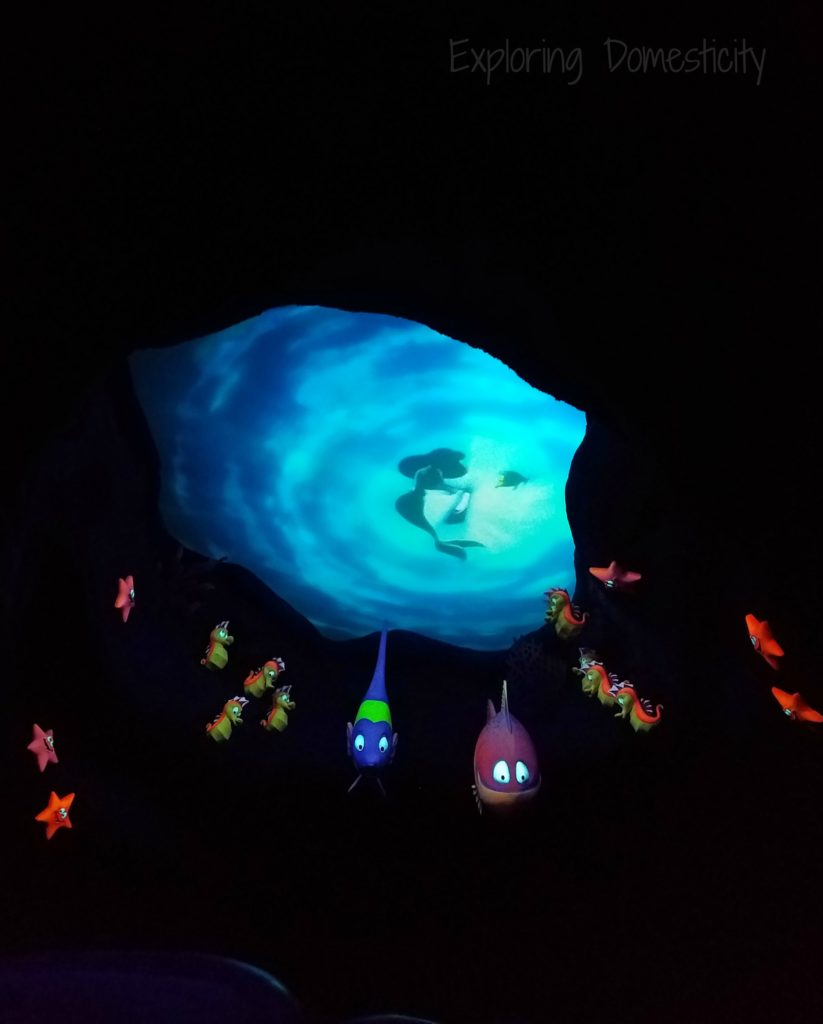 Haunted Mansion
Next, we booked it straight to the Haunted Mansion. This is a favorite for all of us. We had a 10-12 year old girl behind us clinging to her mom and whimpering and my tiny 4yo girl dragged me along and exclaimed how cool it was when the room stretched. I remember the Haunted Mansion seeming scary when I was younger, but our kids have been going on it since we first took them at 2 and 3, and they love it.
Pirates of the Caribbean
After the Haunted Mansion, we went for the Pirates of the Caribbean. This is where things in the park started picking up and our wait time was the longest at 30 minutes. It definitely didn't feel like it took that long.  This is another family favorite for us.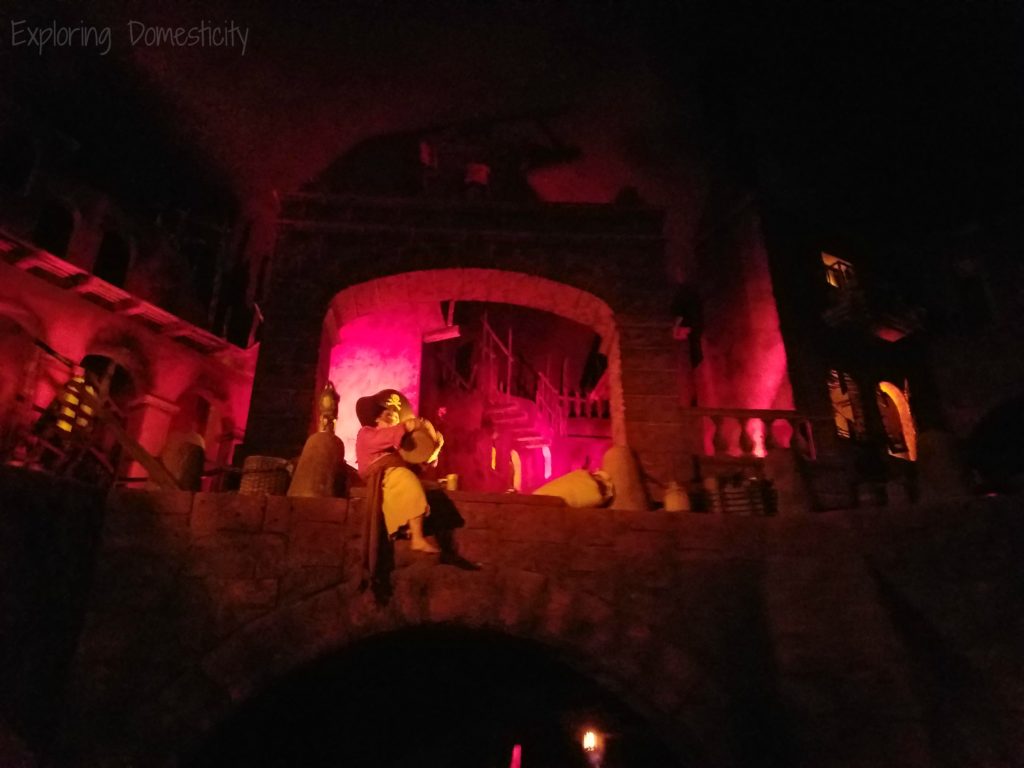 We walked back toward Fantastyland after Pirates and hit the bathrooms between Adventureland and Frontierland on the way. These always seem to be the easiest to get into without a wait, so it's where we go the most often.
PIxie Dust!
Our little lady and I went into Castle Couture and got a little pixie dust, which is such a fun little Disney freebie tip. They have a cute little magic wand and will sprinkle pixie dust in your kiddo's hair. We tried to do this a couple years ago, but you kids do have to be a certain age. I think it's 3 and up, since we were refused at 2.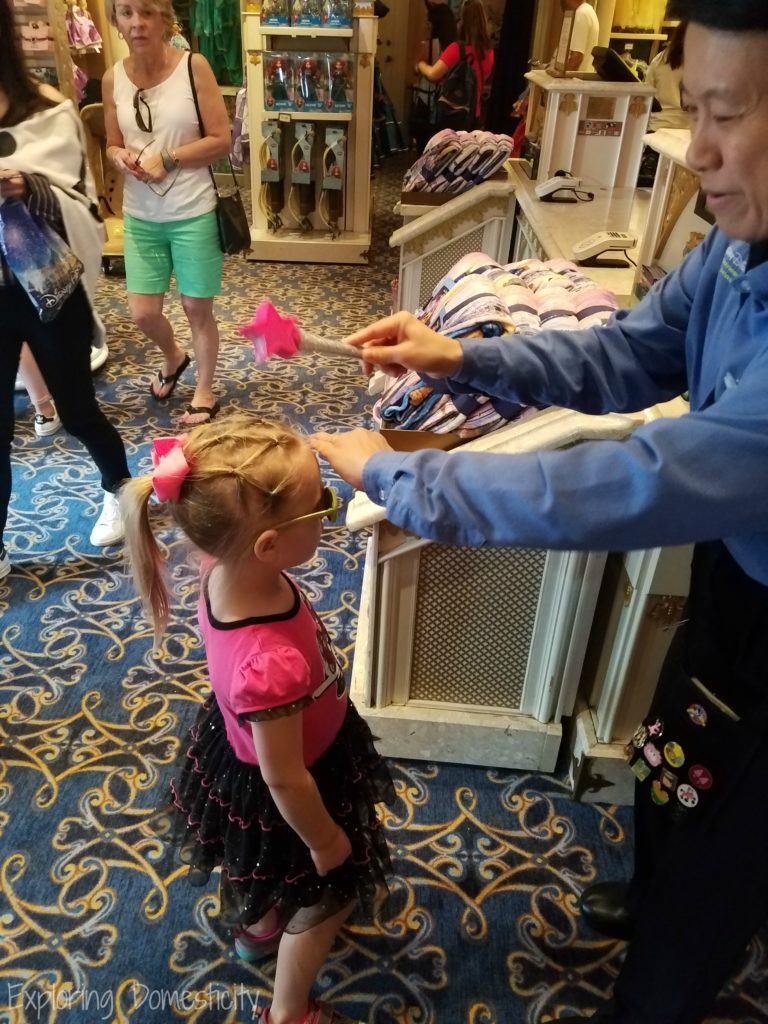 Philharmagic
Our newly pixie dusted princess lead the way and we went on another favorite – Mickey's Philharmagic. This attraction came out the year I was working for Disney on the college program, so it holds a special place in my heart. I love watching the kids reach out to grab everything during the 3D show, and the smells during the "Be Our Guest" and carpet ride scenes are heavenly.
The kids were begging to go on Buzz Lightyear, but the wait was long, the park was getting crowded, and we were ready to make our exit until later in the night, so we headed down Main Street. On the way out we stopped at the silhouette cart for our absolute favorite souvenir!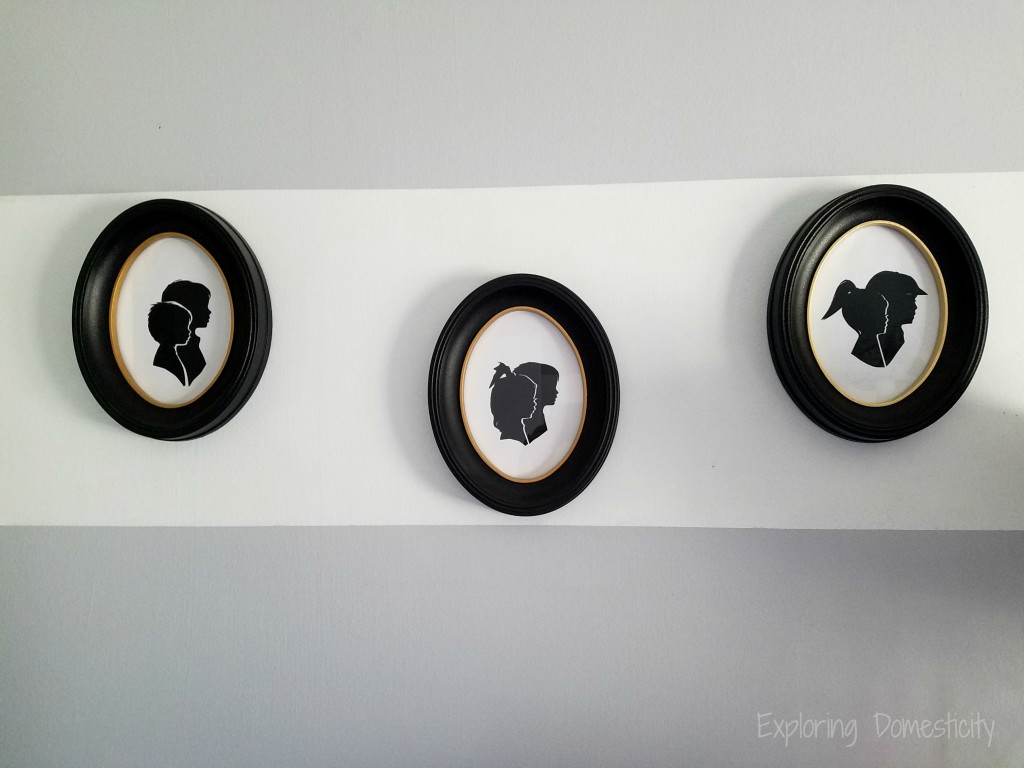 The Best WDW Souvenir – Silhouettes
We have gotten silhouettes of the kids each year since they were 1 and 1mo. We usually get them at Disney Springs (previously Downtown Disney) because it's easier to remember with less going on. However, it's a separate company and there seems to be the same guy working each time we check and his skill and manners leave something to be desired. (The company, however, is wonderful and did send us replacements when we told them how poor our experience was and that the keepsakes did not turn out well.)
The cart at the Magic Kingdom was "manned" by two sweet girls and the one who did our silhouette was very sweet to the kids and extremely talented!! You always get two reverse images, so we purchase two frames and give one to Grandma and Grandpa as a gift. The price has gone up, so this year it was $10 per person and an additional almost $10 per frame. Totally worth it, though! We get the kids together so we don't need as many frames.
I wish I would have caught her name, but my biggest compliments to the sweet girl at the Magic Kingdom Silhouette cart on 3/21 12:30pm!!!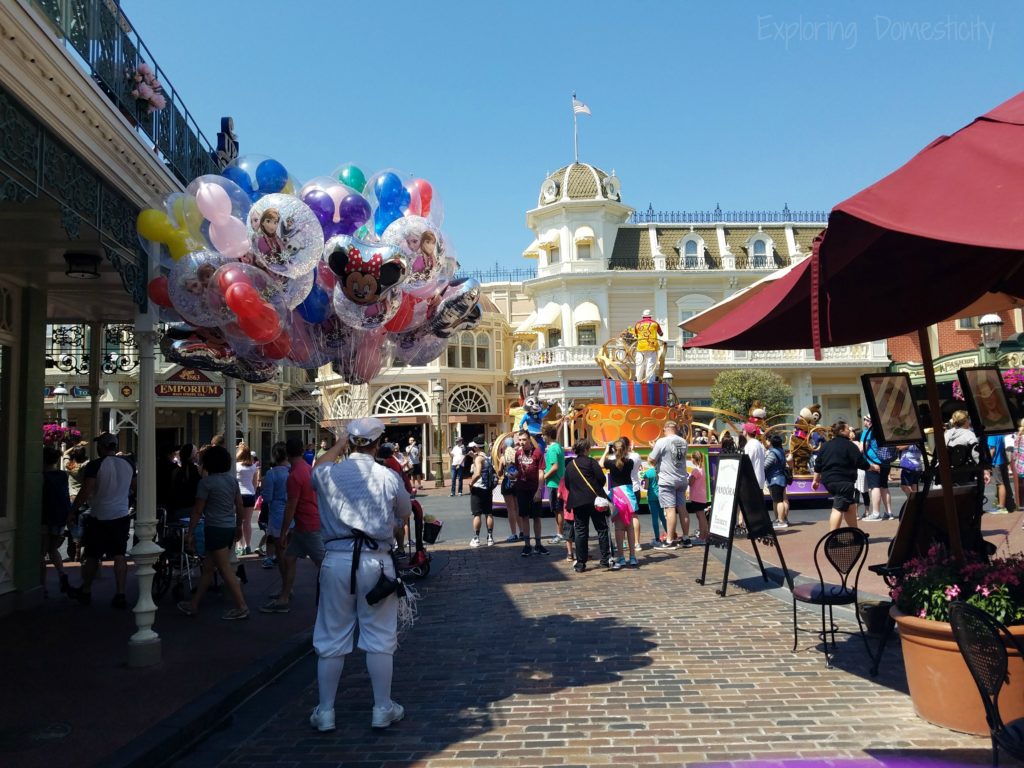 The nice thing about getting the silhouettes done during that time is that the Move It Shake It Dance Party had just started and drove past as the kids were sitting for the silhouettes. They were distracted and it wasn't a problem to wait for one another since they had something to watch. We love the dance party – it's not crowded like it is during a parade and it's very cute and fun.
Midday Rest
We were back at the hotel after 1pm for a rest. It was perfect timing. We didn't stay long enough to get sweaty and uncomfortable, but the day was definitely getting hot and crowded. We left just in time!
Breaking up the day is such a great tip for little ones. We got enough done in the morning that we felt we had gotten our moneys worth and everything else was a bonus. We also left just before the inevitable meltdowns occurred from hot, hungry, tired kids.
Which reminds me, we always bring snacks to the park. We've packed full lunches in the past, but we knew we weren't staying that long this time. We had bananas that the kids ate in the morning waiting to get in, Pringles sticks to snack on as we walked, a sucker for the line and sitting during Philharmagic, and applesauce pouches they ate while waiting for the bus. They never had a chance to get hungry or crabby!
We at lunch back at the hotel and the kids each got a little over an hour nap, which is great because they don't nap at all anymore. We took our time and planned to head back to the park after we had some dinner – about 6pm.
We weren't the only ones with this idea. The bus was very crowded on the way back to the park as well.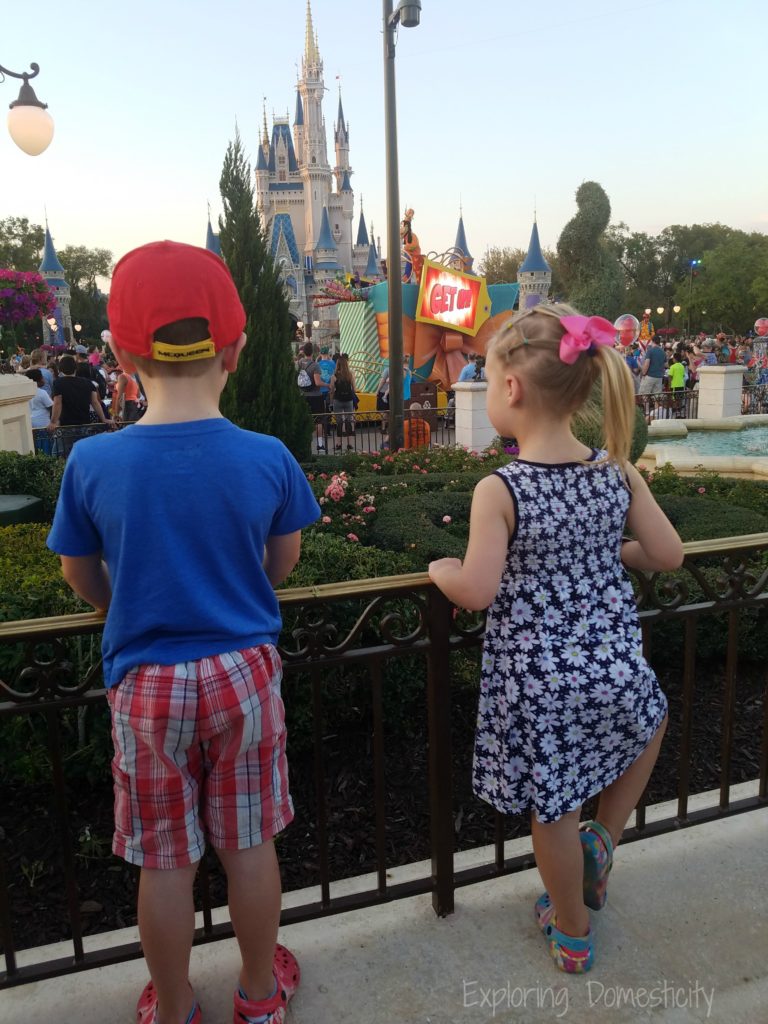 Magic Kingdom WDW 2017 – Evening
Just as when we left, when we arrived back in the evening the Move It Shake It Dance party was in full swing. The kiddos stopped to watch it all and dance a bit. It was very cute.
We decided to walk through Tomorrowland and check things out a bit. Since we didn't get to Buzz earlier, I had secured fastpasses that were coming up shortly. However, the ride was down when we went by and it didn't open the rest of the night. Luckily, the kiddos were distracted enough that they didn't ask about it after we found that out.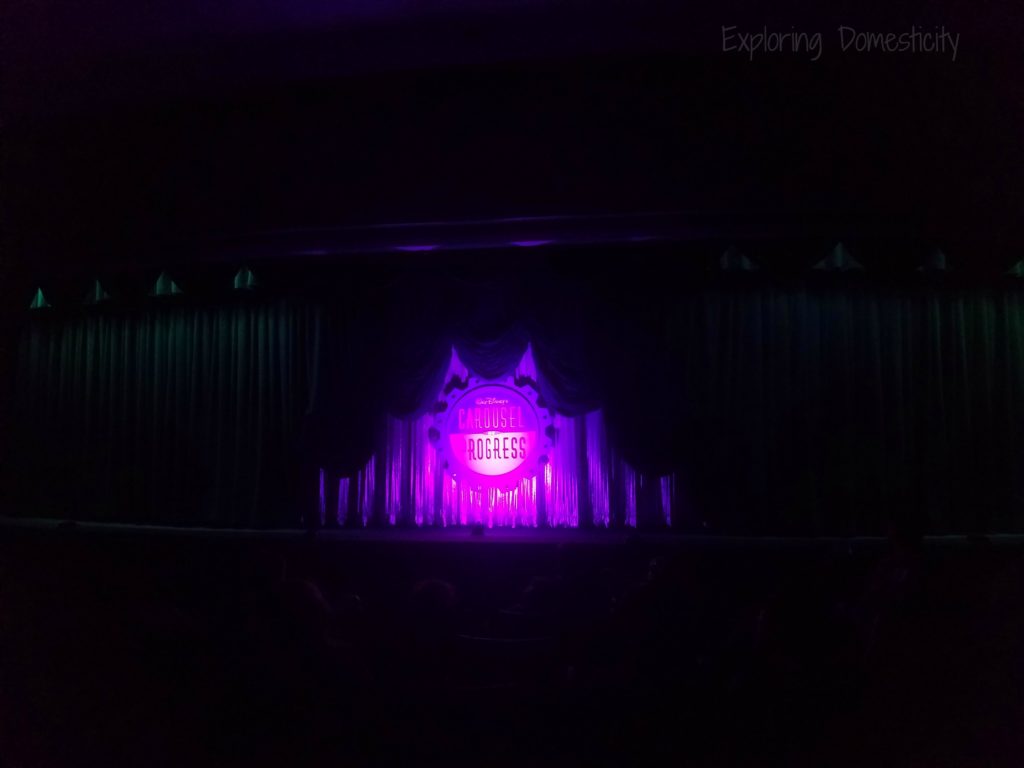 Carousel of Progress
We went on the Carousel of Progress instead and they kiddos were actually really interested in it. I brought in their little backpacks expecting to bribe them to sit still with little packs of raisins, but they were both totally into it.
The kids are still talking about the Carousel of Progress! They will randomly sign it and Little Lady has been setting it up with her dolls!
I used to work in Tomorrowland at the Cool Ship, and I remember the fun little dance parties they had during Mickey's Not So Scary Halloween Party and the Very Merry Christmas Party. In the years that we've gone with the kids, it's been fun to see that they do a dance party in that area every night now. The kids love seeing the characters from The Incredibles dancing with the kids.
Our little guy wanted to go on the People Mover, but as luck would have it, it was closed just like Buzz Lightyear. Thank goodness the kids were so easygoing. We even had to skip over the Tomorrowland Speedway because it had a long wait, so we had three duds in a row but the kids were troopers.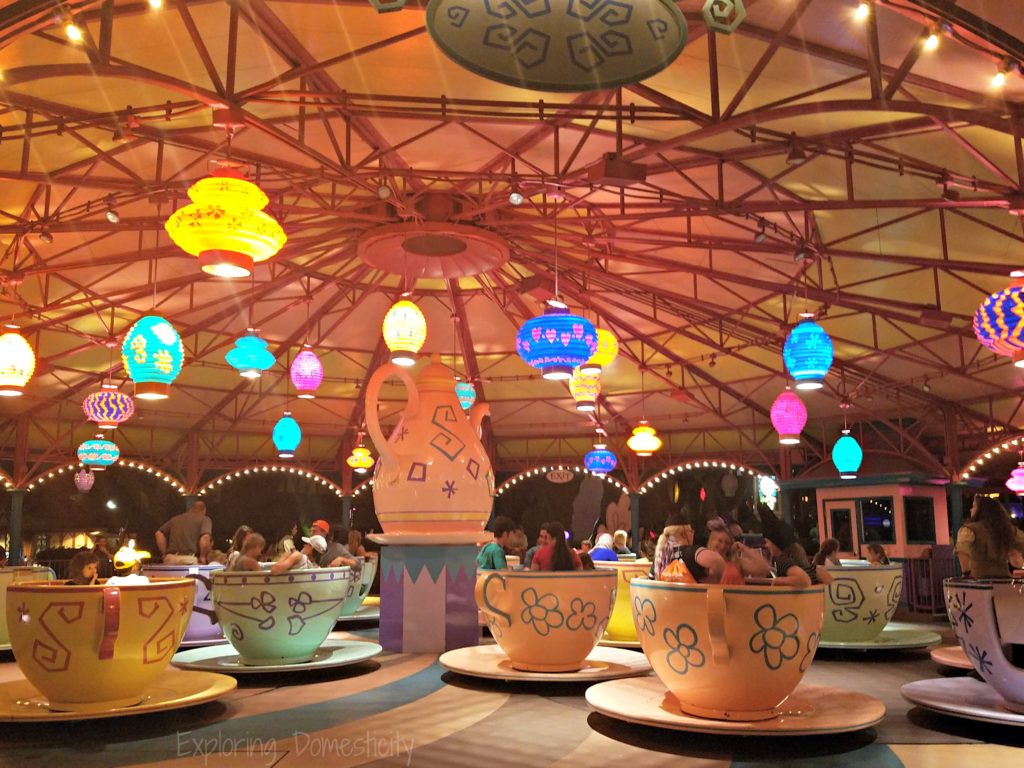 Mad Tea Party
We decided to stop on the teacups, which was more fun than I thought. The kids and Grandpa spun us so fast I couldn't see a thing beyond their faces. I'm surprised none of us fell flat on our faces when we got off!
The Many Adventures of Winnie the Pooh
As we headed further into Fantastyland, we decided to go on Winnie the Pooh because it also had a short wait. The kids loved it. They especially loved the interactive elements in the line on the way to the ride. The honey wall was their favorite.
Magic Kingdom Fireworks in Fantasy Land
As we came out of Winnie the Pooh, Wishes had just started. It was a fantastic view of the fireworks! Sure, the castle was behind us, but it lit up the whole areas as the smaller front fireworks went off and we could see the large fireworks so clearly without the huge crowd.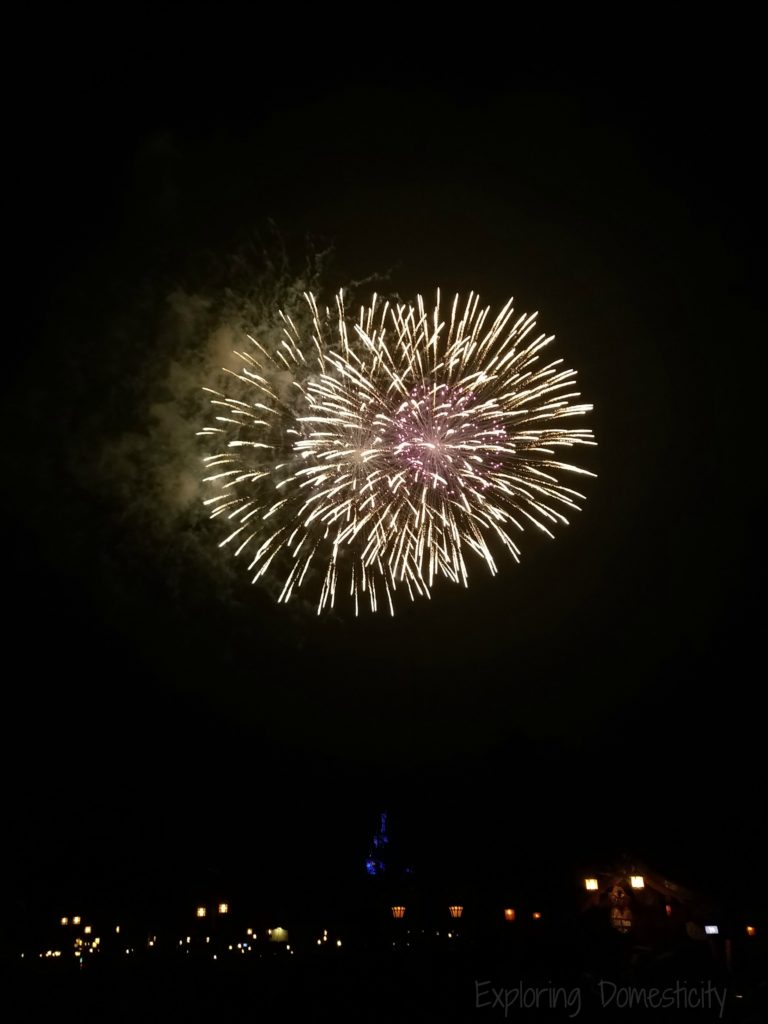 This is such a great change from how it used to be! When Wishes first came out and I was working in the Magic Kingdom, I had one day that I was scheduled for Wishes and we were in charge of blocking off a huge area behind the castle because that is where the fireworks were lit. We had a lot of debris coming down into the crowd and we had to block it off for safety. Also, it always meant it was almost impossible to keep traffic flowing through the parks during the fireworks show. I don't know when they made this change, but it is so smart!
Peter Pan's Flight (again)
We parked our stroller behind the carousel because our fastpass for Peter Pan's Flight was coming up, and since we had a couple minutes to kill, Grandma and I took the kids for a carousel ride. We normally skip this because it's something we can do at home, but the kids love it.
It was nice to get another chance to get on Peter Pan's Flight since the kids liked it so much, and since we're a fly-by-the-seat-of-our-pants kind of family, this was our only fastpass and we got to see exactly how much faster it was. The kids didn't like missing out on all the fun scenes you see in the standby line, but we got though the line so quickly!
It's a Small World (again)
We also doubled up on It's a Small World since it's a family favorite. It's funny because we ended up on these two rides almost exactly 12 hours apart! We were on Small World at 9:30am and 9:30pm. Talk about making the most of a day at the Magic Kingdom! We took it easy, but the kids felt like we were there forever!
The Haunted Mansion (again)
The last ride we made it to was the Haunted Mansion. Our little lady wanted to go on it one last time, but our little guy opted out. When we came back out he was pretty tired and Grandma said she was ready to go. The kids protested a bit, but it was probably a good time to go. We had a long walk back, waited through two buses because it was crowded, and didn't get back until nearly 11pm. The park was open until 1am for Magic Hours, and if the kids were a bit older or if Dad was with we might have pushed a little longer.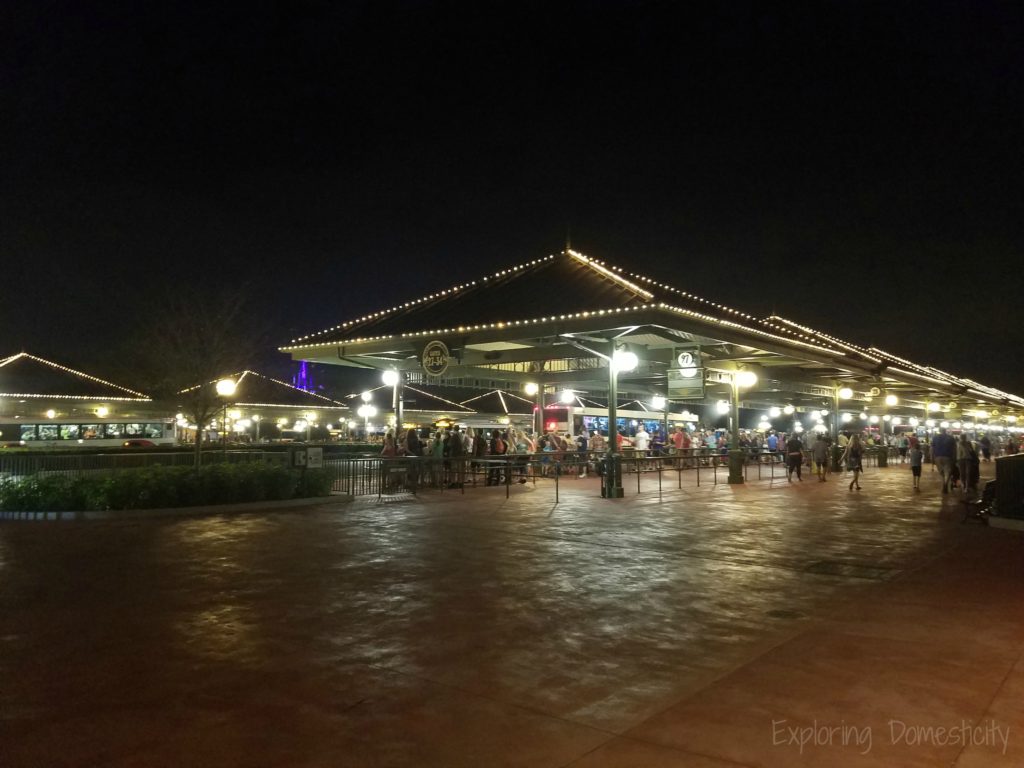 Calling it a night
That's what so perfect about the way we do Disney. We don't try to fit everything in, keep crazy schedules, or push the kids too far. That's just asking for trouble. For us, it's better to miss a few things and keep Disney as stress-free as possible. I feel like we have a real knack for hitting the good stuff and knowing when to call it quits. It's trying to do it all that will eventually lead to mayhem or disappointment.
What a fun day! Fantastic weather, most of the major Disney attractions under our belt, and we even caught some shows and fireworks. The kids did great, the grownups were happy, and all of us slept like babies!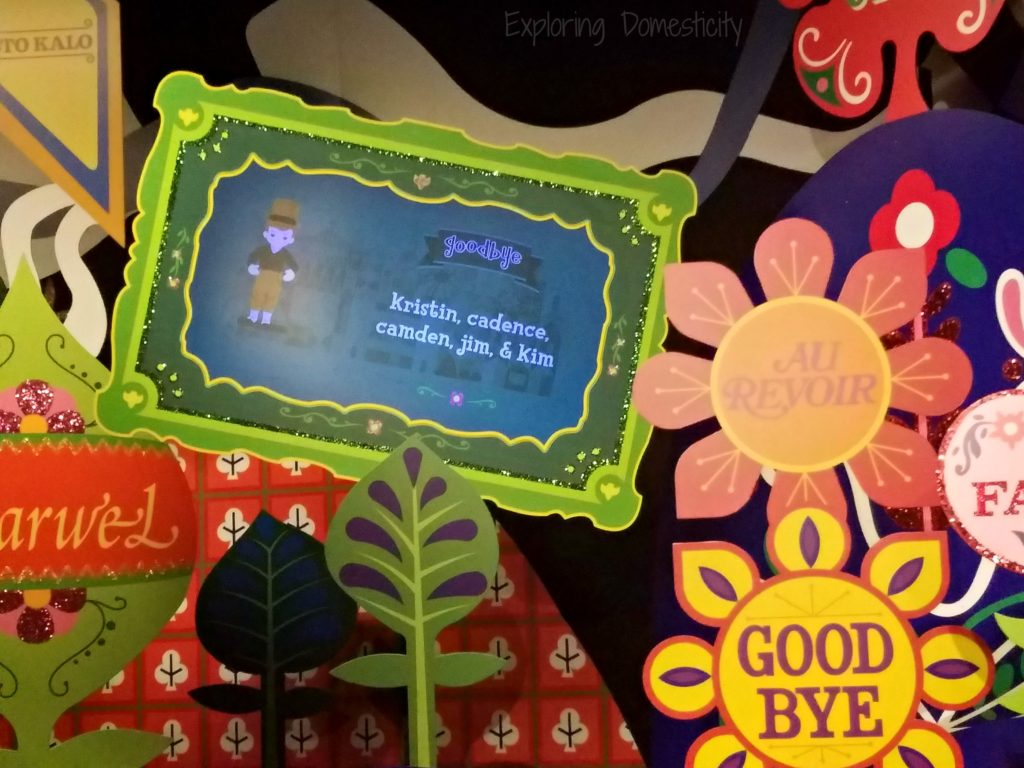 Awesome Details Only at the Magic Kingdom WDW 2017
Now with the magic bands, the area at the end of the ride with goodbye in many languages will personally say goodbye to you and your party
During the Pirates of the Caribbean ride, the smell of spiced rum is pumped into the ride. I noticed it where the drunk pirate is to the right hand side with two cats. The puff of air hit me and then the strong smell of rum – so cool!
If a ride is down during your fastpass time, they turn into a general fastpass for any ride except Peter Pan's Flight and Seven Dwarfs Mystery Mine Ride.
Have you been to the Magic Kingdom?
What are some of your Magic Kingdom favorites?

More Like This