Stop at nothing in the journey to find out what makes you happy.
I love hearing stories from other moms, especially those who are committed to living a healthy lifestyle and raising a healthy family. I'm very inspired by other moms and I love to hear how they stay committed to setting a healthy example for their little ones and raising a healthy family.
Today we're hearing from Motivating Mom Sara!
If you'd like to be featured as a Motivating Mom, send a message to Exploring Domesticity on Facebook or email exploringdomesticity(at)gmail(dot)com with the subject, "Motivating Mommas."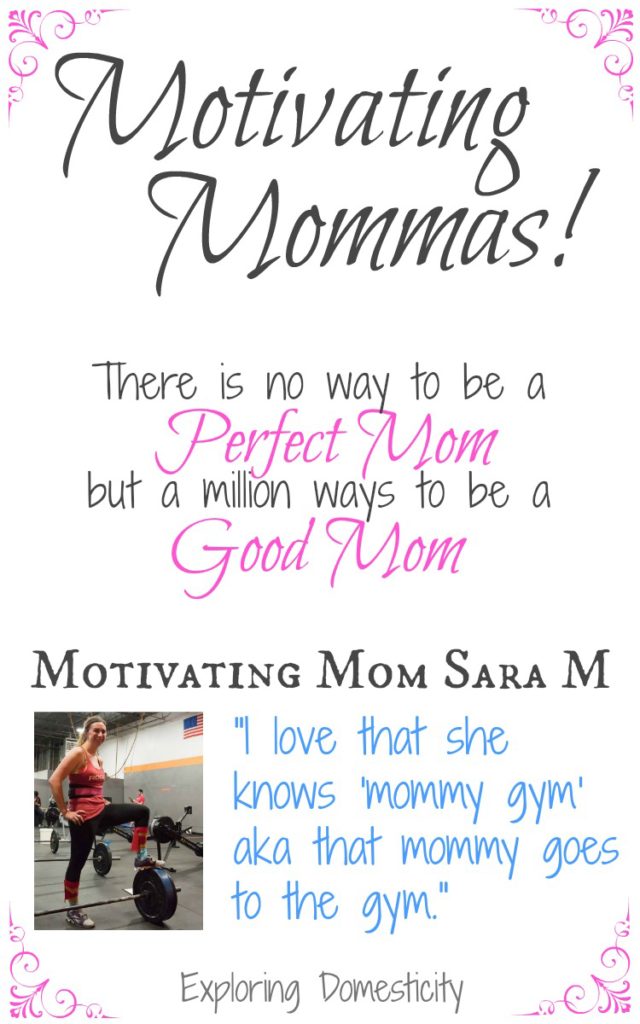 Name: Sara M
Number of children and ages:  Audrey, 3
Are you a SAHM, WAHM, or work outside the home mom?  I work outside the home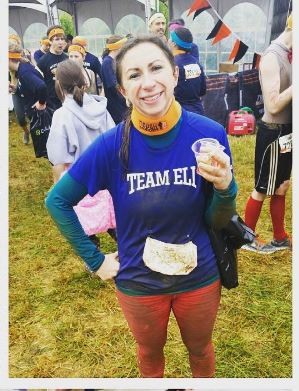 Describe your background as it relates to health, fitness, weight loss, etc.
Prior to going away to college, I had always done sports year-round. Since then I have always had a battle of figuring out what I liked to do for working out and what is the best plan for me for eating healthy. After many years of trial and error I've finally landed on Crossfit for fitness and eating paleo lifestyle. I switched to paleo and then a few rounds of whole30 two years ago and have lost 82 lbs. Right now, I am doing the RP diet which is hardcore and great for specific type of weight loss but I am seriously so happy with finally figuring out what works for me.
When do you typically fit in your physical fitness?
Crossfit – during the summers I try and run, although I'm a terrible runner!
How do you make healthy eating a priority?
It starts with meal planning first. In order to flip to paleo, whole30 or the RP diet you need to have a plan and organize appropriately. Then it is definitely important to meal prep. We spend about 2 hours every Sunday doing all the breakfasts and lunches for myself, husband and my daughter for the week
How do you get your kids involved in a healthy lifestyle?
My daughter likes to "help" me meal prep. She's still pretty little so it can get more complicated. During the summer we are outside doing different activities every single weekend and during the week, if it's not too dark – we spend some time running around outside. I also meal prep her lunches and breakfasts with a mix of healthy and filling foods.

What are your biggest struggles?
When I fall off the wagon I fall hard. If it's a Wednesday and I give in to chocolate the whole week is done for and if I don't "cheat appropriately" I will do things like eat an entire bag of Oreos. There are abstainers and moderators when it comes to things "they don't eat" and I am definitely an abstainer because I have no control with chocolate
… I love that she knows "mommy gym"
What are your biggest accomplishments as a mom?
My daughter is still pretty young so I know there is so much more to teach her but I am happy that she sees me working and I love that she knows "mommy gym" aka that mommy goes to the gym. She's been to a few of my Crossfit events and I think it's important to know that being healthy is important and hard work
What are your biggest accomplishments in regards to health and fitness?
I think my biggest accomplishment is discovering what works best for me. A lot of people struggle with yo-yo dieting and doing exercises they hate and that in itself, is a struggle. I am really happy with figuring out that Crossfit and paleo is best for me.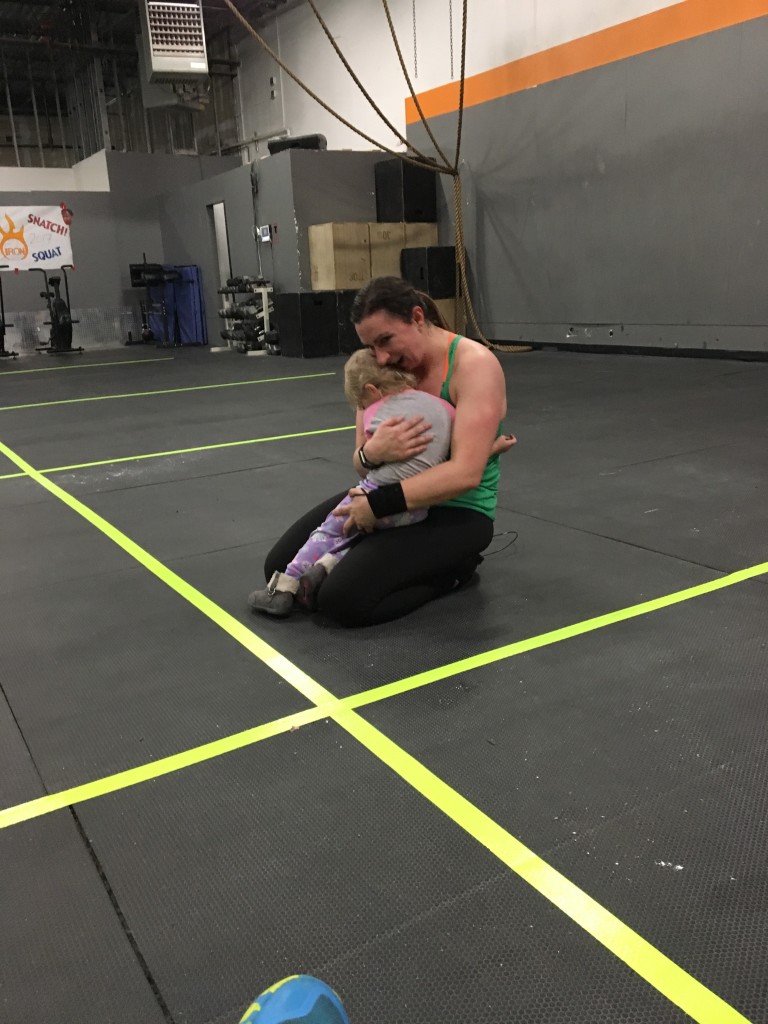 Share your 3 best tips for moms who are struggling?
– Stop at nothing in the journey to figure out what makes you happy. If you are doing a workout that you hate, keep going. There is something for everyone
– It starts with food. There is no quick fix, no secret pill. The secret to health and honestly, happiness lies in the kitchen. Set time aside to meal prep and you will thank yourself
– Not-scale victories are a real thing. Limit how many times you weight yourself and really look to the other aspects of your health to measure how you are doing. For me, a huge miler marker was when I could resize my wedding rings.
Connect with Sara!
Blog: www.saraeatsclean.com
Facebook: https://www.facebook.com/saraeatsclean
Instagram: https://www.instagram.com/sara_eatsclean/
Twitter: https://twitter.com/sara_eatsclean
If you'd like to be featured as a Motivating Mom, send a message to Exploring Domesticity on Facebook or email exploringdomesticity(at)gmail(dot)com with the subject, "Motivating Mommas."

More Like This