Everything looks more fun in a rainbow of colors. A Rainbow Birthday party is a cute and cheerful idea and the possibilities are endless. There are so many fun ideas to add a little rainbow flair to just about anything.
Check out these tips for a fantastic rainbow birthday party! From food ideas to decorations, this is an easy theme with the ideas to start you in the right direction. You may even be very surprised by the first tip!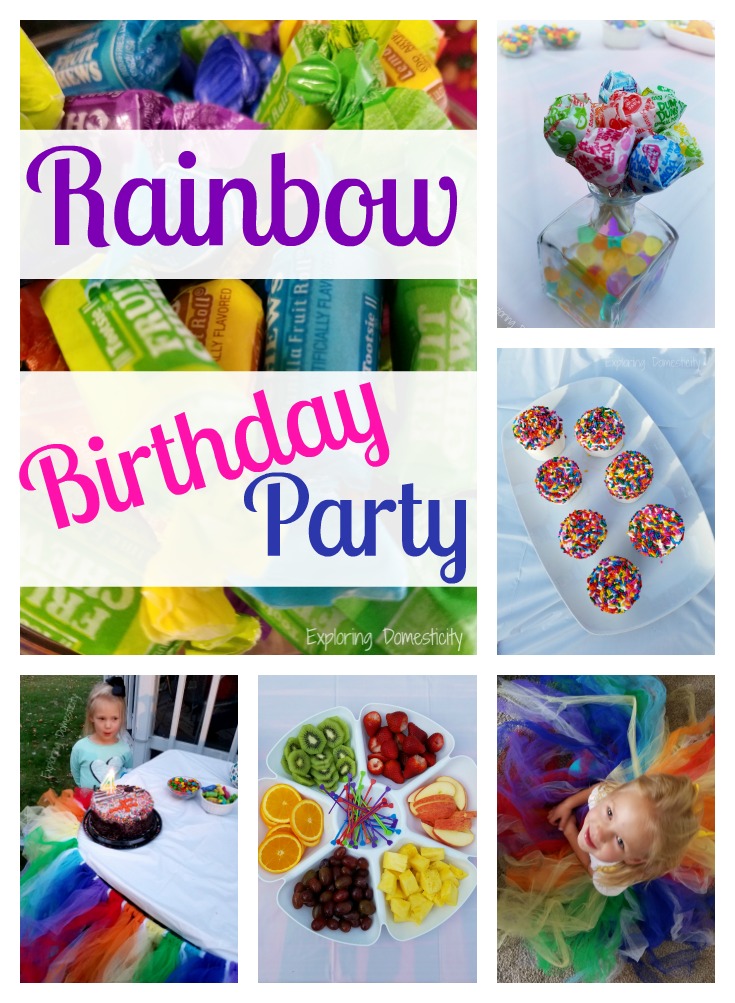 This post may contain affiliate links. If you make a purchase from the link, this site will receive a small commission with no affect on your purchase price. I hope you find the suggestions helpful!
Use White
It may seem a little strange to talk about a colorful rainbow birthday party, and the first suggestion is to use white. The truth is, white makes all those beautiful rainbow colors stand out.
I love serving on clean white plates to make the food stand out and look beautiful. For a rainbow party, this is especially important and really makes things pop!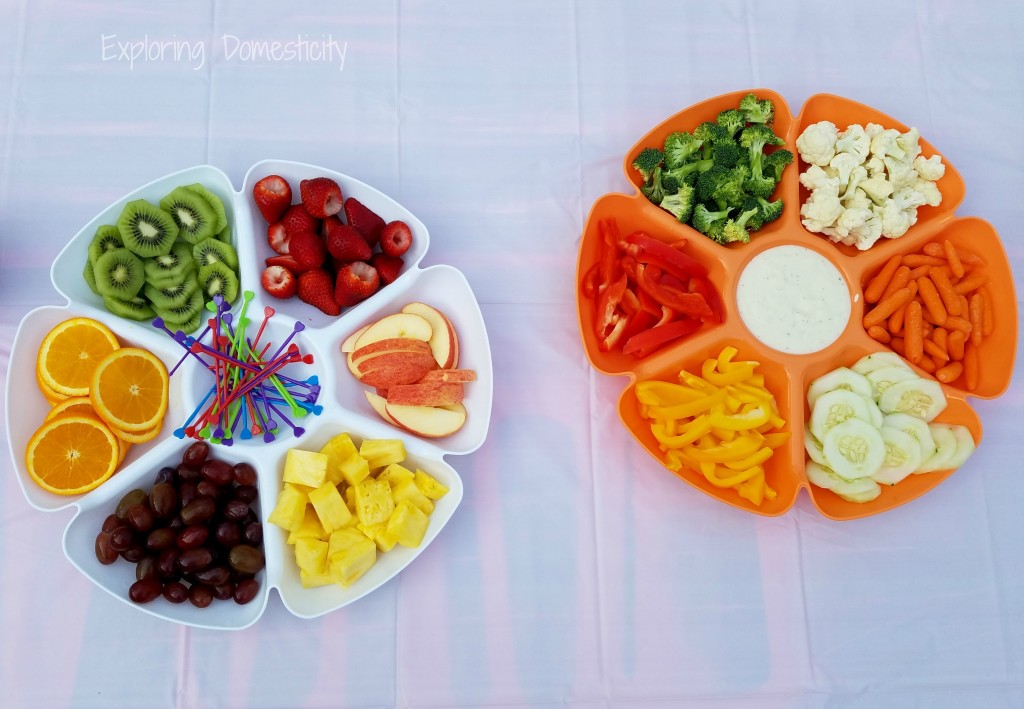 You can see from our fruit and veggie trays what a difference the white dish makes for showcases the vibrant colors. These trays are from the dollar store and there was only one white tray left, but it is obvious the difference it makes next to the orange tray.
To allow your rainbow colored treats to stand out, make everything else white. A white table cloth with white serving dishes is the best way to go. Glass bowls are also nice and allow the colors to show through.
Nature's Rainbow
The absolute easiest thing you can serve for a rainbow themed party is the rainbow that grows naturally.
Don't you love a good fruit or veggie tray at a party?
With all the treats and temptations around, you can feel like you balanced it all out with a carrot stick or two. Right??? I'm pretty sure a piece of broccoli cancels out a cupcake.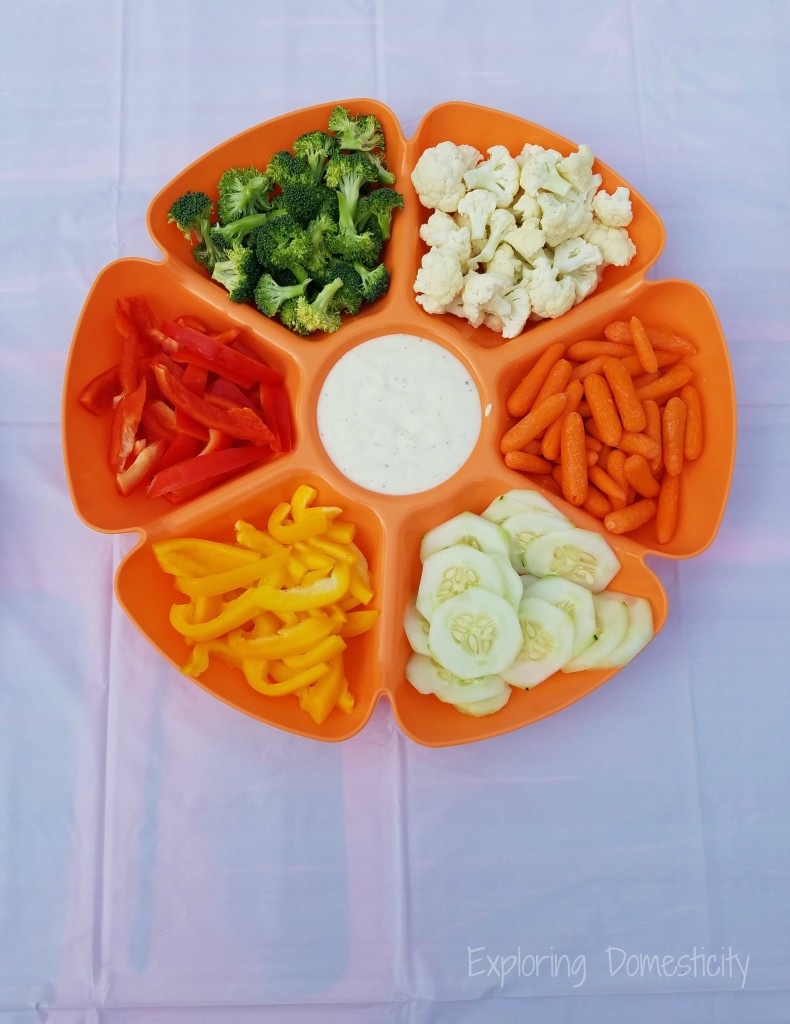 Rainbow Veggies
Red: red peppers
Yellow: yellow peppers
Green: cucumbers, celery, broccoli, green peppers, sugar snap peas
Orange: carrots, orange peppers
White: cauliflower, jicama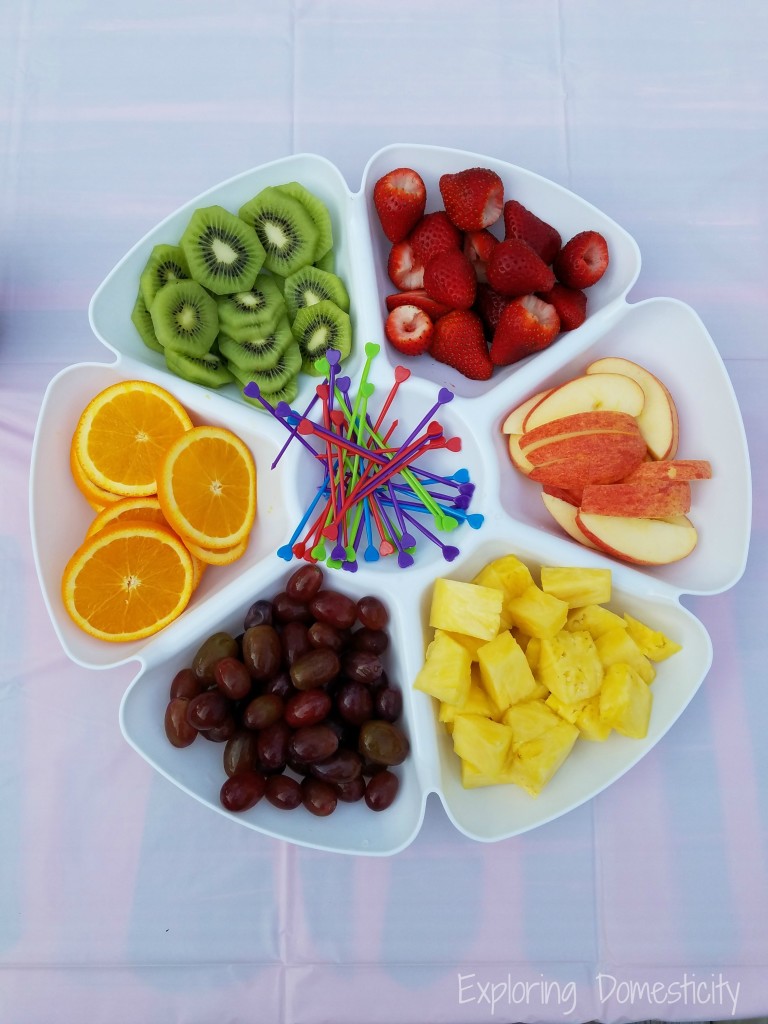 Rainbow Fruit
Red: strawberries, raspberries, cherries, apple, watermelon, grapes, pomegrante
Yellow: pineapple, peaches, lemon
Green: kiwi, apple, grapes, lime
Blue: blueberry
Purple: grapes, plums
Orange: orange, cantaloupe
White: pear, banana
Candy Bar
A Rainbow Birthday party is the perfect time for a candy bar – as in a bar full of candy, and not just one candy bar…
There are so many colorful candies to use. The super colorful candies look best in white or glass containers of varying sizes.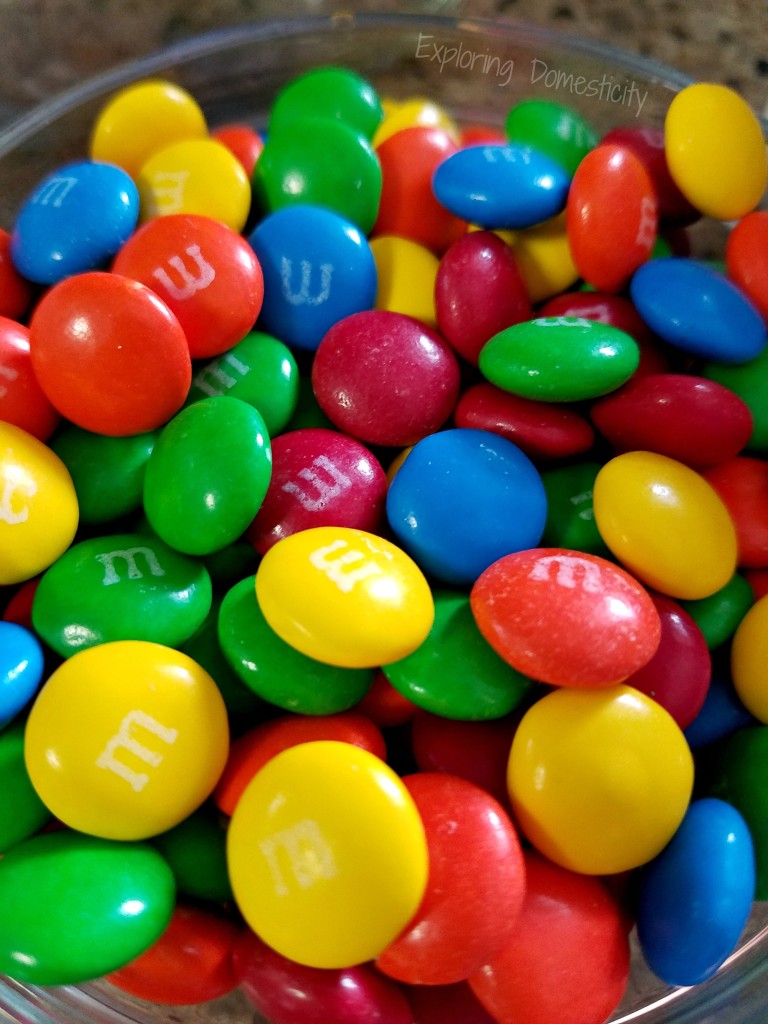 Last weekend we ended up using clear bowls of m&ms, flavored Tootsie Rolls, and Dum-Dums. The Dum-Dums were displayed in different sized glass jars. To add to the colorful look, fill the jars with multi-colored water beads.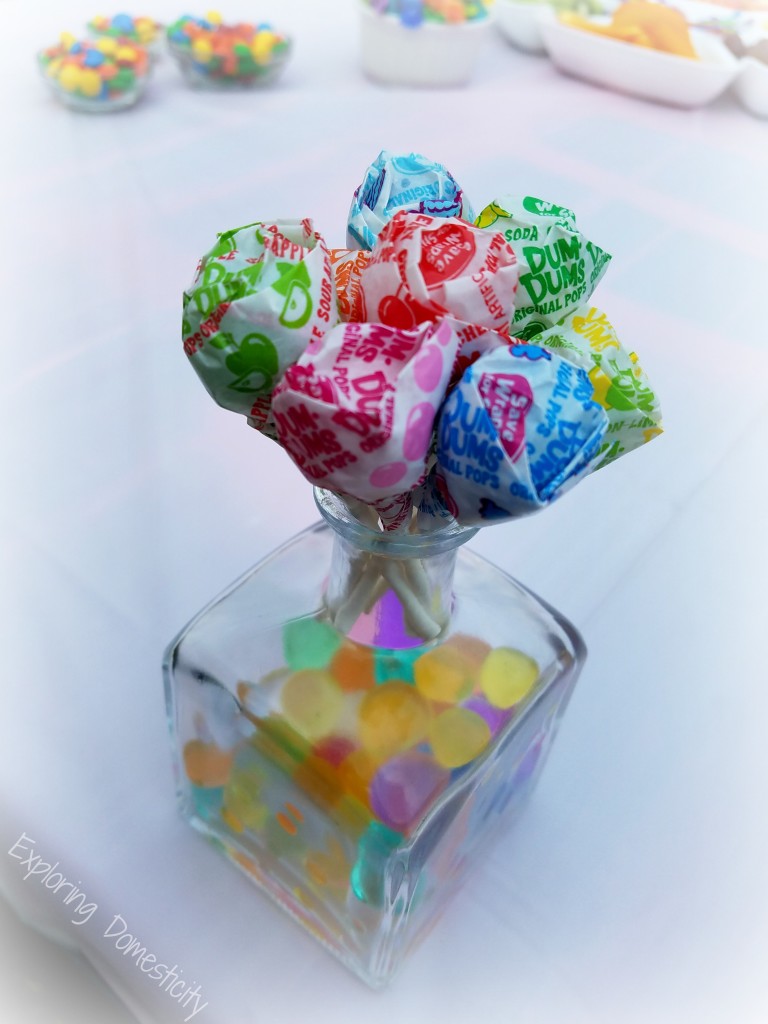 We had our rainbow party because the birthday girl loves rainbow sprinkles and names every doll or animal, "Sprinkles Ice Cream" After a quick trip to the Dollar Tree for a jar of sprinkles (much better value than Walmart, by the way), we added extra sprinkles to everything. We even made these cute sprinkle marshmallows because we were sure we'd have to have a couple fires going to keep warm.
Candy is a great way to add a lot of color as well as keep your guests happy, fed, and hopped up on sugar.
Main Dishes
A rainbow main dish or hot foods can be a little more difficult.
There are some amazing ideas out there for rainbow food! Here is a list of my favorite from my Birthday Pinterest Board.
Rainbow Roasted Vegetables from Simple Vegan Blog
Rainbow Pizza from Babble
Rainbow Grilled Cheese from Popsugar Food
Rainbow Veggie Fried Rice from The Garden Grazer
Rainbow Veggie Pinwheels from Dinner at the Zoo
Rainbow Stir-Fry with Peanut Sauce from Lazy Cat Kitchen
Rainbow Veggie Skewers from The Beachbody Blog
Rainbow Rolls from Wholehearted Eats
Those recipes look so good, you could serve them anytime! I love the idea of serving some of these up on St. Patrick's Day!
Decorations
Color, color, color! Rainbow party decorations are just that – every color of the rainbow. There are so many ways to do that.
The best thing to do is  – keep it simple!
As with the white table clothes and serving dishes. Those special rainbow touches really stand out when it's not overboard. A little goes a long way.
When you're really doing up the food, it can stand on it's own as a party decoration. Just a few things here and there will help do the trick.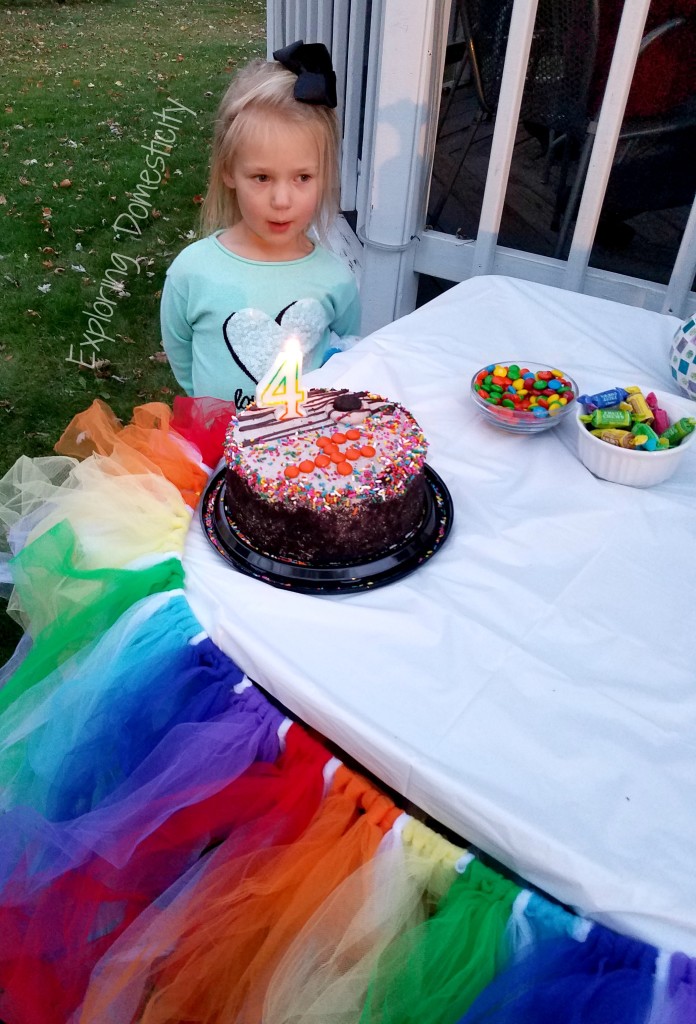 A rainbow tutu table skirt is so much fun! The table skirt we used came with a ribbon to tie and double-sided tape and could be adjusted to the table size. It could also be used around a high chair or as a photo backdrop.
A bright and colorful banner is always nice – this banner is thick and strong with bright rainbow colors. We leave these Tibetan Prayer Flags up in our gazebo all year long, but they are a pretty touch for outdoor decor. Other decorations I think really stand out are a rainbow bunting, vibrant rainbow colored lanterns, a colorful fringe curtain for a backdrop, or just a huge pack of multi-colored balloons.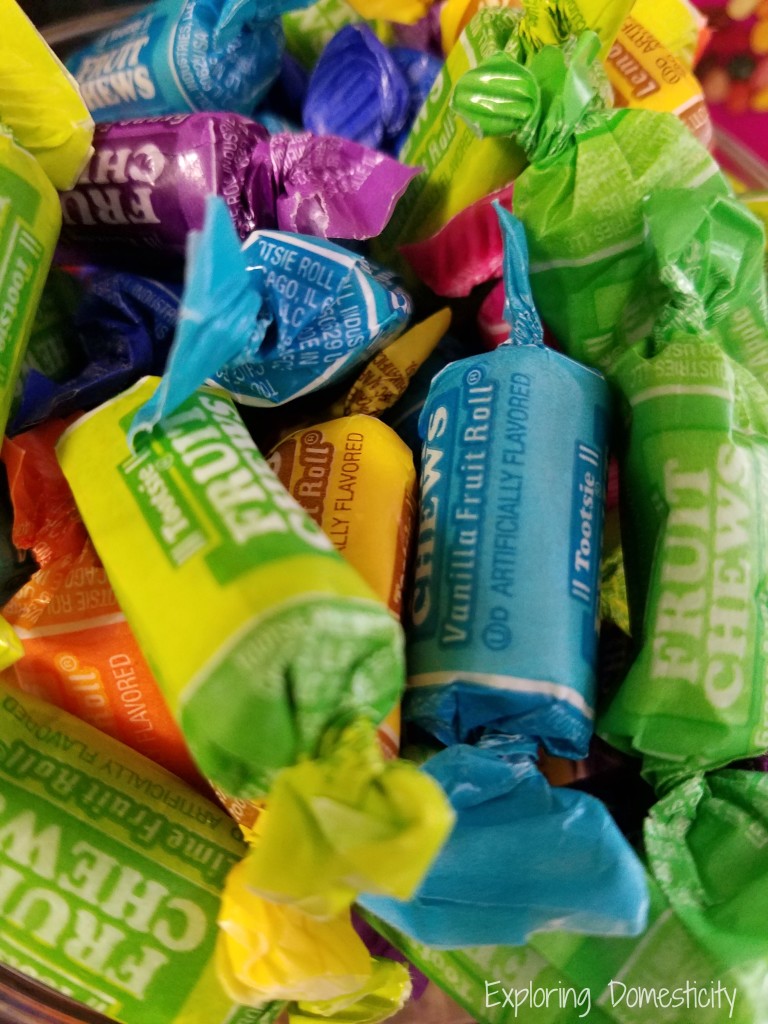 A rainbow birthday party is one of the easiest ideas out there because you can do it so many ways. You can find rainbow decorations pretty easily and you can always pull together a bunch of primary colors to create the rainbow. Better yet, put it all on a clean, white background and let your party food stand out and bring the color.
What is your favorite party theme you've ever done?
Do you have any rainbow party food or decoration ideas?

More Like This