Our little guy has been in this Route 66 Bedroom for almost 6 months now, and I still think it is so adorable.
For a little boy who is into cars, this is a timeless way to decorate that will take quite a while to outgrow. There are so many fun Route 66 decor items. It's also easy to add some easy personalized touches with the headboard, shelves, hooks, and curtain ties – anyone could do it.

This post contains affiliate links. If you choose to click on the links and make a purchase, this site will receive a small commission with no affect on your purchase price. Thank you!
When we first found our house in 2009, my husband and I weren't even engaged yet. I knew the teeny closets and one bathroom would need a creative solution. At the time, it made perfect sense to turn the smallest bathroom into a closet and dressing room.
It was great!
My husband used the small closet in that bedroom, I used poles around the two walls, we shared dressers in the center (and later a dresser and desk, that didn't work out…), and I had a vanity so I didn't have to use the one and only bathroom as often.
It all worked out so well.
However, after getting married in 2010, having our little guy in 2011, and our little lady in 2012, the little ones started to grow and each needed their own space. We sealed off the pass through in the closet, my husband took the closet in our room, I moved my closet, desk and vanity to the basement bedroom, and our little guy got the most adorable Route 66 Bedroom.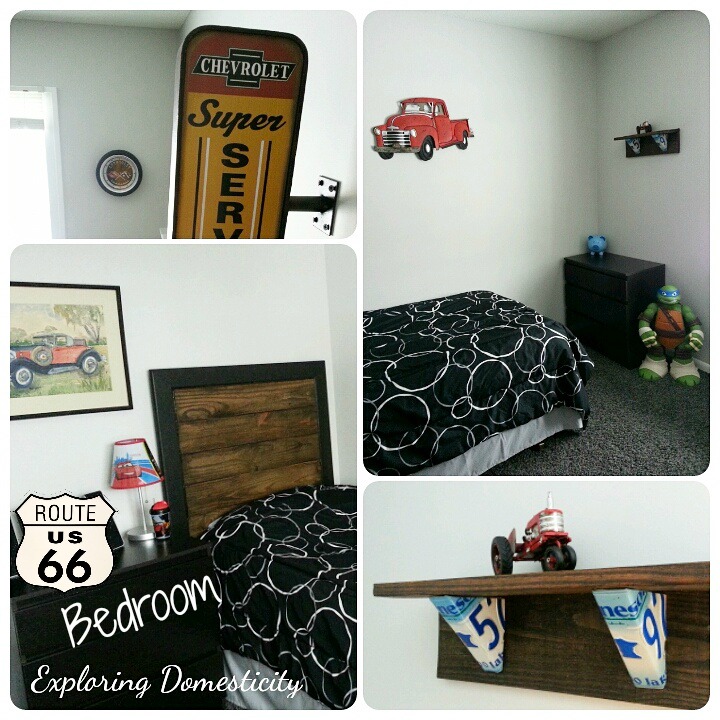 Route 66 Bedroom
The Route 66 bedroom theme is perfect for a little boy. It's not a juvenile car themed room so it will be a while before he grows out of it.
The room is pretty basic, with grey walls and carpet and, but the finishing touches are what make it really cute and special.
We were lucky enough to find most of the cute decor items at Hobby Lobby. The rest we made ourselves with some plain boards and a great stain.
Route 66 Bedroom Rustic Headboard
One of the things that is very timeless, but also a good fit with the vintage Route 66 theme, is rustic wood pieces with a great stain.
A simple headboard with stained boards and a border of thick trim looks great in this room. With a few boards, some trim, and a nice stain anyone could make this rustic headboard.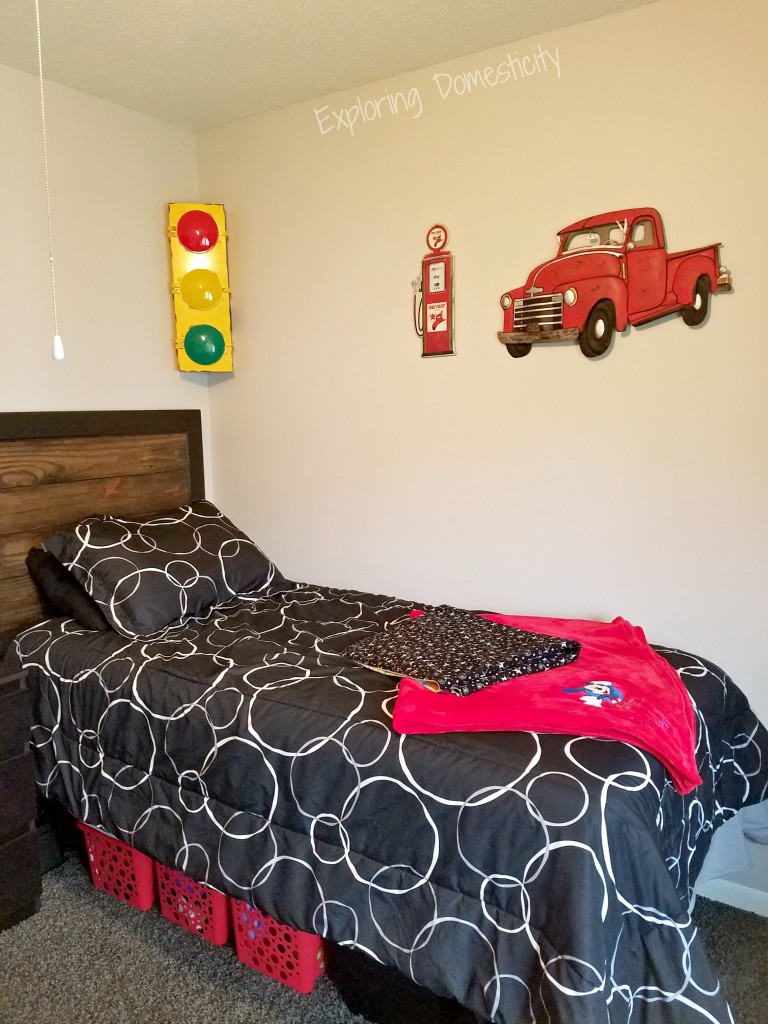 In this corner of the room we have a great stoplight hung in the corner, and it actually turns on and flashes through the lights. (This traffic light looks even more authentic.) We found that along with the metal gas pump sign and the metal old red truck at Hobby Lobby.
Just recently, we also decided he needed a little more space for toys so we raised the bed up on large bed risers. It fits the red storage baskets from the Dollar Tree perfectly.
We have a grey bed skirt on his bed, which I've tucked up for these pictures. I think seeing the buckets may look better than a skirt. Does anyone else use them these days? I think I'm a bit over them. What are your thoughts?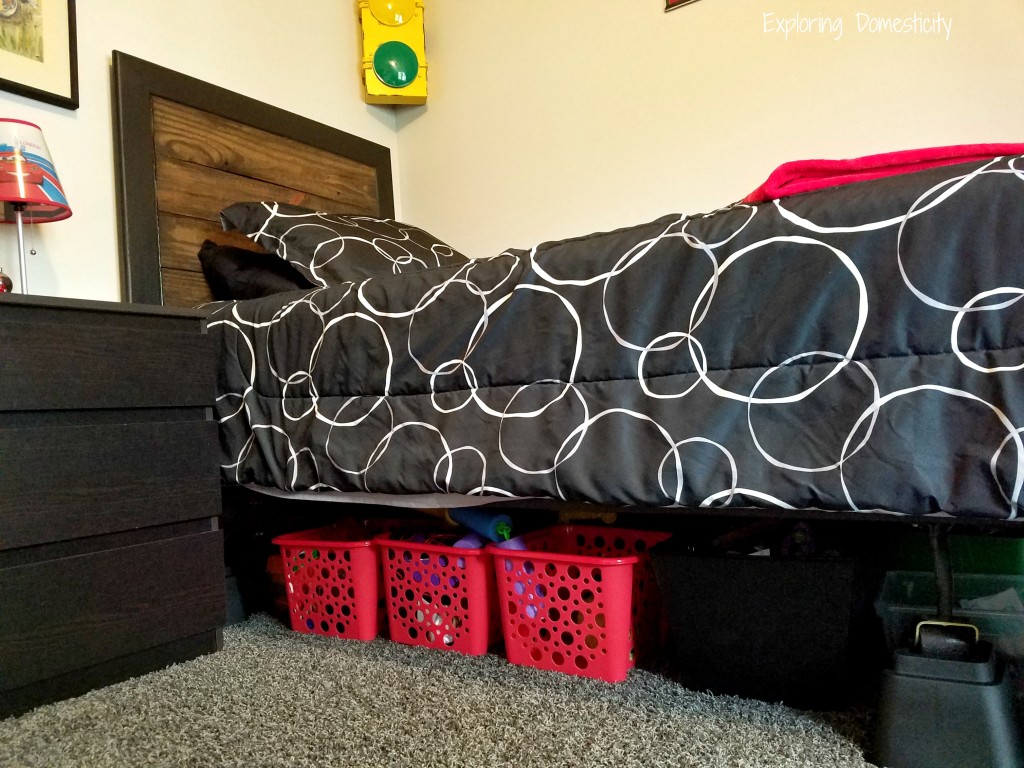 Route 66 Bedroom Hooks and Curtain Ties
Who could resist these adorable ceramic Route 66 knobs?
The are perfect for drawers or closet doors. Since his drawers don't need knobs and we opted for a curtain over a closet door, these knobs were turned into more creative projects.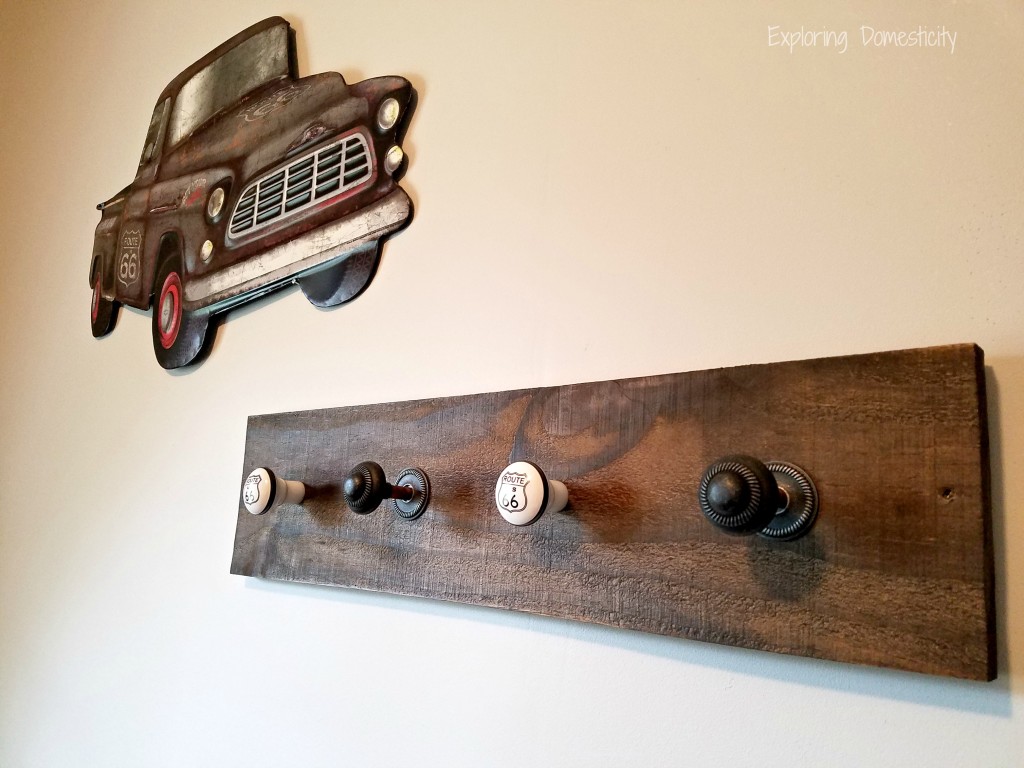 With just a small board stained to match the headboard, the ceramic knobs along with others we had, were turned into an adorable place for our little guy to hang clothes.
The knobs came with rather long screws to fit through drawers or doors, so a bit of pvc or metal pipe helped to extend the knobs to fit the screw and allow for easier hanging.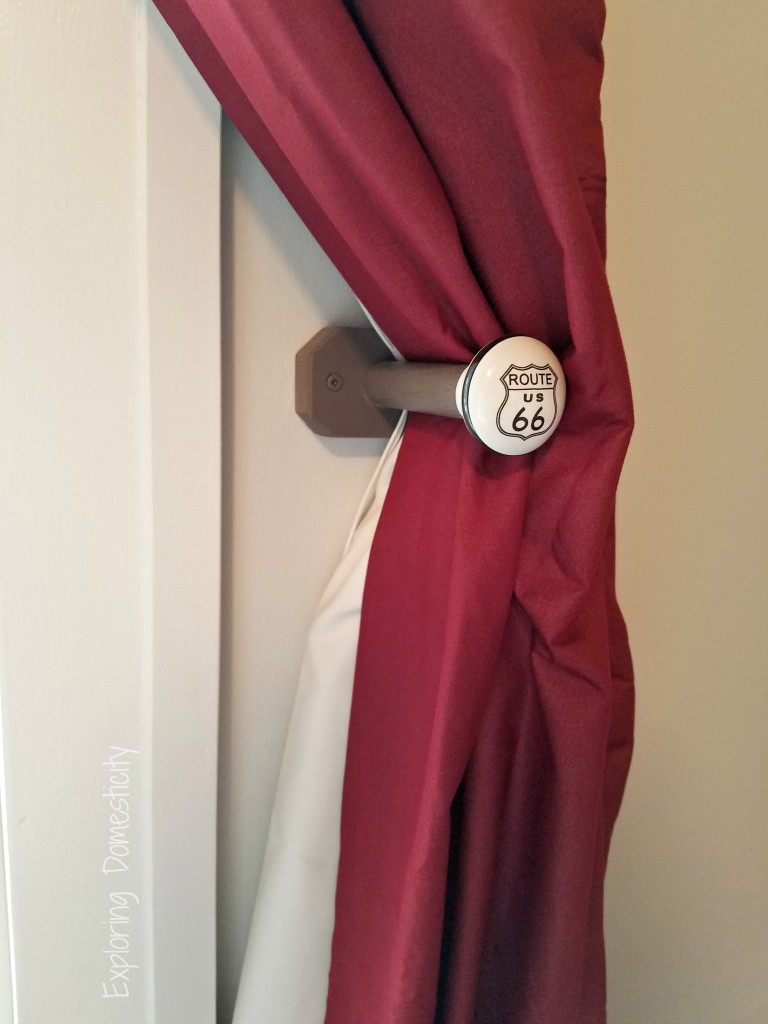 With two other ceramic Route 66 knobs, we added a wooden dowel and small wooden piece to attach to the wall to create these adorable curtain tie backs. They are perfect to hold back the red curtains my little guy insisted on.
Route 66 Bedroom Shelves
The shelves in his room hold all the little boy treasures: grandpa's old bowling trophy, a Mickey Mouse picture from our last vacation, rocks too special to leave behind, and whatever else he happens to come across.
The are very simply made with a top, back, and pieces to brace the two together. However, there is one very special part that makes them stand out. This little boy has a very talented grandpa that is an amazing woodworker, and when he made these shelves we were in for a great surprise.
With old license plates, he covered the brace portions of the shelf. The finished product is adorable, and perfect for all the little boy knick knacks.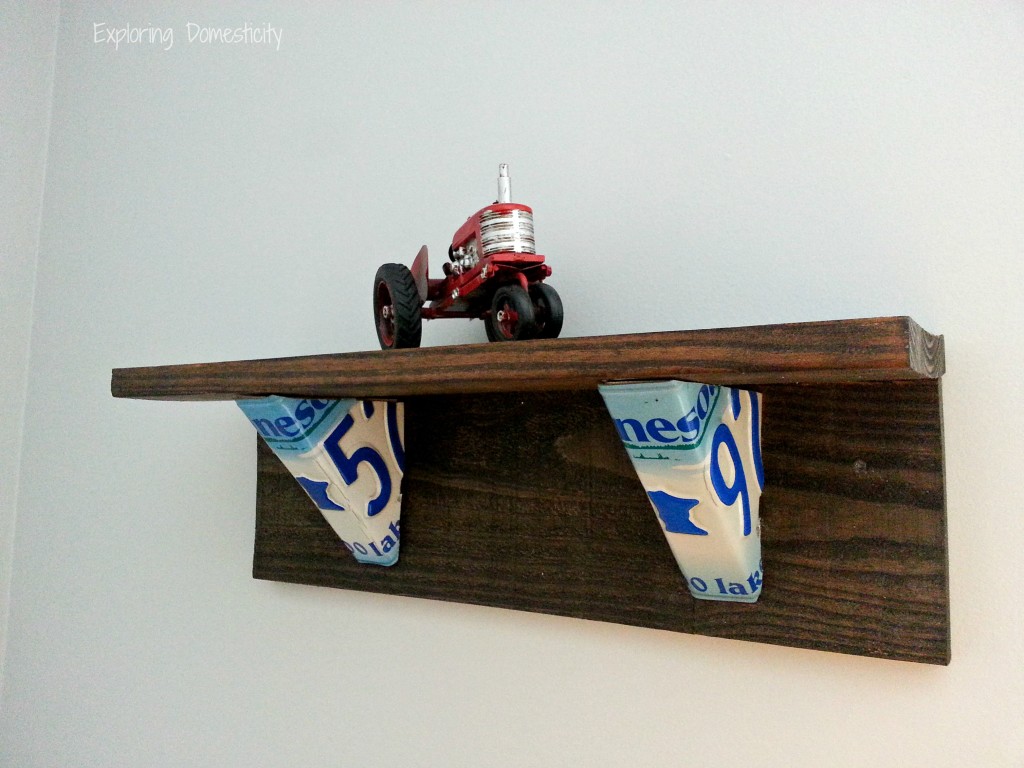 The rustic wood pieces and Route 66 touches, make this a room that this little boy will enjoy for many years.
What is your little one into?
Would you use any of these ideas in a bedroom or somewhere else in your house?

More Like This



Get Ya Some