Green Chef is an amazing service that provides gorgeous, pre-measured ingredients and everything you need to make a delicious gourmet meal. The easy to follow recipes make these tasty meals an ideal gift for busy moms.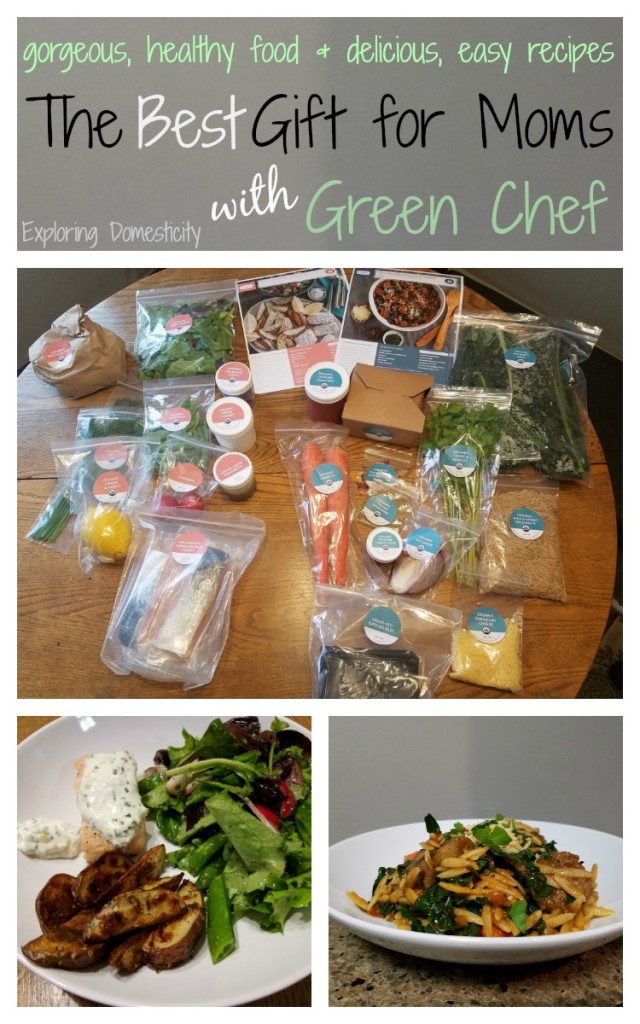 I received this product for free from Moms Meet (momsmeet.com), May Media Group LLC, who received it directly from the manufacturer. As a Moms Meet blogger, I agree to use this product and post my honest opinion on my blog. Also, if you click the links provided and make a purchase, I will receive a contest entry. The opinions posted are my own.
I can't say enough about our experience with Green Chef. Not only did the meals taste amazing, but the ingredients were so beautiful and fresh, the instructions were easy to understand, and the food turned out great!
Green Chef Plans
We ordered the Carnivore Family Package, which includes two meals for four people. There are also options for an Omnivore Family, as well as the 2-Person Plan (3 meals for 2 people) for omnivores, carnivores, gluten-free, paleo, vegan, and vegetarian.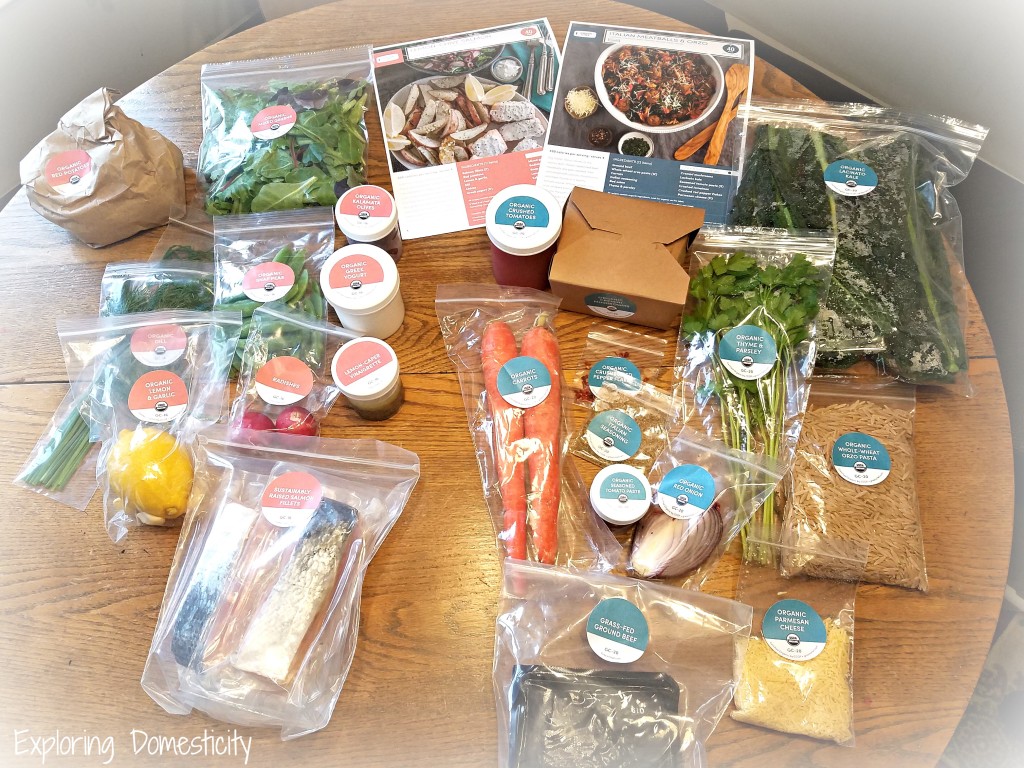 Green Chef Delivery
When the box arrives, it's amazing! I was so excited because the food is gorgeous!
The box arrives with a large amount of natural-looking insulating padding around the sides of the box and a strip of ice packs on the top. On a nice, heavy card stock there is a recipe, and instructions with photos. All ingredients are packaged in plastic bags and containers. They are labeled and color-coded for each recipe. At the bottom of the box is another strip of ice packs.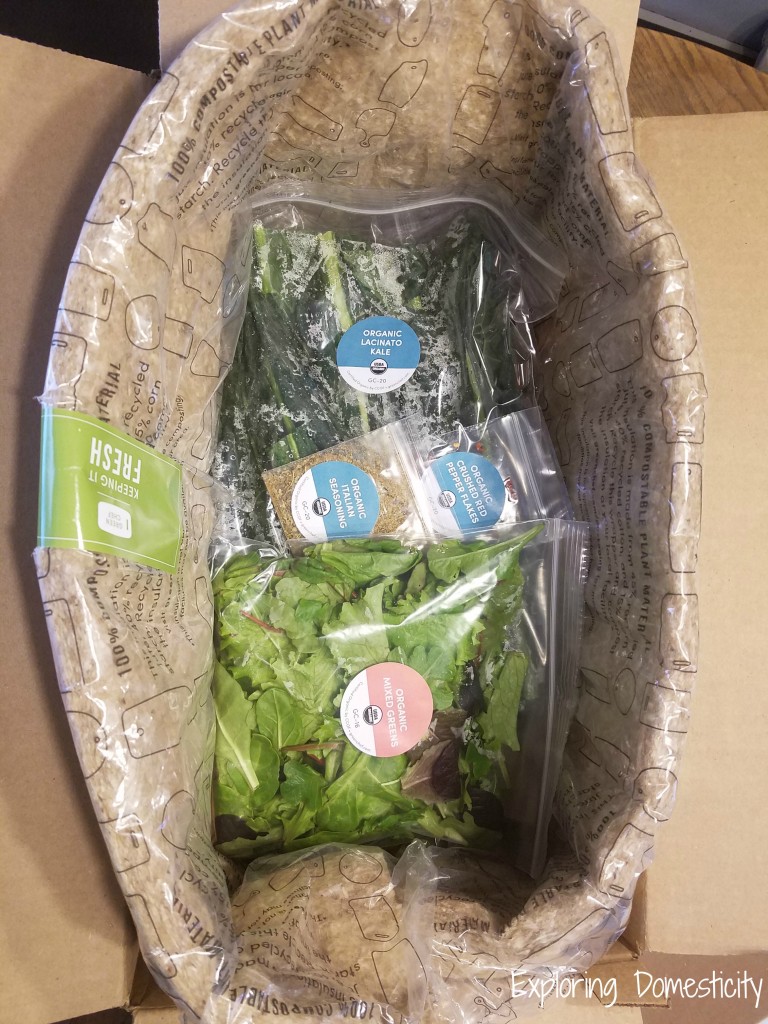 I can't even explain how gorgeous all the ingredients are! The quality of the organic ingredients is so great! I also love that they send just the right amount for the recipe. For instance, the red onion was just 1/4 of the onion in a plastic bag.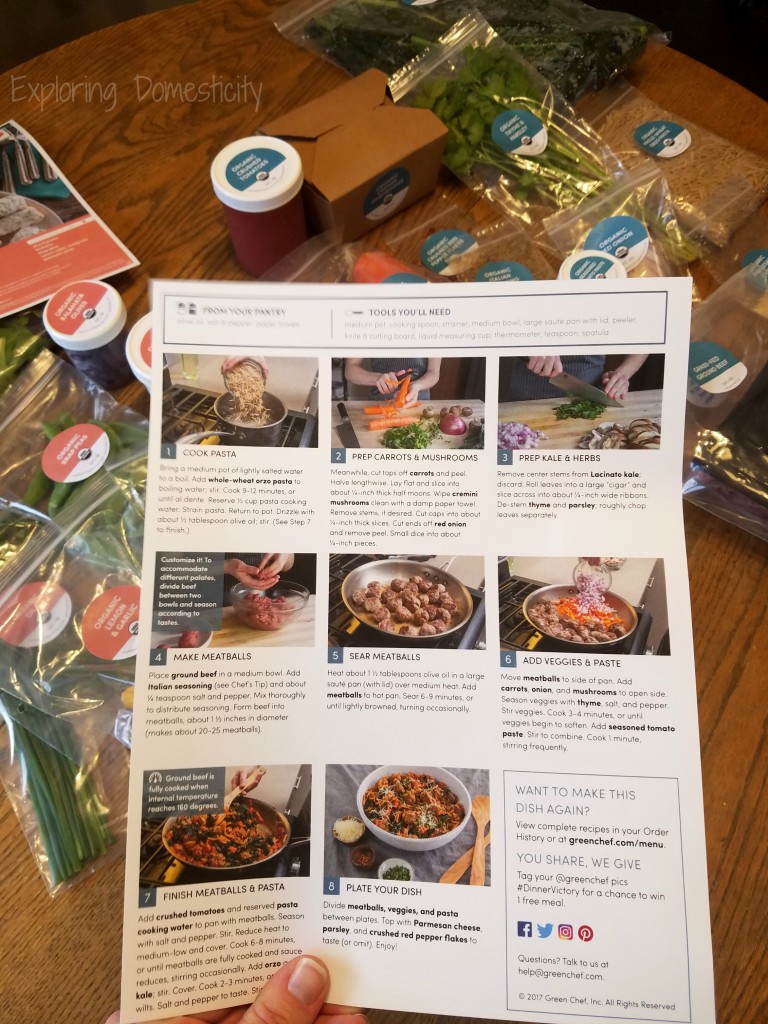 Green Chef Recipes
The recipes are easy to follow and can typically be completely, start to finish, in around 30 minutes. Although, I did find one of the meals took me closer to 45 minutes after all was said and done…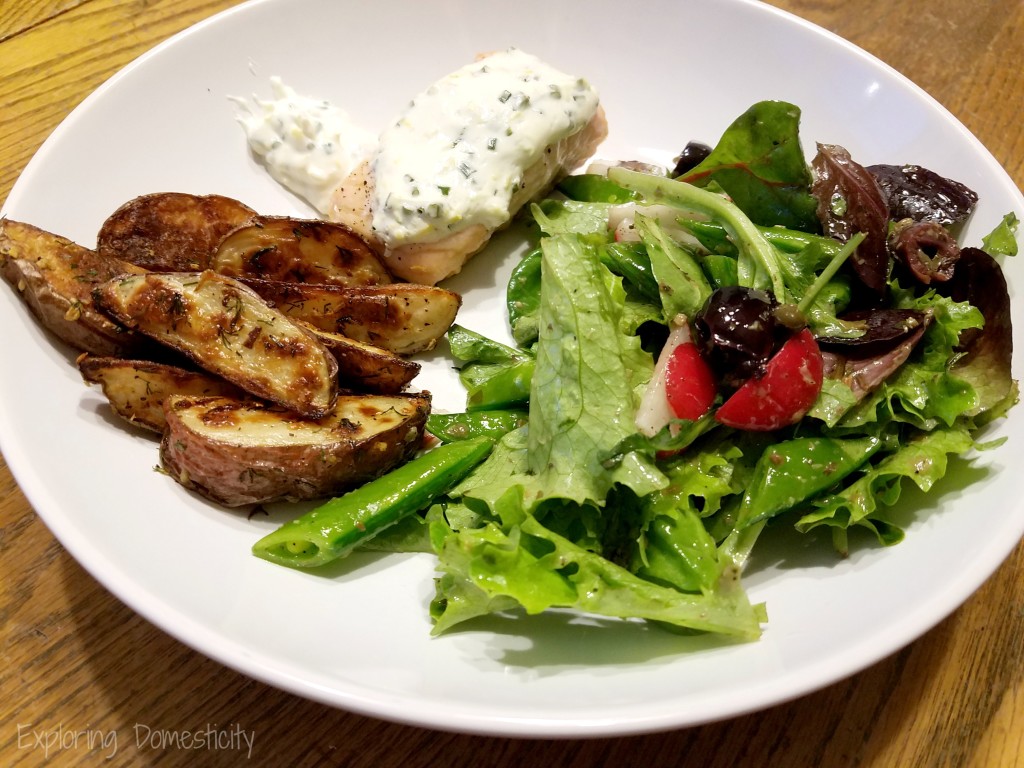 Lemon-Chive Salmon
The first Green Chef recipe we tried was the Lemon-Chive Salmon. I was SO good! We are big salmon lovers, but don't typically purchase it because of the price and my nervousness to make sure I cook it perfectly.
Well, let me tell you, I cooked it exactly as the recipe described and it was perfect!
The step-by-step instructions with photos are really easy to follow. They are even written in the order that seems to make the best sense as far as prep and cooking goes.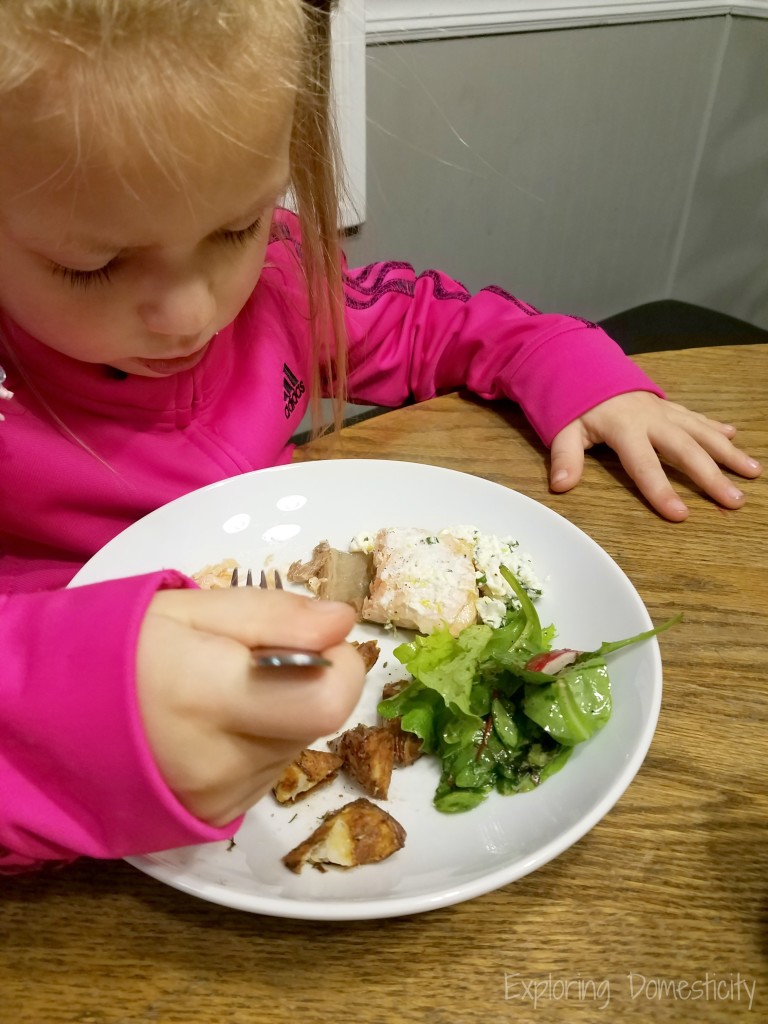 The finished product was completely delicious. Even our 5-year-old loved the salad – that vinaigrette is delicious! I would suggest using a bit less than half of the greek yogurt sauce on the salmon if you're not sure your family will like it. The kids scraped it off, but I thought it was delicious.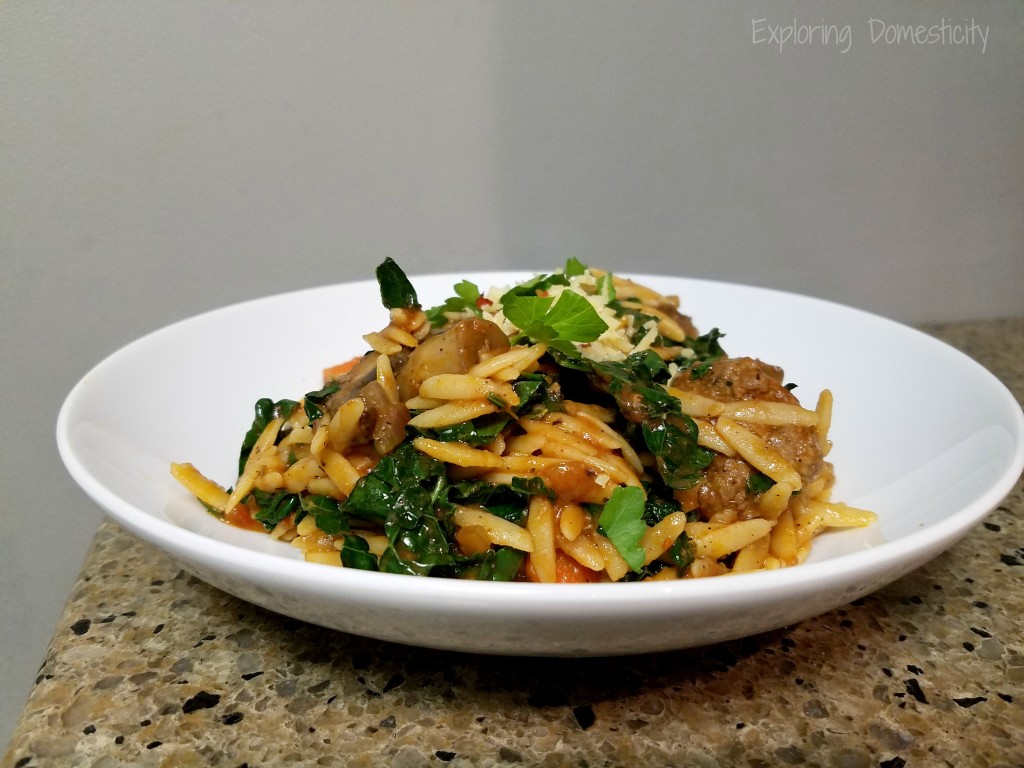 Italian Meatballs and Orzo
The Green Chef recipe for Italian Meatballs and Orzo is delicious! I found it a little more difficult to time as correctly as the previous recipe, but it turned out great!
The first step is to cook the orzo, and prep some of the veggies while it is cooking. I would start chopping some veggies before starting to cook the orzo, because it did sit around for quite a while waiting for me to finish the rest. I also felt a bit rushed when forming the meatballs and cooking the vegetables.
Even if it took a little bit longer, the instructions are easy to follow, and this recipe is delicious!! I couldn't believe how tasty it was!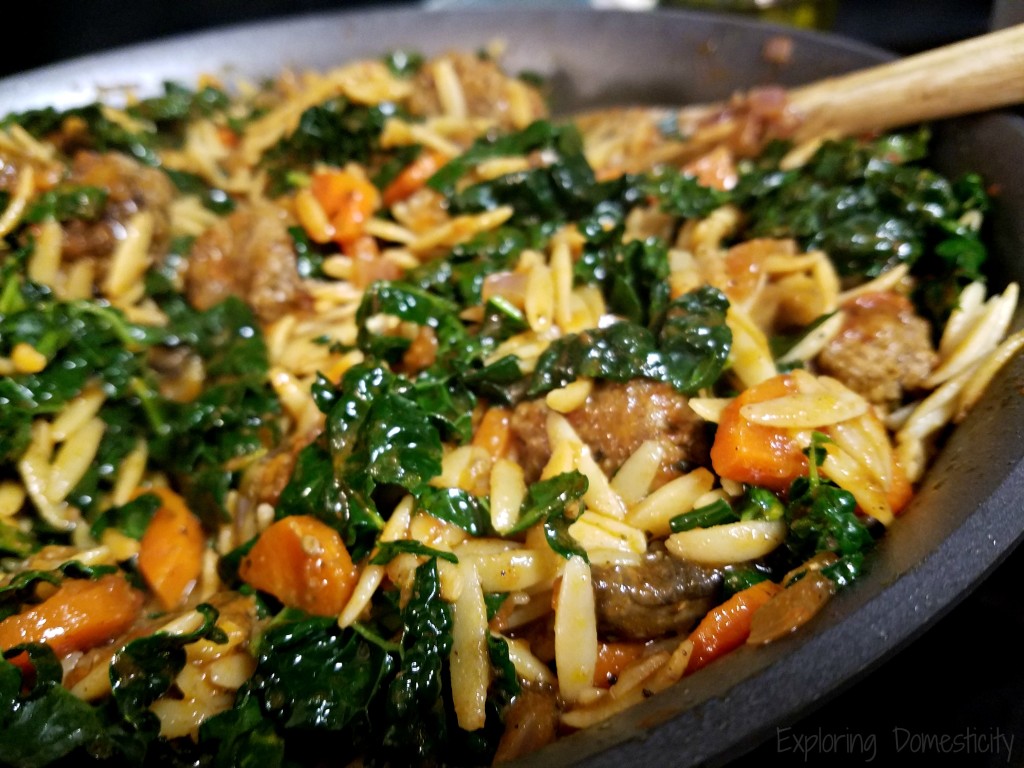 I can't recommend Green Chef enough! The packaged ingredients as so fresh and amazing, the recipes are easy to follow, and the dinners are so delicious! I can't wait to try other recipes!
Our family enjoyed Green Chef so much! The organic ingredients were absolutely gorgeous and so fresh, the recipes were amazing, and it was so nice to have everything taken care of and make a impressive meal for my family. This is something any busy mom would be thrilled to have. I can't praise it enough!

More Like This