Looking for an unique family-friendly vacation full of things to do? Sioux Falls, South Dakota has it all!
There are many reasons why you should plan a family getaway to Sioux Falls, the "Heart of America." We're sharing all of our favorite family-friendly activities and attractions we can't wait to see!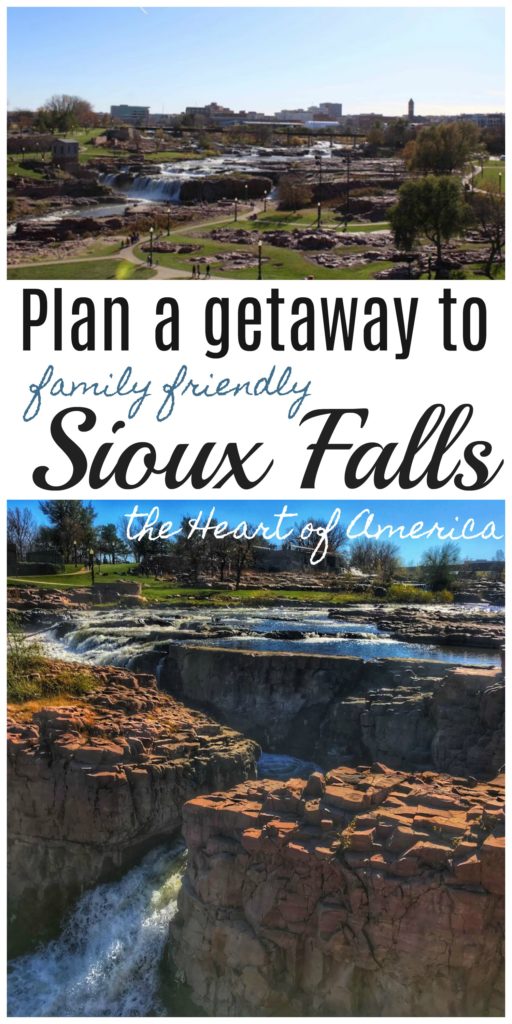 We are always looking for fun travel destinations.
It's an added bonus when those destinations are within driving distance. It makes for a fun and affordable trip that doesn't have to take a lot of planning and worry.
After our latest trip to Mackinac Island, Michigan, I realized how amazing these short vacations are for our family.
There is simply no better way to connect as a family and make memories than getting away from your day-to-day lives. Exploring a new area has a way of bringing everyone together. It's also amazing what the kids remember from these trips and how much they learn.
Sioux Falls – the Heart of America
I recently learned about what an amazing travel destination Sioux Falls, SD is for families. There is so much to do there!
Sioux Falls is known for being welcoming and affordable, and for providing tourists with a variety of activities that are easy to get to.
For our family in Minnesota, this is a great destination because it's a manageable road trip.
Not that we're strangers to road trips since we started when the kiddos were 1-month and 1-year with a trip to Florida. However, this is one my husband may actually join us for. He's not a fan of road trips, but I think all the activities in Sioux Falls will change his mind.
Sioux Falls was recently recognized as one of the top cheapest road trip destinations. You know that speaks right to this thrifty lady's heart!
What to do in Sioux Falls
There are so many places to visit in Sioux Falls! I want to talk about them all, but it would be a bit overwhelming.
Let me just say, there is plenty to do!
Your family will never run out of parks to visit, attractions to see, restaurants to eat at, or things to explore.
Restaurants and Shopping
I have to be honest… one of the things I look forward to the most at a new vacation spot is the shopping!
Now, I don't necessarily buy much – or anything at all sometimes – but I looove to look around the shops. A trip is not complete without some time browsing the local art, gifts, and culture.
Sioux Falls has plenty of shop to explore, so it's the place for me.
Also, what would a vacation be without some fantastic eats? Sioux Falls boasts some great restaurants that I can't wait to check out. It looks like there are so many places to choose from, so there shouldn't be any trouble finding a good one.
From all the photos I've seen, you could spend hours browsing the shopping, munching in the restaurants, and gawking over the gorgeous artwork in Sioux Falls.
USS South Dakota Battleship Memorial
For a bit of history and a chance to give the kiddos a bit of hands-on learning, the U.S.S. South Dakota Battleship Memorial is a must-see in Sioux Falls.
The U.S.S. South Dakota was the most decorated battleship of World War II. It fought in every major naval battle in the Pacific from 1942-1945.
The memorial is open May through September. This, along with Veteran's Memorial Park, will be something your family will remember, and your kiddos will come away with a valuable learning experience.
Sioux Falls Parks
Good Earth State Park is South Dakota's newest state park. It looks gorgeous! It is also one of many parks your family can visit in or around Sioux Falls.
In addition to traditional parks, your family will love the Great Bear Recreation park for skiing, snowboarding, tubing, and snowshoeing.
For even more excitement in the summer, the Wild Water West Water Park has all sorts of wet and wild thrills. Another pool and aquatic center is located at Terrace Park, which also has picnic shelters, a bandshell for concerts, and sports fields.
You could spend your whole trip just visiting the parks alone!
Falls Park
The most exciting thing to see is the city's namesake – the falls at Falls Park.
This is what I'm looking forward to the most. The gorgeous views from every angle – stunning! I think I could spend a whole day at Falls Park.
The park covers 123 acres. An average of 7,400 gallons of water drop 100 feet over the course of the Falls each second.
See these amazing falls and some of the first buildings built in Sioux Falls.  This video is breathtaking. I can't even imagine what it will be like in person.

video courtesy of Day Tripper
Win a trip to Sioux Falls, SD!
You can bet I'm entering! This is the perfect vacation spot for our MN family. Not too far and so many family-oriented activities.
It's perfect!
Have you ever visited Sioux Falls?
What do you love the most about short trips as a family?
More Like This