Two favorites in one! Potato salad stuffed inside a hard boiled egg to make Potato Salad Stuffed Deviled Eggs. Quick and easy party food or a delicious snack!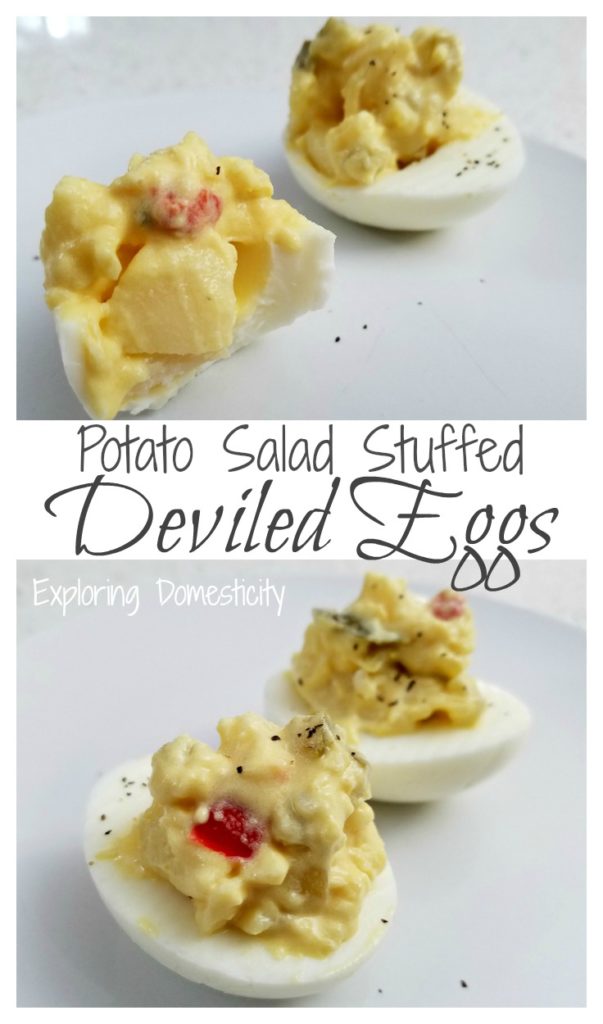 This post may contain affiliate links. We hope you find them helpful. Happy shopping!
My mom makes the most amazing Potato Salad.
It's largely in part to it being a cross between potato salad and egg salad. I have never made it myself, but I vow to get that recipe and share it with you. I swear you've never had a better potato salad!
Recently, my husband bought some Mustard Potato Salad from the store. It was good with our grilled brats, but I always find myself wishing for my mom's potato salad… It's just not as good without all the yummy hard boiled eggs.
Just today, I was about to add a bit of that leftover potato salad to my plate when I considered chopping up some of our hard boiled eggs. Then, I knew EXACTLY what I wanted to do with it…

Potato Salad Stuffed Deviled Eggs
We almost always have hard boiled eggs in the fridge. The kids love them, so we make large batches of perfect hard boiled eggs at one time. We always have them handy in our favorite egg containers.
I made some just the other day, so I had the perfect chance to add the egg our store-bought potato salad needs. As I said, I considered chopping them up and adding to the potato salad.
However, I figured a much easier way to get all the delicious egg I want with less mess is to just stuff them with the potato salad. How easy!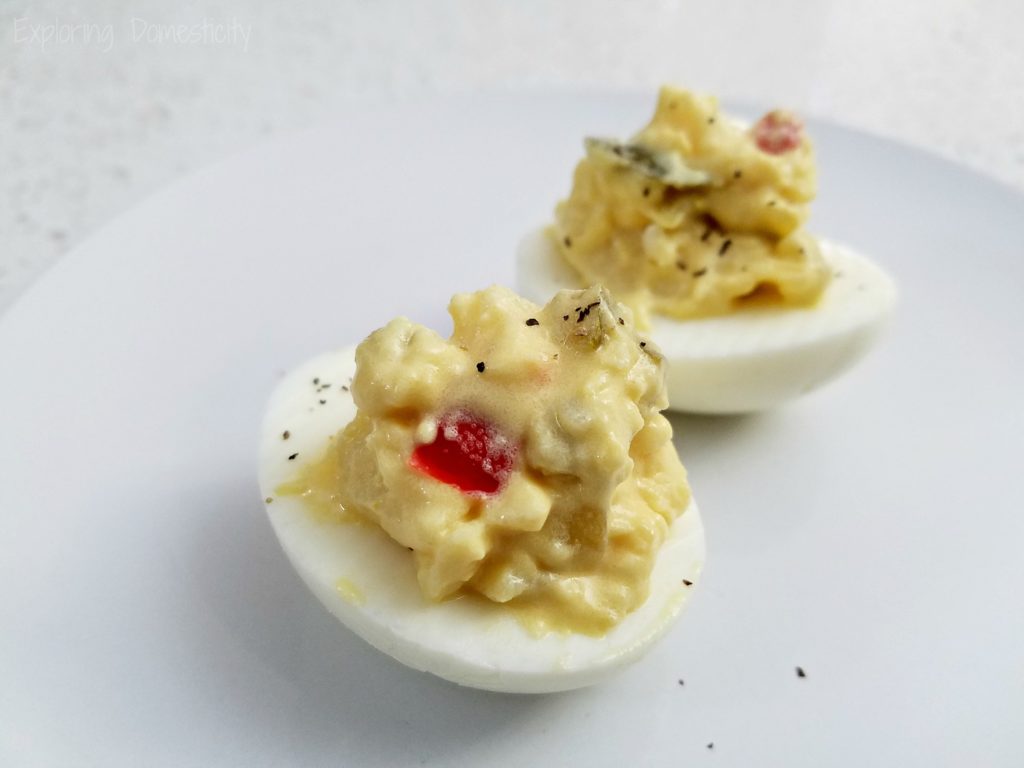 You can use the store-bought potato salad like we had on hand. Or, I rounded up a couple potato salad recipes I found from Pinterest. They all look pretty delicious.
Potato Salad Recipes
Potato Salad Recipes with Eggs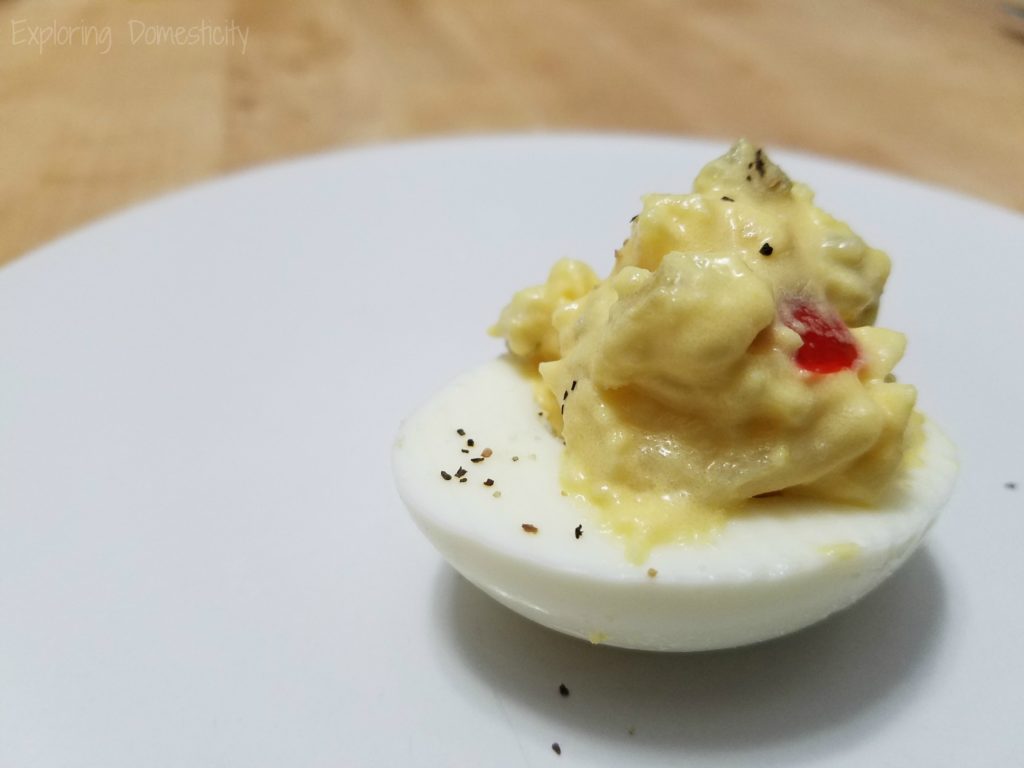 Combine for Potato Salad Stuffed Deviled Eggs
It's so easy, but will be the perfect snack or total crowd pleaser at a party!  They are as easy as scooping the potato salad into the egg!
Imagine being able to eat your potato salad with your hands! Perfect for a party!
If you are making your own potato salad, feel free to add those yolks right in. I like to remove them and set them aside for my husband and stuff the halved egg whites.
It's traditionally to stop deviled eggs with a bit of paprika. However, I like to add a simple sprinkle of black pepper to mine. Maybe I'll go for the paprika when these are served at a party.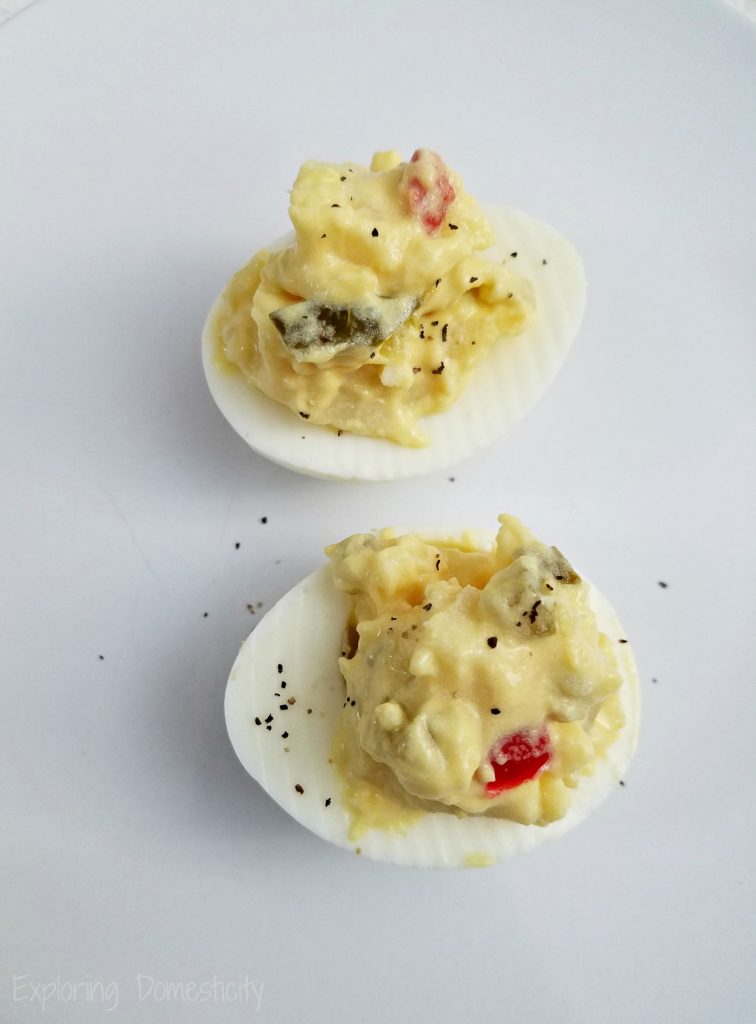 This couldn't be easier, but isn't that the best for a crowd? If you're pressed for time, but you want to impress, this is perfect. Grab some potato salad from the store, hard boil some eggs, stuff, and make it look beautiful on a serving dish.
That sounds like my kind of party or potluck food!
Tell me how you make your potato salad.
With eggs or without?

Products for Potato Salad Stuffed Deviled Eggs