If you've followed me on Instagram or ever come across one of my salad pictures, you may have noticed they always contain the same go-to toppings.  The first is toasted flax seeds and the second is Hemp Hearts.  I just don't make a salad without them!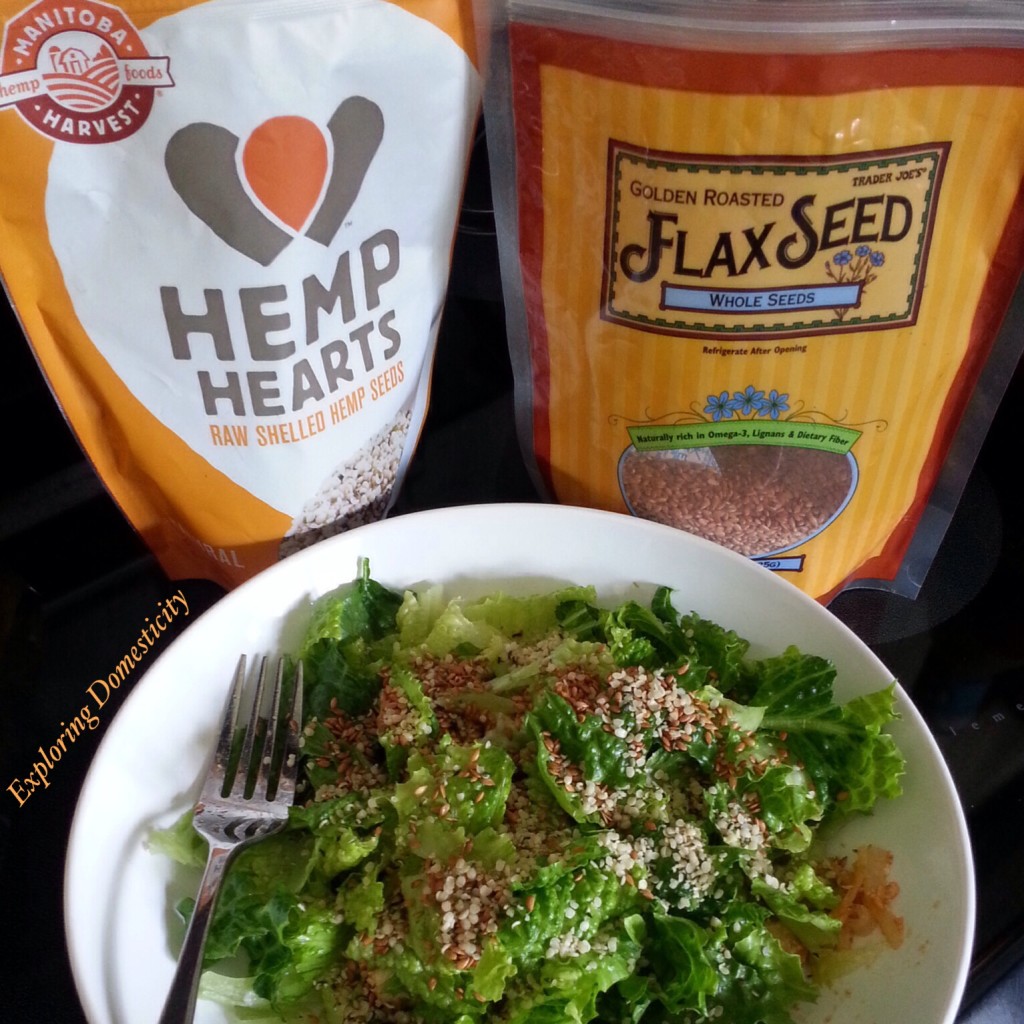 I tried Hemp Hearts on a whim about six months ago.  I had some money to spend at the Kiwi Store online and decided to give Manitoba Harvest Hemp Hearts a whirl.  Such a great decision!
They are delicious and nutty and I'm having so much fun experimenting with them.  My go-to is salads, but I've also made a couple other treats with them.
I love the nutty bit of crunch they added to my Chocolate Caramel Protein Bites.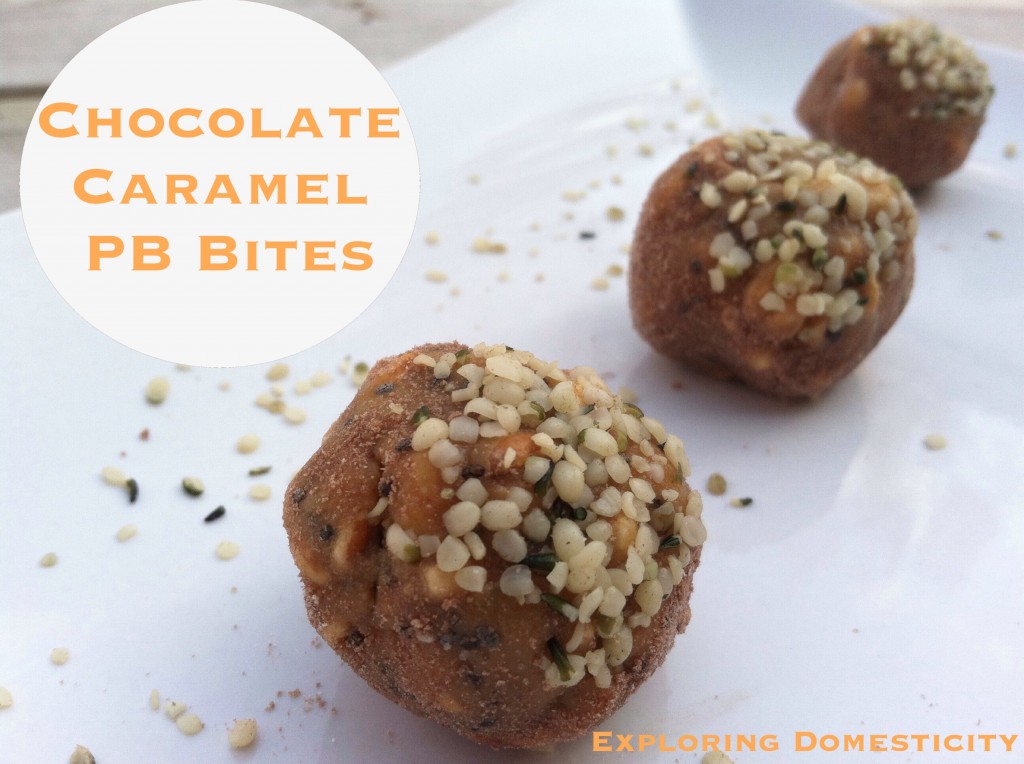 I also had too much fun making a snack to satisfy my sweet tooth with dates, a tiny bit of peanut butter, half a banana slice and as many hemp hearts as I could get to stick!  Yum!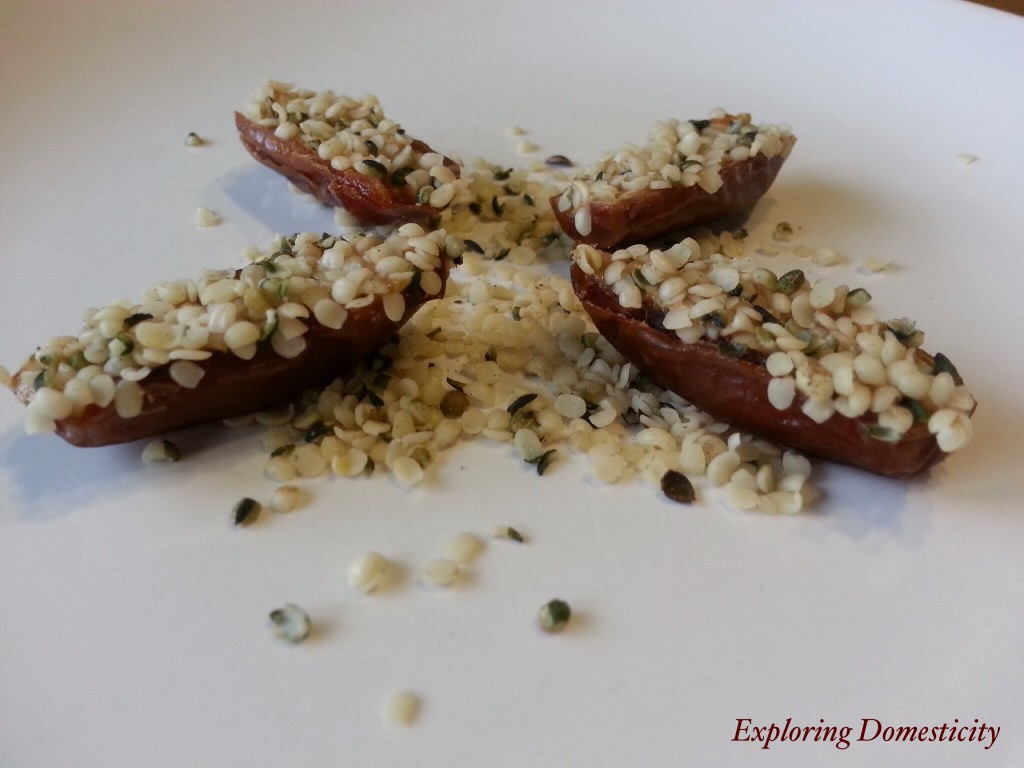 Now, my husband has been working 7 days a week lately, which means this Momma has also been working 7 days a week (but, really, what's the difference…), or you would be seeing all sorts of help heart concoctions!
Wednesday night our meal plan is for a Tomato Basil Soup from Frontier Soups and I can't wait to add some hemp hearts to that – delicious! Also, I was just kicking myself for not taking the time to try some hemp heart chicken nuggets the other night while I was cooking up more than two chickens!
Luckily, while cruising the Manitoba Harvest website I found that I am not the first genius to come up with these ideas and you can find some great recipes for soups, entrees, and more!
So, besides the facts that they taste great, why should YOU be adding them to your own recipes???
Fast Facts About Hemp Hearts
Hemp Hearts contain 10 grams of protein per 30 gram serving
Hemp Hearts are a complete vegetarian protein
Hemp Hearts contain 10 grams of Omegas per 30 gram serving
Hemp Hearts are a raw, whole food
Hemp Hearts are delicious!
Ok, so I don't even want to tell you about this one, but…
There is a contest going to win a 5lb bag of Hemp Hearts from Manitoba Harvest! If I can get my stuff together – not too likely because tonight is my Little Lady's 2nd Birthday and we leave for Florida in a couple weeks – I will definitely be trying to win that awesome prize! Just tag your photos of your Manitoba Harvest Hemp Heart recipes with #sweatpink @manitobaharvest #hemphearts on Twitter or Instagram by November 30th and you'll be entered to win!
If you don't have any hemp hearts to create a recipe, use the code HHSweatPink14 for 20% off anything on manitobaharvest.com until November 30th, 2014.

Have you tried Hemp Hearts?
How would you use them?