One of the best things about the Art of Animation Resort is The Big Blue Pool and exploring the amazing decor at Cars Suites, Nemo Suites, Lion King Suites, and Little Mermaid rooms. We spent one of the days at during our stay at Walt Disney World exploring the Art of Animation Resort and swimming at The Big Blue Pool.
We took a lot of pictures around the resort, and even made a unique (and fun!) souvenir for ourselves. With one of the colorful and fun pictures, we made a personalized puzzle from our vacation and had so much fun putting it together! Stick around to the end of the post for the Piczzle Giveaway so you can win your own!!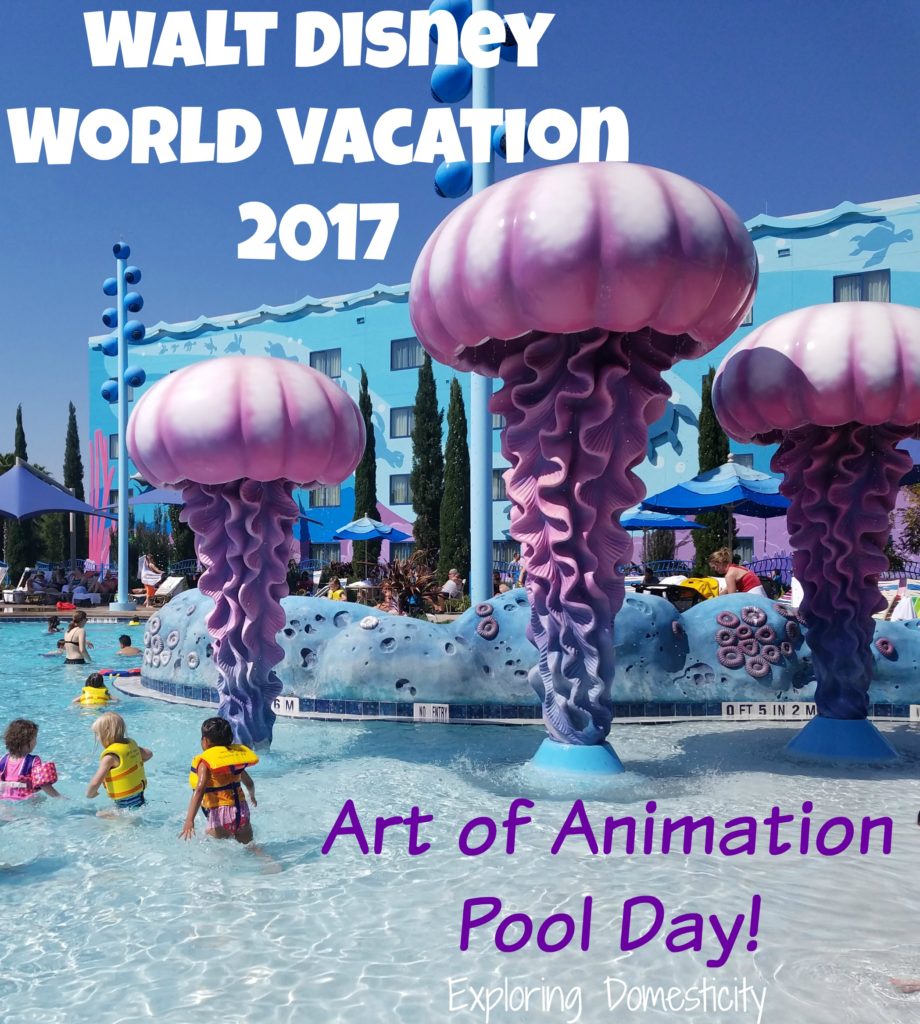 This post contains affiliate links that we hope will be useful to you. We were also provided with a Piczzle puzzle to facilitate our review and one to give away to one of you!
I kept a daily play-by-play while we were in Walt Disney World, and I'm going to share it bit-by-bit each week. We stayed at the Art of Animation Resort, in the Cars Family Suites, and visited Disney Springs, had dinner at O'hana, and had a great day at the Magic Kingdom. We visit Walt Disney World each year and, for that reason, we like to take it slow, relax, and enjoy ourselves instead of stressing to fit it all in. I'd say we get a pretty fantastic vacation balanced with fun and relaxation.
WDW Day 3: Art of Animation Pool Day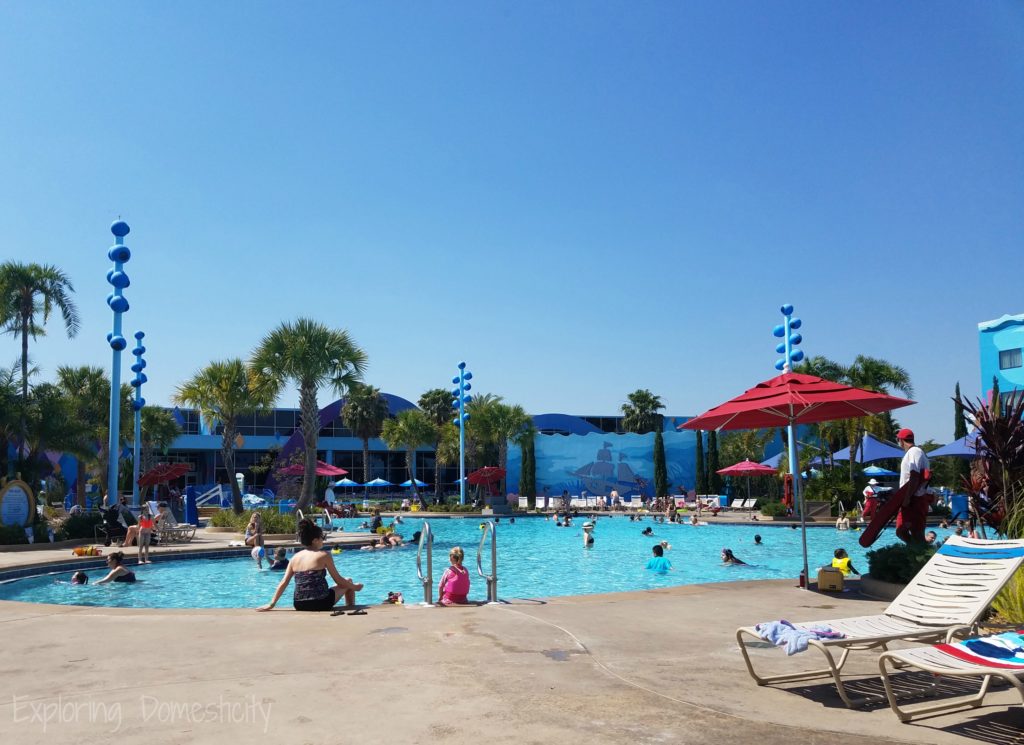 Crazy story!
It's a very small world, and for some reason, the chances of seeing someone you know at Disney World seem to be very high…
I know a lot of people do Disney fast and furious and have everything planned out. We are not those kind of travelers. True, the more days you go to the park, the more you save. However, there's something to be said for taking it easy and not getting burnt out on keeping up a schedule, or crabby kids. So, I think we totally save more in the way of our sanity.
We decided to make today a relaxing pool day. The pools typically open at 10am, so we got out just after 9 and decided to take a walk around the resort. We walked from the Cars, past Nemo, through Lion King, down to The Little Mermaid and around the side of the lake.
In bad blogger style, but present mommy style, I didn't take pictures of the other resorts… As we walked, I left the phone in my beach bag and just enjoyed time with the kids, so the photos are not my own.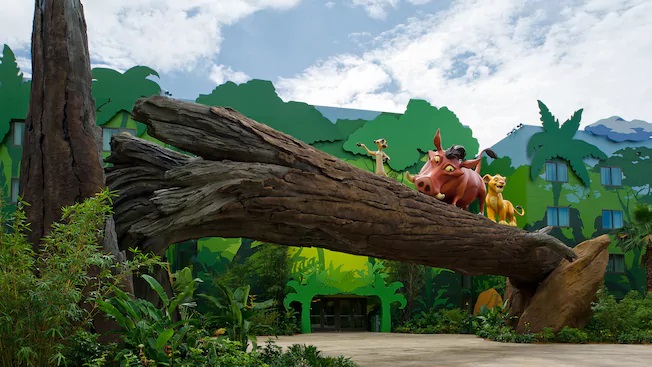 Art of Animation Resort: Lion King Family Suites
The Lion King area is so cute and full of all the big characters. First, there is Rafiki and behind him Simba (or Mufasa, I don't really know) on Pride Rock. Next you'll come across Timone, Pumba, and young Simba crossing a giant log reminiscent of the Hakuna Matata scene. There is another area with the hyenas, huge animal bones, and some tunnels to play in. It was being cleaned when we went by, but I bet the kids would love it. As you come to the end of the Lion King area, you pass Scar and Zazu.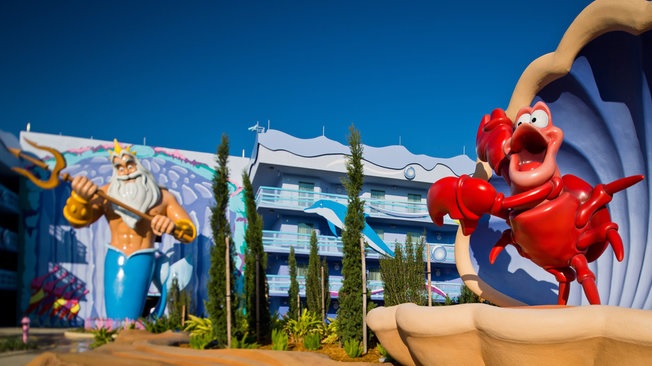 Art of Animation Resort: Little Mermaid
The Little Mermaid part of the resort is the only area with standard rooms as opposed to Family Suites. So, it is set up like the other resorts with an open balcony around the sides and entrances of the rooms. As you follow the path to the hotels, there is large treasure lining the path: a dinglehopper, a snarffblat, treasure chest, and the large statue of Prince Eric. Each main entrance to the buildings greets you with a character, to the right is a HUGE Ursula, to the left a HUGE King Triton, and behind the large pool is a big Ariel and Flounder and to the front of it is Sebastian.
Hourglass Lake
To get back to The Big Blue Pool, we walked alongside Hourglass Lake. It's fun to read the small signs that line the path with interesting facts about the movies. You can also take the bridge over to the Pop Century Resort, or turn toward the main resort pool.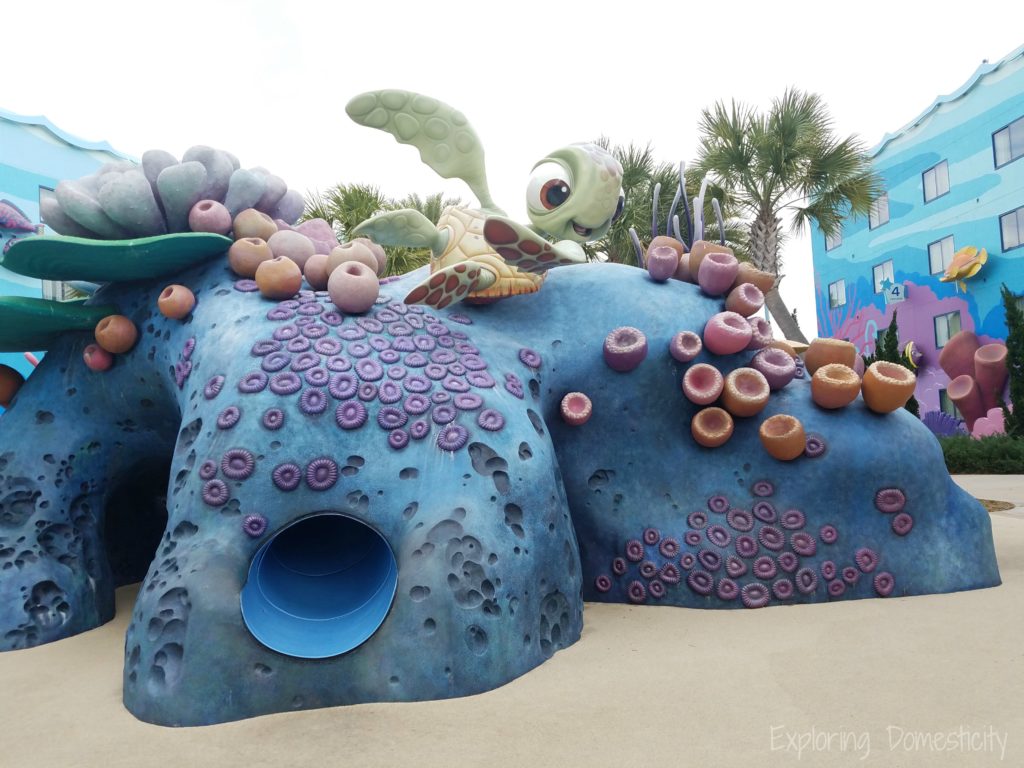 Art of Animation: Nemo Family Suites, playground, and splashpad
There is a cute little fish-themed playground, then a very fun splash pad with a Nemo theme. The splash pad was our kiddos' absolute favorite thing a couple years ago, so they were sad to see it closed this time around. Hopefully, it will open back up before our trip is over.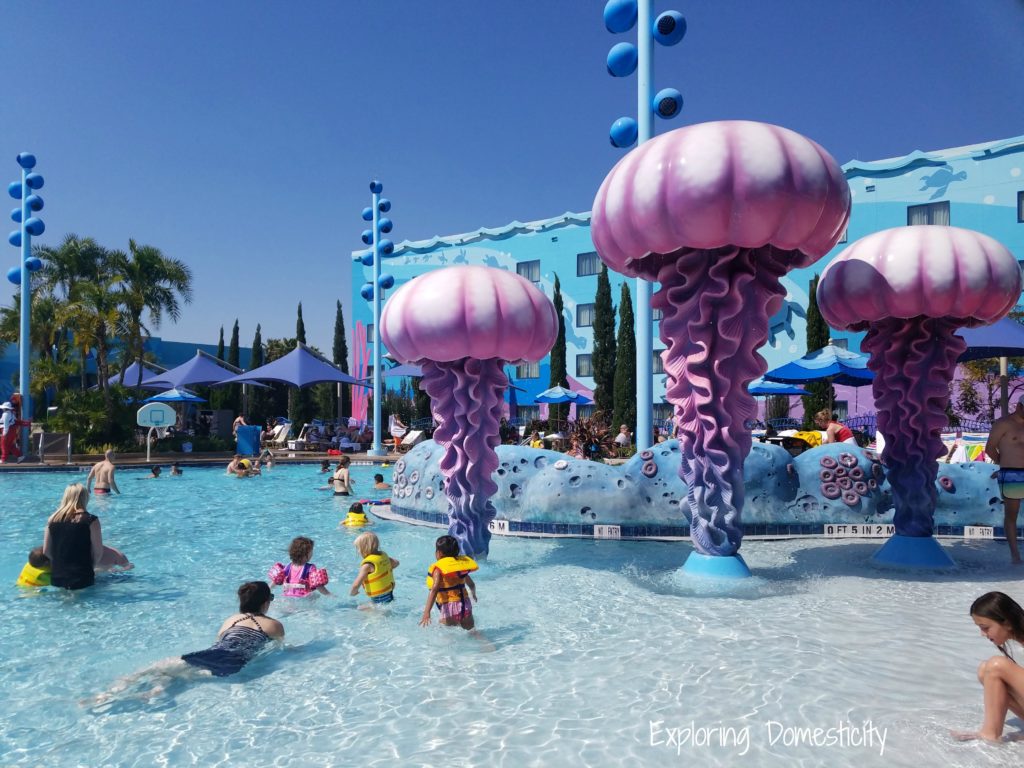 Art of Animation: The Big Blue Pool
Once the pool opened, we grabbed a table and some lounge chairs and settled in for a day by the pool.
…back to that crazy story
As we were unloading our things, I saw a friend from home pass with her family. It's so crazy how you can be so far from home and run into someone that you haven't seen in over a year being in the same state.
She and I used to be co-workers and our kids shared a nanny a couple summers ago. When we got to talking we shared that we had both sold our houses recently and it turns out she bought a house in our town. It turns out they had also put in an offer on the house that we just got!!!
How crazy is that?
Until we discussed it a bit further, I thought they were the ones that we were up against when we made our offer, but they put in an offer a few weeks ago and it wasn't accepted so they pulled their offer and bought a different house. It's just so funny, but I guess I shouldn't be surprised – we worked in the same field, were married on the exact same day, and have so many other similarities.
We chatted off and on and our kiddos got to play with each other for the first time in a while. My daughter asks me all the time when she can play with this little girl – it just took going to Florida to get them together.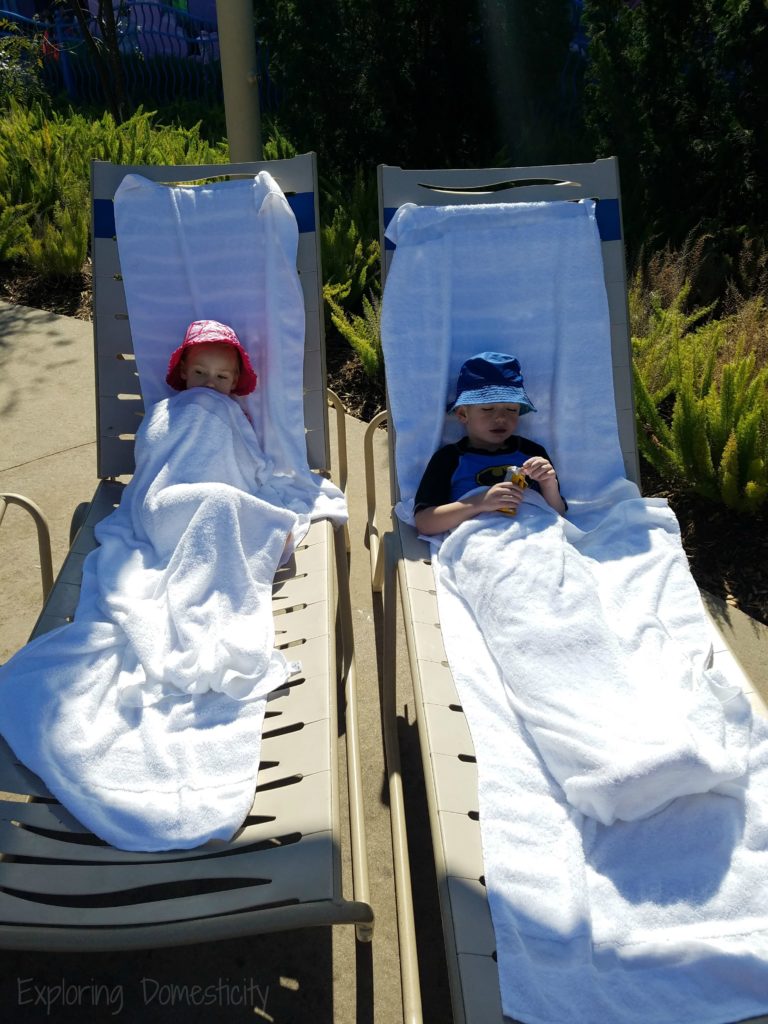 The kids could have stayed in the pool forever. We finally dragged them back to the room around 3:00. We showered off, got comfortable, rested, and had another amazing microwave meal.
I can now highly recommend the Hormel BBQ Pork, Uncle Bens Rice, and Steamfresh peas. I still can't believe you can make such a yummy meal from the microwave.
It's definitely a money-saver to make your own food at Disney!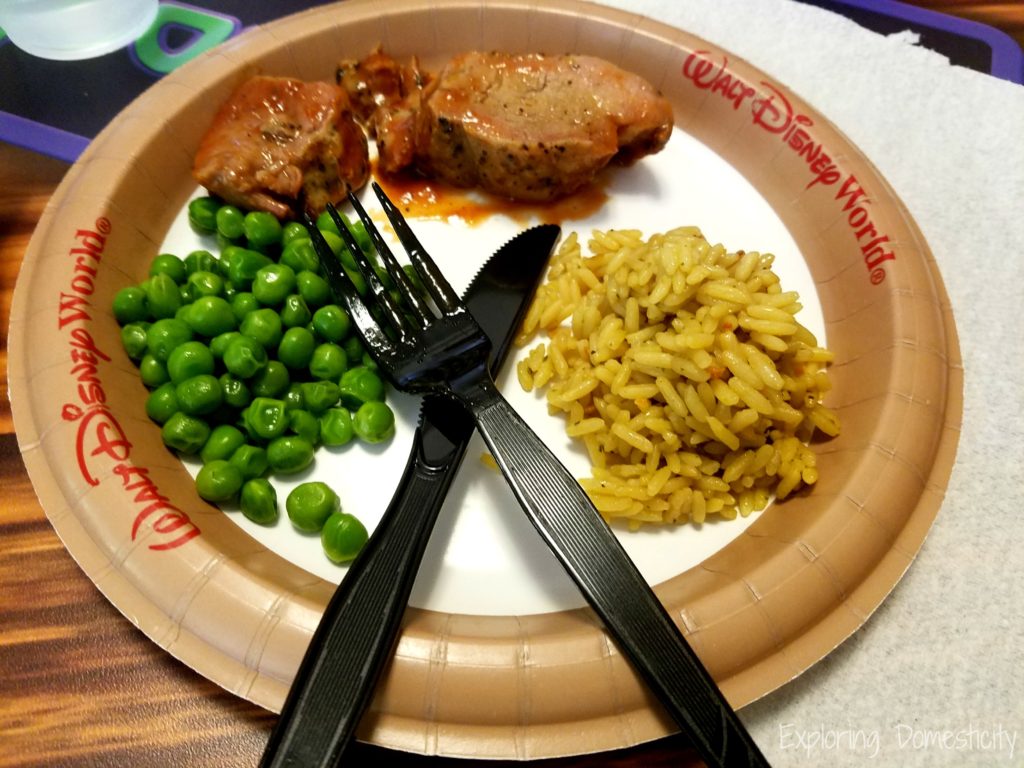 Everyone was tired from the sun and turned in early. We have plans to head our early and make it to the park for the rope drop, book it to Peter Pan's Flight, and leave before the parade. After a rest, we'll head back later at night for the extra magic hours. Should be fun!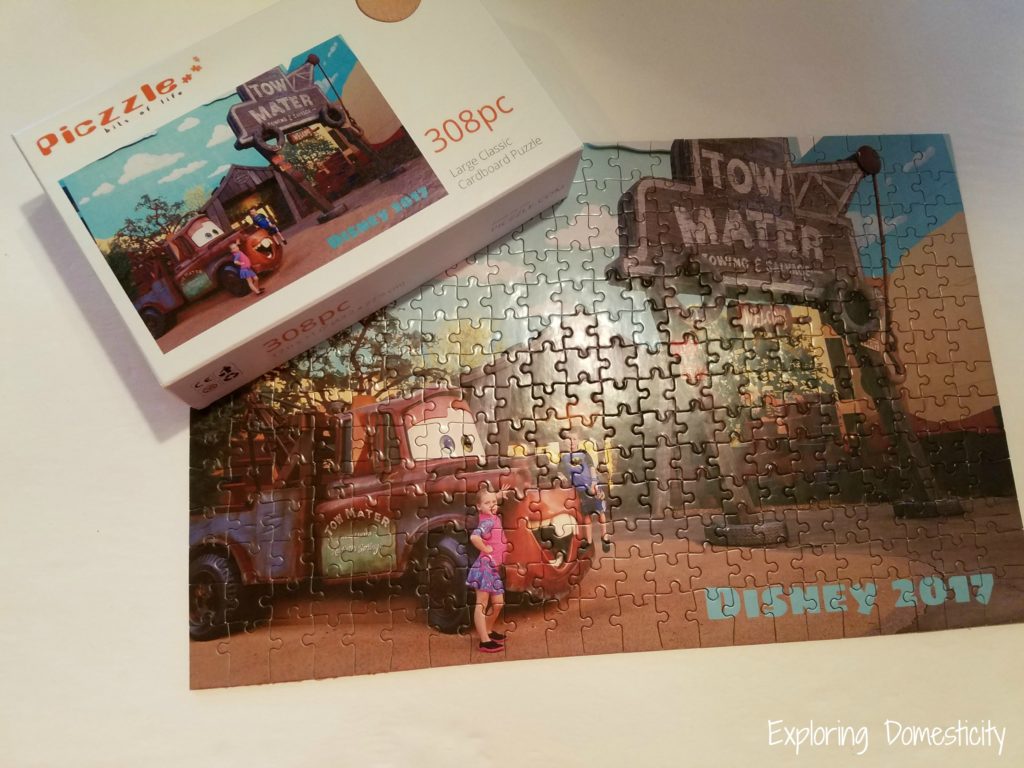 Piczzle Photo Puzzle Review and Giveaway!
As promised, I have to tell you about the very fun keepsake we made out of one of our photos at the Art of Animation Resort.
Did you know that you can make your own photos into a puzzle?
Disney pictures are so perfect for a puzzle because they are usually fun and colorful. Photos taken at the Art of Animation resort are extra fun and colorful!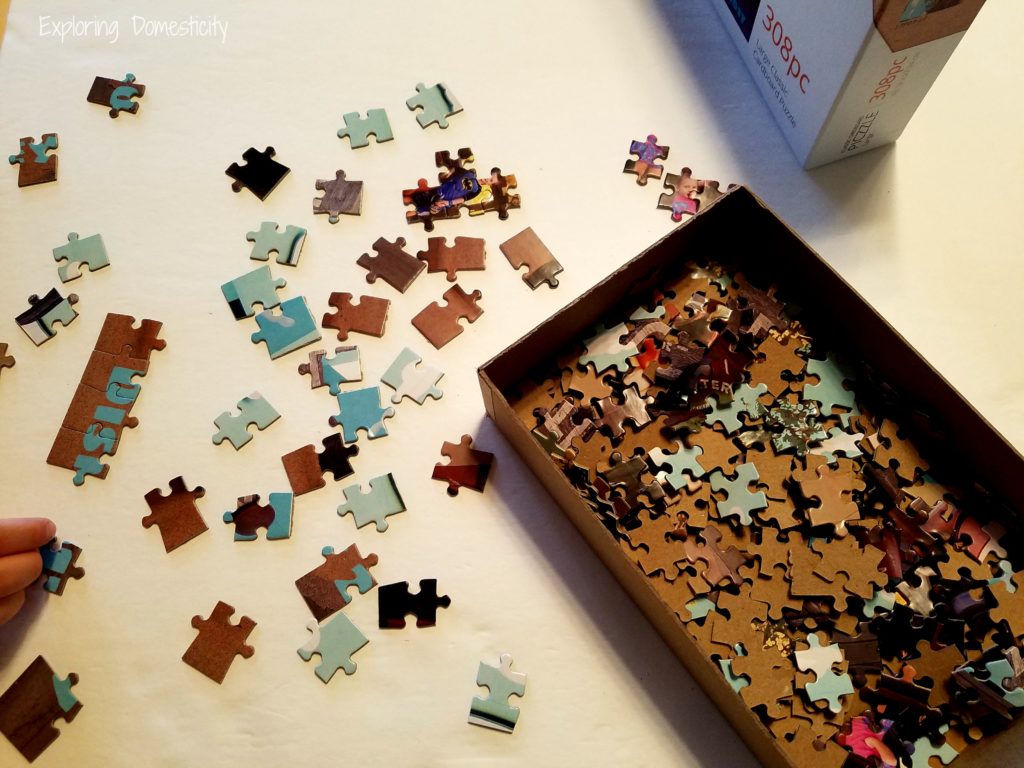 Piczzle is a site that creates puzzles out of your family memories, orany photo or graphic you'd like.
How fun would it be to find a puzzle with the company's logo in a waiting room? Or, including a puzzle as a part of an elaborate scavenger hunt?
The site is so easy to use! Just go to the Piczzle site and choose your size and number of pieces. With an easy click of a button, you can upload your own photo or drag the one you want to the box. You can even add a filter or text.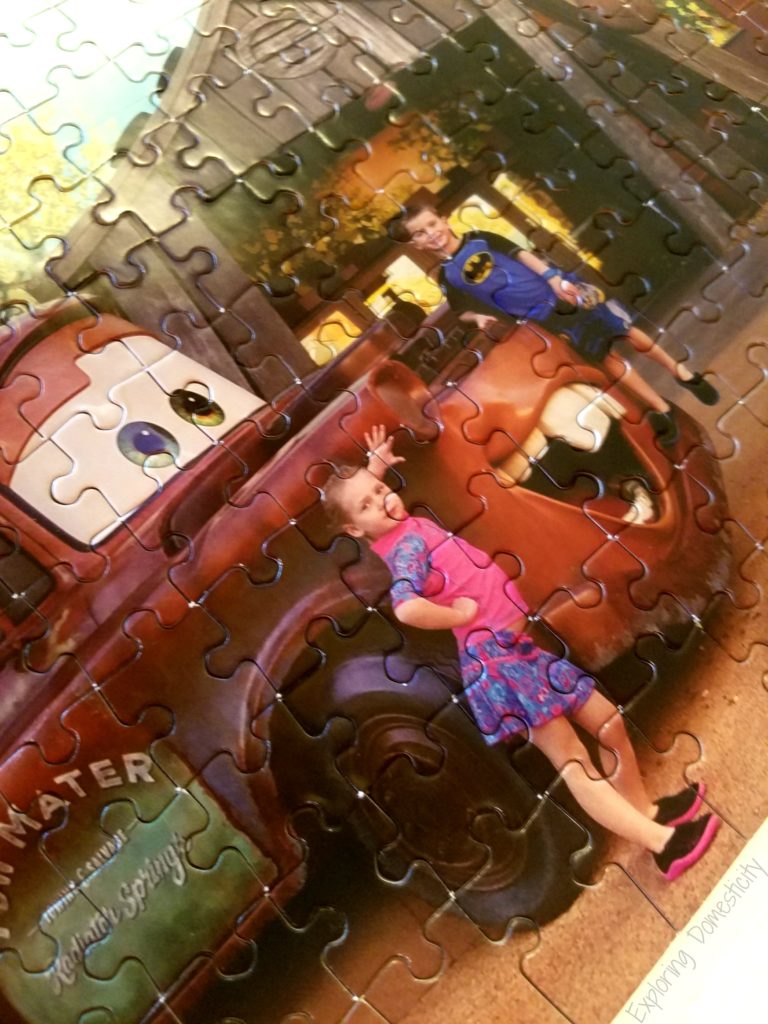 I uploaded a photo of the kids with Mater at the Art of Animation Resort outside the Cars Family Suites, and I added "Disney 2017" to the photo. Our personalized puzzle arrived very quickly and I hid it away for Easter.
I gave the Piczzle picture puzzle to the kids and their grandma, who does a lot of puzzles, at the cabin for Easter.
It was a hit!
The kids found parts of themselves right away, and thought it was funny to see themselves all broken up! We all took turns putting our picture puzzle together and it was complete in no time! We did find just a couple imperfections – a wrinkle in a couple of the pieces and one edge had a bit of a rough cut – but they are thick, strong, and the photo looks beautiful!
Piczzle has been kind enough to offer one of you a Medium Size Cardboard Puzzle of your own! Enter below for a chance to win, and the winner will be chosen on May 1 – this would make an excellent Mother's Day Gift!! Send Piczzle a thank you and follow them on their social channels: Piczzle Photo Puzzles on Facebook and Piczzle Picture Puzzles on YouTube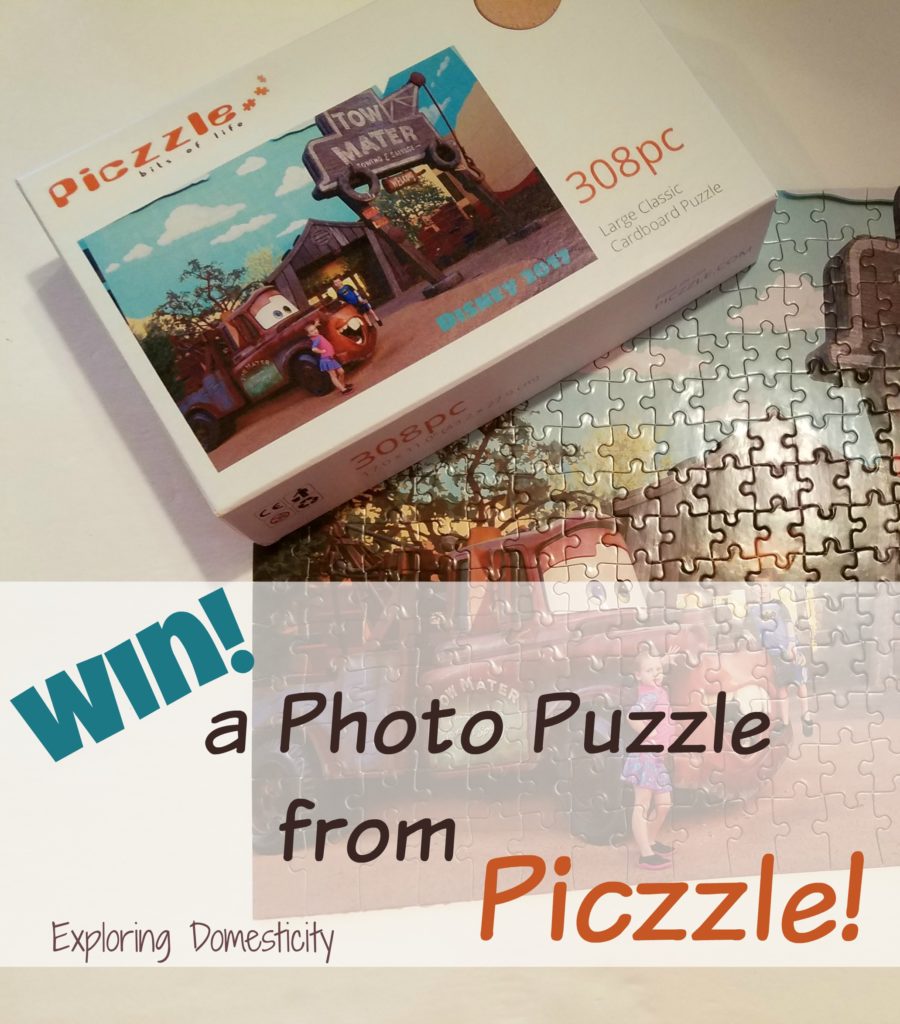 What do you think of the Art of Animation Resort?
Do you have a photo you would love to turn into a puzzle?

More Like This