Visiting with Walt Disney World with Toddlers is so much fun! Read on for our tips from our trip with a 2 and 3 year old. What to do, where to stay, and what to pack.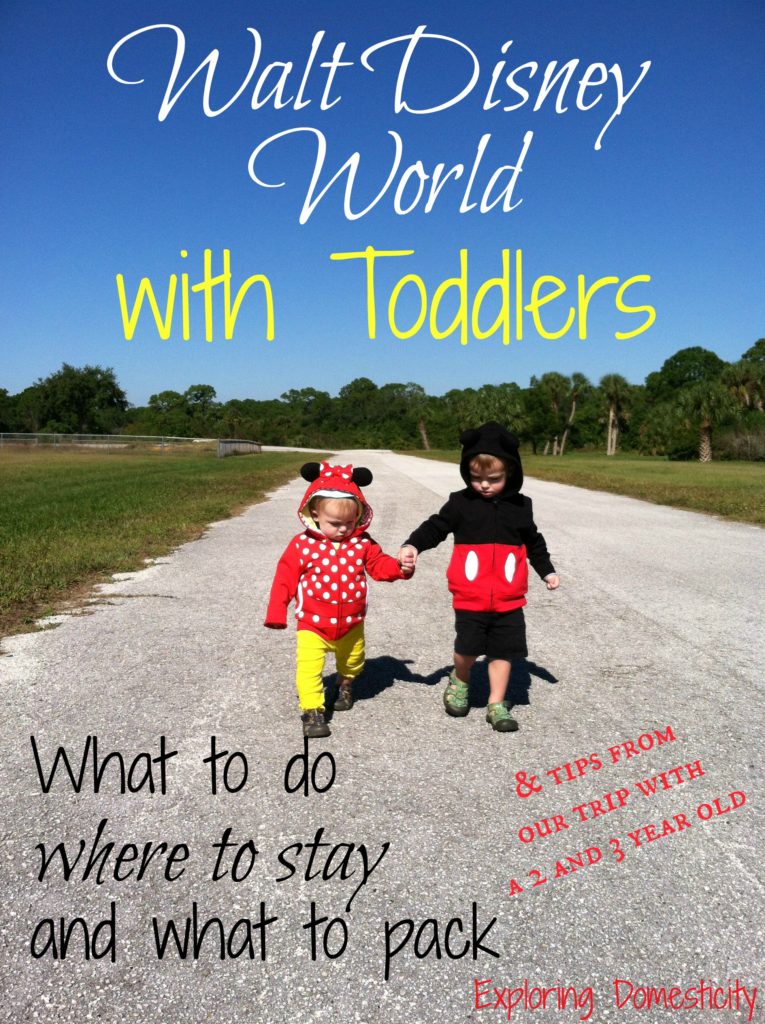 This post may contain affiliate links to products we hope you will find helpful.
Our second trip to Walt Disney World was when our kiddos were 1 and 2. We took a multi-generation trip with grandparents, parents, and kids so we stayed in the Art of Animation Family Suites. It was also our first visit to a park with the kids.
If you read our last Disney post, about visiting Disney with a baby, you'll know that we're fans of taking it easy and not packing too much in. We didn't pay to go to a park with a 1-year-old and 1-month-old. Just being on the property and visiting the boardwalk, Disney Springs (Downtown Disney and Disney Marketplace, then) and Chef Mickey's for character dining was enough.
This second trip with a 1 and 2 year old, we decided to get tickets to the Magic Kingdom and another reservation for Chef Mickey's. We were able to do more than when they were babies, but we still took it easy when visiting Walt Disney World with toddlers.

Walt Disney World with Toddlers
The Art of Animation Resort
The Art of Animation Resort is still our favorite place to stay in Walt Disney World. It's another reason we don't feel the need to pack in so many trips to the parks. It is the perfect resort at Walt Disney World for toddlers!
The Art of Animation Resort is just as good as visiting a park!
We talked about it in detail after our last trip to Disney World. It is so Disney themed, with all the kids favorite characters. It's so impressive and exciting for kids! The rooms, grounds, and pools are full of Disney Characters and it feels like you're right in the movie. They also have an amazing food court, lobby, and gift shop.
I mentioned we traveled with three generations on our trip. The Art of Animations Family Suites are made for multi-generation Disney travel! They also provide a much less expensive alternative to the suites at the moderate and deluxe resorts. We had room for grandparents in the bedroom, one kiddo in a pack 'n play (Disney resorts will provide one if needed), one kiddo on the pullout couch, and Mom and Dad on the murphy bed. How fun is that! The bed is right over the table and so cute.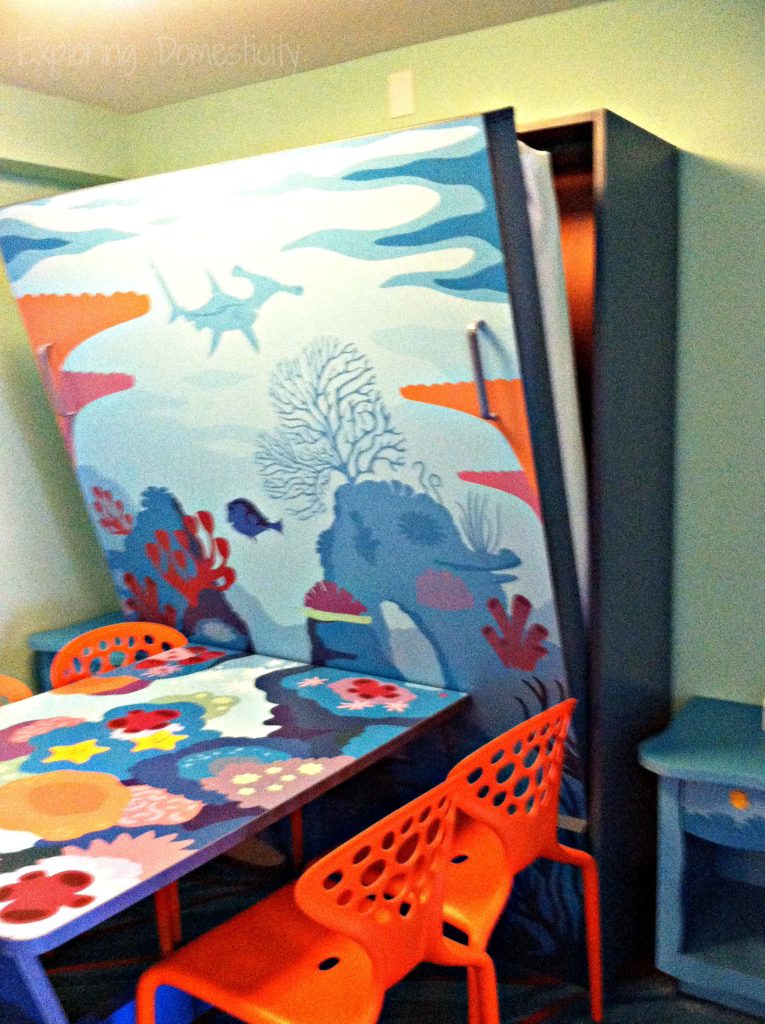 Splash Pad
For toddlers, nothing is better than a splash pad! One of the best things at Walt Disney World with Toddlers is that you can find smaller pool areas and splash pads at some of the resorts.
The splash pad at the Art of Animation Resort is amazing! It is Nemo themed and so much fun for toddlers! They spent the majority of their time at the splash pad during this trip and the following year. It's great as parents because it's safer and easier to keep an eye on the little ones.
I wish I had a good photo, but my photos from 2013 are a bit blurry and I didn't find many. *sigh*
Disney Springs
As I mentioned before, Disney Springs is a place we visit every trip with the kids. As toddlers, Disney Springs is nearly as good as the parks themselves.
Toddlers are amazed and entertained with all the Disney Characters that can be spotted on the buildings and tucked away in various areas. The Lego store, with all the impressive sculptures outside, is always a hit! The Disney Store is HUGE and a must – the kids will love looking at all the Disney merchandise.
Tip: If you plan on buying them a little something during the trip, we do it here and right away. They can carry that toy around the rest of the day and will – hopefully – stop asking for everything they see!
Our kids love to ride the carousel and the train while we are at Disney Springs. They are getting a bit big for the train now, but it's the perfect ride for toddlers.
The other thing we usually do is get the kids silhouettes done at the cart in Disney Springs. Although, I must admit, we have decided that we like to have them done at the Magic Kingdom better. However, if you aren't visiting the Magic Kingdom, this is a good place to have a fantastic keepsake made!
We have silhouettes from each year we've visited Disney World. They are a fantastic memory and we love them!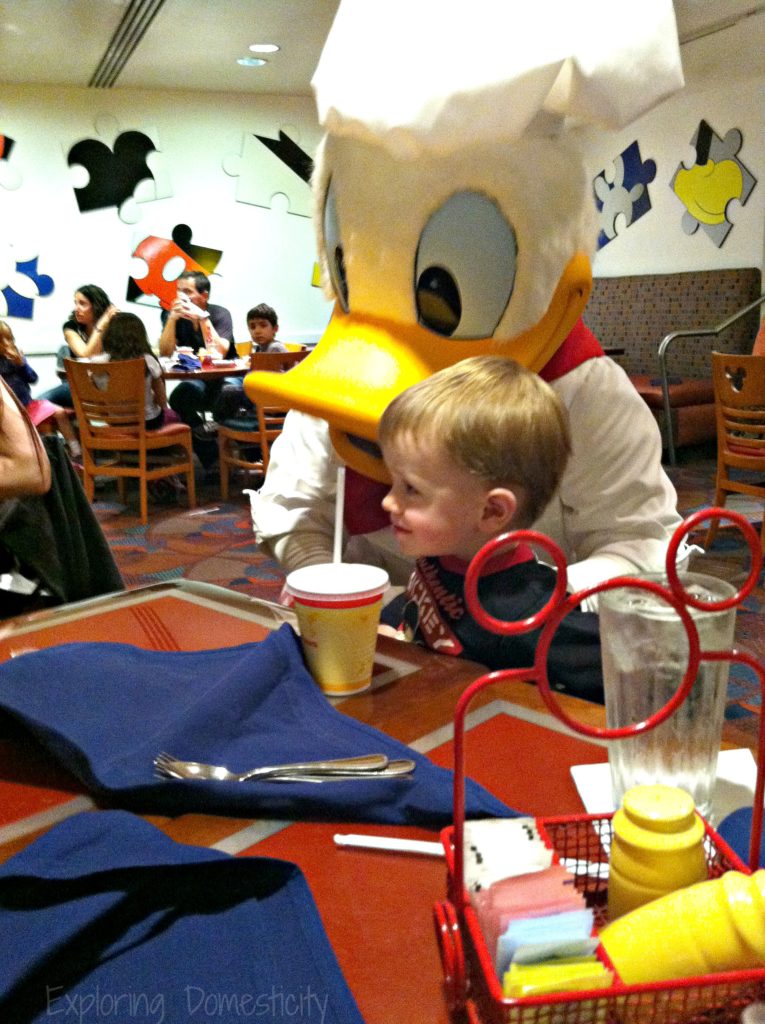 Character Meal
Just like the previous year, we did Chef Mickey's again when the kids were 1 and 2. As most parents can relate to, we had a very different experience the second time around. The kids were a little more tired than the year before and things felt a little frazzled. It didn't help that we had a 1-year-old who leaked through her diaper and was wet for the second half of the meal.
However, I still recommend a character meal. There are so many to find at Disney World! We usually find one outside of the parks to make the most of our time.
Tip: Think outside the box for character autographs. Bring a photo mat to display around your favorite vacation photo.
One of the fun things we did on this trip was bring a photo mat from a picture frame for the characters to sign. We now have all the signatures around the family photo we got from Chef Mickeys.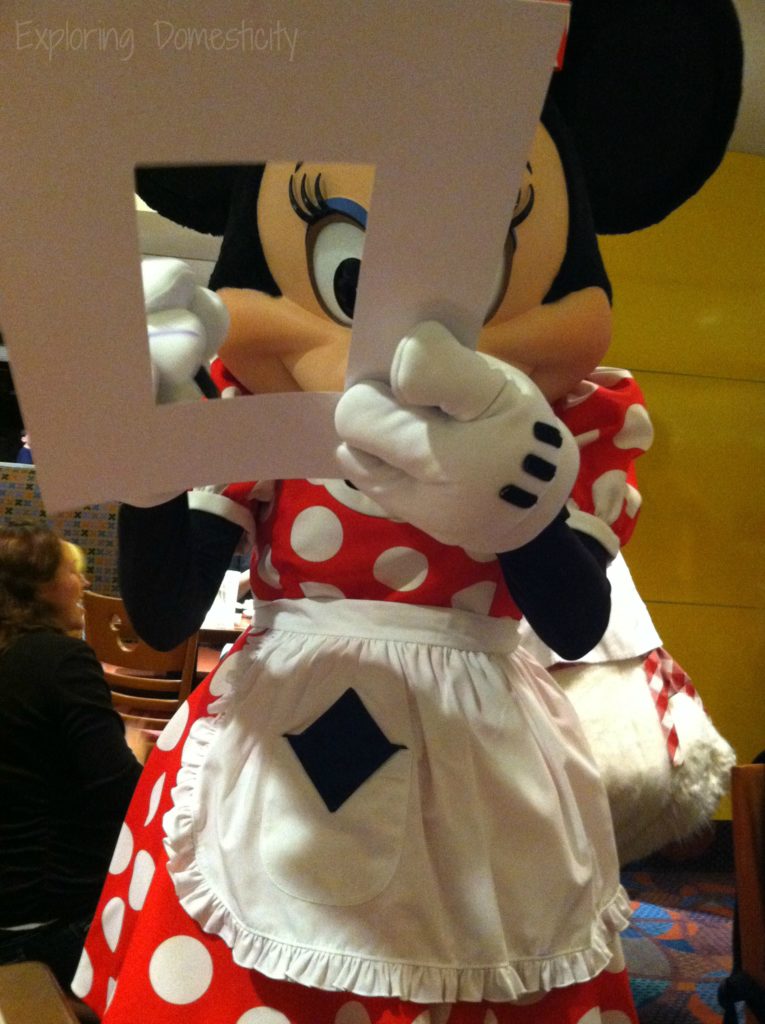 Magic Kingdom
If you're only going to visit one Walt Disney World park, it probably has to be the Magic Kingdom. It has the most iconic atmosphere and experiences for toddlers.
I can't get enough of watching their faces as we walk down Main Street toward the castle.
The only park we visited on our trip was the Magic Kingdom. As I mentioned before, the best strategy for us with little kids has always been to take it easy. We love adding something completely new each time we visit. We have never run out of things to do!
Toddlers are FREE!
The best part about Walt Disney World Parks with toddlers is that they are FREE! Children under 3 do not need a paid admission into the parks!
Tip: We love taking advantage of the fact that toddlers nap during the day. This means you can visit later at night when things are less crowded and hot.
Another tip: If you plan to beat the heat and the busiest time of day by returning to the resort for a nap, make arrangements ahead of time with the housekeeping staff. We had a problem with that on one of our trips and found out they are more than happy to work around your schedule.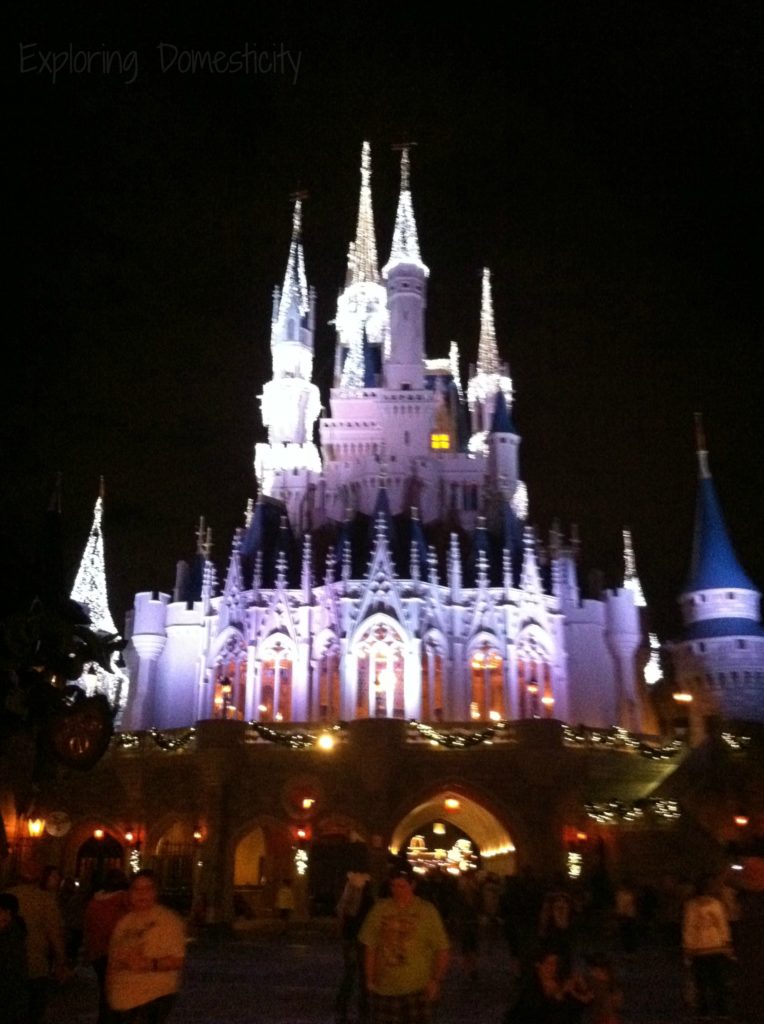 Character Meet and Greets
We typically skip the characters. Although the kids would probably love them, as toddlers we don't feel the line is worth the wait.
If there is a character your child LOVES, look up the times on your MyDisneyExperience app to locate them around the park and try to get there early to scope it out. Maybe it won't be that bad.
Also, we did visit the characters over at Pete's Silly Side Show because the wait time was super small. We still had one kiddo that couldn't wait and skipped out for Dumbo. This is a great area to check out, though, because it doesn't seem to be as crazy as the other character areas and you can find Donald, Daisy, Minnie, and Goofy all in the same spot.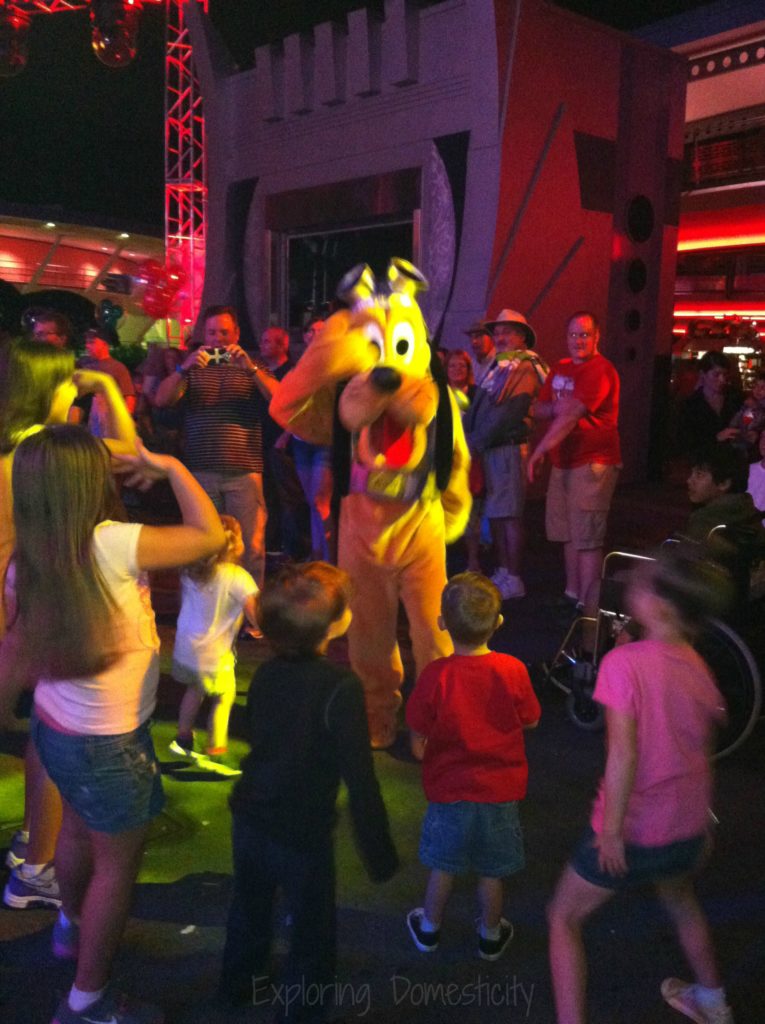 Another thing our kids loved is the dance party in Tomorrowland where they were able to dance with a space-themed Goofy and Pluto. (In the following visits, they have still loved the dance party, but regularly see the Incredibles there and not Goofy and Pluto.)
First Haircut
Did you know that you can get your child's first haircut in Walt Disney World!?
We did this with our little girl and it was the BEST experience!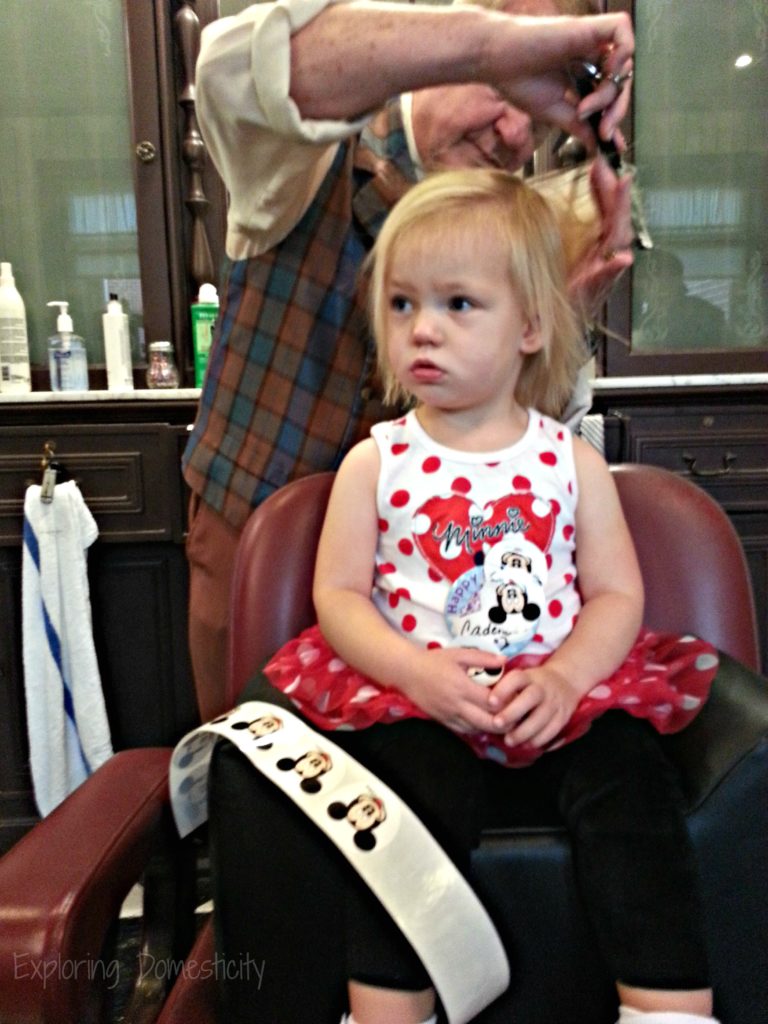 You can make reservations for the Harmony Barber Shop on Main Street USA. The My First Haircut Package is currently only $25, and it's a steal!
You get an adorable place for first haircut photos and they give the kiddos Mickey stickers to keep them busy. The best part is you get a kit with a certificate of their first hair cut, a little lock of hair, and their own Mickey Ears with "My First Haircut" on the back. So cute!
We actually did this when our little lady was three because she didn't have much hair by two. However, I thought I should mention it while sharing this trip because she was still a toddler when she had it done.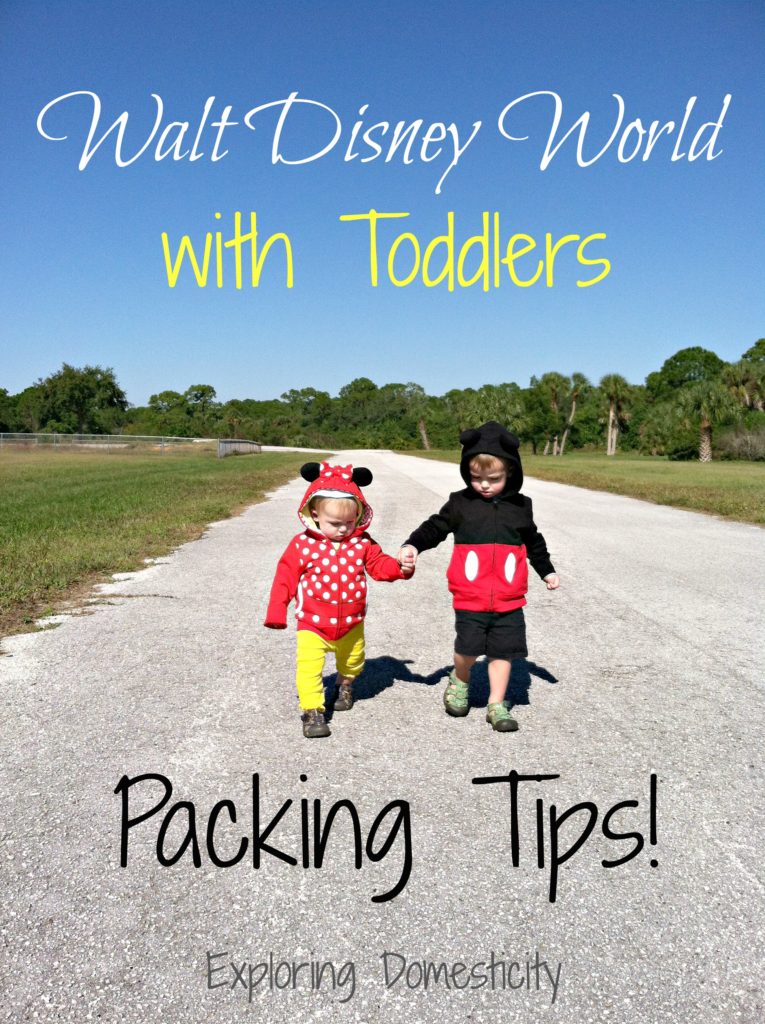 What to Pack for Walt Disney World with Toddlers
We have found quite a few tips along the way for kiddos at Walt Disney World. Here are a few things we think are essential for Walt Disney World with Toddlers.
Stroller
We weren't able to bring a stroller along on our trip so we rented at the Magic Kingdom. It can be very expensive and their strollers are awkward to push and have no storage space. I would definitely recommend bringing a stroller if you can.
We've never had enough room, but I would love to bring our double stroller for the storage and ease of climbing in and out for the kids. We have one similar to this and have loved it.
We have found it easier to bring umbrella strollers for the portability. We even bought one at the Goodwill during one of our trips, so we had two to use but didn't have to haul both.
After many trips, what I would recommend the most for Walt Disney World with Toddlers is an umbrella stroller or twin umbrella stroller. They are easier to maneuver through crowds and fold up on the buses.
While we're talking strollers, I have to tell you how nice it is to have a stroller hook. We have this one and it helps hold all the bags we accumulate! This Disney hook is for the car, but would work on a stroller too!
Wipes
I don't think there is another item that I can stress the importance of more! For all kids, baby through teen.
Wipes are an essential item at Walt Disney World with toddlers. We always travel with a back of baby wipes and some smaller wet wipes. You can find anything with Disney branding these days, so these wipes would be very fitting for a trip! Or put your go-to wipes in a Minnie Mouse case.
Small Disney Toys
We love to get a special souvenir from Disney World. However, young kids will as for everything they see! It can add a bit of unnecessary stress to a vacation to find that perfect toy quickly without breaking the bank.
We find it easier to bring a few small Disney themed trinkets from home. That way, we aren't stressing over finding just the right thing quickly just so we can stop saying, "maybe later."
I like to think of practical things as well as things that we may find on the trip.
Flashlights or Glow Sticks. Toys that glow or light up will always be a hit. Once the lights go down, those light-up toys come out. Be ready with your own from home when your kiddos start eyeing those carts. These light-up Minnie Bows would be so fun! We have this princess flashlight and this Cars one that we got on clearance at Walmart.
Small Games or Notepads. Cards, activity books, coloring sets, etc. are all great because they can be given when there is downtime. Activities are good for travel times, rest time in the hotel, or even wait times at the park.
Disney Characters. It's always a great idea to find some Disney character toys at home before getting to the parks. This last trip we packed some Tsum Tsum sets and blind bags. When packing for Walt Disney World with Toddlers, small Disney character plush toys are great to have. You can often find some at Walmart for around $5.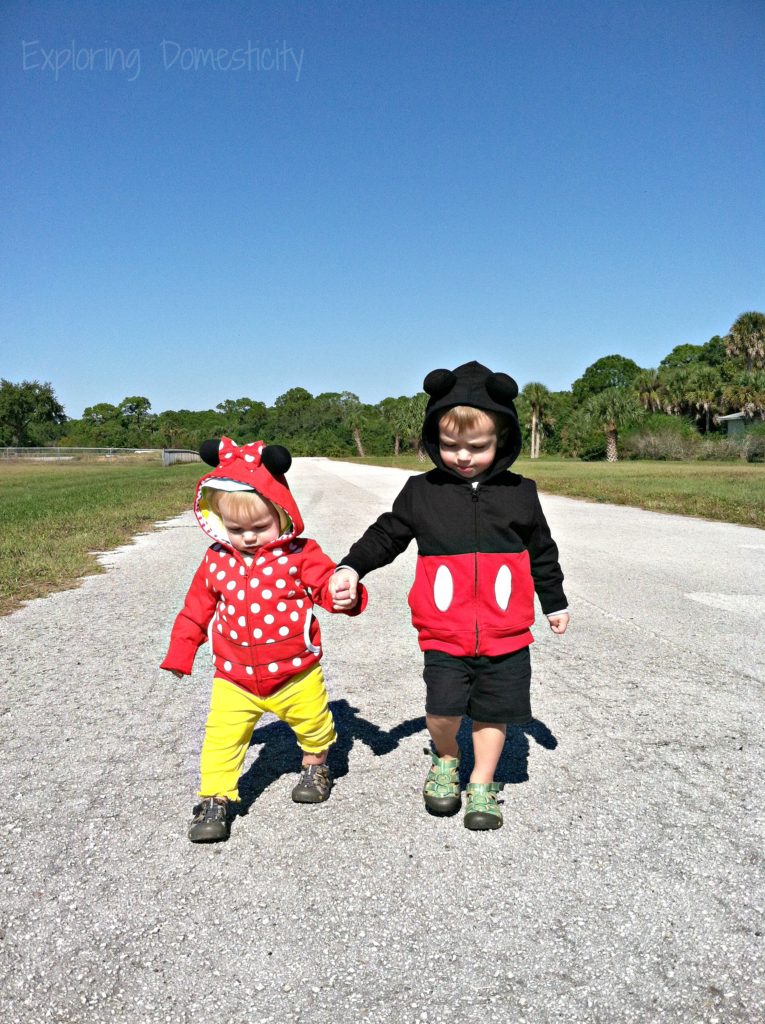 Disney Themed Clothes
Just like being prepared with Disney toys, we like to come prepared with Disney outfits for the kids. Having them ready for the kids to wear really makes it feel special and sets the tone for the trip.
Just before our vacation, I take a trip to Walmart. Usually, a glace through the clearance rack will come up with something Disney themed. We like to visit in the Fall, so summer clothes go on clearance and it's perfect. At our Walmart, the outfits are usually $5 or $9.
There are so many Disney toddler clothes on Amazon! Getting one of the Disney princess t-shirt 3 packs would be really smart for a trip. I also love the Disney character sweatshirts. We got so much use out of ours and even doubled for warm Halloween costumes that year.
Hats and sun protection are a must. Disney hats are a great idea for the whole family.
Sunscreen
As I mentioned, sun protection is a must!
We were recently introduced to Coola Sunscreen Spray and we love the tropical smells. The spray is easy and the kids actually ask for it because they smell so good! You can get them right on Amazon too.
Extra Bag
This was an amazing tip I found from another Mom for Walt Disney World with toddlers. As the day goes on, little stuff always seems to accumulate in the stroller. Bringing an empty bag at the beginning of the day gives you a place to stash all those random things. It makes folding up strollers so much easier in a hurry! It's also just nice to have because, with toddlers, you never know what can happen.
The bag can be a plastic bag, reusable shopping bag, or even one of these amazing foldable backpack that fits right in your pocket! I have this one, so I can tell you how handy they are. However, looks like that one is unavailable right now, so this looks like another good choice. If you're concerned about spills or have a kiddo who has a tendency to leak through diapers, this Mickey Mouse wet bag will be perfect!
Snacks
All parents of toddlers know snacks are a must! Walt Disney World with toddlers is no exception. You are allowed to bring food into the parks. So it's a great idea to pack a cooler, or at the very least some snacks for the kids.
Not only does it save money, it saves the hassle of finding food right when the kids need it. Part of happy toddlers is keeping their bellies full. We like to bring water, juice, crackers, raisins, fresh fruit, etc.
Disney is everywhere and you can find snack foods with Disney packaging as well. If you want to give the kids a treat that they don't know came from home, make it Disney!
I can personally say how yummy these Pure Growth Organic Chocolate Mickey cookies are.  Yum! You can also find Mickey on veggie chips, Lightning McQueen on goldfish, the Mickey Mouse Clubhouse gang on fruit crisps, Anna and Elsa on fruit snacks, and Sophia or Doc McStuffins juice bottles.
Are you planning a trip to Walt Disney World with toddlers? Have you visited recently?
I'm going through Disney withdrawal, so share with me!

More Like This