Disney Springs is a great place to visit during your Walt Disney World stay. There is no admission to enter and so many things to do to keep you in the Disney spirit without going to the parks.
We always take a day and visit Disney Springs – formerly Disney Marketplace or Downtown Disney. It's a great way to still experience the magic of Disney without spending a lot.

I kept a daily play-by-play while we were in Walt Disney World, and I'm going to share it bit-by-bit each week. We stayed at the Art of Animation Resort, in the Cars Family Suites, and visited Disney Springs, had dinner at O'hanas, and had a great day at the Magic Kingdom. We visit Walt Disney World each year and, for that reason, we like to take it slow, relax, and enjoy ourselves instead of stressing to fit it all in. I'd say we get a pretty fantastic vacation balanced with fun and relaxation.
Disney Springs
Because of our early dinner reservation and the cooler of our vacation days, we decided to make our second day in Walt Disney World a day to check out the new Disney Springs. I gave you a little tease of this with the pictures when we talked about prAna's amazing clothes for Spring.
We were hear last year in November, but there was still a lot of construction and it was a little crazy with torn up roads and new parking ramps to navigate.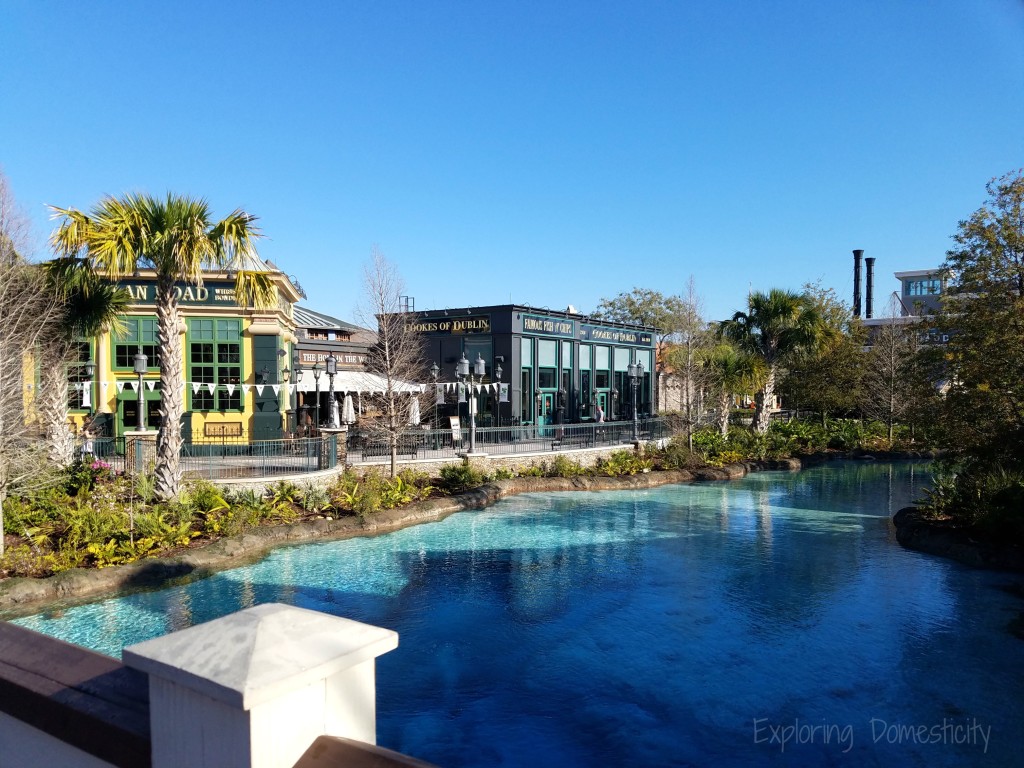 We arrived on our resort bus around 9am, which was great for the crowds, but the only things open were coffee shops and places that serve breakfast.
No big deal.
We loved walking around and checking out all the new shops and restaurants. Plus, it is really gorgeous now! There are added bridges and walkways and some gorgeous blue water and pretty landscaping in areas.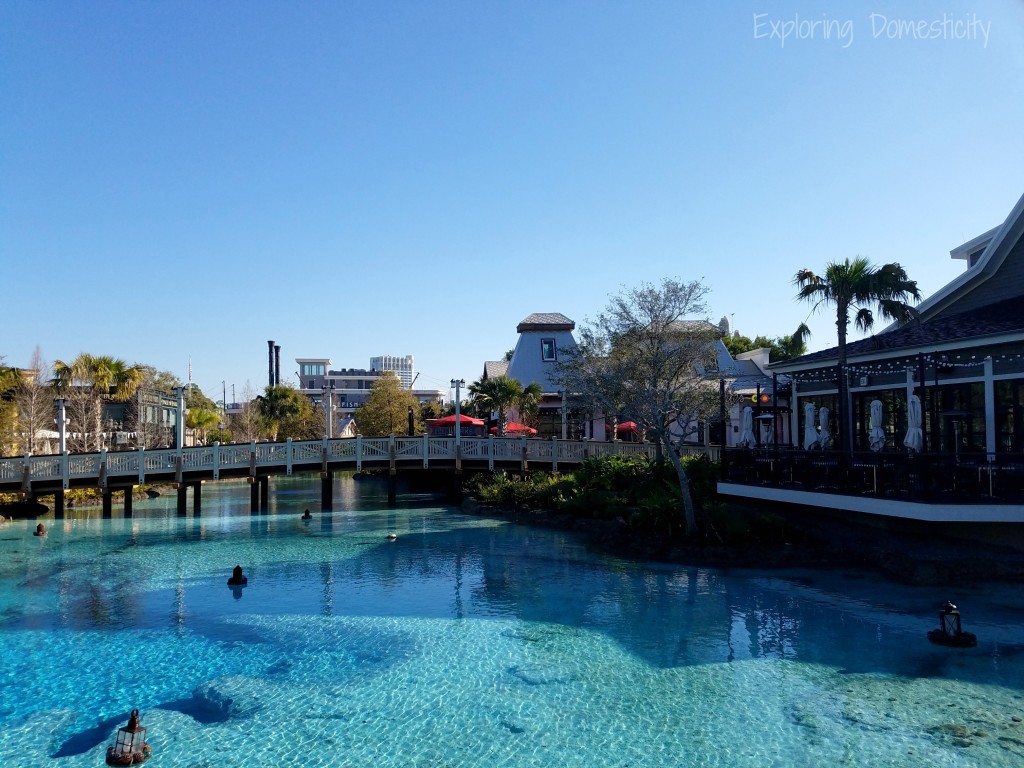 From the bus we walked through an area of shops that looks like a high-end shopping center, then we wove through some of the new restaurants, and then we came to the familiar part of Disney Springs which is the old Marketplace that has stayed pretty much the same.
Fun things to see and do in Disney Springs
New higher end shops that look gorgeous
Take a ride in an amphicar Fun Fact: one of those cars was bought from our neighbor, they're more popular around our little river town than other areas
Ride up in a hot air balloon with Characters in Flight
Enjoy the gorgeous scenery
Create your own flip flops at Havainas
Taste some yummy food at the tons of restaurants
Pick your own pearl at the Pearl Factory
Find Scented Socks!? at LittleMissMatched
See authentic Irish dance shows at Raglan Road
Have dinner and a movie at the same time!
…and so many more now and to come!
With so little open, we really got to wonder around and get a lot of pictures of the kids since there were no crowds. Another bonus was the cool air and warm sunshine of the morning.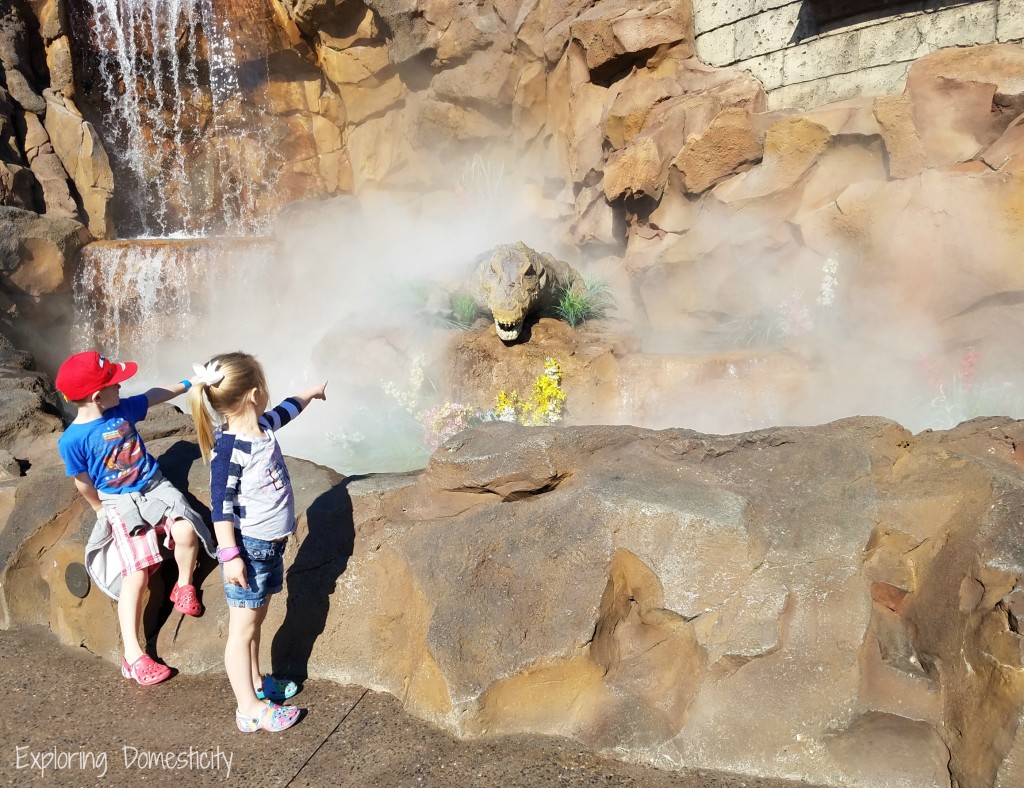 When the stores opened up, we popped into the candy store and found a very impressive Mickey Mouse sugar cookie with frosted ears and Mickey sprinkles. We split it in half for the kids and they still couldn't finish it.
We took a picture in our favorite spot with Winnie the Pooh, Tigger, and Piglet. Anyone else know that spot? This is about the only time I get pictures of the kids and myself, and we've had one every year except for last – I think we got a little too distracted with the silhouettes.
The silhouettes are another thing we do each year. We tend to do them at Disney Springs rather than spending the time in the Magic Kingdom, but it seems like it's ALWAYS the same guy in Disney Springs and we've had nothing but bad luck with him. A couple years ago, it was so bad that I had to write to the company – they are an outside company and not directly Disney – and they sent us a new silhouette and refunded our money. We LOVE this souvenir and keepsake, but this particular person is not as talented as some and can be very rude at times. This year, we're going to take the time in the Magic Kingdom and see if we have a better result.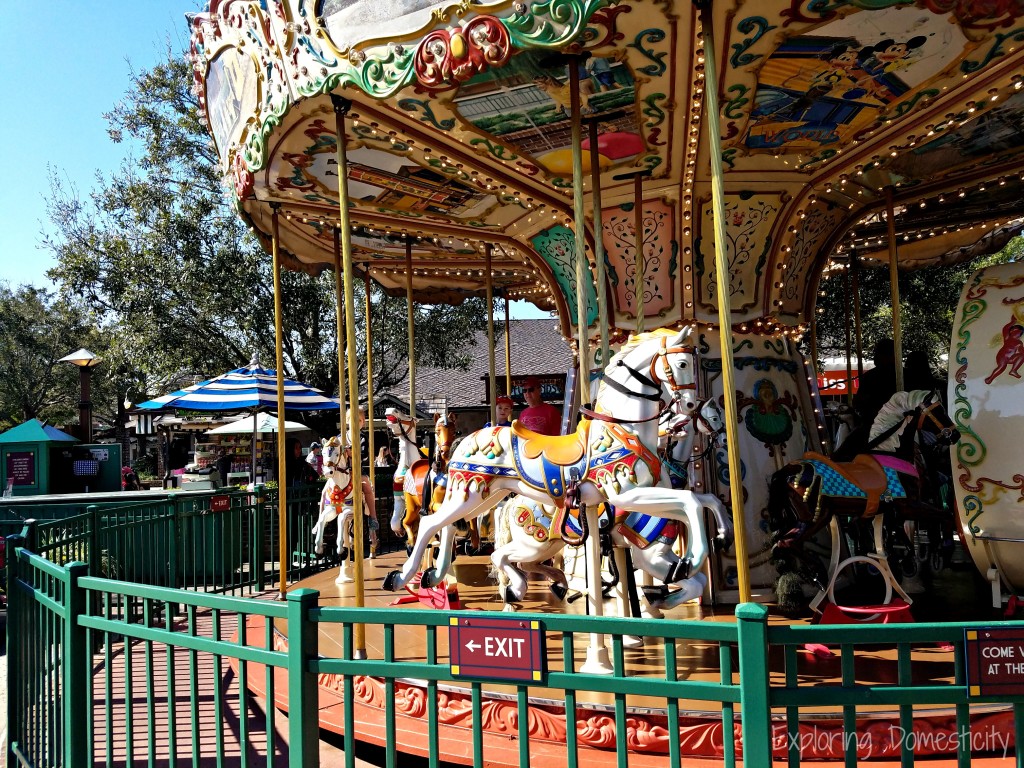 The kiddos each got an overpriced toy from the toy store, courtesy of Grandma.
Our little guy got a Spider Man who talks and shoots webs, and our little lady got an adorable Precious Moments 12″ Rapunzel doll.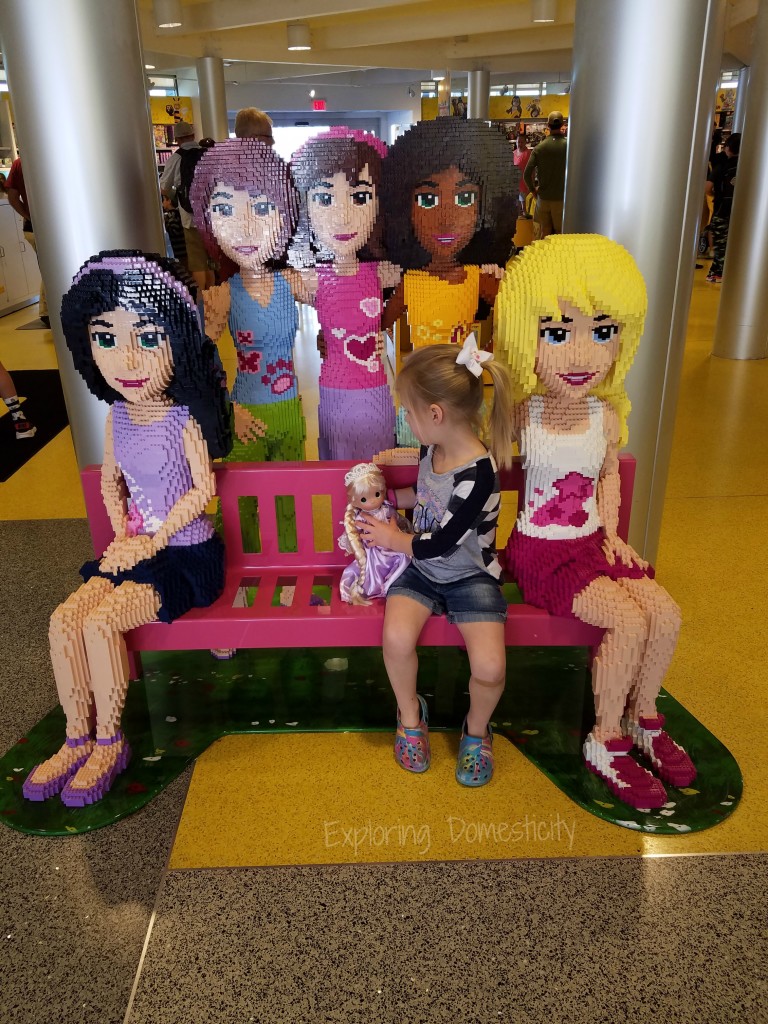 As we made a bathroom break on our way back to the buses, we got some great news! The bank accepted our offer on the new house! I definitely let out a scream in the bathroom stall with my little girl.
There was some extra pep in our step on the way to wait for the bus, and during the ride back to the hotel.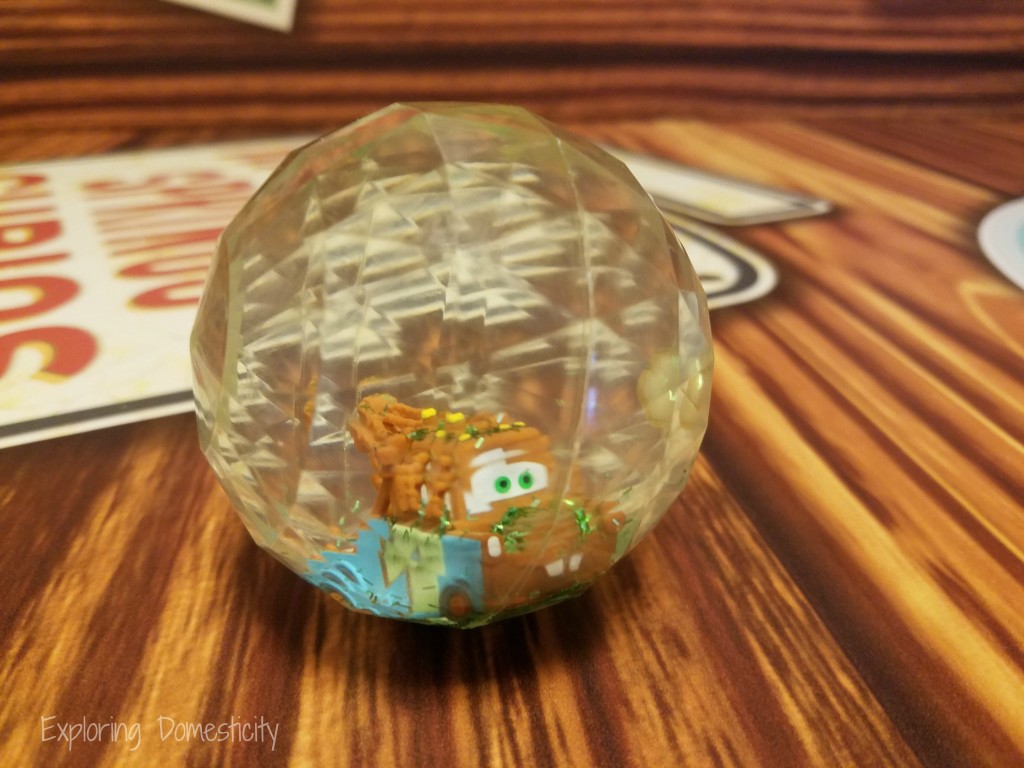 I forgot to mention that we had set up all our Magic Bands with a pin prior to getting to Walt Disney World, so that we could make charges directly to our credit card. Unfortunately, after successfully buying a coffee, we found that only the band of the one main person on the reservation was working. My parents visited the front desk at the hotel and were able to get things fixed. It took them a while to figure out why they weren't working, and in that time were trying to scan a small Tow Mater ball, and ended up giving it to my parents for free once they got the bands to work. So nice!
Some rest and lunch back at the room was all we had time for before it was time to start getting ready for our 3:40pm dinner reservation at O'hanas. We wanted to give ourselves plenty of time to take the bus to the Magic Kingdom and the Monorail to the Polynesian.
I have so much to say about our delicious dinner, so I'll save that for next Monday!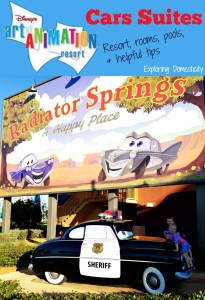 If you haven't already, check out our first day and first impressions of the Art of Animation Resort Cars Suites.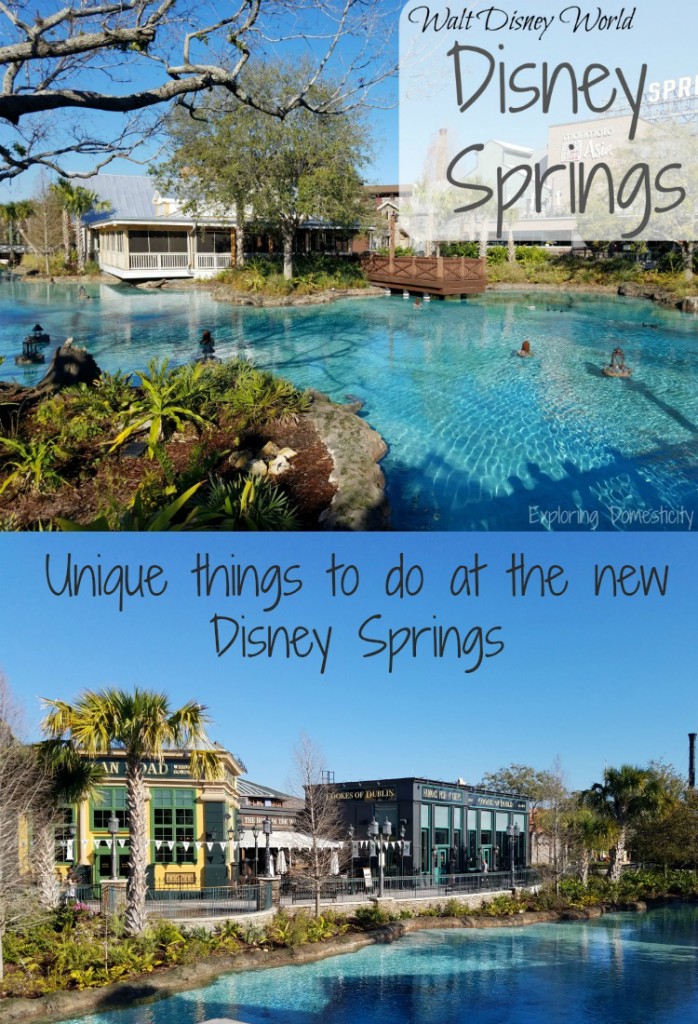 Have you been to the new Disney Springs?
What is your favorite part about Disney Springs – new or old?

More Like This