When it comes to running, I am a complete rookie.
I started running this time last year with Couch to 5K, and those first weeks were a struggle! Running one minute straight was torture, and when it bumped up to 3 and 5… Oh my goodness!
Luckily, I had signed up for my first 5K to honor my cousin for a charity Lupus run and I was determined! By the end of that summer, I ran that 5K (turned out to be a complete trail run and the end felt like a winding staircase!) and couldn't wait to sign up for more!
Now that I'm getting more comfortable with running, I'm trying to soak in all the tips I can find from other runners. The one problem I couldn't solve….
Tummy Problems After a Run
Everything about that first race was great. We raised so much money for Lupus, the whole family and many friends pulled together to support my cousin, I accomplished a huge goal, and I felt great when the race was finished.
And then… I felt completely sick to my stomach. We were over 30 miles from home, traffic leaving the race was slowing us down, and we were all supposed to meet up afterward to celebrate. I didn't know if I was even going to make it home. It was terrible.
I've had similar problems since. I will get a stomachache following a run or have to cut a run short and head back.
how do I stop my running tummy problems?
I have searched out this answer, asked people during running chats on Twitter, and played around with what I eat and drink. I hadn't found that magic cure…
Enter Gutsy Chewy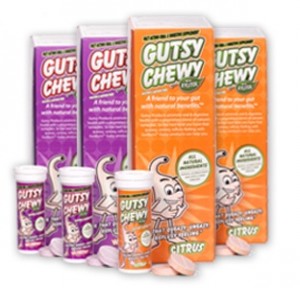 I received this product for free from the sponsor of a Moms Meet program, May Media Group LLC, who received it directly from the manufacturer. As a Moms Meet blogger, I agreed to review this product and post my opinion on my blog. My opinions do not necessarily reflect the views of May Media Group LLC or the manufacturer of the product.
I was completely thrilled to give Gutsy Chewy a try when the opportunity came about through Moms Meet. My first thoughts went right to running. I knew if it could help me not have to rush home during a run or feel miserable after a run, It could help with my rare tummy troubles.
Let me tell you, I'm sold!!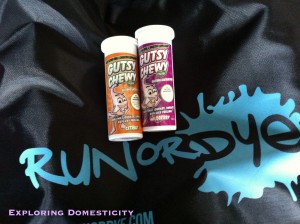 I've tried them out on at least a dozen runs, including Run or Dye when I had a very full day following and couldn't be held up all afternoon. I haven't yet ended up with an upset stomach after remembering to take one before a run. I forgot to take a Gutsy Chewy before one run and ended up with tummy troubles, but taking a Gutsy Chewy after the run helped get my stomach back in order pretty quickly.
All Natural Digestive Aid
Gutsy Chew are all-natural, made in the USA, gluten-free, lactose-free, and vegan friendly. They contain licorice extract, apple cider vinegar, and papaya extract. They also contain xylitol to aid oral health, which makes sense since they were developed by a dentist.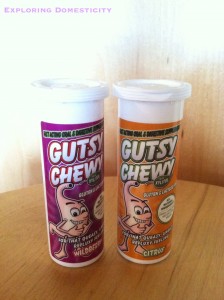 Gutsy Chewy comes in Citrus and Wildberry and, I'll be honest, I didn't love the flavors at first but they really grow on you, and who cares because they work!
I will not run without Gutsy Chewy
I'm so in love with this product! I won't run without a Gutsy Chewy.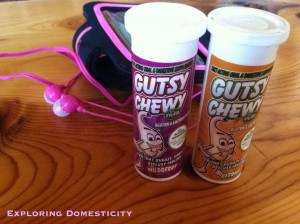 I take them with me everywhere I go. I may not have regular stomach problems, but I want them with me for when I do. My husband has taken them, and I even gave them to one of the other bridesmaids last weekend who needed to settle her stomach with all the nerves.
I love the small tubes they come in, making it easy to take them anywhere. Each one contains 8 tablets and range from $15.99 – $79.99 (2-12 tubes). By taking one each time I run, I've been running through my supply pretty quickly. I may see if I can get by with just half a tablet since they are scored, but either way I'll probably be making a purchase soon. You can check out Gutsy Chewy on Facebook, Twitter, and youtube to find out more, along with the Gutsy Products website.
Always consult a physician when starting any supplements, specifically Gutsy Chewy. These statements have not been evaluated by the FDA. This product is not intended to prevent, cure, treat, or diagnose any disease. Consult your healthcare professional prior to use if you are pregnant, nursing, taking any medications or have a medical condition. This product contains papaya and should not be used by anyone with a latex allergy. Keep out of reach of children.
Do you experience tummy troubles when running? What do you do?




How do you treat stomach ailments on the go?