You don't need much space to add some organization and style to your small entryway.
With just a few feet of wall space, and a bit of trim, paint, and hooks you will end up with a high-end look and room for all those coats, backpacks, and shoes.
Loving this small entryway transformation!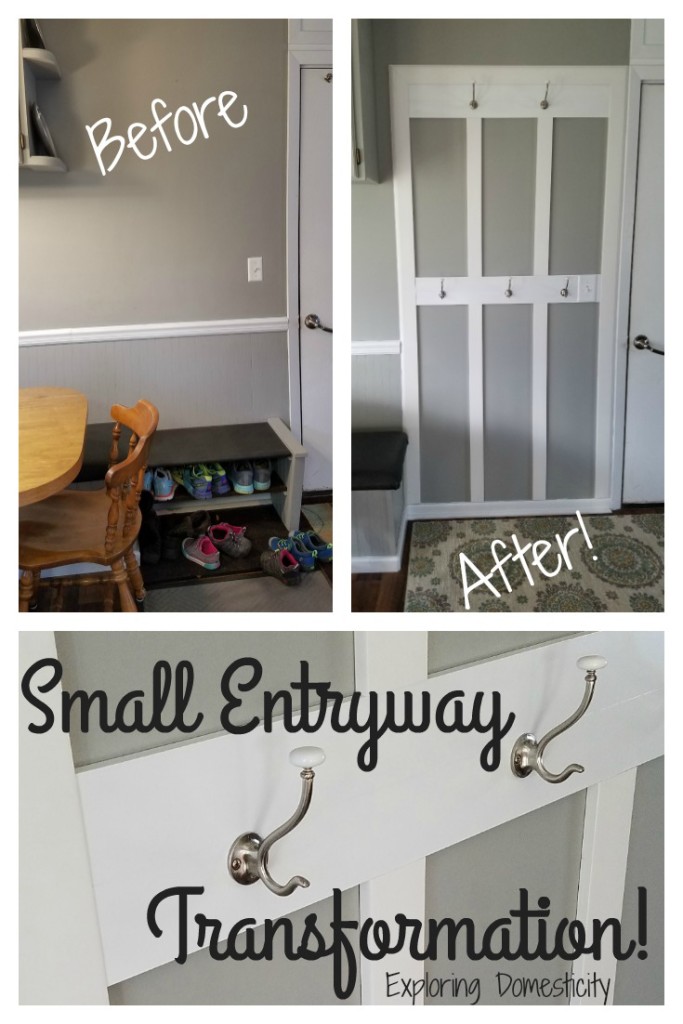 This post may contain affiliate links. If you choose to purchase a product from the link, this site will receive a small commission with no affect on your purchase price. I hope you find the links helpful!
Our house is pretty small.  We bought it before we were married and never expected we'd make it this long with two kids.
Fast forward 6 years and we have made a lot of improvements and have great neighbors. So, after not finding anything better, we've decided to add on.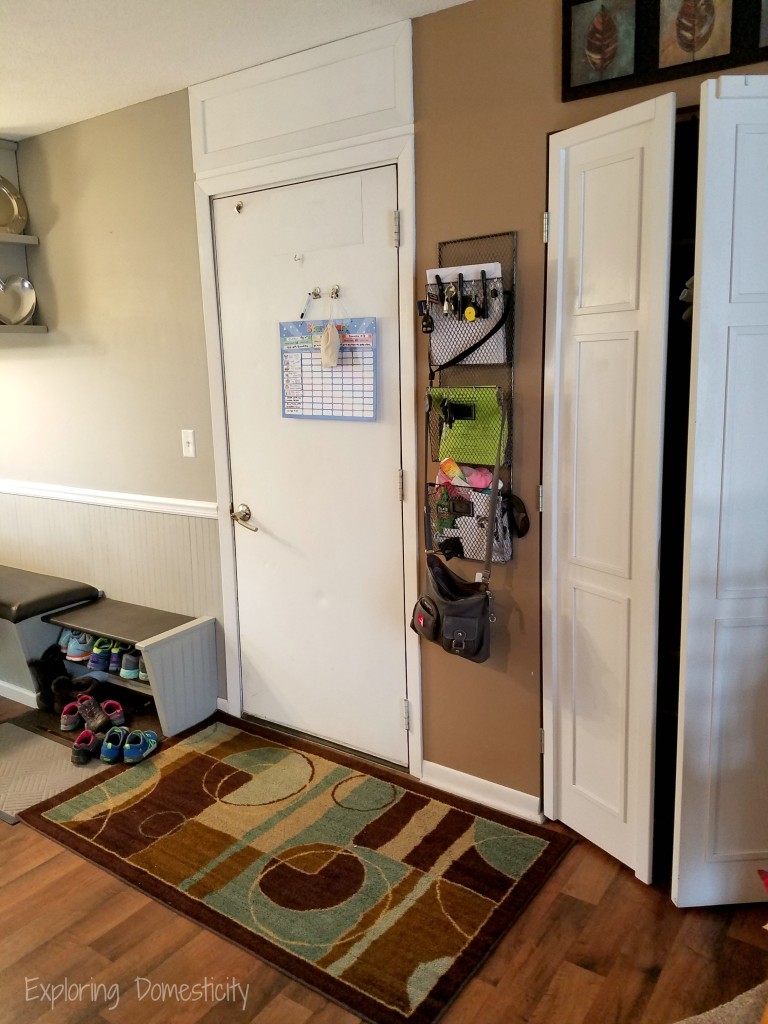 One thing we can't change, because of the position of our basement stairs, is our small main entry off the garage. Straight in front of the door are the stairs, to the left is our living room, and to the right is our kitchen table with a built-in booth.
We added a coat closet beside the door, but we have a problem with everyone walking into our small main walkway, and we track dirt all over the house. We decided to shorten our bench and previous shoe rack to widen the area people can step into and give us a little more space.
So excited about this Small Entryway Transformation!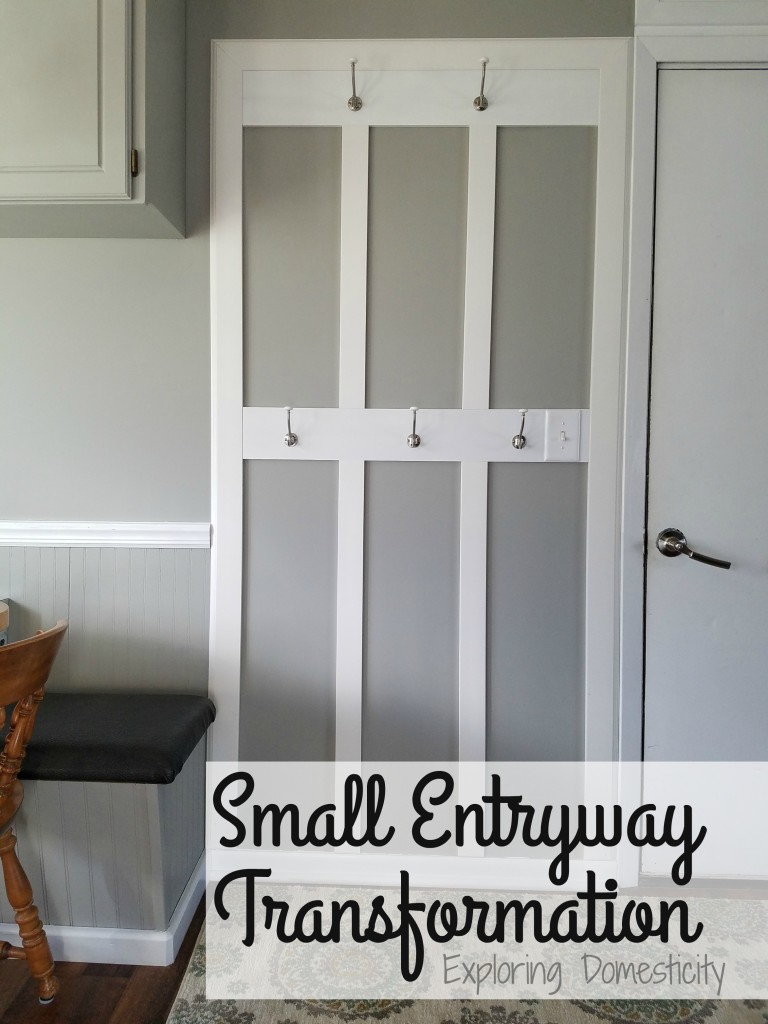 We found our inspiration from these projects: DIY Entryway Projects from The Budget Decorator and DIY Wood Walls from Decorate Your Small Spaces.
The first step was to remove the old shoe shelf that kept everyone from stepping to the side. We added even more room by shortening our built-in bench even more. We had existing bead board and a chair rail that needed to be cut out and removed.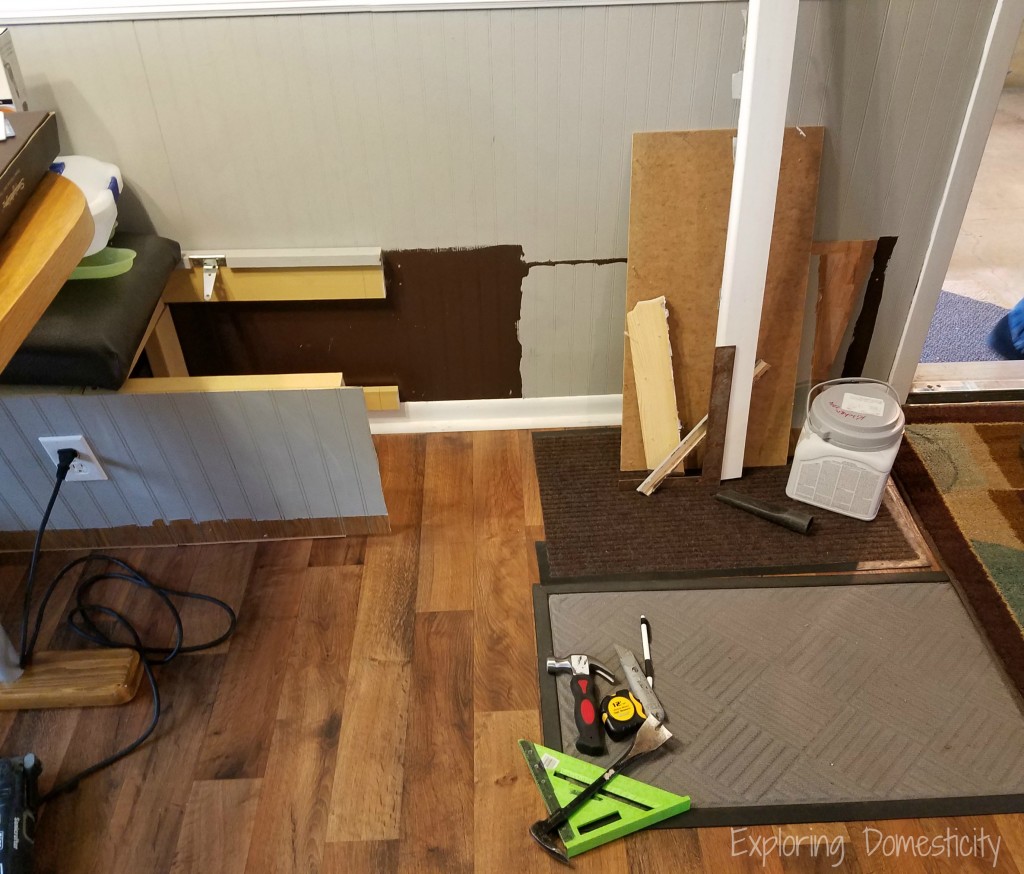 After all the prep – which you won't even have if you have an empty wall – the project is not difficult at all.
Measure the space you have and figure out what is going to fit. If you take a look at trim you like ahead of time, you'll have a good idea of how wide it is so you can plan out the frame and the spacing of the trim pieces.
We found some trim we liked and measured for the three sides to create the border. We then found two pieces for the vertical sections and customized a couple pieces together to create the thicker horizontal pieces. We are clearance bin shoppers (for all you Menards fans, you know what I mean!) and I have a handy, wood-working dad, so we do a lot of customization. However, it my be easiest just to purchase the pieces in the sizes that you need for your space.
The placement of each piece is up to you and should be tailored to your space. Decide how you'd like your hooks spaced and work with what you have.
We placed the larger, horizontal piece at the height we did because we have the light switch there and it blended in better with the white. We had about 3.5 feet of space to work with. For reference, the vertical pieces are 2.5 inches and the horizontal pieces are 5 inches.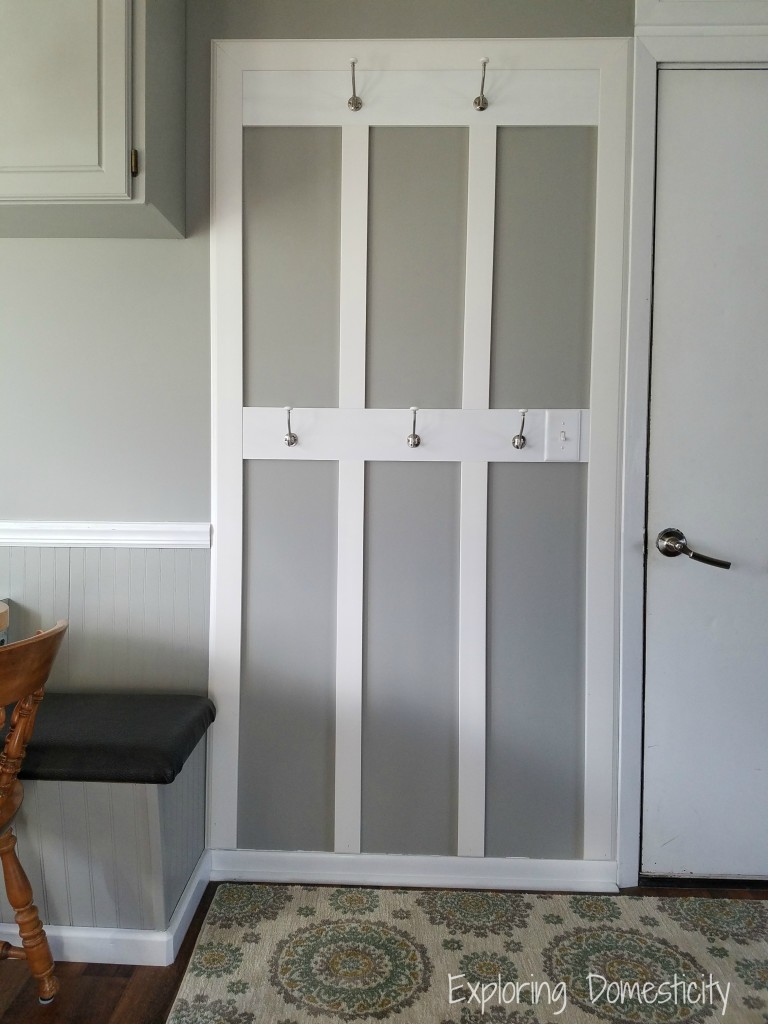 I love the look that white trim creates. It instantly adds some style and makes things look high-end for very little cost.
In the inspiration photos, they painted everything white and it looks great. We had just painted a second coat on our wall and the trim we used was pre-painted, so we thought we'd see how it looked with the block of grey. I love it!
We used glue to attach the pieces to the wall instead of having nail holes to cover. It should hold up just fine on all the trim pieces. We placed anchors in the wall for the hooks, so they should be very strong and hold tight.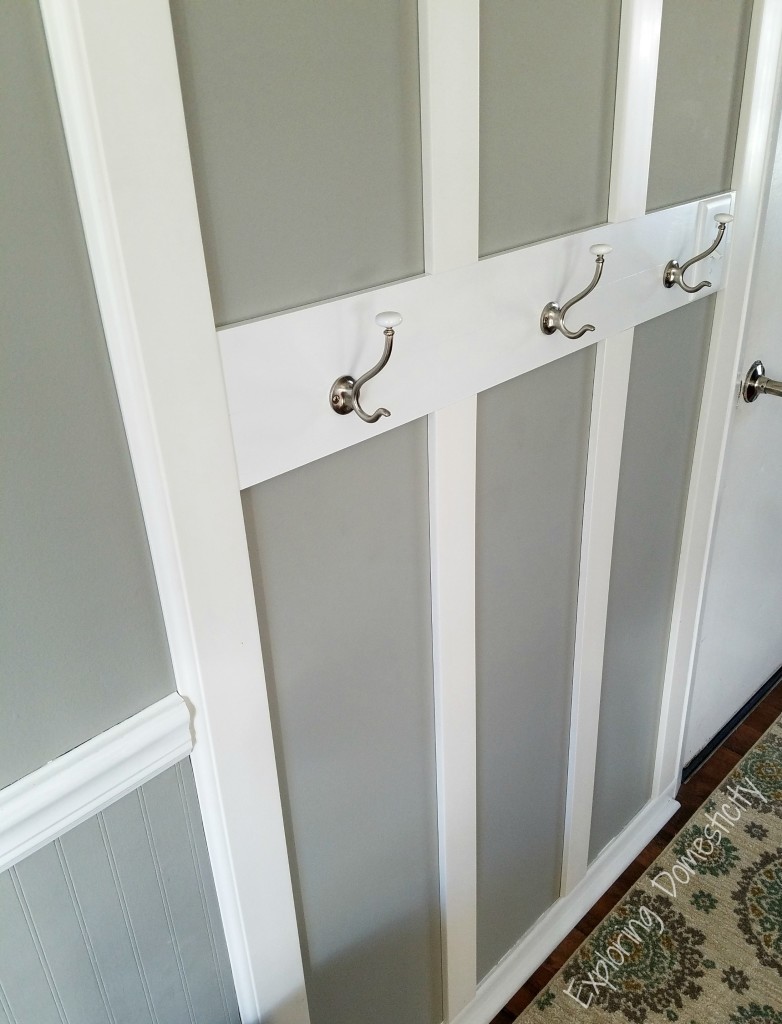 The hooks we choose were another sale item from Menards. I was considering using these gorgeous crystal knobs because I love them. However, in the end, I decided to go with the more practical double hooks so the kids can hang jackets and backpacks. Although, these shabby chic hooks would look amazing!
The end result is an open feel, beautiful look, and a lot of space and organization. The kids are already calling their own hooks. The most exciting part – they're actually hanging up their stuff!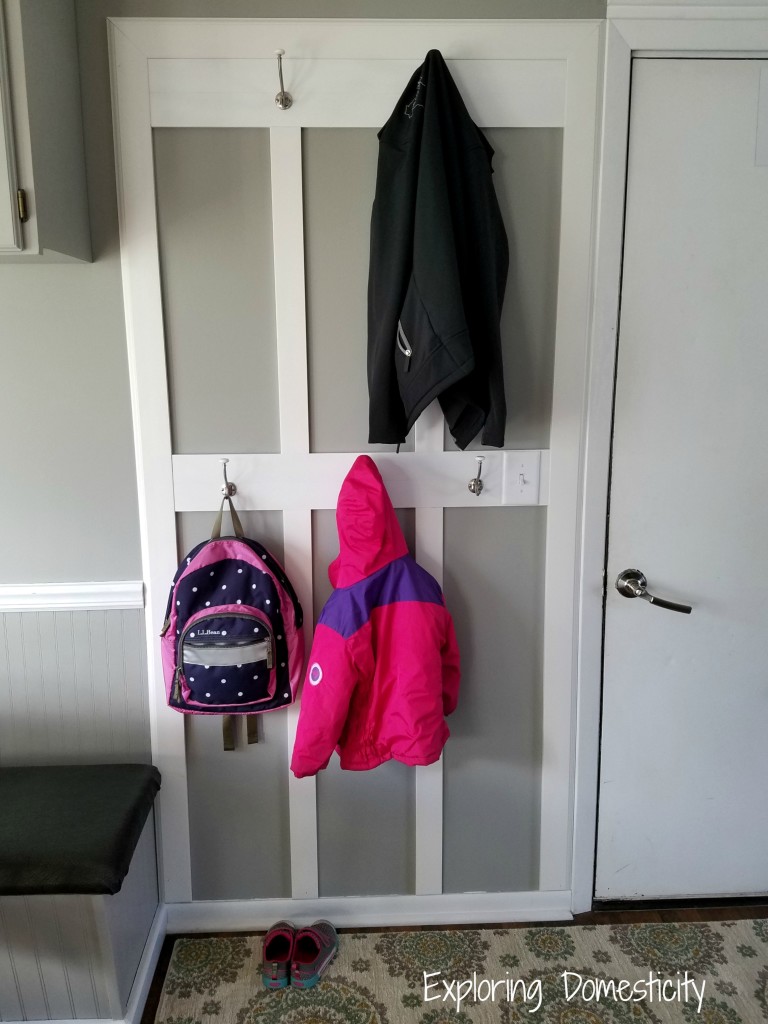 Do you need some more organization in your entryway?
Is this something you'd try?

More Like This