These mudroom built in cubbies have so much room for storage!
Hidden storage behind the doors, hooks on the front for easy hanging, and plenty of space for off-season clothing and household items.
We're so excited to reveal our new mudroom to you!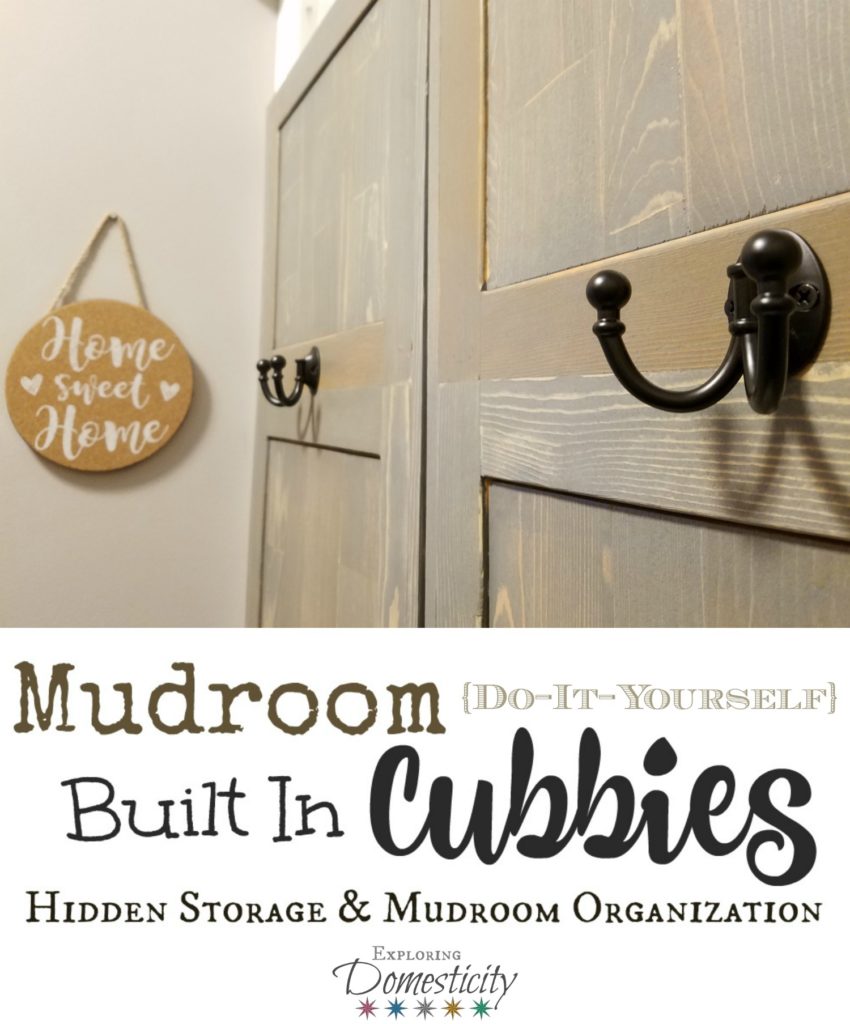 This post may contain affiliate links. We hope you will find the links helpful in making your own mudroom built in cubbies!
It's here! The time has come to reveal our Mudroom Built In Cubbies!
We have so much space for organization now! Each cubby has a door for hidden storage and hooks on the outside for easy hanging. In addition, there is a small bench, shoe storage, and shelves with baskets and buckets.
I'm in love!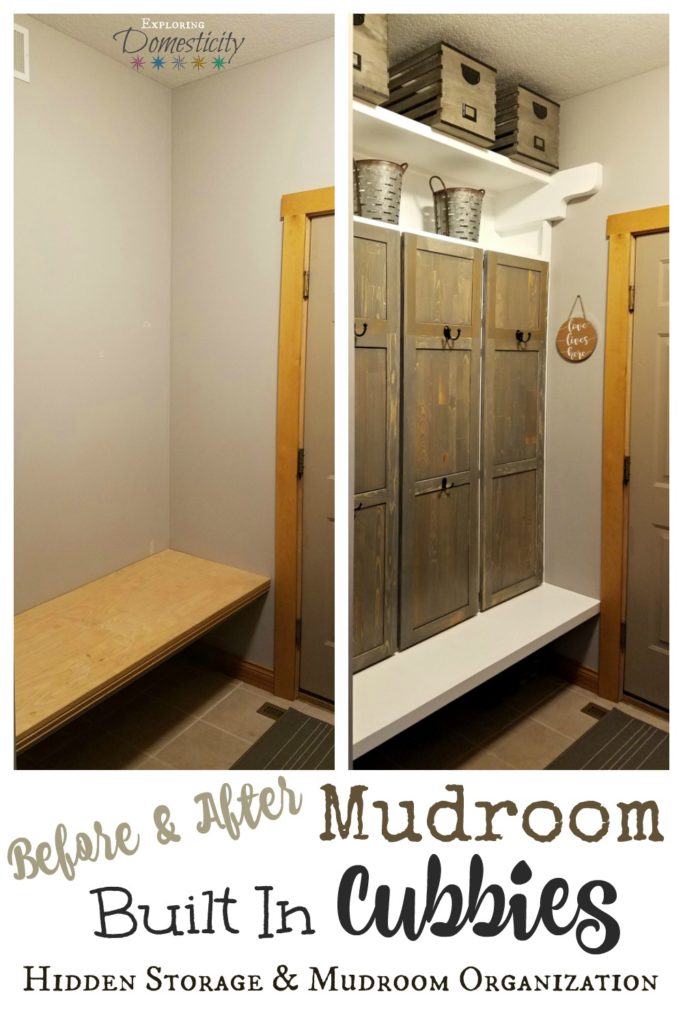 Mudroom Dreamin'
All during our time in our first house – which was pretty teeny – I dreamed of having a mudroom with lots of storage.
At the time, we had the garage as our main entrance. We even had to build out our own coat closet at that door because there was nothing!
To make things worse, we had the basement stairs straight ahead and that small space was a main traffic area between the living room and kitchen.
We did the best we could with what we had. Instead of using a bar to hang our coats, we lined all sides of the closet with two rows of hooks. I think we had something like two dozen or more hooks!
I'll have to search back through old photos, because hooks are the way to go!
We're so much more likely – and the kids are so much more likely – to actually hang things up when we have hooks instead of hangers.
About a year before we moved, we decided to make our entry even more organized and pretty with our Small Entryway Transformation.
I was dreaming of a mudroom, and this was a close as we could come to it.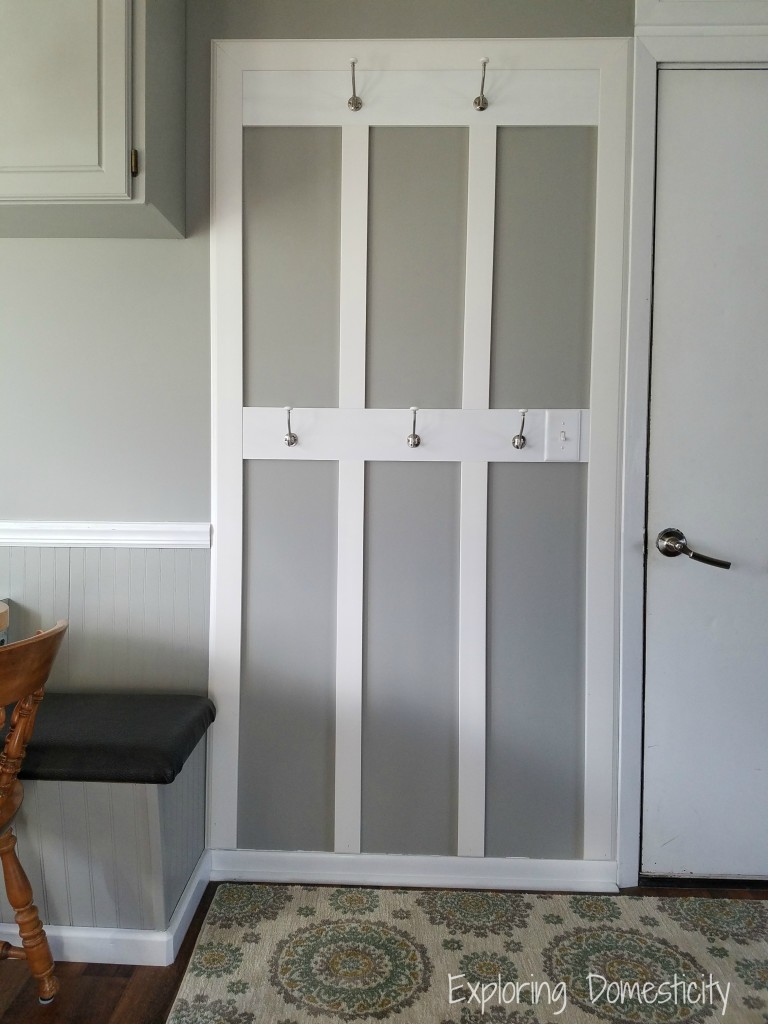 New House with a MUDROOM!
One of my favorite things our new house has is the mudroom. It was on my wishlist and this one didn't disappoint.
I love the size of our mudroom. It's not overly big with wasted space, but it has a closet to one side and a deep bench to the other. Add that to the height of the ceiling, and that's a lot of space to work with!
However, up until this point, we haven't used our mudroom to it's full potential.
The existing bench was too high and too deep to do much more than just be a catch-all for junk mail, kids projects, jackets, and gear. The rest of the space above the bench was also totally wasted.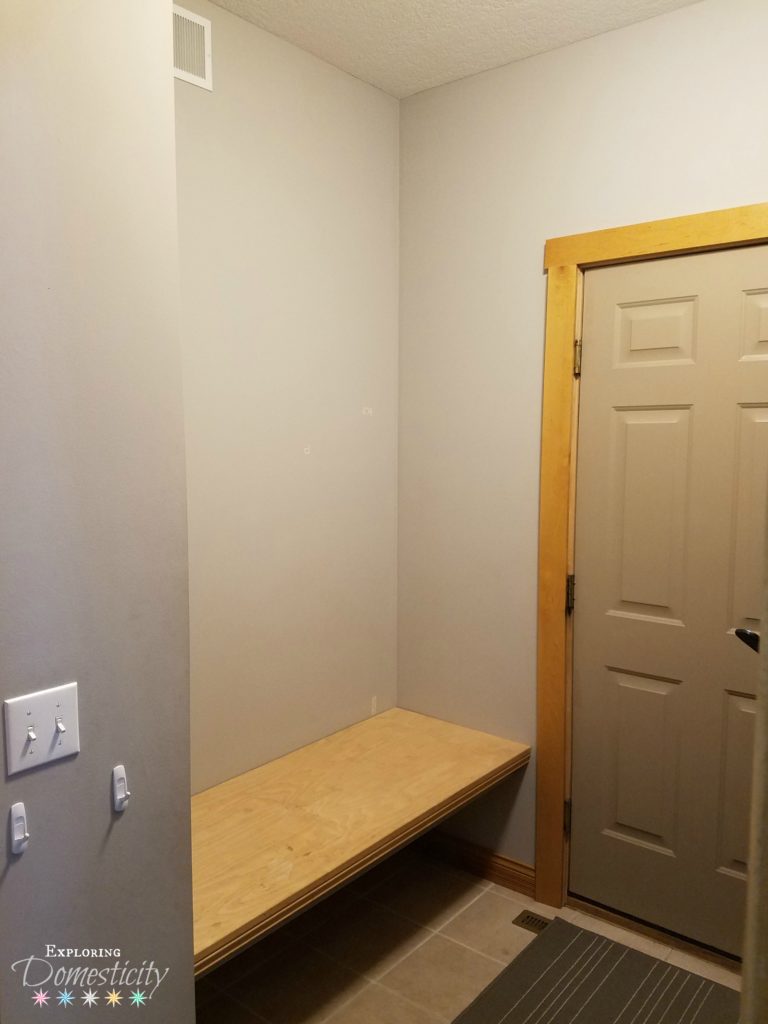 Mudroom Built In Cubbies and Storage
It took a while, but we finally came up with some plans for our mudroom built in cubbies, and our master carpenter – my dad – got to work for us.
We were originally going to do a cubby for each kiddo and a drop zone for mail. However, seeing as Hubby is the biggest culprit for leaving things lying around in that room, he got a cubby as well.
The first thing we did was lower the bench. That made a big difference right there. The kids could actually sit on it, and the room felt more open already even though we extended it just over an inch.
It didn't take long and I had a big stack of boards to be painted. After the main structure was installed, we had a little bit of time before the doors were ready.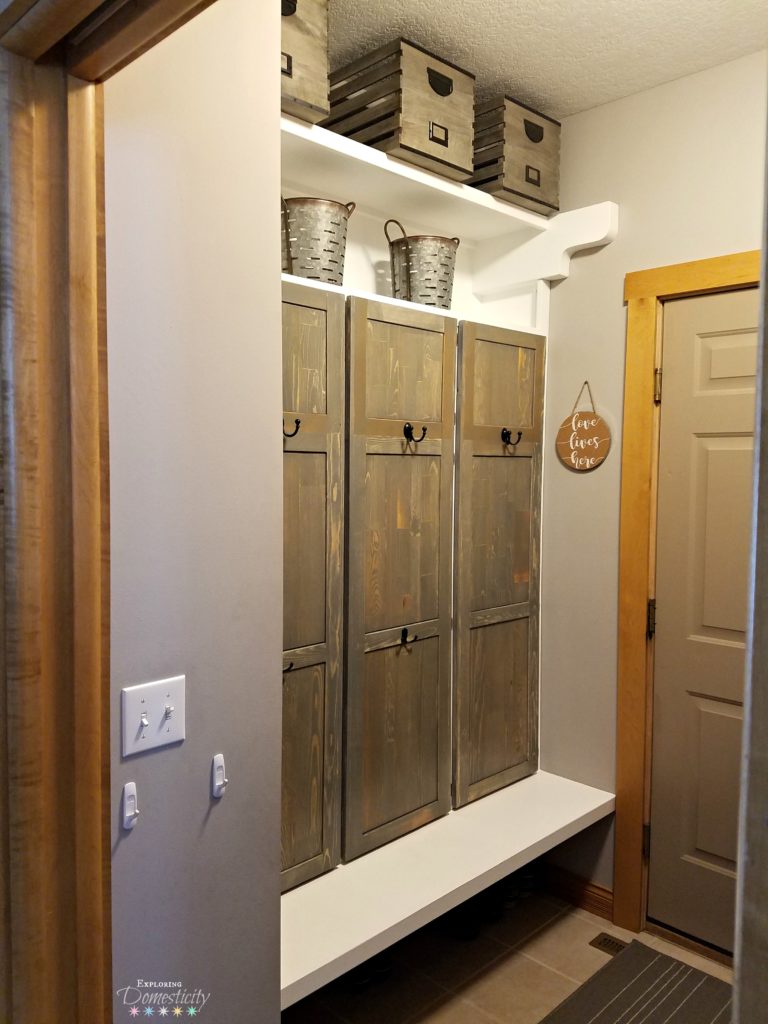 We went for a glossier paint for easy cleanup with all the fingerprints. I still haven't distressed a thing, but figure that will just naturally happen with time.
Just to make it flow a little more and make everything look like one piece, we also painted the wall between the two shelves.
What a difference that makes!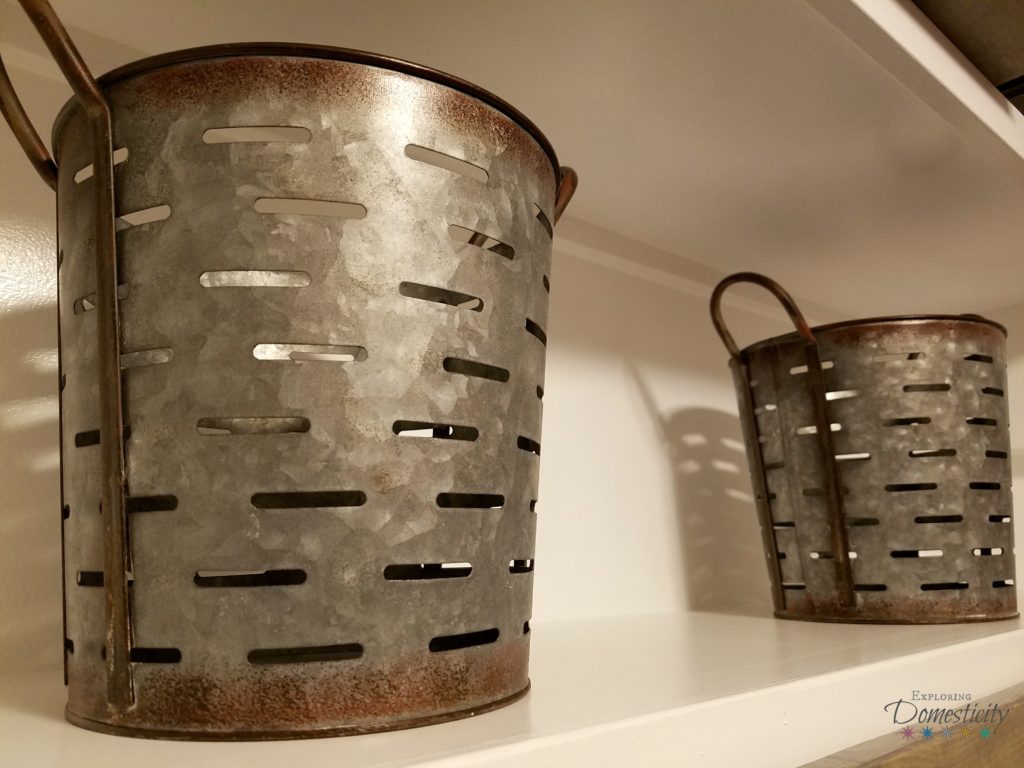 We were going to do the entire mudroom built in cubbies in a distressed white, but things evolved as the project went on.
We figured the look wouldn't be quite what we're going for with all three doors also painted in a white semi-gloss. Around the same time, we had picked up some amazing crates (similar to these minus the black accents) from Menards and were loving the grey look to the wood.
Inspiration struck and the doors were also stained in a bit of a grey and wiped down to let the grain show through.
That, along with the black hardware ties in so well with the wood crates and changes the whole look.
It's amazing!
Mudroom Built In Organization and Storage
We got our black outer hooks from Menards as well, and had the silver hooks for the interior from our old closet I was telling you about.
We have three hooks inside for jackets, backpacks, and snowpants. At the bottom we have two magazine holders in each for schoolwork and paperwork.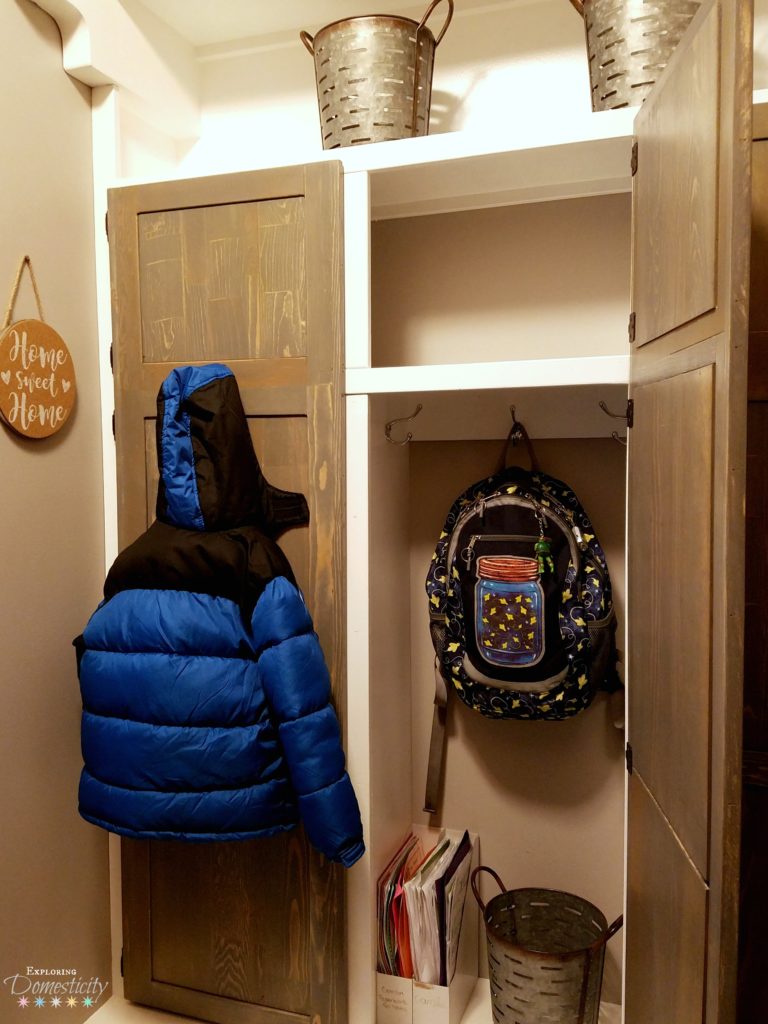 Also from Menards, we have some olive buckets that I love! They're similar to this one from Amazon.
With a little price comparison, we found $9.99 with 11% off from Menards is a better deal than other places we checked.
The last thing to finish it all out is my Hobby Lobby find from the other day.
With the larger top hooks on the doors and being built into the wall, we worry about the doors slamming into the walls and causing damage.
The perfect solution is these two little cork signs. We have Love Lives Here near the door and Home Sweet Home on the opposite side so we can see it when we come home.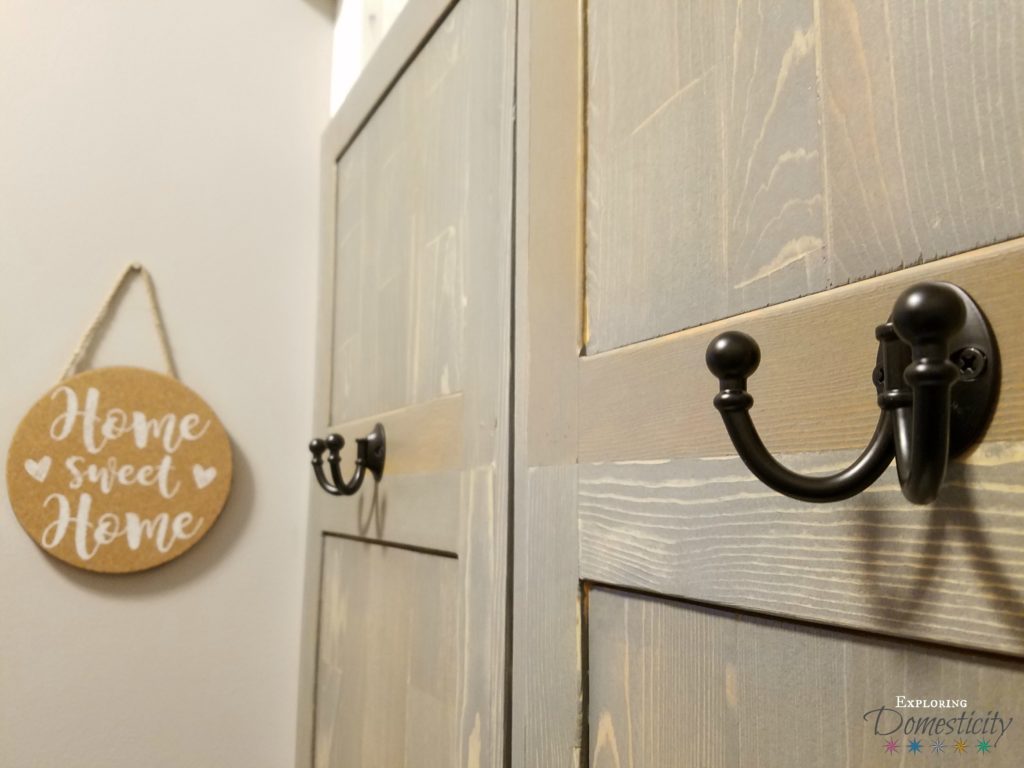 The cork is perfect for protecting the walls and the hooks.
I actually debated on buying them because we already have some round cork wall hangings I could have used.
You wouldn't believe what they're made of! We actually shared the project a couple years ago because it is so easy!
So, that's the finished product.
We have a bit of work to do yet on the other side. We have already removed a shelf from the closet and put our freezer into the corner. Now all it needs is the drop zone I gave up for another cubby.
It will be perfect!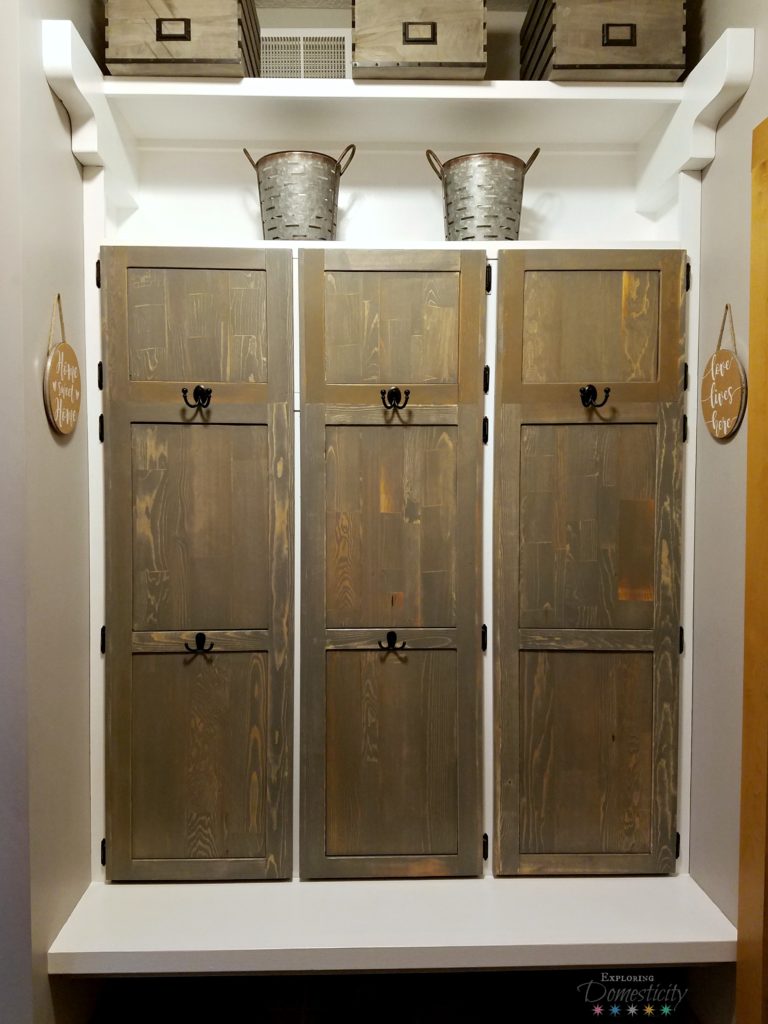 Do you have a mudroom in your house? Or do you dream of a mudroom like I did?
Pin It!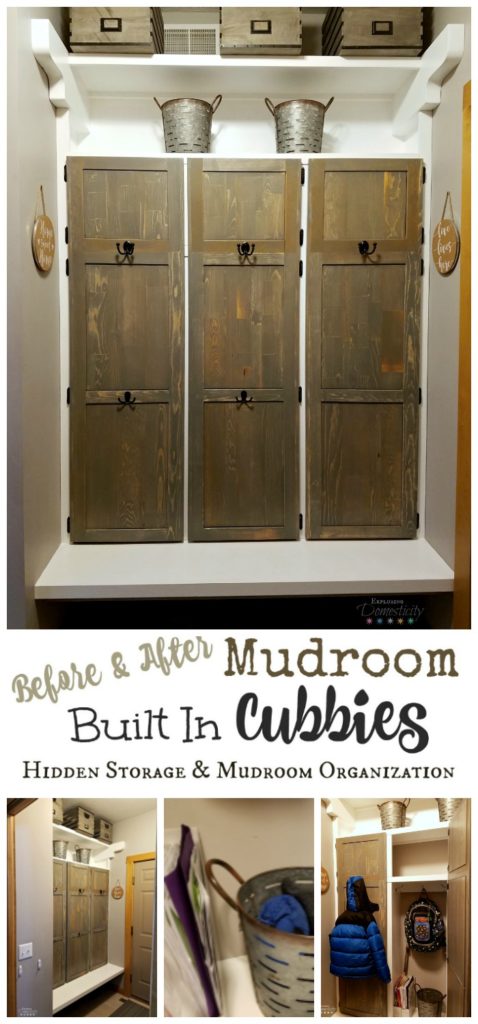 More Like This