Looking for a way to organize your little one's dolls? Store your 18 inch dolls up off the floor with this easy DIY American Girl Doll Holder.
Display your little lady's dolls up on the wall instead of strewn all over the floor.
It's easier than you think!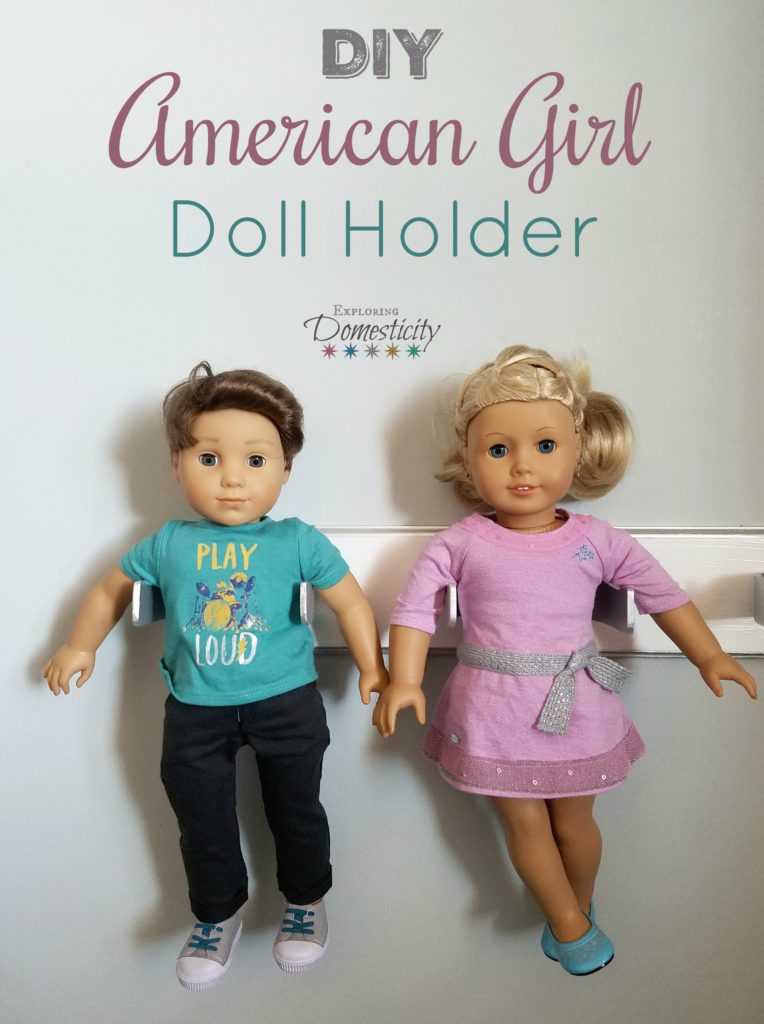 This post may contain affiliate links. We hope you will find them helpful for your 18 inch dolls.
Our little lady has become American Girl obsessed!
She loves "her Americans" so much and has ended up with a bit of a collection.
When we first took her to the American Girl Store, she had my original Samantha doll and her own Truly Me doll.
Since then, she has added a lot to her collection – especially at Christmas time. She now has Logan, many more clothes and accessories, and even a My Life doll that Mom couldn't resist because it was only $13!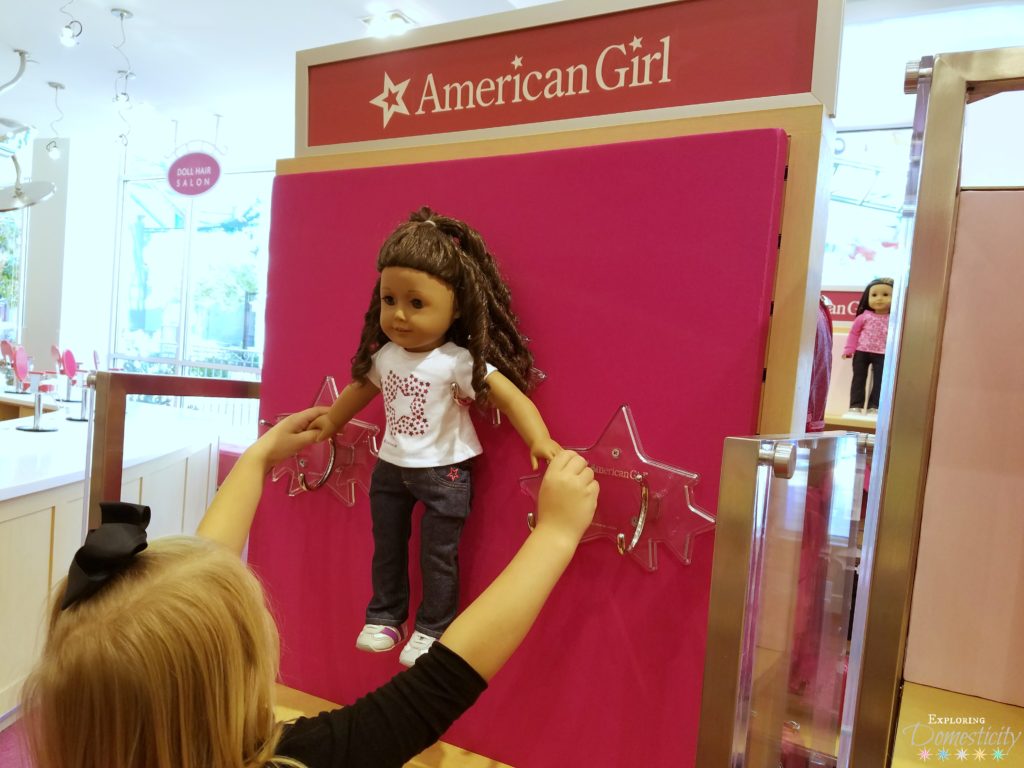 What a mess!
Our Little Lady is known for being able to make a mess every time you turn your back.
We have American Girl scenes set up all over the house. The dolls themselves can be found behind the couch, in every room, and even all over the playroom that is supposed to keep it all organized.
An our playroom is set up for organization!
Despite that, these things are everywhere! So, we now have a solution! …and it's so cute!
DIY American Girl Holder
Our master handyman – my dad – who has built more things than I can count, made our Little Lady the best DIY American Girl Holder!
Here is a sample of those projects: Mudroom Built In Cubbies, Shiplap Fireplace, Play Room Loft Bed, Pallet Coffee Mug Holder, etc…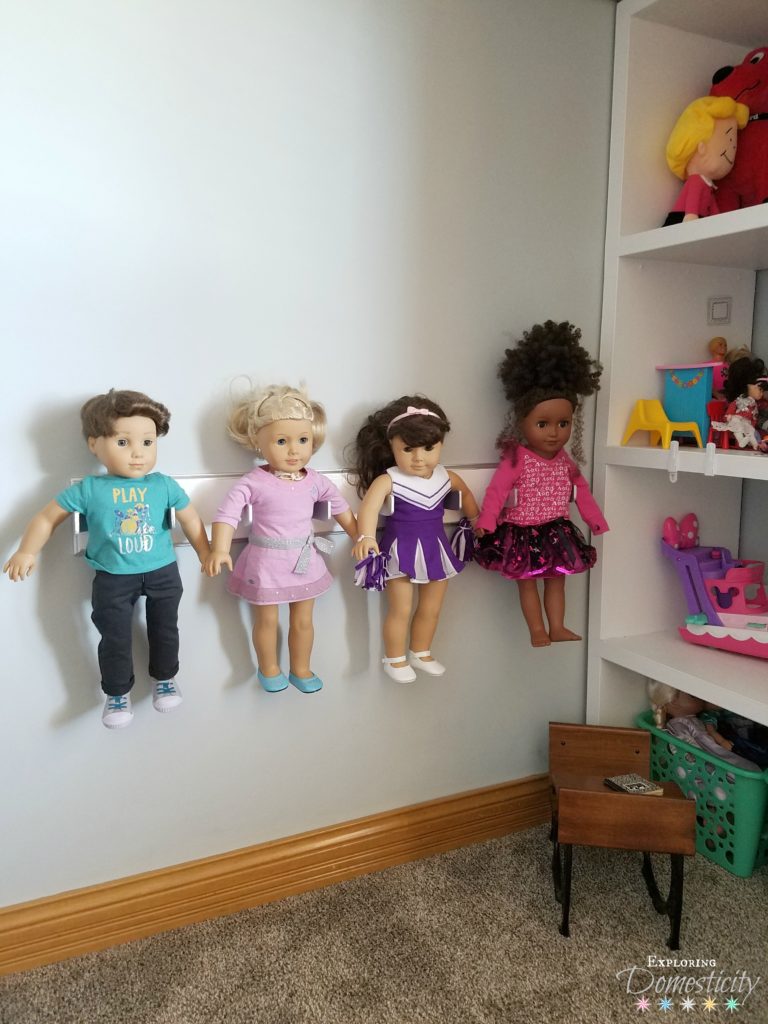 Making the DIY American Girl Holder…
The doll holder you'll find at the American Girl store (in the photo, with all the pink, before this one) is adorable with a little, plastic star and some hooks to go under the dolls arms.
They're cute, but we wanted room for more dolls.
All you need to make your own DIY American Girl Holder is a piece of 6 or 8 inch PVC pipe, a wood form, and a piece of wood to mount the holders on.
Make the mold
American Girl dolls are roughly 10-11″ around the chest. When I stick the tape measure across armpit to armpit, it measures about 4 inches wide.
To make the mold for your doll holder, cut a piece of wood to the width of your doll and round the edges a bit. If you'd like, you could a 1×4 and leave the edges square for different look.
Measure your doll and make the mold to your specific requirements and look you like.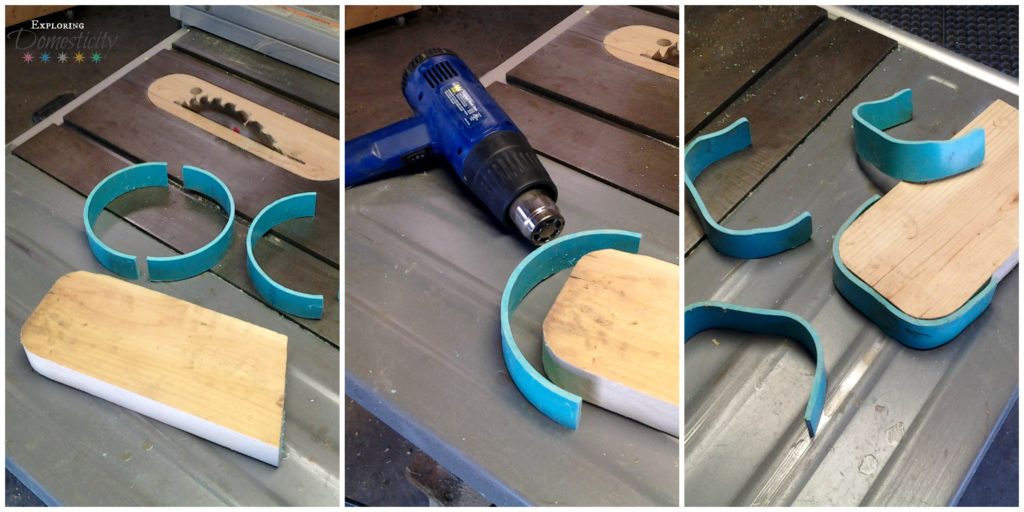 Forming the holders
Cut the pipe into rings – about 1-1.5 inches, depending on your preference
Cut each ring in half
Wrap the half ring around the end of the mold and use a heat gun and gloves to form the shape
Drill two holes in the back of the holder for the screws
On each side – where the arms will lay – sand a bit of a groove and round the sharp edges
Paint with spray paint or craft paint
Once the holders are formed, you can mount them to any shape you'd like, using as many holders as you need.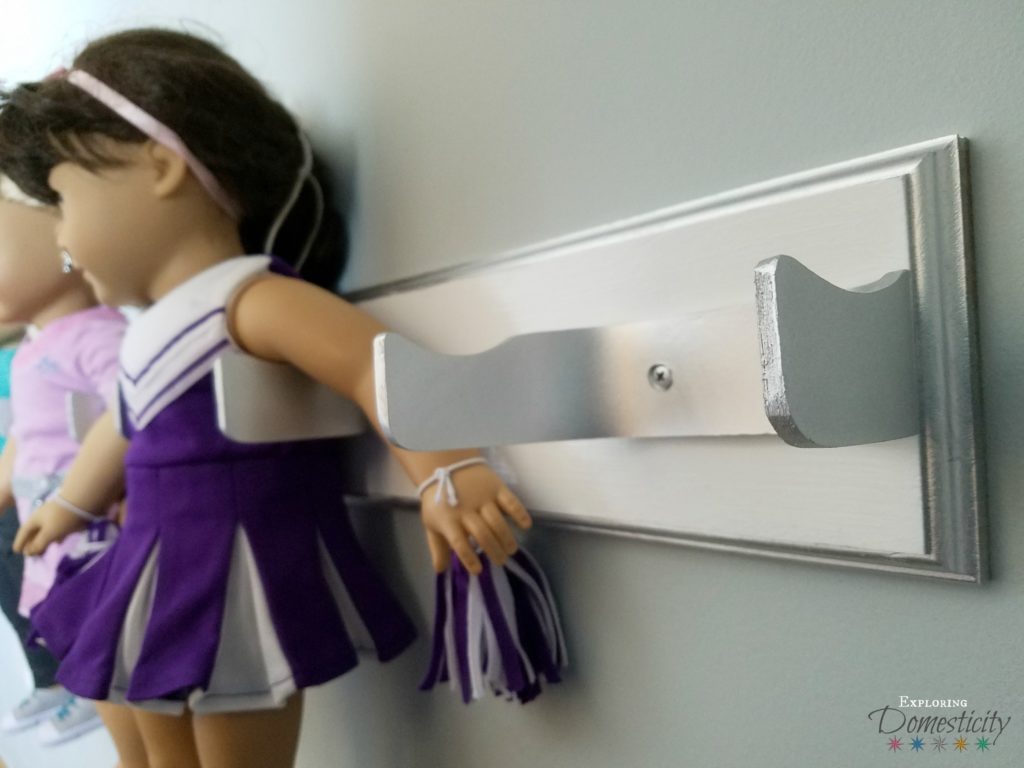 Not just for American Girl
Although, American Girl dolls – or her "Americans" – are her favorite, our little one does have other dolls.
Even more My Life doll fits on this holder. Because the arms have less mobility, the My Life dolls sits in the holder a bit higher, but it still works great.
My Life and other 18 inch dolls will also work in this holder.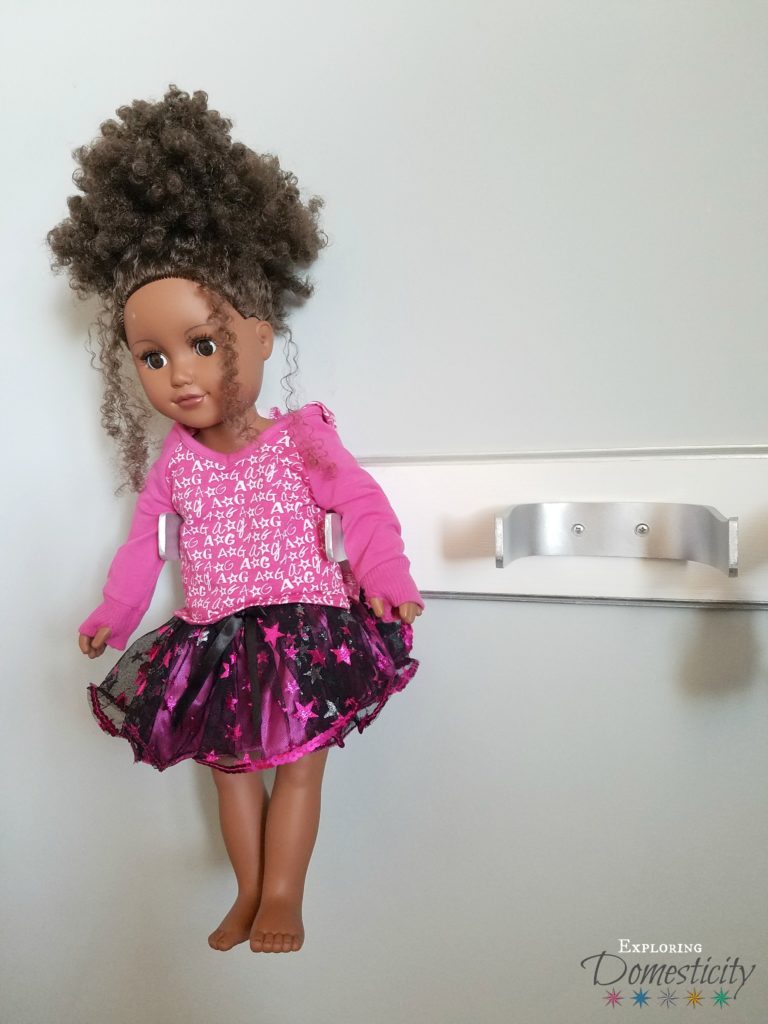 Finally! – Doll Organization
It's so great!
The dolls stay off the floor and they look adorable displayed on the wall.
I wish I could say everything was this organized, but it's a work in progress.
At least the dolls all have their own place. She knows exactly where to put them when she cleans up.
Now, if she didn't have to change their outfit each time she put them away!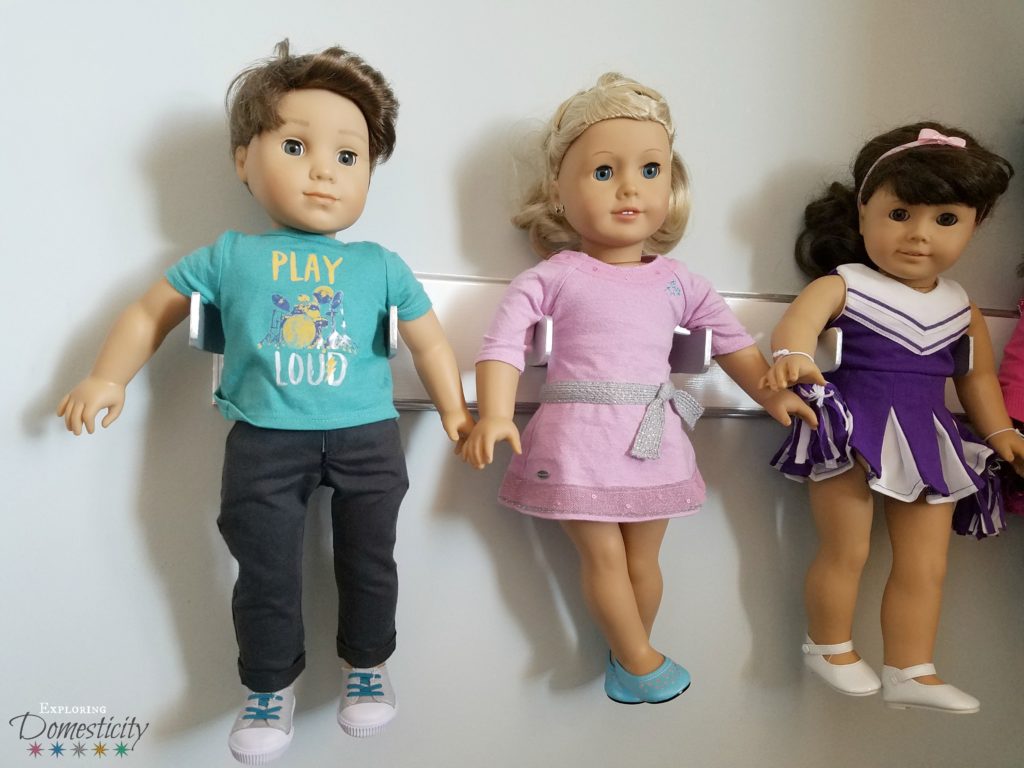 Is your little one into American Girl Dolls?
Do you have any doll organization tips for us?
Pin the DIY American Girl Doll Holder for later!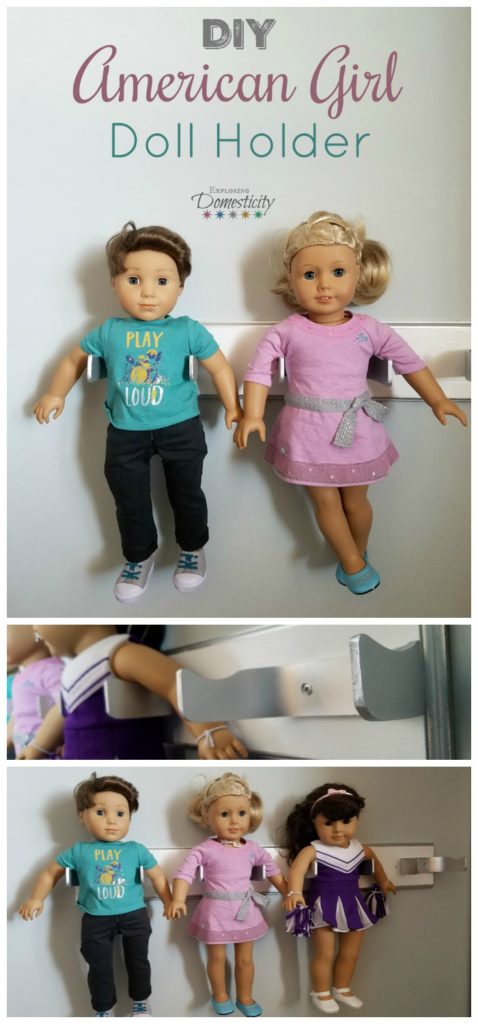 More Like This