Easily add personality to your camper with these fun camper spare tire covers.
We've found the cute, clever, patriotic, and pretty. Also those who want adventure, those who like rustic, and some specifically for pop up campers.
You'll love these for your camper. It's a very simple way to add a lot of charm.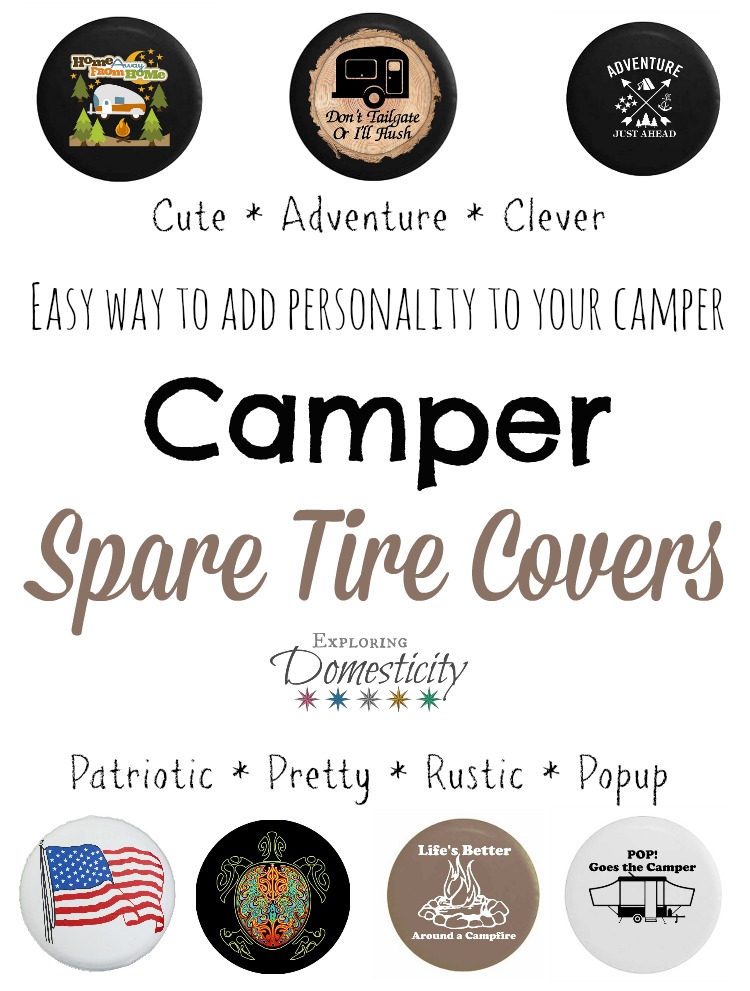 We are a participant in the Amazon Services LLC Associates Program, an affiliate advertising program designed to provide a means for us to earn fees by linking to Amazon.com and affiliated sites. We hope you find the products we showcase helpful when picking camper spare tire covers.
Who else thinks about camping season even when there is snow on the ground?
A couple weeks ago, our pin for Pop Up Camper Replacement Parts went a little crazy on Pinterest. Just that one pin had hundreds of thousands of impressions on Pinterest. It was crazy!
That little bit of camper excitement, led to me finding all sorts of great camping and camper remodel boards on Pinterest.
Needless to say, I'm wishing it was camping season pretty bad right now!
Since we are up to our ears in snow, and won't be camping for a few months from now, I need to get my camper fix in other ways.
Enter: looking for camper products on Amazon or Zazzle.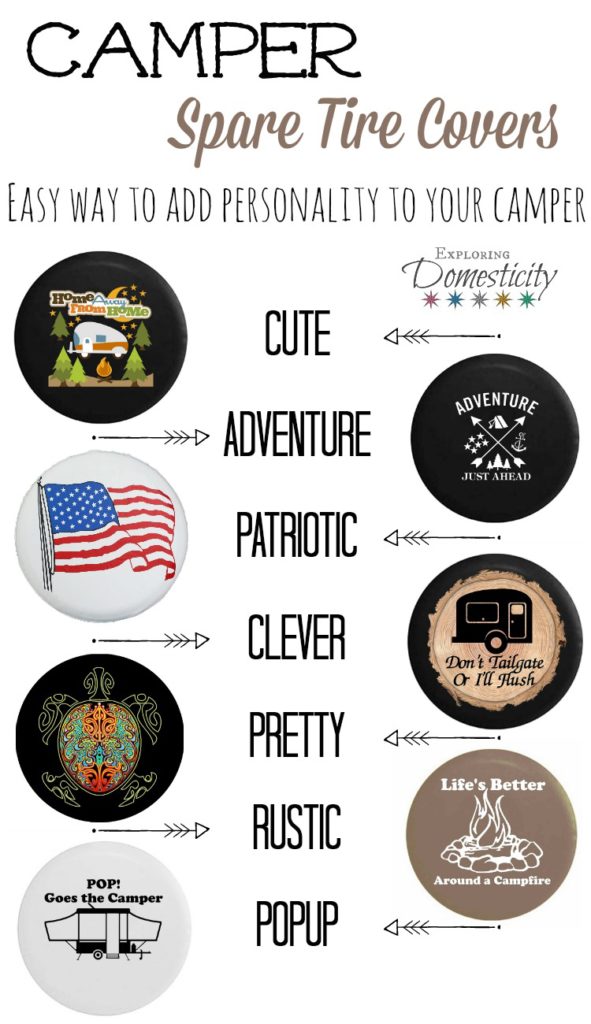 Camper Spare Tire Covers
As I was scouring Amazon for all the camper products I could find, I came across a lot of fun camper spare tire covers.
This is such a fun way to add some personality to your camper without any work.
We've broken up the camper spare tire covers into categories, so you're sure to find one that fits your style.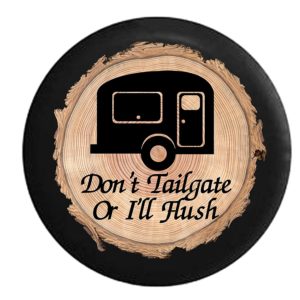 Clever Camper Spare Tire Covers
Some of my absolute favorite camper spare tire covers are the funny ones. People are so clever.
Nothing better than driving down the road and giving the people behind you a little chuckle.

Cute Camper Spare Tire Covers
Cutsey cartoons and animals are a pretty adorable way to adorn your spare tire.
The kids especially will love these!

Patriotic Camper Spare Tire Covers
What's more american than camping?
Show your patriotism and love of camping at the same time. Patriotic camper spare tire covers are perfect for anyone with a tradition of camping on the 4th of July.

Pretty Camper Spare Tire Covers
If you're into Glamping, you're probably looking for something more feminine and pretty.
Well, they have those too!

Adventure Camper Spare Tire Covers
I especially love the camper spare tire covers that speak to the adventure and spirit of the open road.
They just make you want to take the camper and travel without a map. Just lose yourself in the journey.

Rustic Camper Spare Tire Covers
With a bit more of a camp look, these rustic camper spare tire covers are adorable. They give that warm, happy camp vibe just looking at them.

Camper Spare Tire Covers Just for Pop Ups!
As you know, we're partial to pop ups. If you haven't seen all of our posts about our 1999 Viking Pop Up check out the links below to catch up.
A couple of these camper spare tire covers are also in our post about Fun Pop Up Camper Products.
We love our camper, but we don't have an adorable cover on it yet. It's just a matter of time…
Which one do you think we should get?
Have you seen our other pop up posts?
Even More Camper Spare Tire Covers