After obsessively checking craigslist for months, I made the biggest impractical purchase of my life…
I bought a camper!!!
We got a great deal on a 1999 Viking Pop Up with air, shower, and toilet that is actually in pretty good shape, but we can't wait to remodel and make it our own! I love looking at adorable little campers that have been fixed up and I would love to get a cute little vintage one someday. For now, we got one that will fit in the garage. I love a pop up anyway, we had one as a kid and I can't wait to make memories with my little ones. I'm so excited to introduce you to our new baby!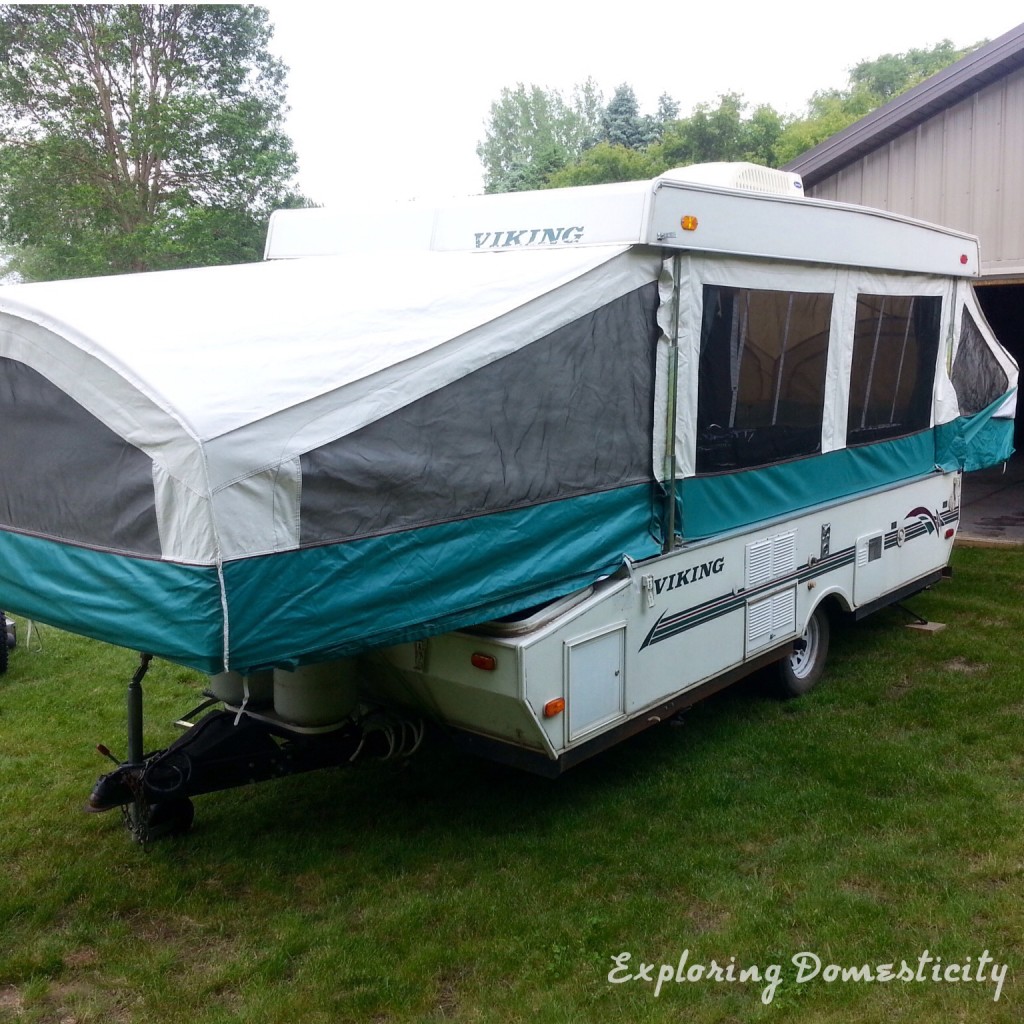 I love her! She needs some work, but I'm so excited about it!
My Favorite Parts
It is a nice big camper and feels pretty spacious
It has a toilet and a shower
We have air conditioning! A really big plus at the price we paid
There is no water damage – a major thing to consider when buying a used camper
The table tops and counters aren't the best color, but they are in really good shape
It has a screen porch that attaches to the awning!
It has a front storage compartment
All of the screen is in fantastic shape
There are no tears in the canvas

Not-So-Favorite Parts
It's a 1999, so we're talking 16 years of dirty camping and two different owners
It has a smell… It's not impossible, but we will have to take some time to get that old basement smell out of her
The upholstery needs a really good cleaning
It was DIRTY!
Some of the decals on the outside are peeling off
The lid to the storage compartment is in really rough shape
There was an old, dirty carpet down so we were sure the original vynal was in rough shape
Did I mention that smell!?!
The Scary Parts
The smell may fit under this one… 🙂
There are a few spots where the vinyl is torn at the seam, which looks hard to fix and will be a problem if we need to use the heat or air
There is a spot (maybe two) where the canvas stitching has come apart

I'm so excited!!!
We've already done some cleaning and it is really starting to feel like our own. I can't wait to tell you more next time. Until then…
What should I name her???