Attention popup lovers!
Fun Pop Up Camper Products for the Pop Up Camper Enthusiast. Everything from camper decor to Pop Up Camper collectibles.
These are the perfect gifts, and you can find all these fun pop up camper products on Amazon. So easy!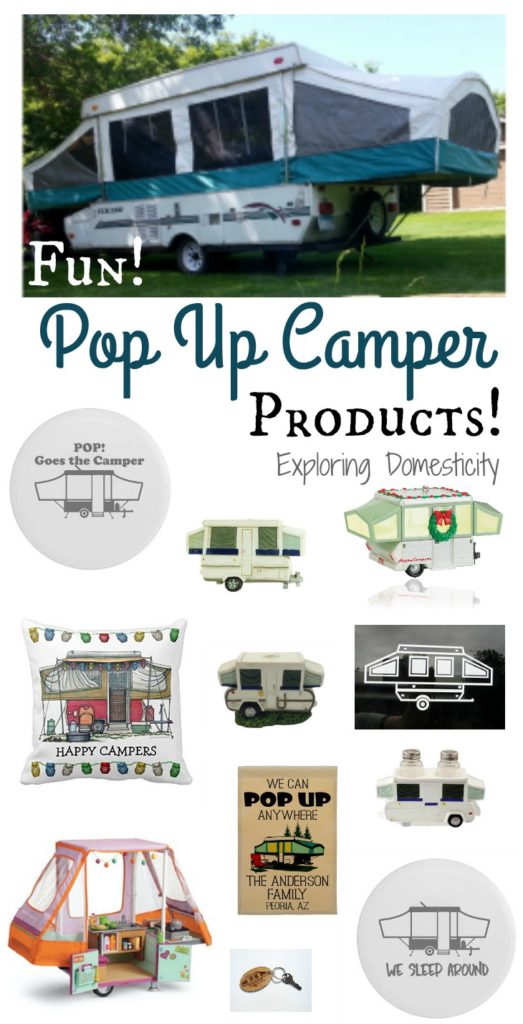 As a member of the Amazon Affiliate Program, this post contains affiliate links to Fun Pop Up Camper Products on Amazon. We hope you find them helpful and love these cute ideas as much as we do!
As I said in our previous post, the pop up camper love is strong here. It's something that gets into your blood, and you can't help but look at all things pop up. From camper remodels on Pinterest to adorable pop up camper products on Amazon, it's an obsession!
Since buying our house this year, we haven't done much with our popup. I'm feeling a bit of withdrawal from the popup posts.
Have you seen our other pop up posts?
Pop Up Camper Products on Amazon
You can find everything on Amazon. We have Amazon Prime, so we get free 2-day shipping and we cut cable and watch all our TV on Amazon. I totally recommend you try the Amazon Prime 30-Day Free Trial
just to get the free shipping if you can't live without some of these fun Pop Up Camper Products.
It's safe to say, there isn't a day that goes by that I'm not on Amazon.
Just the other day, I randomly searched Pop Up Camper Products and, boy, did that get me started! There are so many cute things! Also, some pop up camper replacement parts that would be very useful for remodeling an older camper like we did!
As promised last week, here are some of the fun pop up camper products I found recently on Amazon!

Fun Pop Up Camper Products
For Camping
Key Chain. This wooden pop up camper key chain is very cute. Perfect way to keep track of the camper keys.
Pillow Covers If you're remodeling your pop up camper, or just decorating, there are several pillows, or pillow covers, that are so adorable. I love this Happy Campers pillow cover! There's even a cute little, funny pop up camper problems pillow cover.
Tire Cover. This may be one of my favorite finds. The "We Sleep Around" tire cover is too funny! If that's not your style, you can get the "Pop! Goes the Camper" tire cover.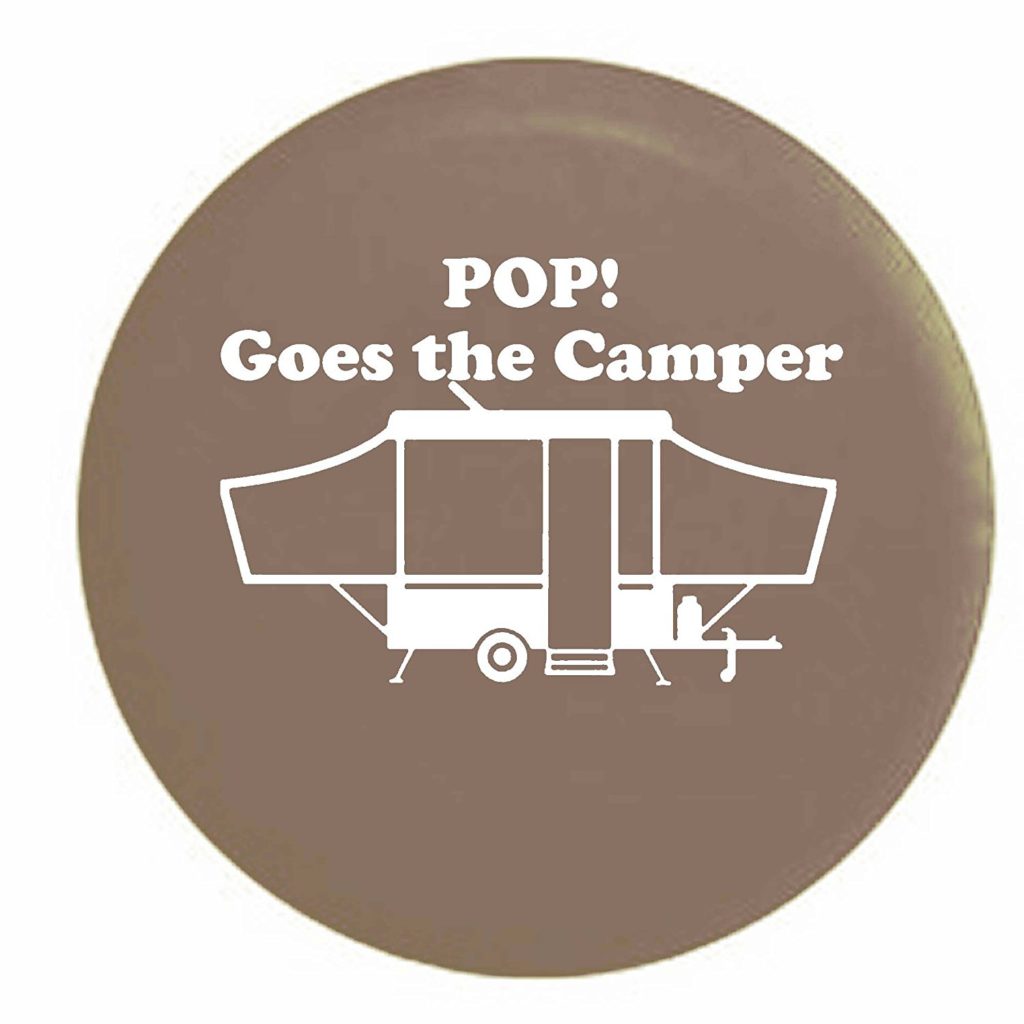 Magnets, Perfect for your mini camper fridge, this pop up camper magnet is pretty cute.
Campsite flag If you're popping up at a campsite and you want to personalize your spot a little bit, this campsite flag is pretty cute.
Wooden Sign. For something a little larger and more permanent, you can personalize a wooden sign with a popup being towed.
Window Decals There are a few adorable window decals with pop up campers. My favorite pop up camper window decal is this one with the heartbeat and lifeline – so cute!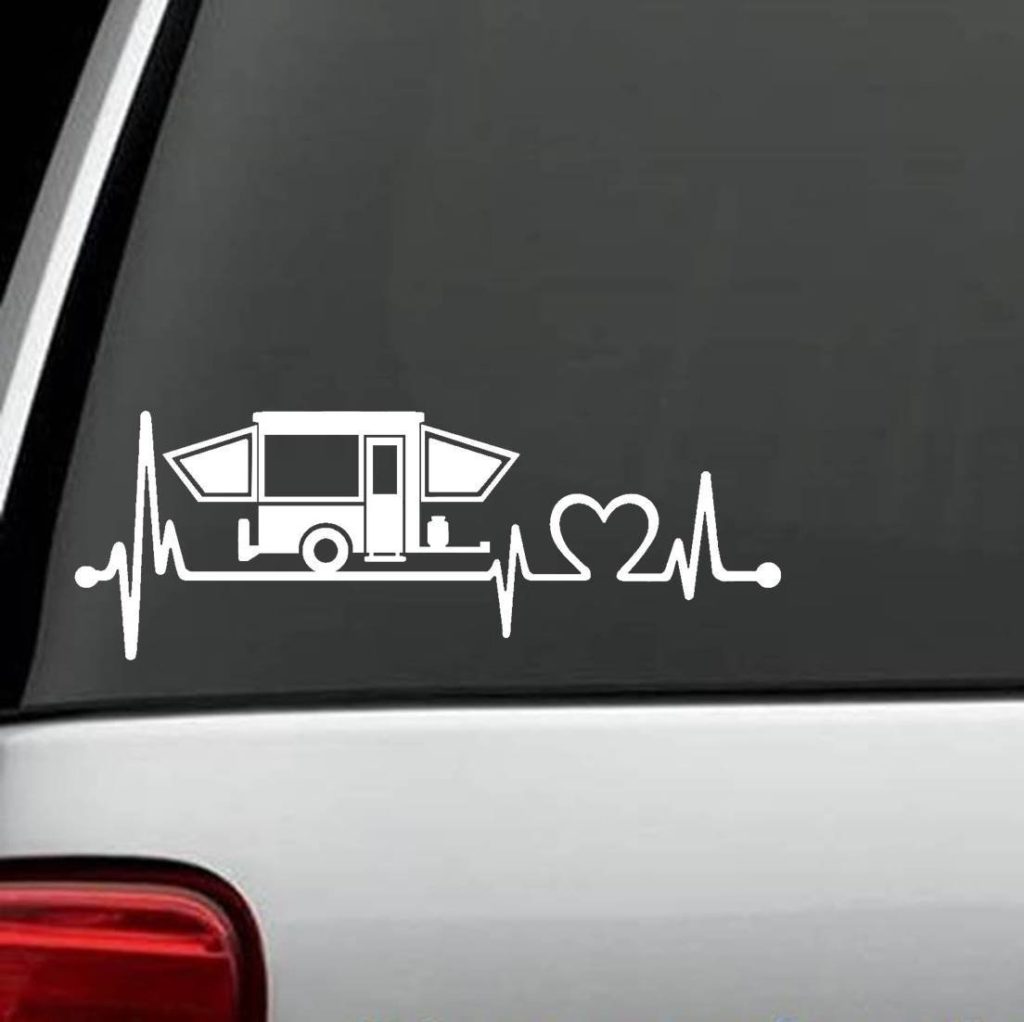 For the Home
Models and Figurines If you want something decorative, to help you feel that camper vibe even when you're not there, you can find pop up camper models like this one with a truck and camper. Or, you could get this little Pop up camper figurine.
Christmas Tree Ornament. Of all the fun pop up camper products, there are definitely more Christmas tree ornaments than anything else. This ornament is pretty cute, but this one is my favorite.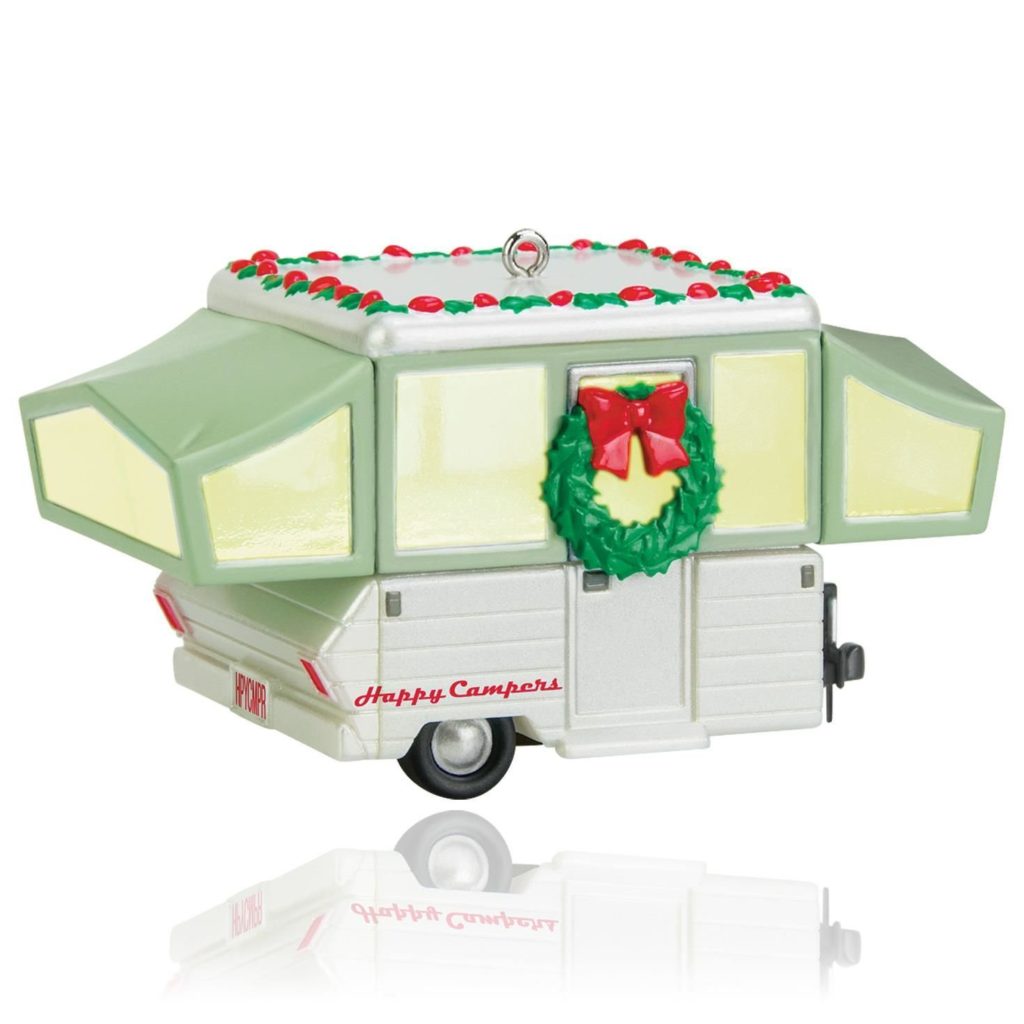 For Anytime!
Salt and Pepper Shakers. I love the idea of decorating your little pop up camper dinette – or even your kitchen table – with adorable little pop up camper salt and pepper shakers. I found both these and these on Amazon.
Pop Up Camper Apparel Pretty sure every pop up camper enthusiast could use a Let's Get Poppin' shirt!  Or, maybe a Pop up camper hat.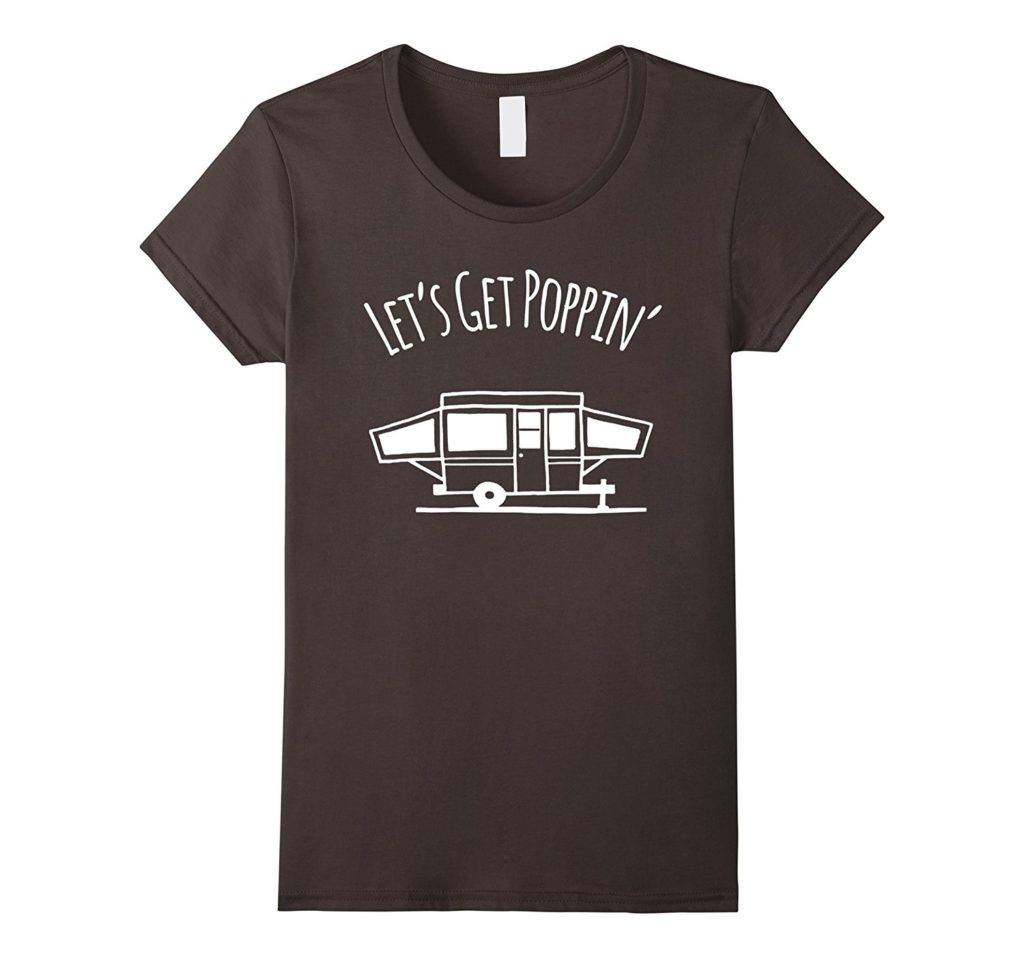 For the Kids
American Girl Pop Up Camper. Do you camp with kiddos? We have a 6 and 4 year old and our Little Lady is obsessed with American Girls right now. She would flip out if they had their own pop up camper! They could even have a Coleman grill set for dolls and a Coleman cooler! Also, since I couldn't stop myself, I found a Our Generation campfire set and 18 inch dolls folding chairs. There are so many great things! I had to stop, or I could have looked forever!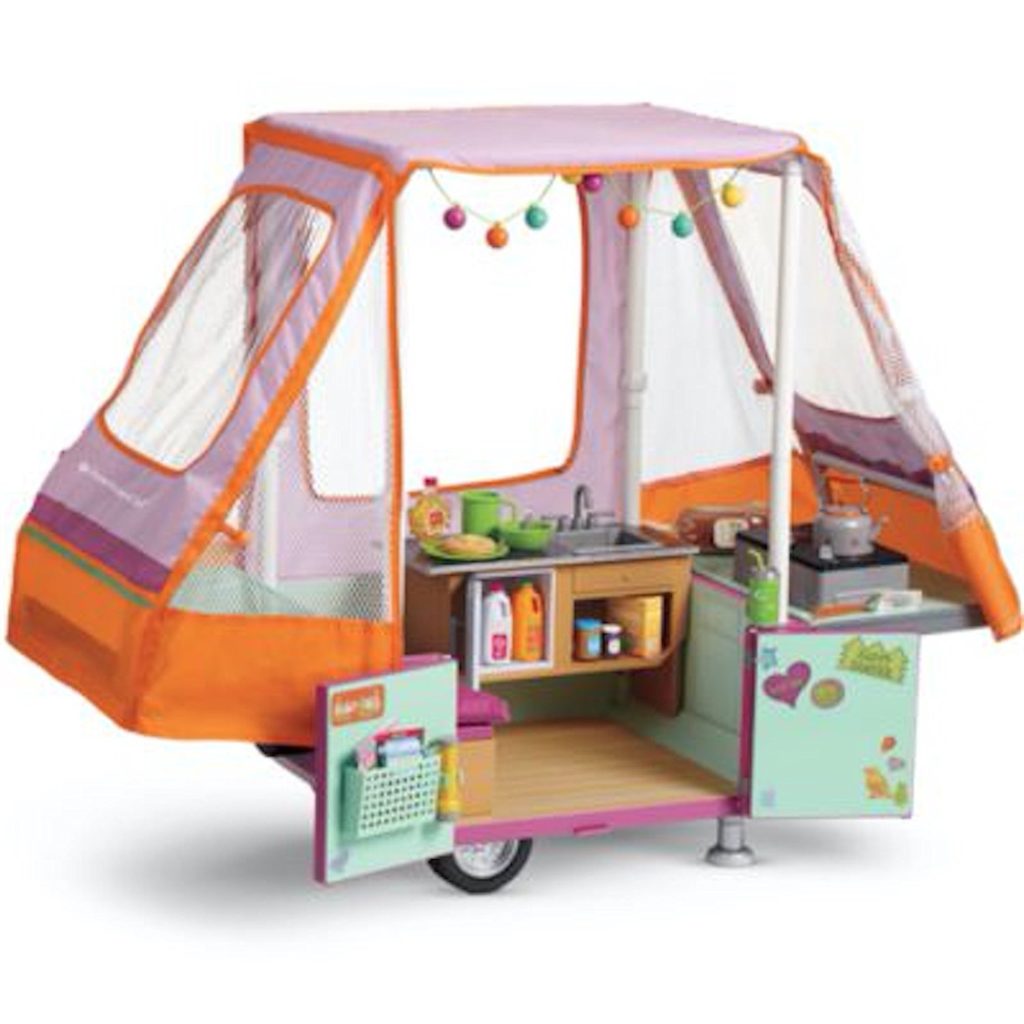 I can't stand it! Pop Up Camper Products are so cute! I just wish there were more of them!
Have you found any amazing Pop Up Camper Products? Let me know in the comments because I must check them out!
I was surprised at how many Fun Pop Up Camper Products I was able to find with a quick search on Amazon!
If you sign up for Amazon Prime, you can have your fun pop up camper products in just 2 days with free shipping. Try Amazon Prime 30-Day Free Trial
 and get your free shipping for 30 days…. Searching "Pop Up Camper" is a great way to start to find anything you need.
Best of luck! Let us know what you find!
Also, please share any of your Pop Up Camper Remodel projects in the comments, through email, or on any of our social channels.
As I said, my pop up camper remodel withdrawal is fierce, so if you have an gorgeous photos, I'd be happy to feature them here on the blog as well!!
For more inspiration and resources for Pop Up Camper Remodels or Camper Remodels, check out our Pinterest boards. If you'd like to be added to contribute to the group boards, follow us and contact us to request to be added!