These Farmhouse Tables are not hard to make, but they make a big impact. Using all scrap or reclaimed wood, these come together quickly and cost next to nothing. Or nothing at all in our case!
See how we use two in our dining room for storage and gorgeous style!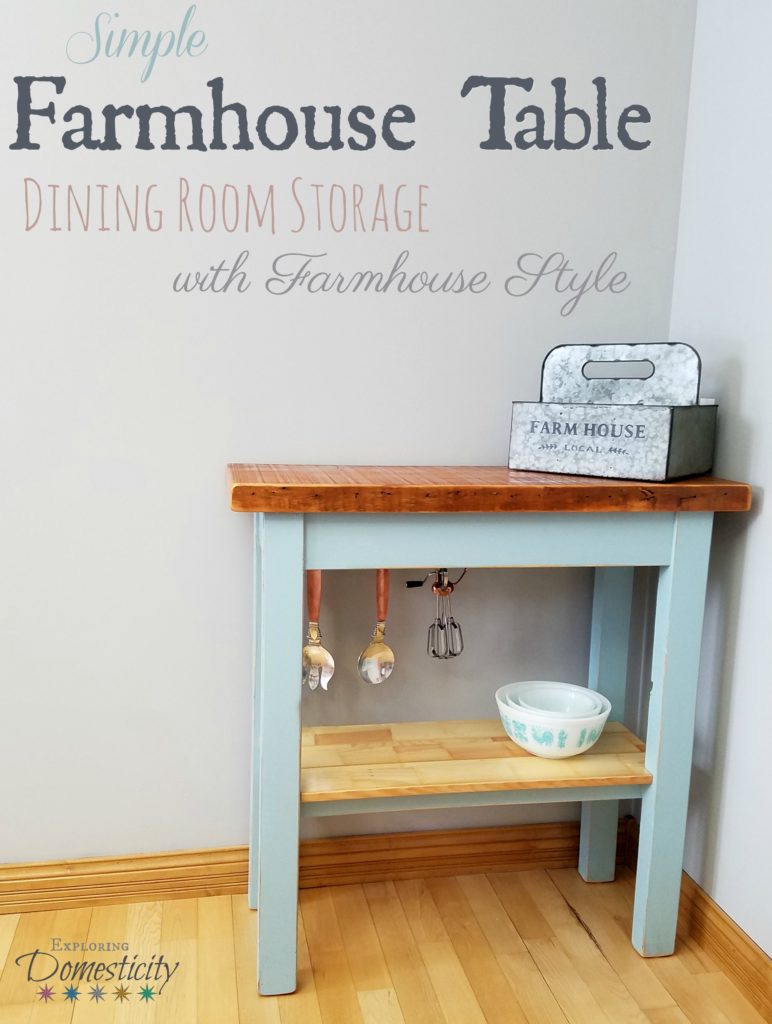 We are a participant in the Amazon Services LLC Associates Program, an affiliate advertising program designed to provide a means for us to earn fees by linking to Amazon.com and affiliated sites. We hope you find these links helpful in styling or purchasing your own Farmhouse Tables!




Who else is obsessed with the colors, style, and coziness of farmhouse decor?
We are too and we have a new project to share!
Until we gave our mudroom a facelift, we had been keeping our freezer in our dining room.
It really didn't bother me because the freezer was handy and it was a nice place to set things in the empty corner of our dining room.
Although, I must admit, it didn't do much for our decor…
We have moved that freezer to the mudroom, and these corners have been empty for too long.
The kids also got a cereal dispenser for Christmas, so we have been wanting to set it up in one of those corners.
Now we can!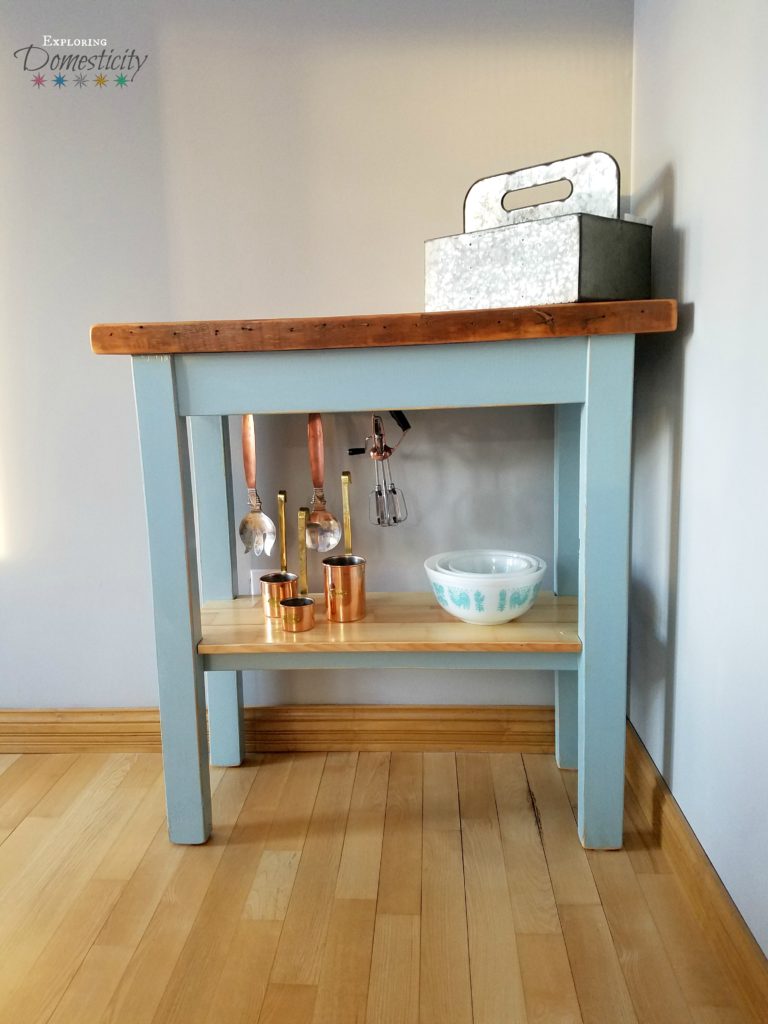 Farmhouse Tables with Reclaimed Wood
Out of the blue, my dad (our master carpenter) stacked up a couple pieces of scrap wood he had. He sent a photo and asked if I would like him to make some tables.
It's hard to believe you can make such simple tables out of scrap material and they turn out so gorgeous!
The tables are just four legs made out of 3x4s and cut to counter height. They are braced around the top and where the shelf is. Then, a gorgeous hunk of wood is placed on top and they are stunning!
The tops of these tables are big chunks of the floor joists an the old building built in the 1800s. My husband worked there on a job and saw these going in the trash and had to rescue a few.
We are so glad he did!
If you find this kind of stuff interesting, I'll share the trail my research took me on. The St. Paul, MN building was built in 1882 by J. Walter Stevens and was known as the John Wann Building. It housed the Spin Knits Fabric Company and has a rich history.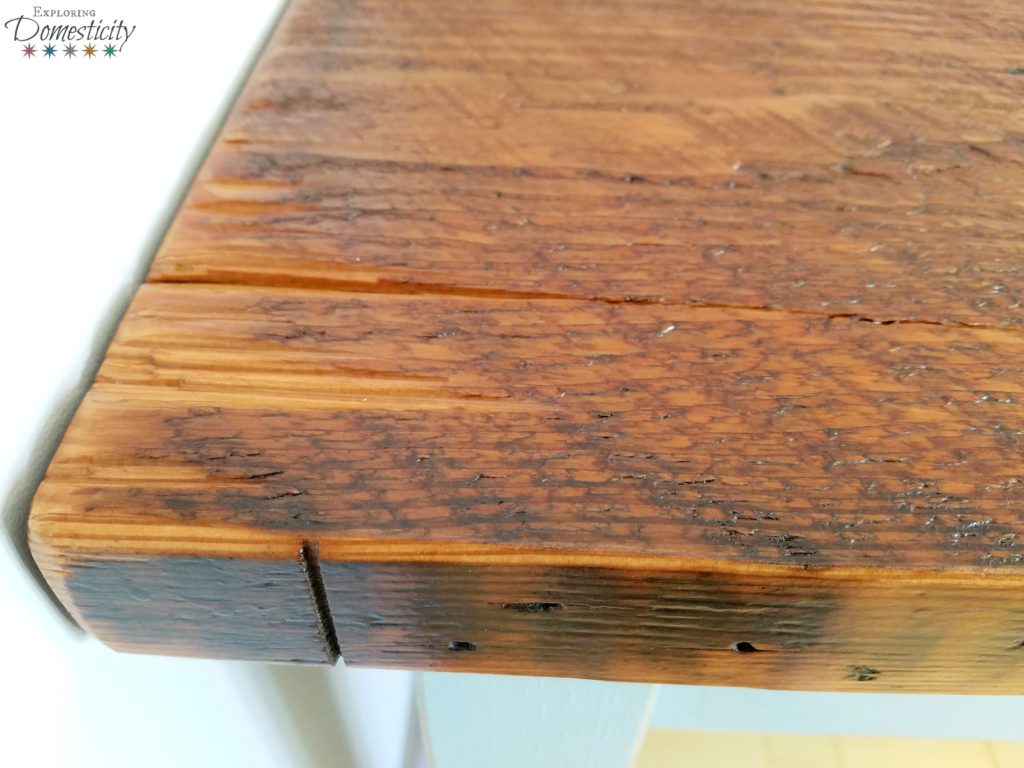 We also had some pieces of wood from a friend of the family that came from the factory at Andersen Windows long ago.
The wood has a nice veneer for a smooth look on one side.
But…
Being that we like things a little rough and a little different, we decided to use the other side.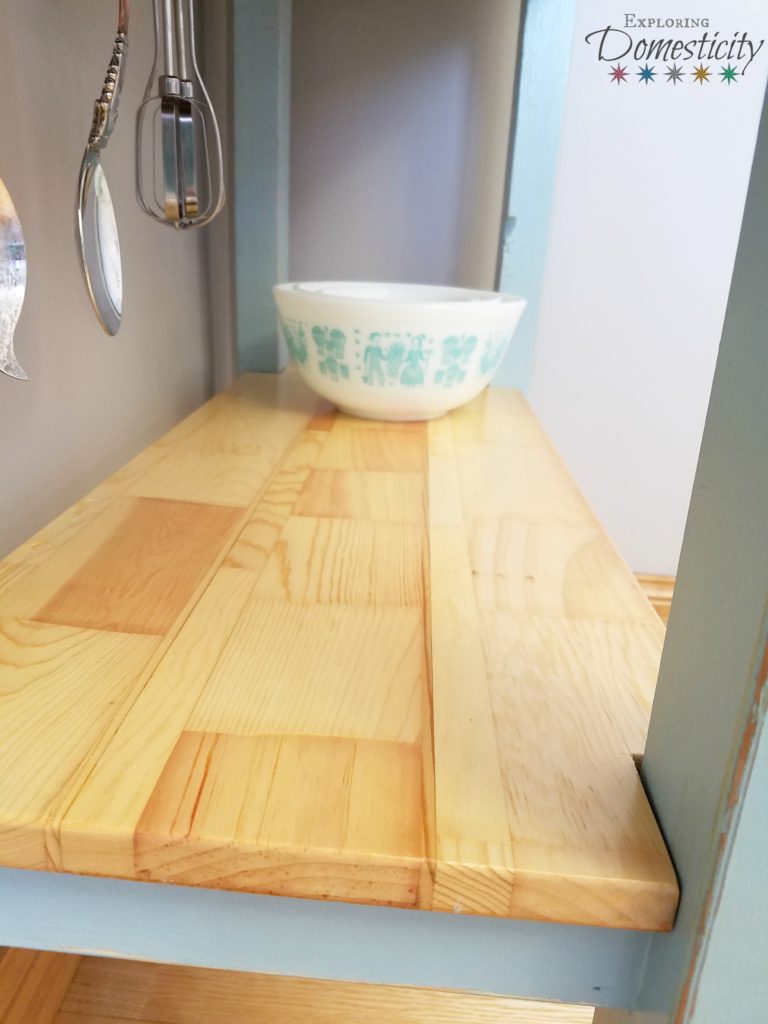 I love the look of all the finger-jointed chunks of wood and all the colors!
A very simple table came together in no time. The most time was spent getting the splinters out of the old wood tops. It took some sanding and about 5 layers of poly.
It was so worth it!
They have a smooth feel while still having all the rough character.
We purposefully placed the side with all the nail holes to the font. Such amazing character!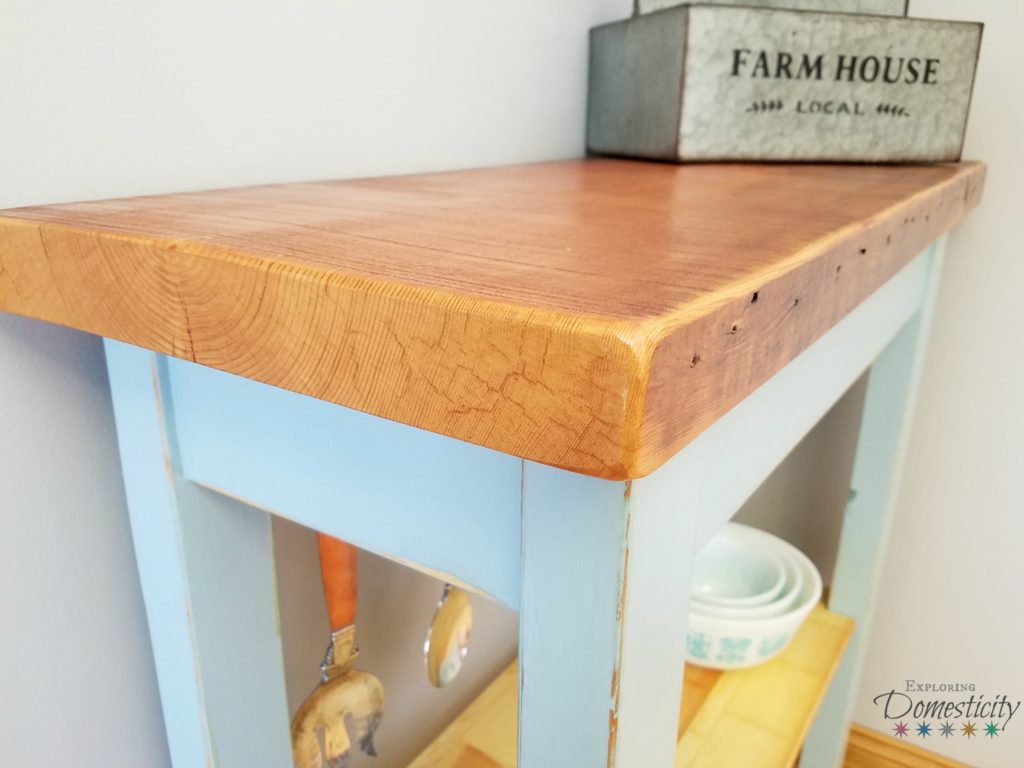 A little color…
The 2×3 legs got a coat of blue paints with a bit of sanding and distressing. Like all our paint, this color came from the Menards miss tint section for $5 a gallon. Check your stores!
Since the wood underneath is so light, the distressed areas were hit with just a bit of stain to darken them up.
That is a great tip!
If your wood is too light beneath your distressed areas, rub just a bit of stain on those exposed areas.
Just hit it with a rag and wipe the access off the paint, and it will darken the wood without getting all over. Even if it does a bit, it will just add to the old, distressed look.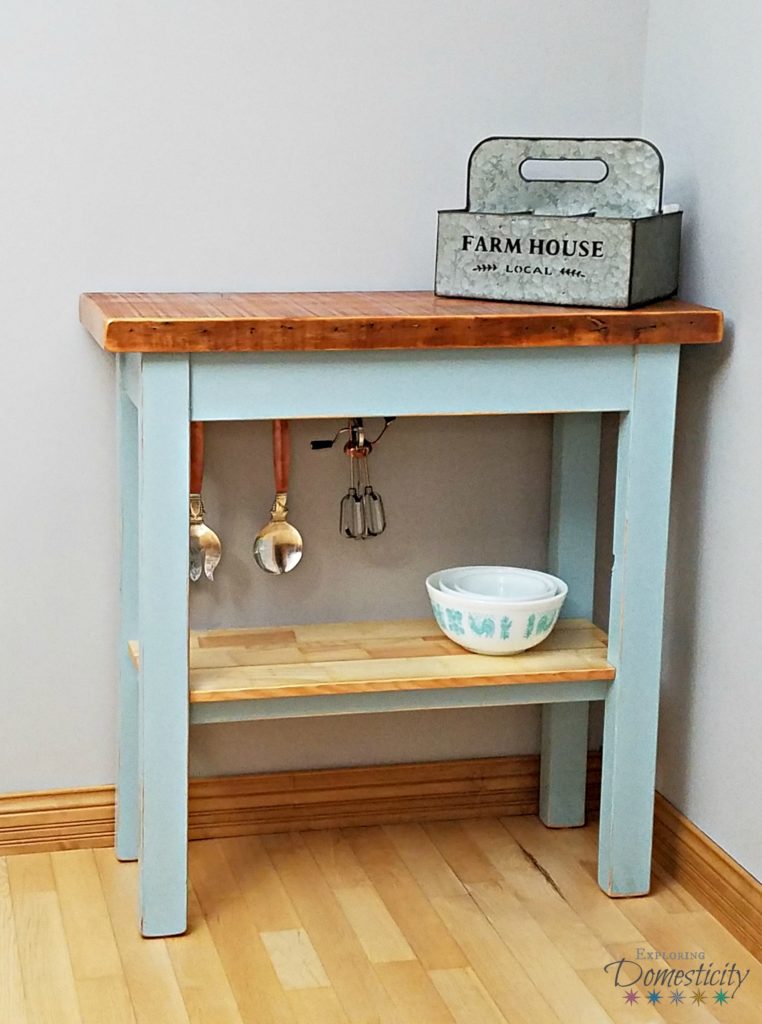 I'm so in love with these tables!
Our dining room needed this little bit of subtle color. We also got some other wood tones in there as well.
We've never really loved the light wood floors of our house, and the table we had has the same light wood.
So, bringing in the darker wood tops really adds a richness to the room.
Farmhouse Tables as Dining Room Storage
The farmhouse tables are set up in both corners and each have their own uses.
We use the one closest to the table for displaying some vintage kitchen items. I'm so happy to have a place for our vintage Pyrex bowls – I love them!
Did you know you can find a similar style on Amazon!?
We use the top of that table for setting out food during dinner. It's basically our buffet.
The one closest to the kitchen is where we've set up the cereal bar. It looks so cute!
On the shelf below, we will be placing baskets for our onions and potatoes.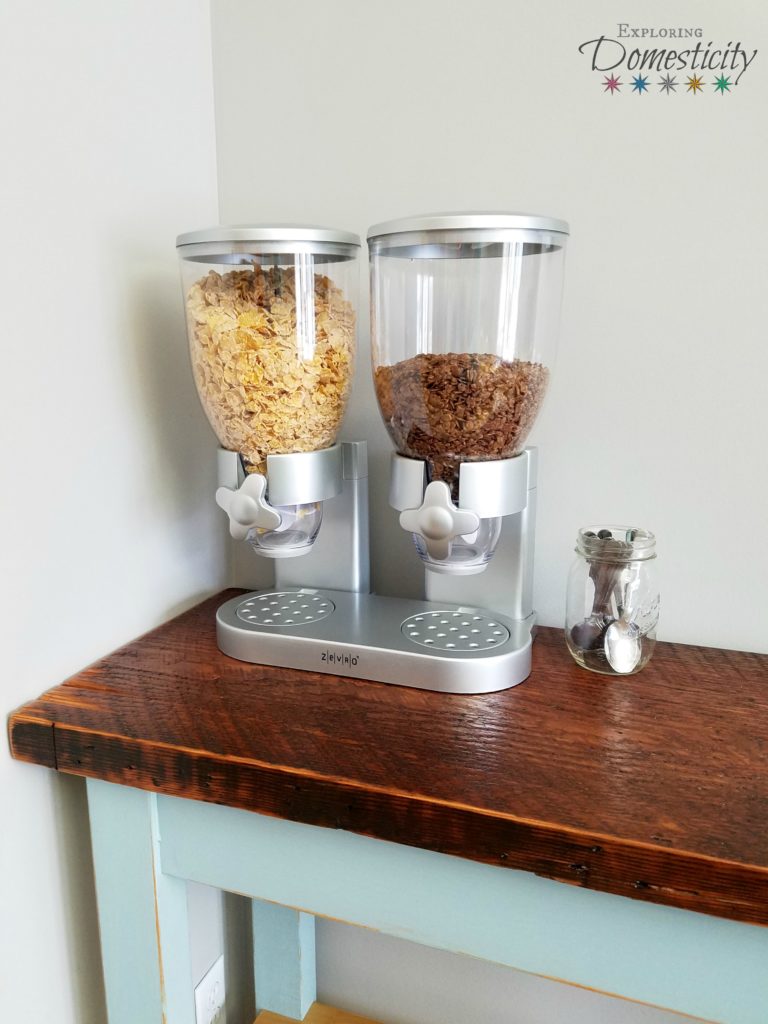 There it is! Our finished dining room.
The tables cost us nothing because it was all materials we had on-hand.
Who could believe you could make something wonderful for no cost!?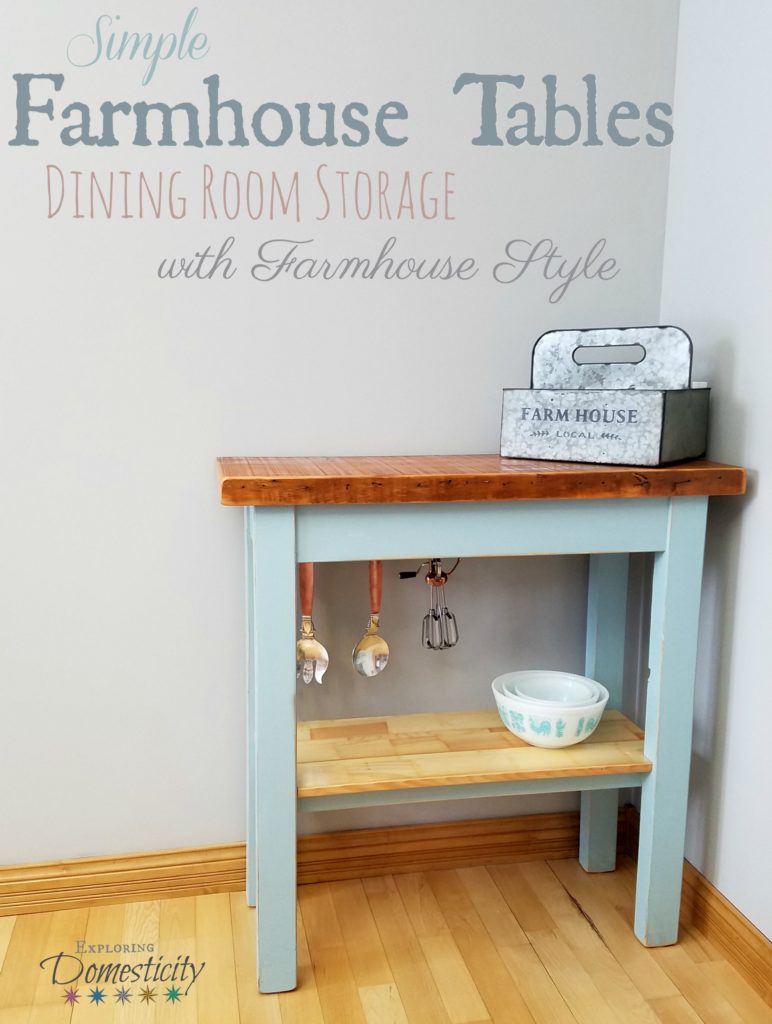 The simple design and distressed look of the farmhouse style makes them so perfect for DIY.
Have you completed any Farmhouse DIY projects?
You'll love these!