We LOVED our first trip to the American Girl Store at Mall of America. Our 4-year-old was in awe of all the dolls, accessories, and scenes. We visited the salon for a cleaning, ear piercing, and hairstyle. We also bought way too many things!
If you're thinking of visiting an American Girl Store – do it! Read on to find out how much fun we had!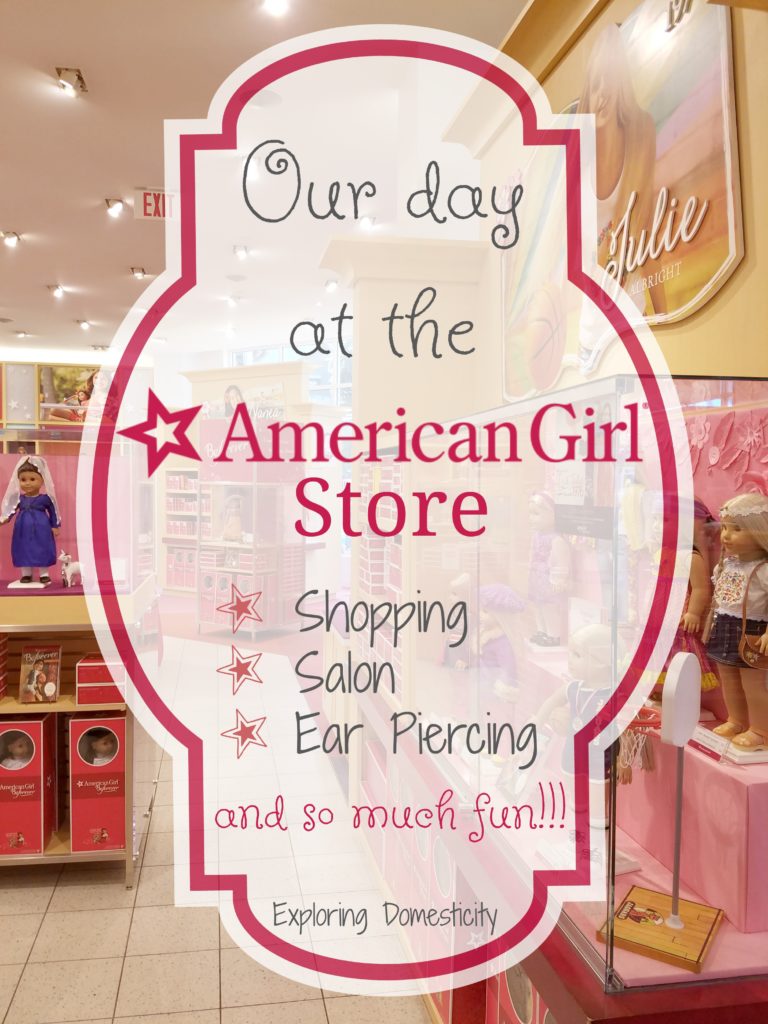 Not for lack of trying, but we have no affiliation with American Girl. We just had a great time at the store and want to share our experience. We are, however, an Amazon affiliate and have included Amazon links to products mentioned. We hope you enjoy them like we do!
We recently had a girls day at the American Girl store at the Mall of America. It was such a good time!
We had three generations represented. I can say for a fact, all three agree we will be back.
My daughter has been ogling the American Girl catalogs and asking for an American Girl doll since she was two. In fact, her grandma has had an American Girl doll and many accessories purchased for her for over a year now.
In the meantime, she was given my Bitty Baby and then my original Samantha doll and all her accessories. She loves her, but still kept asking for a new doll.
We decided she was finally ready to take care of her own, brand new American Girl Doll this past summer. It was supposed to be given to her on her birthday in October. However, she asked about American Girl dolls and accessories so often that Grandma caved and gave it to her early.
Since then, Grandma has been giving her American Girl accessories left and right. The obsession has definitely grown.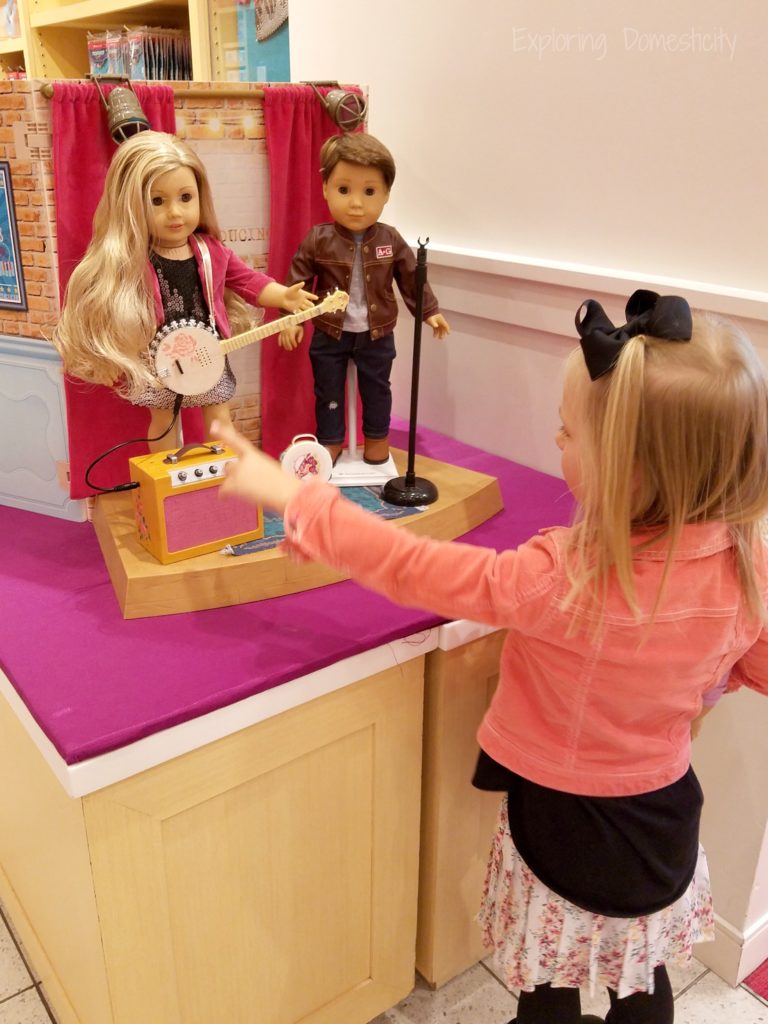 American Girl Store
After the doll was gifted early, the new plan was to take our Little Lady to the American Girl Store for her 5th birthday. Although we couldn't give her the doll, we planned to take it to the salon, buy an outfit, and have lunch at the bistro.
Once again, Grandma caved. Can you tell she has less patience than the 4-year-old? We all have become pretty obsessed with American Girl.
I mean, how can you not?
Instead, we surprised her with a trip to the American Girl store at Mall of America as a special first-week-of-school treat. She has just started 4-day Pre-K at the elementary school with her brother, and we visited on her Friday off.
After some breakfast at IKEA across from the Mall of America, we took both dolls and arrived at the American Girls Store shortly after it opened.
We were all awestruck!
Dolls and accessories are positioned all over the store. You could walk around forever just admiring all the little scenes. Not to mention, all the boxes of clothes, accessories, and even pets all over the store.
We didn't know what to expect, and for some reason we thought the Bistro and the Salon at the American Girl Store would be crowded. We rushed down to the salon to put our name in for some services. However, everything was pretty low-key and we had no problem at all and practically no wait.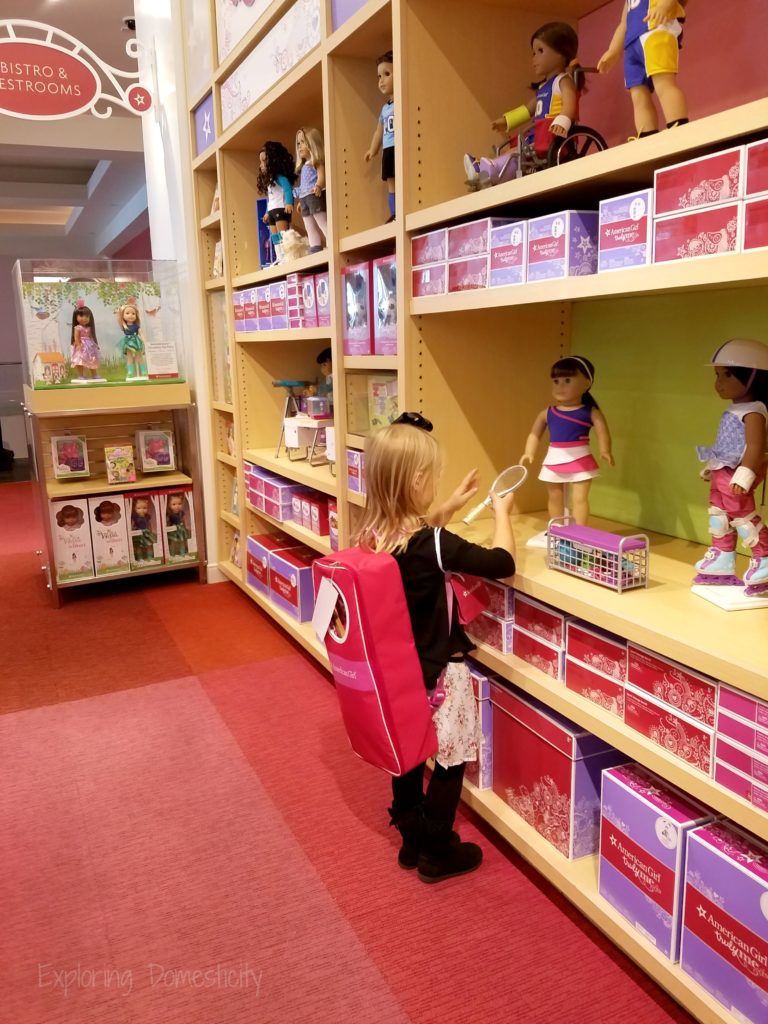 American Girls Store Salon
The salon is all set for quite a few dolls. They have chairs all the way around a long counter. I suppose for Birthdays, these can end up quite full. However, for us, our dolls were the only ones there.
For Samantha, we just ordered a cleaning. A scrub is just $5, and we could have gone for the deluxe Spa Package for just $15. It's so cute! It comes with a robe to take home, nail polish stickers, and an adorable face mask and cucumber slices stickers.
Since we were really there for the new doll, we skipped all that and just had her scrubbed up. She was pretty filthy after 26 years! If you want to wash your doll at home, it turns out, all they use is baking soda and a wet cloth. Super easy!
For the new doll, we ordered a hairstyle and ear piercing. I didn't even know until recently that they did ear piercings for dolls!
Ear Piercing
Ear Piercing at the American Girl Store is pretty reasonable. it was only $15 for the piercing and a set of earrings.
The earrings set we got come with 3 sets of studs: hearts, stars, and round. They also come with three sets of pieces you can add for dangly earrings: starts, hearts, and hoops. They just fit on to the back of the post before inserting into the hold. So, the kids can switch up the earrings in quite a few ways.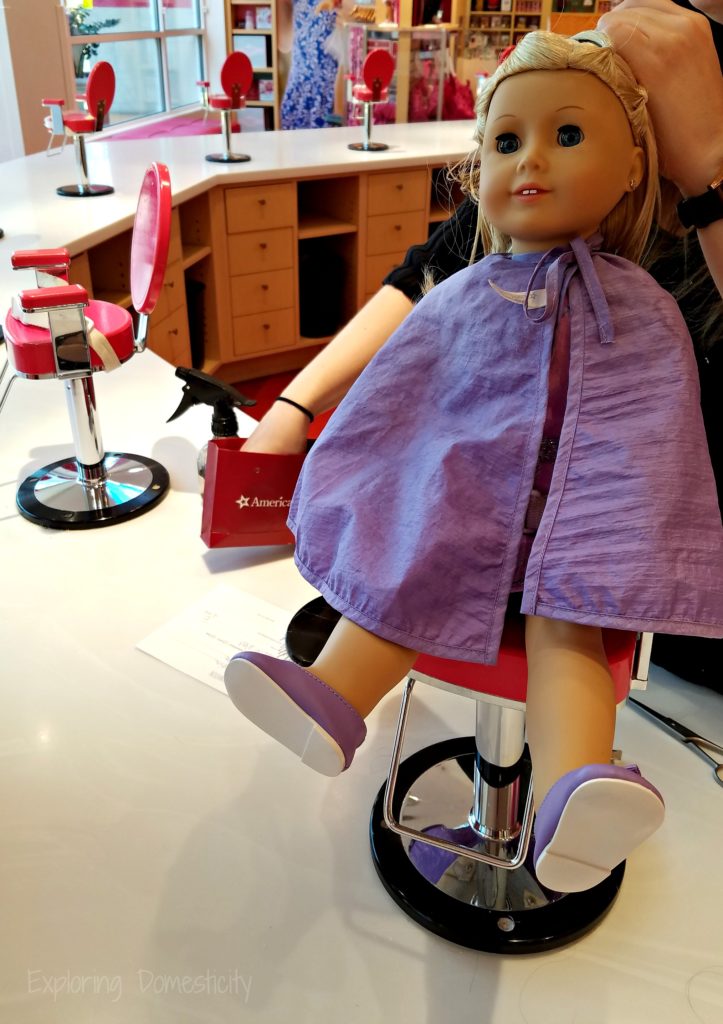 Hairstyles
There is an entire book of hairstyles for American Girl Dolls. The styles appear to range in price from $10 to $20. They are also specific to the type of doll you have. There are styles specific to the different character dolls, and there are styles specific to the type of hair of the doll.
We were shown a page in the book that we could choose from for our Truly Me doll. There are so many cute styles!
When we asked for suggestions on a style that would hold up to playing, we narrowed it down to a crisscross pigtail style and a braided heart half ponytail style. Little Lady chose the crisscross pigtail style, and it has held up very well!
While the doll was getting styled, Little Lady and Grandma took off all over the store. She definitely couldn't even focus with all the things to see!
It was hilarious!
Brushing your American Girl Doll's hair
I stayed with the American Girl Stylist and chatted about the dolls. She gave me some tips about doing Samantha's hair myself. Turns out, the key is plain water the American Girl wire brush, and a hard and thick bristle brush for smoothing. The brush she showed me had stiff bristles on one side and wire bristles on the other side like this one. It looked like something I've seen my husband clean car parts with!
When the hairstyle was complete, she tied on the two colored ribbons Little Lady chose and packed the earrings in a bag. We showed our receipt and the dolls were released to us.
Shopping at the American Girl Store
You could spend hours in the American Girl Store!
There is so much to see. The scenes set up with the dolls and accessories are so intricate, you could spend a lot of time just trying to look at them all.
Little Lady was so enthralled by it all, she never noticed Grandma and I stuffing the backpack she picked out full of other items for Christmas.
What did we get?
While our dolls were in the salon, Little Lady found a backpack her American Girl can stand in and see out the little window. She loves that thing! She wore it around the store, and had to take it out of the bag and wear it out of the mall.
This backpack has gone everywhere with us! It even came along on our trip to Mackinac Island recently!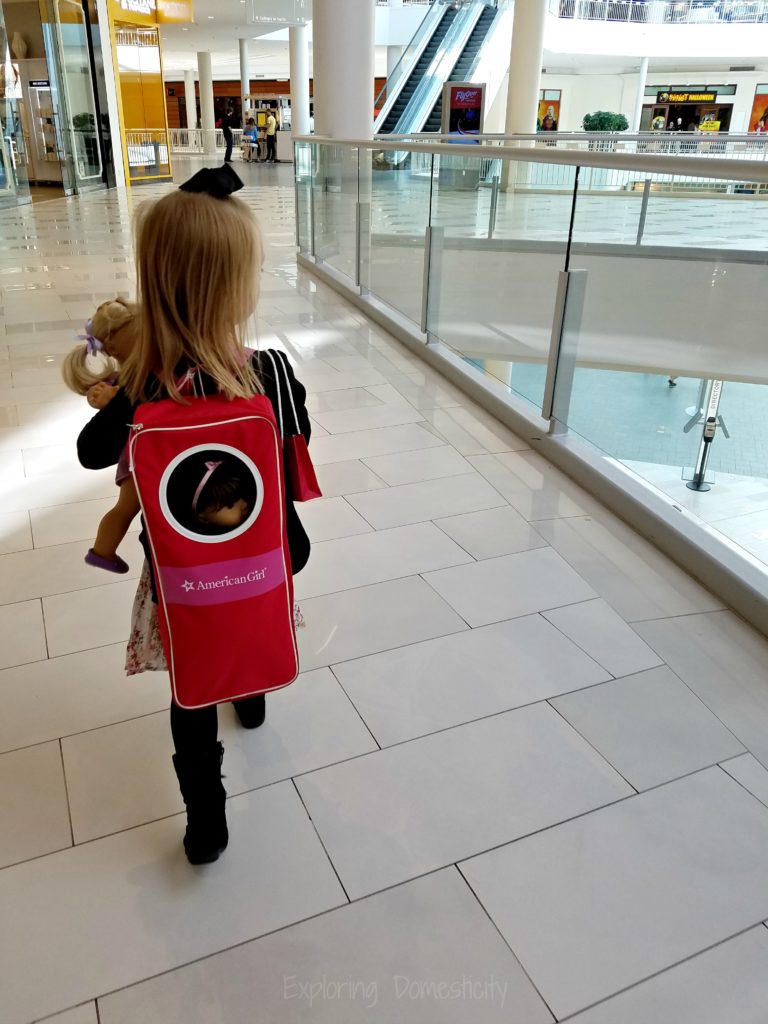 In addition to the bag, she got a American Girl mini doll. She was a bit torn about which one to get. The Samantha doll would have gone with our original Samantha but, honestly, it didn't look that great. The other she wanted was Felicity. However, finally we all decided on Maryellen because of her cute outfit.
Those two things were the only ones she got that day. However, she was so focused looking around the store, we were able to slip all sorts of outfits and accessories into the bag without her knowing!
For birthday and Christmas, she will have some great gifts!
There are a few outfits all over the American Girl Store that have a doll outfit with a matching outfit in little girl sizes. We kept it simple and got a sweatshirt for our Little Lady and her little American Girl Doll. It's pretty adorable and has thumb holes, which are always a favorite.
While we were at the store, there was a buy one get one sale on all the Beforever merchandise. We got the Kit golf outfit, and then Maryellen's rockin' roller skate outfit for half off. There also happened to be an amazing deal on a dog set that was $50 and we got it for $15 (it might have been this one, if I remember correctly.)
On the way out, we passed a couple dolls dressed for Halloween. How fantastic is this bride of Frankenstein hair!? There was also a skeleton outfit with a matching one for girls. So fun!
Needless to say, we had to drag ourselves out of these before getting even more carried away!
Is your little one into American Girl? Did you have an American Girl as a child?
Have you ever been to an American Girl Store?
More Like This

American Girls Things We Love!